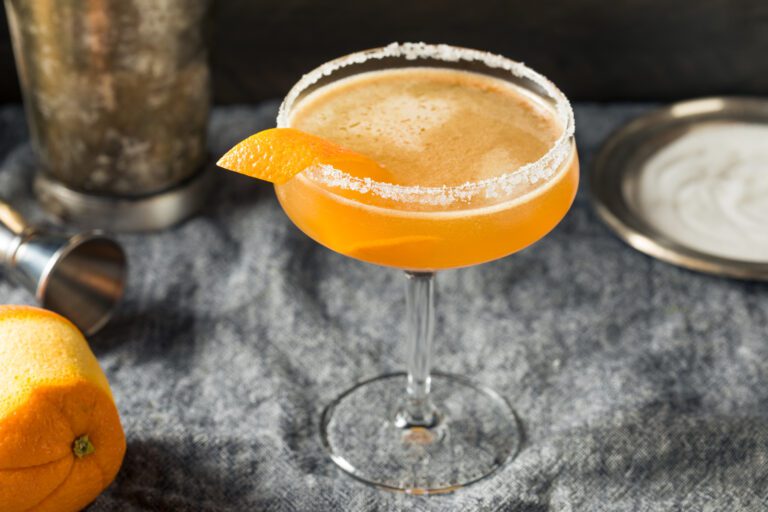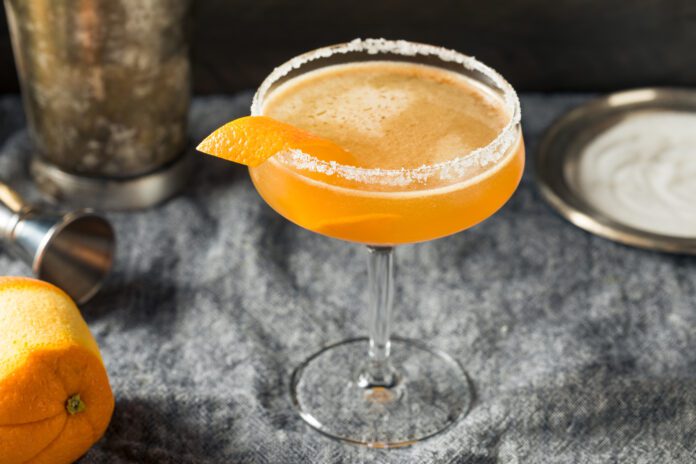 This page may contain affiliate links. Please see our Disclaimer for more information. Always drink responsibly and adhere to your local legal drinking age.
The sidecar cocktail was published for the first time in 1948, although it's likely that the drink was invented before then. A timeless tried and true recipe, the sidecar is a hit among experienced and novice drinkers alike. It's a refreshing drink with lemon and orange elements, perfect for the warmer months.
The sidecar cocktail uses cognac, lemon juice, Cointreau, and a sugar rim to create a sophisticated and classic cocktail. With a traditional orange garnish, lemon flavor, and sweet elements, it's a sour that manages to be light, fruity, and balanced.
It isn't hard to see why the sidecar has stood the test of time, It's simple, easy to make, and flavorful. Keep reading to discover this cocktail's complex history and ways you can give it a modern spin.
History of the Sidecar Cocktail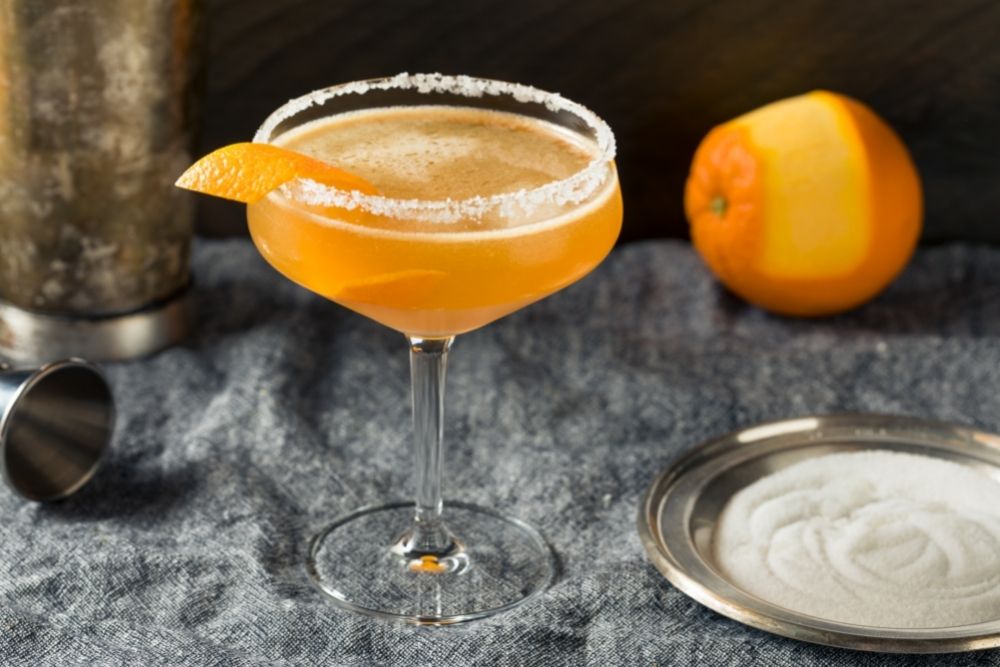 The sidecar cocktail was first published as an official drink in 1948 by David Embury, although it is believed to have originated well before that. The exact history of the sidecar isn't sure, although it is undoubtedly named for the motorcycle attachment.
Some think that the drink originated at a bar in Paris during World War 1, created by a man named Harry MacElhone. The cocktail might have gotten its name from the motorcycle he used to ride to and from the cafe where the cocktail was born. However, the cocktail is also accredited to Pat MacGarry, a well-known bartender in London, England.
Another possibility is that the sidecar descended from the classic Brandy crusta, which was conceived in the 1850s by a New Orleans bartender named Joseph Santini. The Brandy Crusta mixes aged brandy, fresh lemon juice, Maraschino, orange liqueur, Angostura bitters, and simple syrup.
The original 1948 Sidecar cocktail mixed brandy, lemon juice, and Cointreau. Curaçao was previously used instead of Cointreau, but the orange liqueur was difficult to source and of inconsistently quality because it came from the peels of inedible oranges on Curaçao island.
Unlike cognac, brandy has a much wider variety of flavors which can alter the dink's taste. Over time, the brandy was replaced with cognac for more consistent flavoring. Cointreau eventually replaced Curaçao for similar reasons, and the modern sidecar was born.
What's in a Sidecar Cocktail?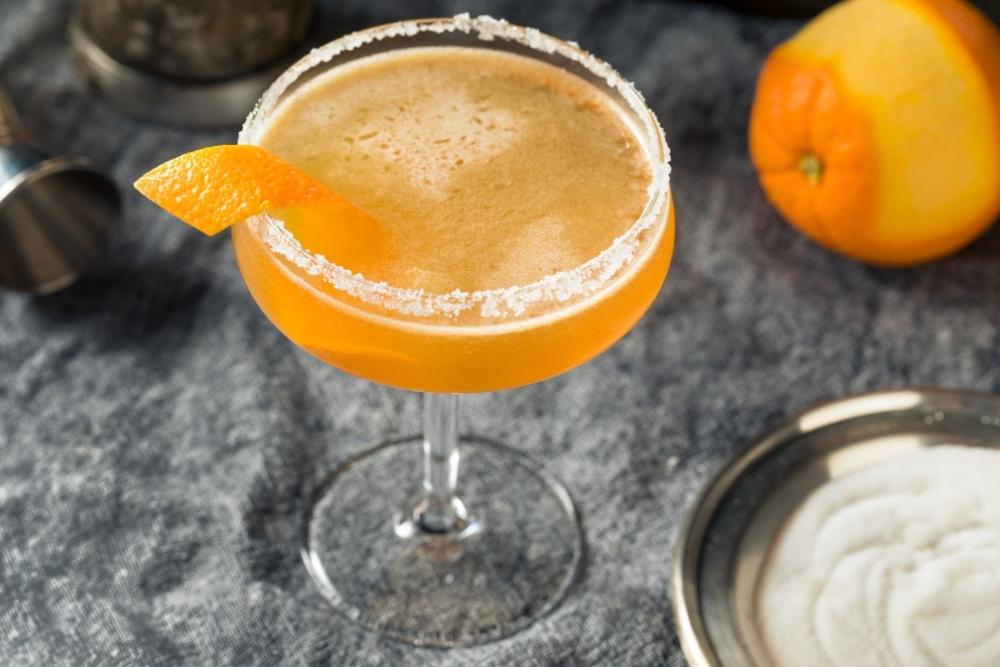 The sidecar cocktail consists of cognac, Cointreau, lemon juice, sugar, and an orange twist for garnish. The ingredients are simple and work together to form a timeless cocktail that is light yet rich in flavor.
Cognac
Cognac is a type of brandy that originated in Cognac, France. It's very similar to wine and has recently been considered luxury alcohol, although people of various social statuses like to consume it.
Most cognac is made from specific wine grapes such as Ugni Blanc. However, other grapes that are low in sugar and high in acidity, such as the Folignan grape, are acceptable too.
Cointreau
Cointreau is a type of triple sec. It is an orange-flavored liqueur that originated in France and is used in various cocktails and shots. It's a rich, sweet, and flavorful liqueur often used in margaritas, sidecars, and cosmopolitans. You can drink Cointreau by itself, but most people prefer to use Cointreau when making mixed drinks.
Lemon Juice
Lemon juice is a crucial element in any sour. The Lemon juice provides a tart, citrus piece that complements the subtly sweet flavor of the cognac and plays well with the orange-flavored Cointreau.
Fresh lemon juice is always best when making a sidecar cocktail. It boasts an authentic flavor, giving the drink an incredibly fresh taste.
Sugar Rim
The sugar rim is a key part of the sidecar cocktail that you can't skip. It's not only aesthetically pleasing but it is also a functional part of the drink. The sugar rim creates an added layer of sweetness and surprising flavor when sipping the cocktail.
The rim also prevents your garnish from falling into your cocktail and making it difficult to drink. On top of that, it gives your drink a polished and frosted look.
Orange Twist
Who doesn't love a beautiful drink? Orange is an excellent garnish for the sidecar cocktail. It enhances the beverage's look by adding an upscale element. You can use an orange wedge, twist, or peel to garnish your drink.
In addition to making your drink look fancy, an orange garnish enhances the drinker's experience with an additional fresh scent and adds an authentic orange flavor to the drink.
What Does a Sidecar Cocktail Taste Like?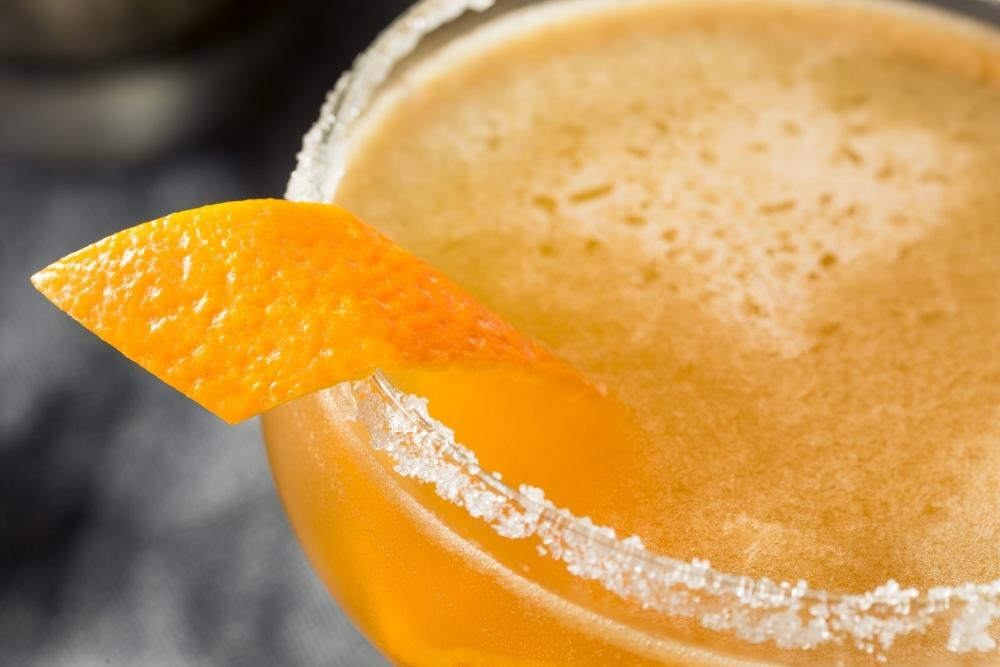 A sidecar cocktail is considered a "sour" cocktail. However, that doesn't mean that there aren't sweet elements. The sidecar is a dainty blend of tart lemon, citrus, and sweet flavors. The type of cognac used will help determine if the drink will have additional bitter, sweet, or fruity elements.
While cognac is generally sweeter than brandy, it can have a variety of flavors. Most cognac has fruity, spicy, sweet, or herbal flavors. The base flavors used in the cognac will play a role in the taste of the sidecar. However, a sidecar will always have a sweet-tart balance.
Some people describe a sidecar cocktail as tasting like a whiskey sour, but with more fruity elements and a lighter taste and texture.
How To Make a Consistently Amazing Sidecar Cocktail
The key to consistently making a great sidecar cocktail is remembering your ratios. You should use the same amount of orange liqueurs and lemon juice and double the amount of cognac. To start, you can use the 2:1:1 ratio and adjust it how you see fit.
For example, you can use 2 ounces (60 ml) of cognac, 1 ounce (30 ml) of lemon juice, and 1 ounce  (30 ml) of Cointreau. Or, if you're following this recipe, you can use 1.5 ounces (45 ml) of cognac, .75 ounces (22.5 ml) of lemon juice, and .75 ounces (22.5 ml)  of Cointreau. Remember to maintain the balance.
Variations of the Sidecar Cocktail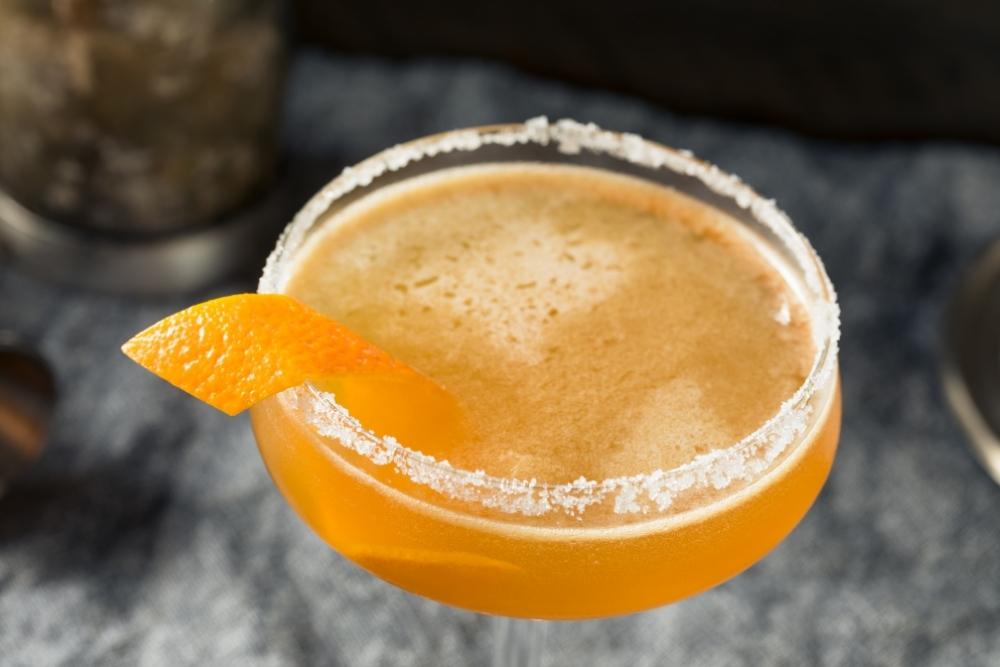 The Sidecar cocktail is a timeless classic, but that doesn't mean you can't switch it up and put a new spin on it. Changing the garnishes, adding juices, and swapping liqueur flavors will enhance this classic cocktail. Check out these simple ways to upgrade your cocktail.
Ditch the Sugar Rim. Although the sugar rim is a staple in the timeless sidecar cocktail, you can leave the sugar rim behind if you're looking for a sleek, modern look.
Add Maraschino liqueur. Take the sidecar back to its brandy crusta roots and add some of the brandy crusta's original ingredients. Add Angostura bitters to discover a richer flavor.
Make a Boston Sidecar. Replace the cognac with light rum and brandy to put a flavorful twist on this classic cocktail.
Make a cherry sidecar cocktail. Replace Cointreau with cherry-flavored liqueur and add cherry bitters to make a cherry sidecar.
Replace cognac with bourbon for a smooth, deep, and spiced finish. A bourbon sidecar is still sweet but with spiced, wooded undertones instead of floral and fruity notes. The alcohol replacement will be a welcome change for those who enjoy bourbon.
Change your garnish. Although an orange piece is a traditional garnish for a sidecar, you can use lemon, apricot, apple, and other fruits or herbs to create a more exciting drink. The garnish will not only change the drink's look but can add more flavor and complexity to a traditional sidecar cocktail.
Change Your liqueur. Traditional sidecars call for an orange-flavored liqueur, but you can easily substitute that for another flavor to enhance the drink. Try pomegranate, peach, cherry, or another fruit-flavored liqueur to refresh your sidecar cocktail.
Make a Grand Sidecar. Replace your cognac with Grand Marnier liqueur. Grand Marnier mixes cognac with orange bitters and sugar to create a citrus-based liqueur. Since the liqueur still uses cognac, you will retain some of the original taste with the drink, just with added sweet and citrus elements.
Add fruit juices. Give your sidecar cocktail a fruity twist by adding fruit juice to your drink. Pineapple, pomegranate, apple, orange, and grapefruit are fun juices to add to your sidecar drink and give it an extra punch. Aim to use fresh juice when possible for a more flavorful cocktail.
Make a side carriage cocktail. The side carriage is a unique spin on the original sidecar cocktail. Replace your cognac with Calvados brandy for a fruity, cider-like taste. The side carriage is a refreshingly light drink with fruity and crisp flavors from apple, apricot, pears, and spices paired with elderflower liqueur, which is floral, citrusy, and sweet.
Sidecar Cocktail Recipe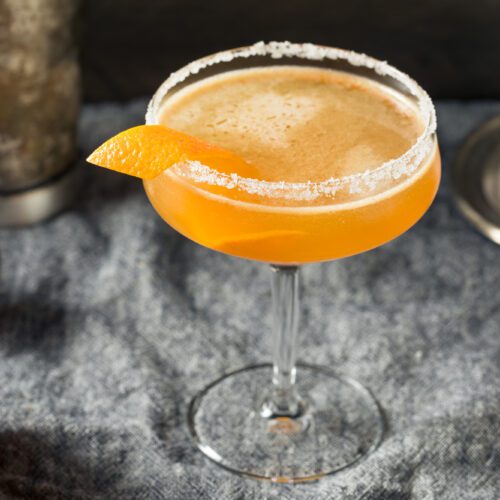 Amazing Sidecar Cocktail Recipe
The Sidecar is a classic and timeless cocktail. This delicious drink has stood the test of time, with hints of orange and lemon.
Print
Pin
Equipment
Cocktail Shaker

Coupe Glass
Ingredients
1.5

oz

Cognac

.75

oz

Cointreau

(Orange Liqueur)

.75

oz

Lemon Juice

Fresh

1

Orange Twist

(Garnish)

Sugar

(Garnish)

Ice
Instructions
Wet rim of Coupe Glass and Dip in Sugar

Add Ice, Cognac, Cointreau, and Lemon Juice to Cocktail Shaker

Shake Well Until Ingredients are Fully Mixed and Chilled (10-15 Seconds)

Garnish with Orange Twist
Final Cocktail Thoughts
The Sidecar cocktail is classic and timeless. Despite being a sour cocktail, it's sweet, fruity, and light. While many people believed it derived from the brandy crusta, some people describe it as a lighter version of a whiskey sour.
The cocktail is simple and easy to make, and using the proper ratio of ingredients will help you make a delicious cocktail every time. Because the sidecar cocktail is a classic, there are many ways to jazz up this drink by trading base alcohols, swapping liqueurs, or adding juices to give this classic drink a modern twist.
Classic Cocktail Recipes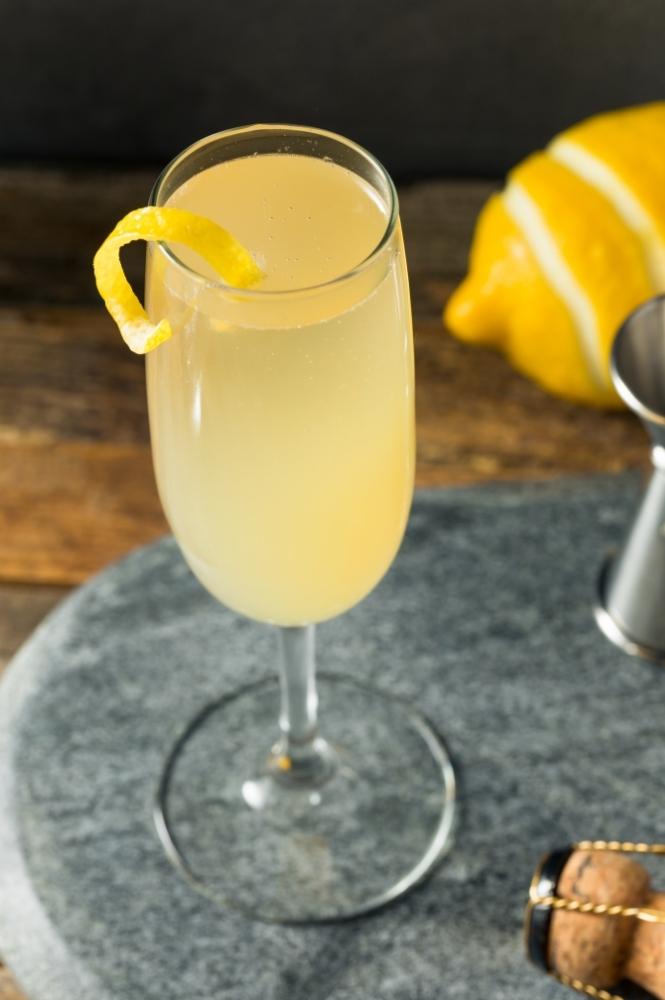 The French 75 is a delicious blend of gin, champagne, and fresh lemon juice. See why this cocktail has been enjoyed for generations.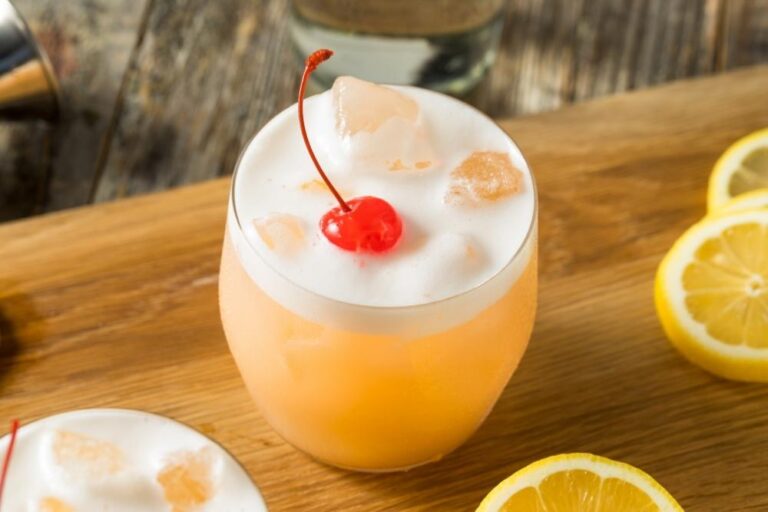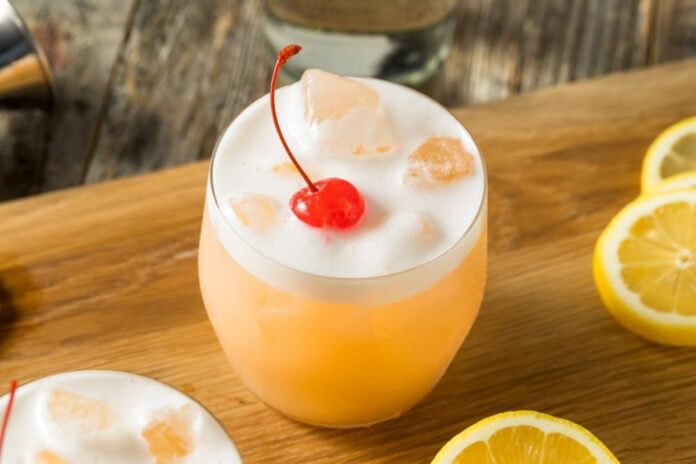 The Whiskey Sour cocktail is one of the most popular drinks in the world and after you try this recipe you will see why.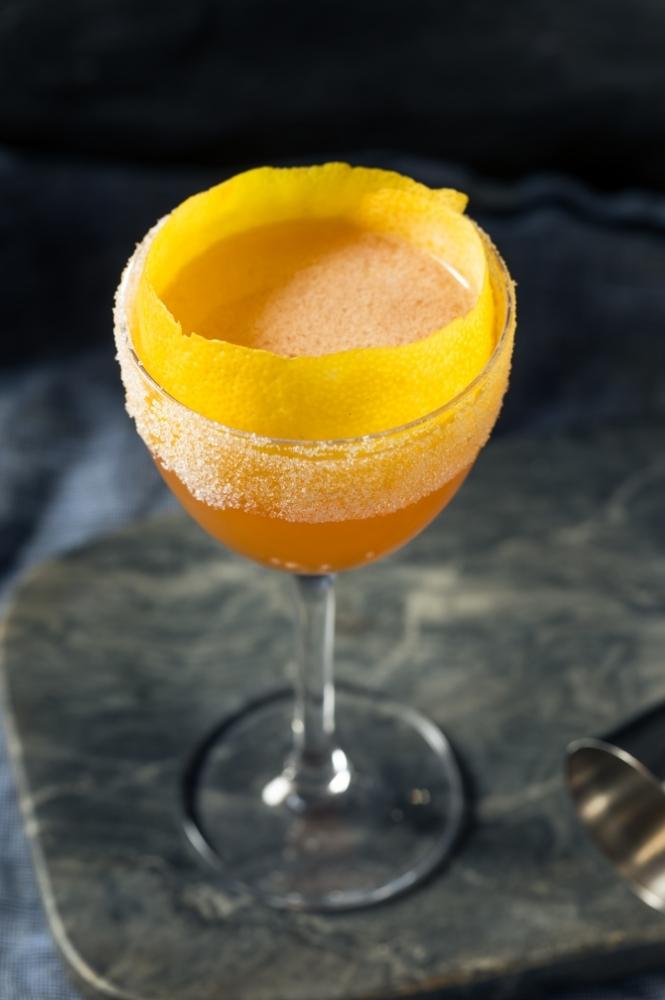 Presentation wise the Brandy Crusta can't be beat! The taste also rivals the amazing look.