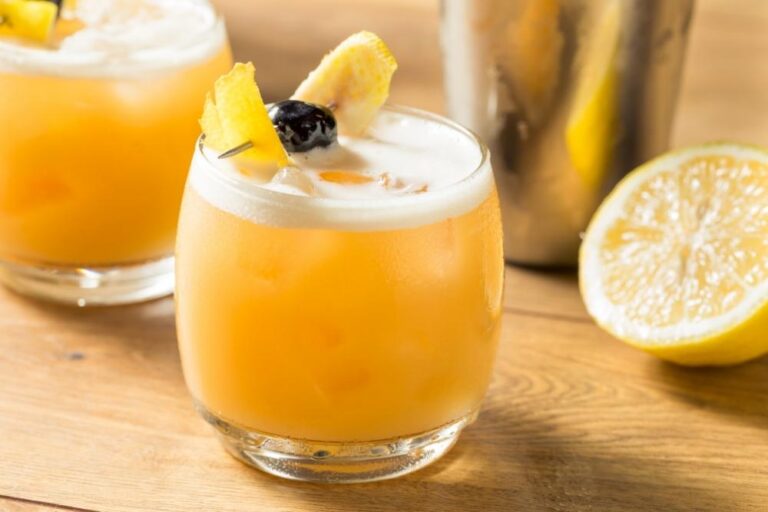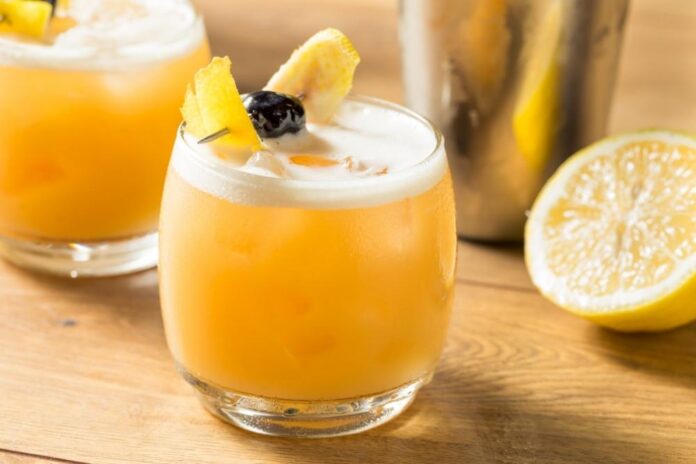 This page may contain affiliate links. Please see our Disclaimer for more information. Always drink responsibly and adhere to your local legal drinking age.
This Vodka Sour recipe is an incredible and refreshing drink that can be enjoyed any occasion. It's simple, easy to make, and highly flavorful. With its zesty citrus nature, the vodka sour has a supreme balance of sweet and tart flavor and an additional frothy texture.
The vodka sour is a remake of the classic whiskey sour. Its key ingredients are vodka, lemon juice, simple syrup, and egg whites. You can add other ingredients like bitters or garnishes to enhance the flavor of your cocktail and increase its visual appeal.
What makes vodka sour a famous cocktail? The balance of ingredients, its simplistic nature, and its rich history. Keep reading to learn more about the vodka sour, making it, and what ingredients you can substitute for giving it your unique flavor.
What is a Vodka Sour Cocktail?
A Vodka Sour is a classic sour cocktail with vodka as the base spirit. The cocktail is typically prepared with a simple recipe combining vodka, fresh lemon juice, and simple syrup. The mixture is then shaken and strained into a glass filled with ice.
The result is a refreshing tart beverage perfect for sipping on a hot summer day. The simple yet versatile nature of vodka allows for a wide variety of flavor options when creating a sour cocktail.
Some popular variations of the Vodka Sour Cocktail include lime juice or grapefruit instead of lemon, adding muddled fruit or herbs such as basil or strawberries, and topping the drink off with a splash of sparkling water for a bit of fizziness. The Vodka Sour Cocktail is a delicious, easy-to-make drink that complements various occasions and palates.
What Does Vodka Sour Taste Like?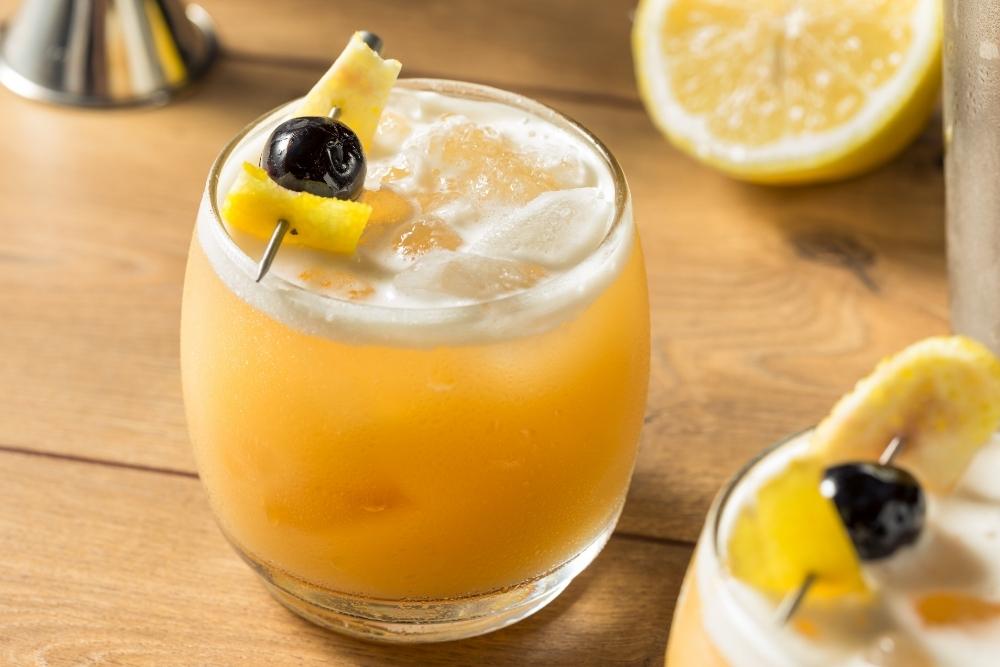 Vodka Sour tastes sweet and tart due to its lemon base and simple syrup mix. Vodka is traditionally flavorless, so most of the flavor of a Vodka Sour comes from the lemon, simple syrup, and the Angostura bitters. 
Hence the name Angostura bitters; these cocktail additions can be pretty bitter. Angostura bitters are a mix of spices and herbs like cinnamon and cloves. These flavors add an additional spice element to the drink that contributes to the taste's complexity and aids in its sourness.
Additional flavors of vodka sour, like cherry, will yield a sweeter drink that balances the tart lemon flavor.
Vodka Sour Ingredients
Vodka Sour Ingredients are relatively simple. To make a vodka sour with foam on top, you will need the following ingredients:
Vodka – Like all our cocktail recipes, we recommend making this cocktail with premium vodka liquor. This will ensure no off-flavors and that the vodka blends perfectly with the cranberry.
Lemon juice – The difference between an ok cocktail and an amazing one is using freshly squeezed juice. We recommend adding this because it gives this drink another layer of freshness and adds depth that bottled can't give.
Simple syrup – A touch of simple syrup cuts down the harsh sour taste and balances the cocktail. 
Egg whites – Don't worry; your drink won't taste like eggs. This adds a wonderful fluffy foam to this drink. This is the first thing that hits your taste buds and brings out the flavor in the rest of the drink.
Angostura bitters are very strong, so only use a few dashes to add flavor. 
Ice – You can use any ice when mixing the drink in a cocktail shaker, but for the final product, we recommend a large ice cube for the best presentation and to keep from watering down the drink.
Garnishes. Most garnishes for a vodka sour are Maraschino Cherries, lemon wedges, or rosemary. 
You can switch up the ingredients as you like, but these are mandatory if you're going for a traditional recipe.
What Qualifies as a Sour?
For a beverage to qualify as sour, it must have a base spirit mixed with either lemon or lime juice. A sour will also have a sweetener to balance the drink, like sugar or simple syrup.
Sometimes egg whites are added to sour drinks. However, egg whites are not required for it to be a "sour" cocktail. Lemon or lime juice paired with base alcohol constitutes a sour.
Why Should You Add an Egg White Foam to a Vodka Sour?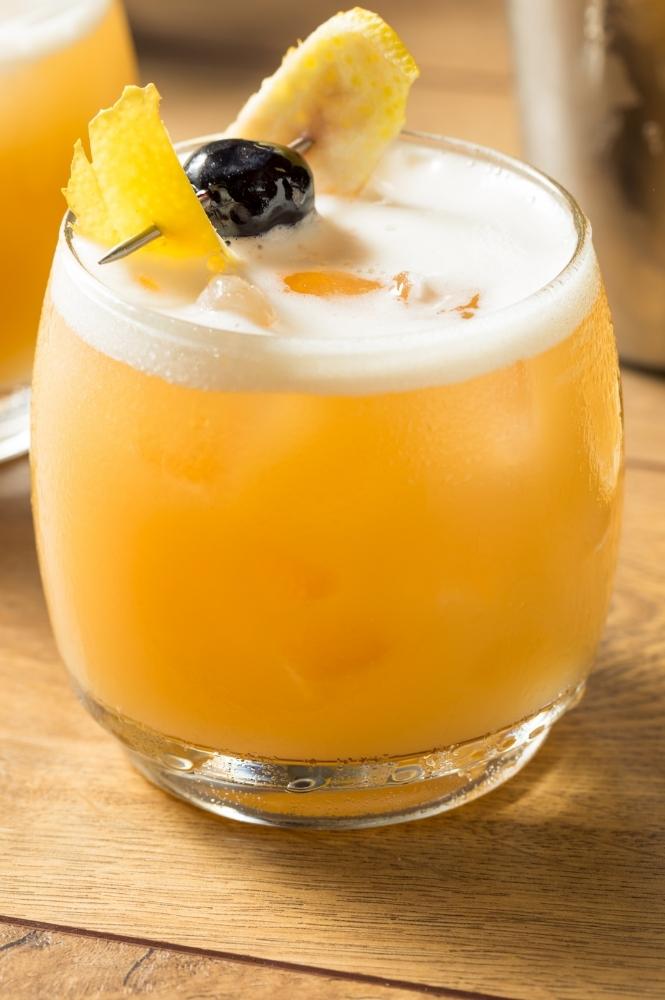 Add the egg white to a vodka sour because it is a traditional ingredient. It can add additional flavor and a foamy texture to your vodka sour. The egg white turns into foam once you shake it in a cocktail shaker without ice, and contrary to popular belief, your drink won't taste like an egg.
The foam adds a layer of smooth texture and richness to the drink that it traditionally wouldn't have. The egg foam is also visually appealing, adding a literal extra layer to the drink. Just like meringue adds a sweet layer to a pie, the white egg foam is a bonus to the vodka sour or any sour cocktail, for that matter.
Vodka Sour vs. Whiskey Sour. What's the Difference?
The difference between vodka sours and whiskey sours is the spirits they use. A vodka sour is made with a vodka base, and a whiskey sour is made with a rum or whiskey base. 
Since vodka is primarily flavorless, vodka sours will taste tarter because of the intense lemon presence. Additionally, some people describe vodka sours as tasting more neutral than whiskey sours since vodka has a plain taste.
Whiskey sours traditionally taste sweeter because of the rum included in the drink. If you don't like your drinks as sweet, add a dash of carbonated water to your whiskey sour to diminish the sweetness. 
How to Make a Vodka Sour Recipe
Get ready to elevate your cocktail game with this irresistible vodka sour recipe! Making this drink is easy, so don't worry if you have never tried it.
First, add vodka, freshly squeezed lemon juice, simple syrup, Angostura bitters, and egg white to a cocktail shaker. 
Then, dry shake vigorously without ice until the egg white foam starts to appear.
Add ice to the cocktail shaker and shake again to chill and cool the drink. Don't forget to smile as you shake; the secret ingredient to a good cocktail is always positive vibes! 
Once you've finished shaking, strain the mixture into a glass filled with ice and garnish it with a slice of lemon or some fresh mint leaves.
Voila! Your mouthwatering vodka sour cocktail is ready to be savored.
Trust me, your taste buds will thank you! One sip of this tangy, sweet, refreshing drink will transport you to a tropical paradise, and you'll feel energized and refreshed in no time. Whether enjoying this vodka sour on your own or sharing it with friends, it's the perfect drink for any occasion, from a fancy dinner party to a relaxed summer barbecue. So, what are you waiting for? Grab your shaker, and let's start shaking!
Where Did the Vodka Sour Come From?
The vodka sour recipe is a derivative of the original whiskey sour. The whiskey sour was first officialized in 1862 when it was published in Jerry Thomas' The Bartenders Guide. However, the drink was popular long before 1862.
The whiskey sour first came about due to sailors in the 1800s. Alcohol was a thirst-quencher for many sailors due to the lack of clean drinking water. To stay hydrated, many sailors resorted to drinking different types of alcohol. Additionally, alcohol made long sea ventures more tolerable.
Since scurvy, a condition caused by a Vitamin C deficiency was widespread among sailors, the sailors eventually started bringing large quantities of citrus fruit on board, such as lemons, limes, and oranges. Citrus fruit is high in Vitamin C, so consuming it would help combat scurvy.
The whiskey sour was an ingenious way to keep the sailors hydrated and help them maintain proper levels of Vitamin C due to the lemon element of the drink. The drink was popular at sea and continued gaining notoriety when it made its way to the mainland. 
There have been several offshoots of the whiskey sour, including the New York Sour and the vodka sour.
Is Vodka Sour Considered a Girly Drink?
While some have traditionally viewed vodka as a women's drink, it's heavily enjoyed by men and women alike. The whiskey sour is also considered one of the top "manliest drinks" by some. This perception could be due to its history among sailors or that whiskey is traditionally known as a manly drink.
This vodka sour recipe is a derivative of the whiskey sour, and because both men and women enjoy vodka, it remains a gender-neutral drink. Additionally, since alcohol has nothing to do with gender, men, and women can drink what they like.
Bartender Tips and Tricks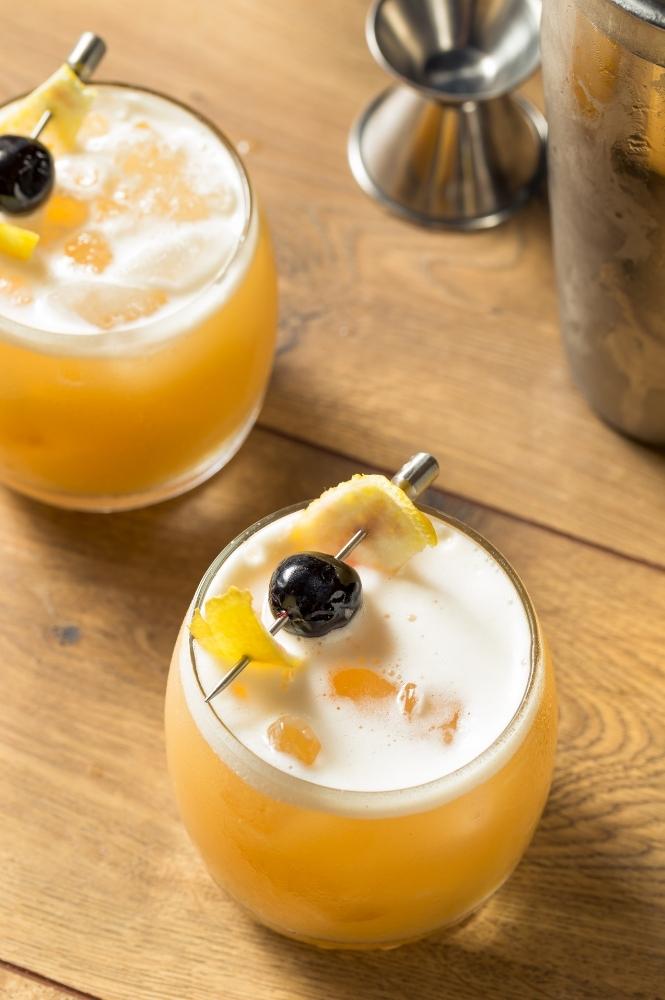 To impress your friends and family with your bartending skills, mastering the art of making a refreshing vodka sour is a must! With a perfect balance between sweet and sour, this cocktail packs a punch that never disappoints.
So, what are the bartender tips and tricks for concocting a killer vodka sour?
Use fresh lemon juice instead of the pre-packaged sweet and sour mix. This one small change will instantly elevate the taste and quality of your cocktail. 
You will want to use an egg white. The foam brings this classic cocktail to a next-level drink that's perfect for any occasion and sure to impress on looks and taste.
Experiment with different varieties of vodka to find your perfect match. Whether you prefer a smooth and subtle flavor or something with a bit more kick, there's vodka for everyone. 
Don't be afraid to play around with different garnishes, whether it be a slice of citrus or a sprig of mint, to make your drink stand out from the rest.
One of the best tips for making an excellent vodka sour is the ratio of ingredients. Too much lemon, and the drink will be too bitter. If you use too much vodka, the cocktail will be too potent. The key is to balance all the ingredients to get the best taste.
With these bartender tips and tricks up your sleeve, you can create a delicious and unique vodka sour that will keep your customers coming back for more. Cheers to good drinks and happy customers!
One of the best tips for making an excellent vodka sour is the ratio of ingredients. Too much lemon, and the drink will be too bitter. If you use too much vodka, the cocktail will be too potent. The key is to balance all the ingredients to get the best taste.
Try to create an equal balance of citrus and simple syrup when making this beverage. You don't want one flavor to overpower the other. 
Ingredient Substitutes
Like almost any recipe, you can substitute some ingredients in your vodka sour to change the taste and texture or suit your dietary needs.
Substitute Eggs for Aquafaba in Your Vodka Sour
If you have an egg allergy or don't like the idea of drinking raw eggs, you can substitute the egg whites in a vodka sour for aquafaba. Aquafaba is the water that chickpeas and other legumes have been cooked in. One of the easiest ways to get aquafaba is to use the liquid in canned chickpeas by draining it. You could also cook the chickpeas yourself and use the remaining water.
To get the same consistency as egg whites, you'll need to whip your aquafaba. Use a hand mixer instead of manually whisking to save time and energy. It can take several minutes for the aquafaba to reach a usable texture, so you'll need to mix it for about five minutes to get the right consistency.
Swap Your Simple Syrup With Granulated Sugar in a Vodka Sour
Making a simple syrup can be time-consuming. If you're in a pinch for time, replace your simple syrup with plain sugar. For every half-ounce of simple syrup, use a teaspoon of granulated sugar. Using sugar instead of syrup can change the texture by making the drink a little thinner.
Add Grenadine to Your Vodka Sour
To make a cherry vodka sour, add grenadine to your mix. Although many people believe grenadine is cherry juice, it is not. Grenadine is made from pomegranates. However, it acts as a sweetener and gives drinks their red appearance.
Grenadine is made from a pomegranate, sugar, and lemon juice mix. These citrus flavors complement their lemon base well with a vodka sour. The grenadine is sweet, but it won't overpower the drink. 
Grenadine is used for many cherry-flavored drinks and substitutes, even though it doesn't contain it. Add half an ounce of grenadine to your drink mix and shake to make a cherry vodka sour. You can top the drink with a maraschino cherry, a lemon wedge, or a combination.
Swap Your Lemon Juice for Lime Juice in Your Vodka Sour
Trade out your lemon juice for lime juice to create a vodka gimlet. You can also remove the egg whites and bitters when adding the lime juice for a tangy variation of the traditional vodka sour cocktail. 
A classic gimlet uses gin. However, by replacing the lemon juice with lime juice and removing a few additional elements, you can have a variation of the traditional gimlet and a spin on the conventional vodka sour cocktail.
Vodka Sour Recipe Card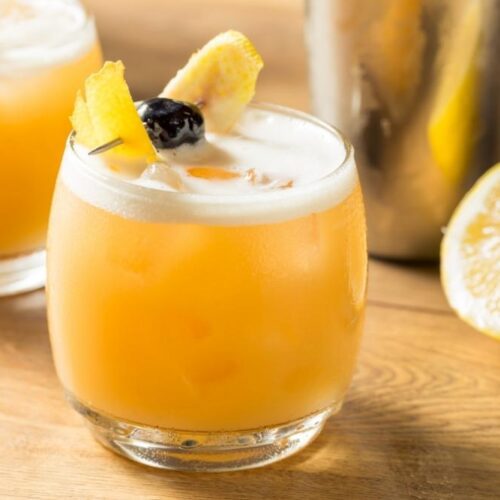 Amazing Vodka Sour Recipe
Discover the perfect balance of sweet and sour with this easy-to-make vodka sour cocktail recipe. Enjoy its refreshing taste anytime!
Print
Pin
Equipment
Cocktail Shaker

Rocks Glass
Ingredients
2

oz

Vodka

1

oz

Lemon Juice

Fresh

1/2

oz

Simple Syrup

3

dashes

Angostura Bitters

1

Egg White

Maraschino Cherry

(garnish)

Lemon Wedge

(garnish)
Instructions
Add Vodka, Lemon Juice, Simple Syrup, Angostura Bitters, the Egg White to the Cocktail Shaker (don't add ice yet)

Shake vigorously for Around 15 Seconds. This Will Help Turn the Egg White into Delicious Foam

Add Ice and Shake Cocktail for Another 30 Seconds

Strain the Drink into a Rocks Glass

Garnish with Maraschino Cherry and Lemon Wedge
Bartender Notes
You can substitute 2 tablespoons of aquafaba for an egg free option.
Try adding some grenadine to add a cherry flavor to your vodka sour.
FAQ
Got questions? We've got answers! Here are a few FAQs you should know before making your vodka sour:
How strong is a vodka sour?
It depends on you and the size of your pour—but the average vodka sour comes in at around 17-18% ABV. Not too shabby!
Is it sweet or tart?
It's both! The sweetness comes from simple syrup, and the tartness from lemon juice. But you can totally adjust to how tart or sweet YOU like it.
What glass do I serve it in?
The traditional vessel to serve a vodka sour in is an Old Fashioned glass (which makes sense, since this was originally just an Old Fashioned recipe with vodka swapped in for whiskey). It looks cute and classy, especially when garnished with a lemon wheel—but any glass will do if you don't have one handy.
Do I need expensive ingredients to make it?
Nope! Vodka sours are great because they use common ingredients but pack a punch. You probably already have what you need to make it right at home, so get creative and enjoy this classic cocktail!
Final Cocktail Thoughts
The classic vodka sour is a spin on the timeless whiskey sour. The cocktail is laced with history and stands the test of time for a reason. Replacing the whiskey with vodka gives you a more neutral and less sweet drink. You can add your own twist. 
Because the drink contains so few ingredients, it's easy to find substitutes if you need them. You can trade the egg whites for aquafaba, simple syrup for sugar, or make a cherry version of the traditional cocktail. A vodka sour is a fantastic summer cocktail that men and women enjoy.
Similar Cocktail Recipes
Whiskey Sour – This is the classic sour cocktail, and this recipe shows why this is one of the most popular cocktails around.
Amaretto Stone Sour – The Amaretto Stone Sour is a delicious orange-tasting sour cocktail that will make you ask for another round.
Tequila Sour – The Tequila Sour is a modern take on the classic sour drink. Lime, Agave Nectar, and Tequila are added to create a new and delicious experience with hints of the classic.