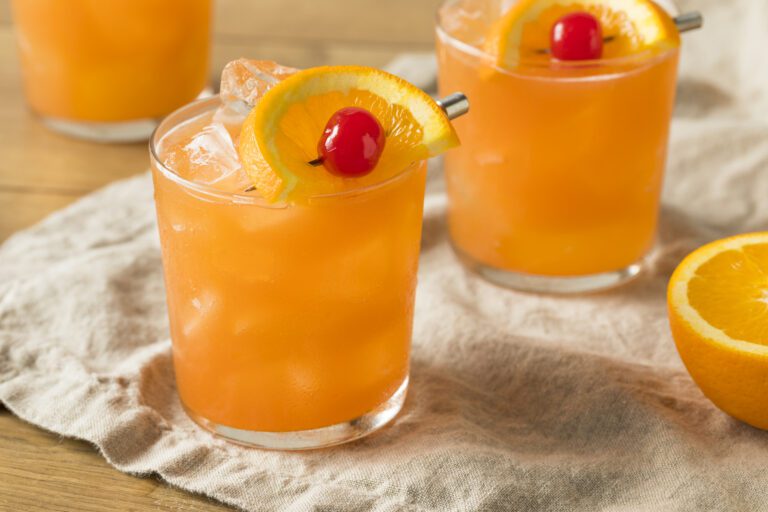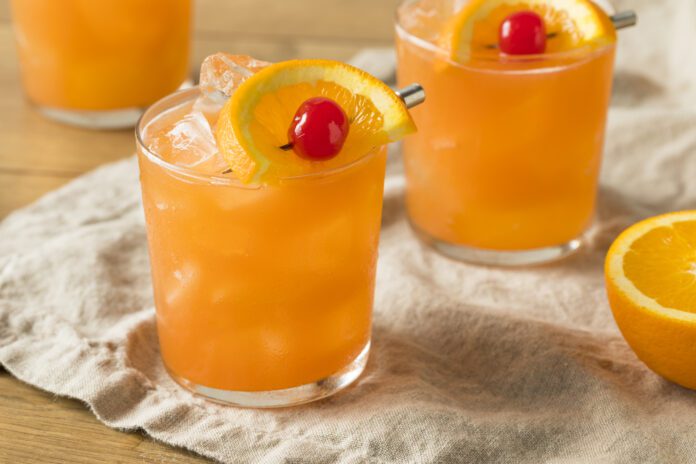 This page may contain affiliate links. Please see our Disclaimer for more information. Always drink responsibly and adhere to your local legal drinking age.
What's the perfect refreshing, tangy, and slightly nutty cocktail? An amaretto stone sour! This delightful cocktail is incredibly easy to make at home and perfect for nearly any occasion or time of day.
An amaretto stone sour features amaretto liqueur, which has a slightly bittersweet almond flavor, paired with orange juice and sweet and sour mix. It's served over ice and garnished with an orange wheel and maraschino cherry. 
A twist on the traditional amaretto sour, the amaretto stone sour has just the right amount of sweetness. Let this easy amaretto stone sour recipe take you from Sunday brunch to evening farewells!
Amaretto's Mysterious Origins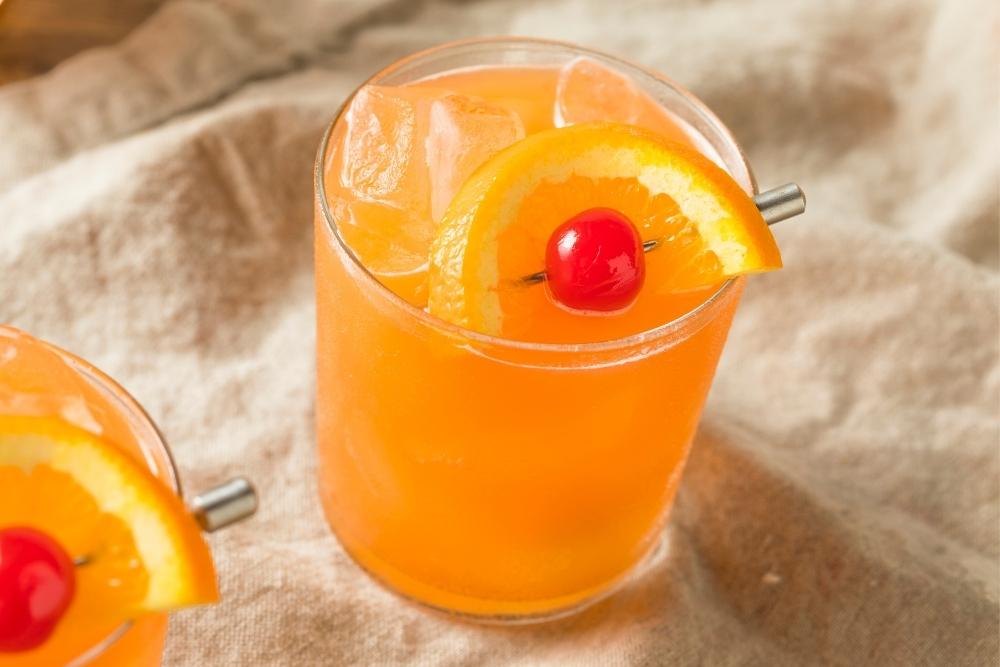 Amaretto is an almond-flavored liqueur originating in Italy. The detailed history of amaretto is unknown, as two different Italian families have supposedly laid claim to the liqueur's creation.
One family's story states that Bernardino Luini, an assistant of Leonardo da Vinci, was commissioned to paint murals of the Virgin Mary. Luini chose a local widow to model for the faces of Mary in his paintings. In some versions, she and Luini fell in love.
The widow was so honored (and possibly enamored) that she made Luini a gift liqueur from apricot seeds and brandy. The Reina family later rediscovered the liqueur recipe and developed it into what may have been the first and most popular amaretto, Disaronno.
The other origin story for amaretto involves the Lazarroni family. This family claims to have invented amaretto cookies, or "amarettis," as a delicacy for the king at the time. Later they supposedly developed Lazarroni amaretto liqueur from their cookie's flavoring.
Both families have similar historical connections to the widow painted by Luini. Therefore, the classic amaretto liquor is likely to have some blended origins. Disaronno and Lazaronni remain the most popular amaretto brands today.
Amaretto means "little bitter," which describes the bittersweet nature of the liqueur and the amaretti cookies. Some people also speculate that the name comes from "amore," the Italian word for love.
Pop Culture Appearances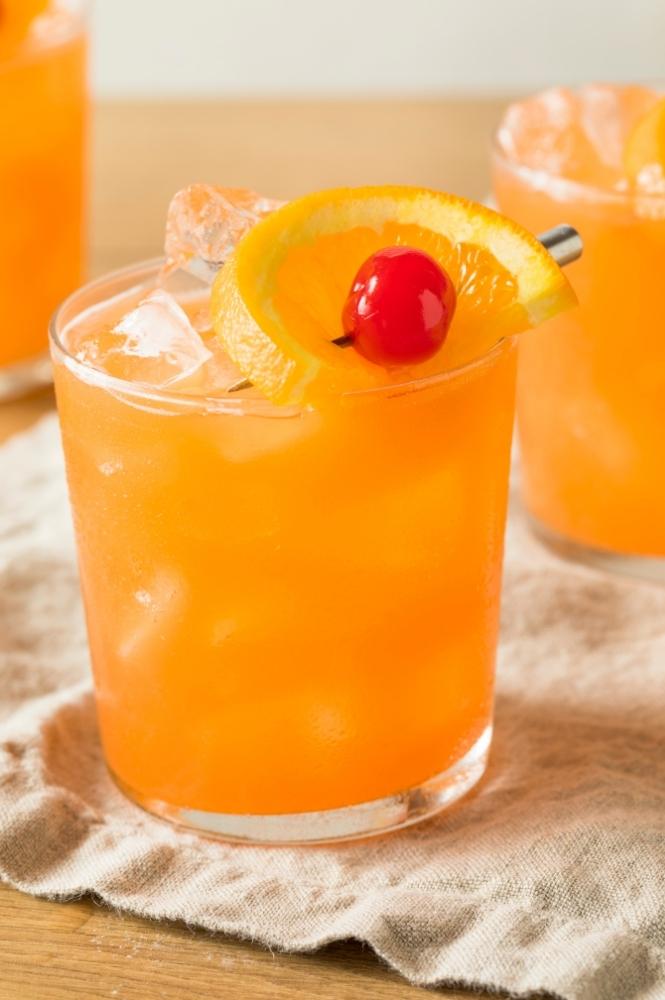 Amaretto was introduced to the United States in the 1960s. It quickly boomed in popularity and became a well-known favorite during the cocktail craze of the 1970s and 1980s.
In 1972, the blockbuster movie The Godfather hit the big screen. In the film, Don Corleone makes his mark as the classy yet lethal patriarch of his Italian family. A cocktail known as "The Godfather" became inspired by this movie.
The amaretto brand Disaronno claimed that Marlon Brando, the actor who played Don Corleone, was a massive fan of an amaretto and scotch cocktail. Nutty, smoky, and insistently masculine, The Godfather is an amaretto cocktail that is still incredibly well known.
Amaretto's Unique Flavor Profile
Amaretto is an almond-flavored liqueur. It's often used in baking and as a mixer in cocktails. Although it has a distinctive almond-like flavor, amaretto is not always produced from almonds. Instead, apricot pits are sometimes used to create the liqueur.
The apricot version may be a good substitute for people with tree nut allergies, as both formulas taste about the same in recipes and cocktails.
However, traditional amaretto cannot be produced in the United States because the recipe requires bitter almonds, which are banned in the United States because people can easily use them to create poisonous cyanide.
Amaretto liqueur contains between 21% and 28% alcohol by volume. You can consume amaretto alone, but it's syrupy by nature. For this reason, it's usually mixed in cocktails or used in baking recipes.
Amaretto has a nutty, slightly bitter flavor. Many people would describe the taste of almonds as similar to cherry but slightly smoother. Amaretto balances well with citrus, cinnamon, and bourbon.
The History of Amaretto Stone Sours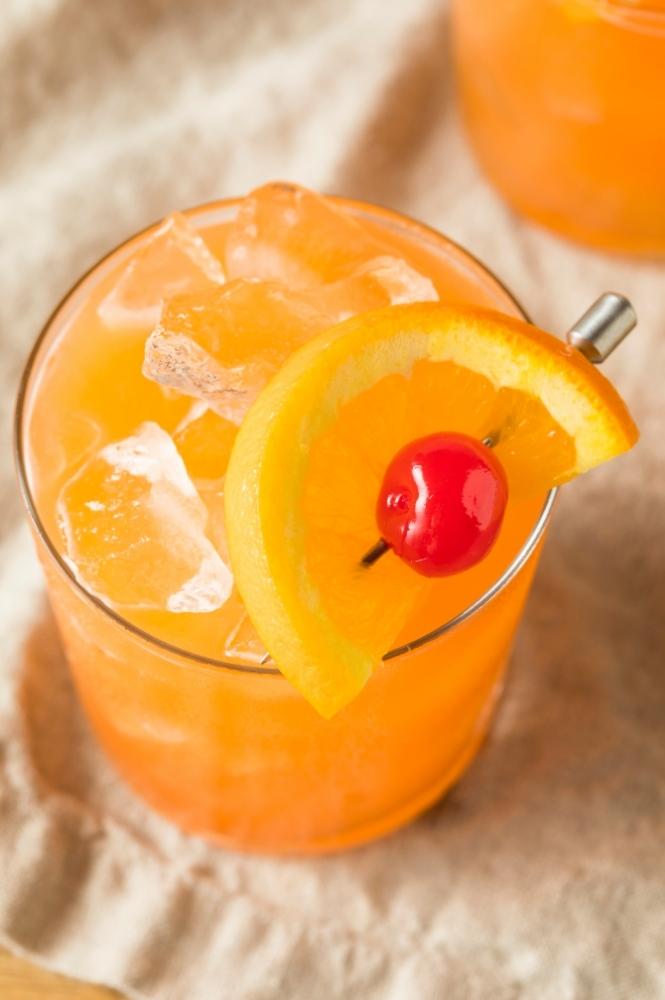 The term "stone sour" was first coined by Tom Bullock in 1917. Bullock was the first African American to publish a cocktail recipe book, in which he included his recipe for a stone sour using orange juice, lemon juice, syrup, and gin.
The International Bartender's Association hasn't yet recognized the amaretto stone sour on its list of official cocktails. Still, your bartender will most likely recognize the tasty concoction, or you can explain the simple ingredients if needed.
Homemade Amaretto Stone Sour Recipe
If you haven't tried an amaretto cocktail, what are you waiting for?
An amaretto stone sour is the perfect introductory beverage for this delicious Italian liqueur. It's similar to an amaretto sour but uses orange instead of traditional lemon juice.
If you'd prefer to relax in your own space, amaretto stone sour cocktails are incredibly easy to make at home. Bittersweet almond liqueur combines beautifully with sweet and sour orange notes, garnished with an orange wedge and maraschino cherry.
Ingredients for the Amaretto Stone Sour
You can find the simple mixing ingredients of this cocktail at any grocery store, and any respectable liquor store will carry an amaretto.
To make this unique and classy drink, you will need the following ingredients:
Amaretto liqueur
Sweet and sour mix
Orange juice
An orange
Maraschino cherries
Ice
Your ingredients can be as straightforward or as elegant as you'd like. For extra innovation, try juicing fresh oranges, making your own sweet and sour mix, or jarring your own maraschino cherries! To present the cocktail in its traditional form, you'll need a rocks glass.
Cocktail Directions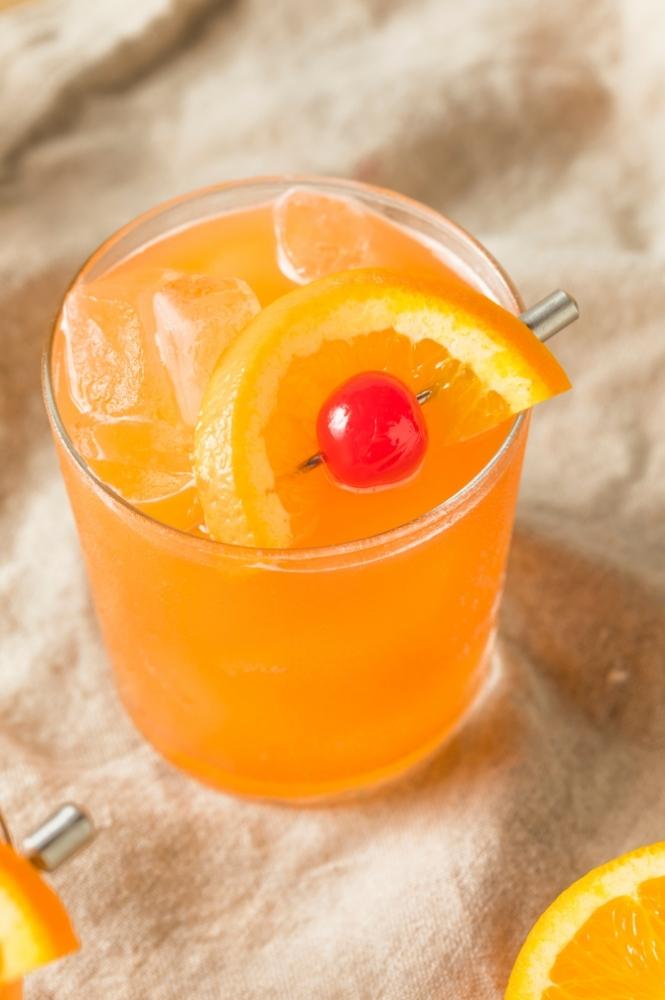 Before getting started, pre-slice your orange so you can serve the cocktail as fresh as possible. For an amaretto stone sour, an orange wheel or wedge and maraschino cherries are the traditional garnishes.
Orange Wheels
To cut a perfect orange wheel, follow these steps:
Choose a small to medium-sized navel orange.
Wash the fruit before cutting.
For orange wheels, cut the fruit into even slices from end to end. You should be left with perfect round "wheels" of orange.
Orange Wedges
Additionally, follow these steps to make orange wedges:
Cut the washed orange from navel to navel, length-wise.
Cut each orange half into even cross-section slices, as described above. These wedges are perfect for garnishing the edge of a glass or top of a beverage!
Amaretto Stone Sour Cocktail
Lastly, begin crafting your amaretto stone sour by following these steps:
Add ice to the rocks glass. Depending on your preference, you can use crushed ice, traditional ice cubes, or an elegant ice block.
Add 1.5 oz (approximately one shot glass or 40 ml) of amaretto liqueur.
On top of the amaretto, add 1.5 oz (40 ml) of the sweet and sour cocktail mix.
Top the amaretto and sweet and sour mix with 2 oz (60 ml) of orange juice.
Grab a bartender's spoon. If you don't have a designated bartender's spoon, a simple tablespoon or straw will work just fine.
Mix the ingredients in the rocks glass until they are evenly blended.
Garnish your amaretto stone sour cocktail. Take a pre-sliced orange wheel or wedge and make a small cut in the fruit. Hang the orange on the edge of your rocks glass. Alternatively, you can lay an orange wedge on top of the cocktail beverage.
Use your bartender's spoon again to pluck a juicy maraschino cherry from the jar and drop it into the cocktail.
Et voila! Your perfect homemade amaretto stone sour is ready to enjoy!
Serving Suggestions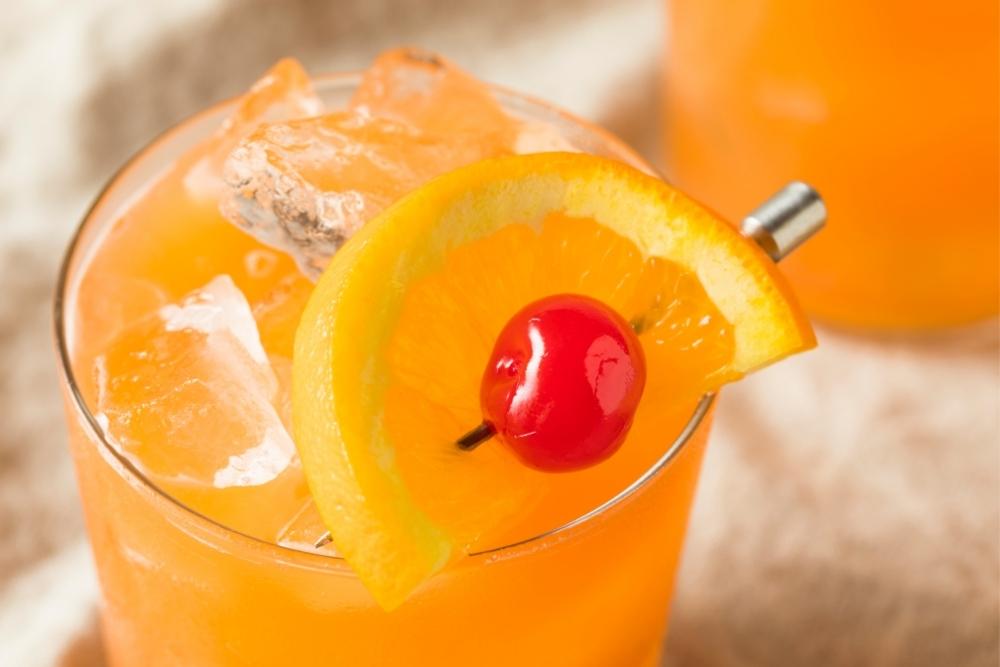 Amaretto stone sours are a perfect cocktail for nearly any time of day. The orange juice makes this refreshing beverage compatible with brunch or lunch. At the same time, the nutty amaretto takes it all the way to dinner.
Food Pairings
Amaretto is considered a potent liqueur. For brunch, it pairs well with:
Coffee
Peach
Apricot
Cinnamon
Try pairing your amaretto stone sour with a cozy breakfast peach cobbler, coffee, or tiramisu.
For lunch, try pairing amaretto cocktails with dishes with:
Ham
Oranges
Cranberries
Pecans
Walnuts
Light ham sandwiches and cranberry pecan salads are excellent lunch pairings for a sunny afternoon in the garden.
Amaretto also plays well with savory meats like ham and steak at dinnertime. Almond is a distinct but delicate flavor, so avoid overwhelming the palette with overly-spiced dishes.
Serving Times
Amaretto stone sours are an excellent option for serving lunch or dinner party guests. They're effortless to make and sure to impress even the pickiest of guests with their smooth and tangy flavor.
Have you ever hosted a dinner party and felt like your guests were beginning to overstay their welcome?
Traditionally, amaretto cocktails were served as a "digestif." Digestifs were offered to dinner guests to signify the conclusion of the evening party. In other words, an amaretto cocktail was a very polite way to ask guests to finish their conversations and head home.
Digestif cocktails are also thought to aid in the digestion of the dinner meal, hence their name.
To follow tradition, serve each guest one amaretto cocktail soon after the meal and allow at least one hour to enjoy and settle. For best results, it's recommended to serve the cocktail outdoors in the fresh air.
Enjoy this cocktail with friends, all by yourself, out on a brunch date, or at home while watching The Godfather. It's sure to be a classy and warm-hearted occasion whenever you choose to partake in an amaretto stone sour.
Amaretto Stone Sour Recipe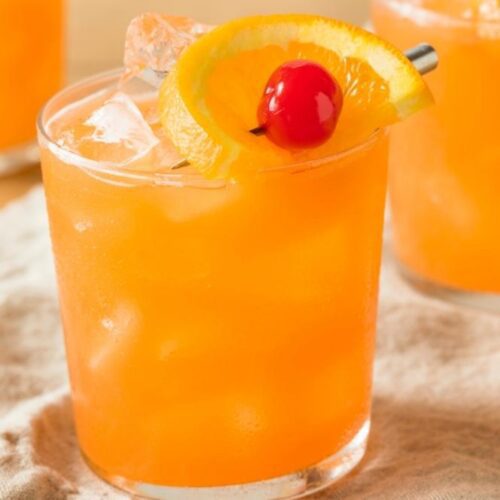 Easy Amaretto Stone Sour Recipe
Amaretto Stone Sour is a delicious cocktail that you can make with just a few basic ingredients in a few seconds. Enjoy the tasty concoction with your guests.
Print
Pin
Ingredients
1.5

oz

Amaretto

1.5

oz

Sweet and Sour Mix

2

oz

Orange Juice

1

Orange Wedge

(Garnish)

1

Maraschino Cherry

(Garnish)

Ice
Instructions
Add Ice, Amaretto, Sweet and Sour Mix to Rocks Glass

Stir Until Ingredients are Mixed

Garnish with Orange Wedge and Maraschino Cherry
Bartender Notes
Sweet and Sour Mix can be made at home by adding 1 part Water, Sugar, and Lime Juice and 2 parts Lemon Juice.
Final Cocktail Thoughts
The amaretto stone sour is a refreshingly delicious beverage that many people enjoy. Although the actual origins of amaretto is a bit of a mystery, the tangy cocktail has become a popular drink choice.
Although the amaretto stone sour isn't quite recognized by the International Bartenders Association as an official cocktail. This is a delicious and easy recipe to make for your friends or dinner party guests.
Similar Sour Cocktails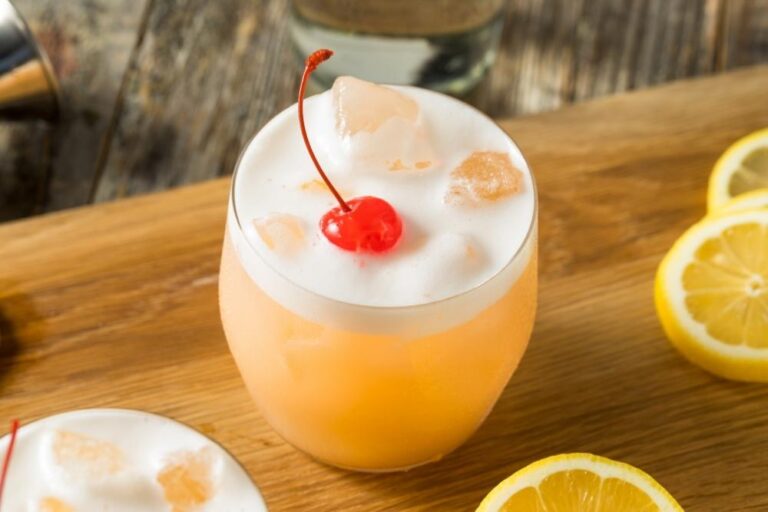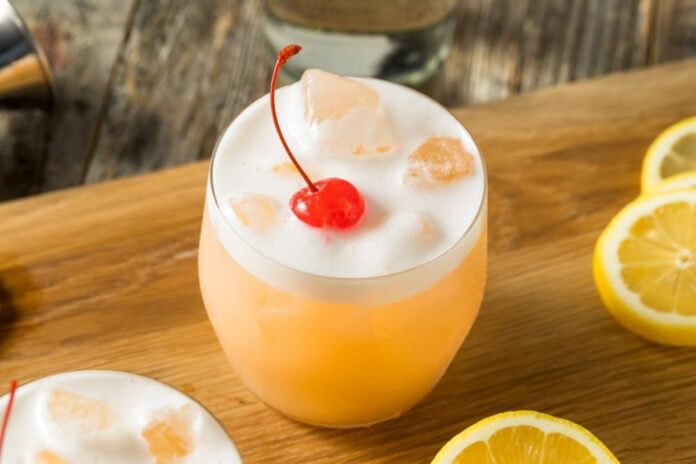 The original and most popular sour cocktail, the Whiskey Sour is a delicious cocktail that will not disappoint.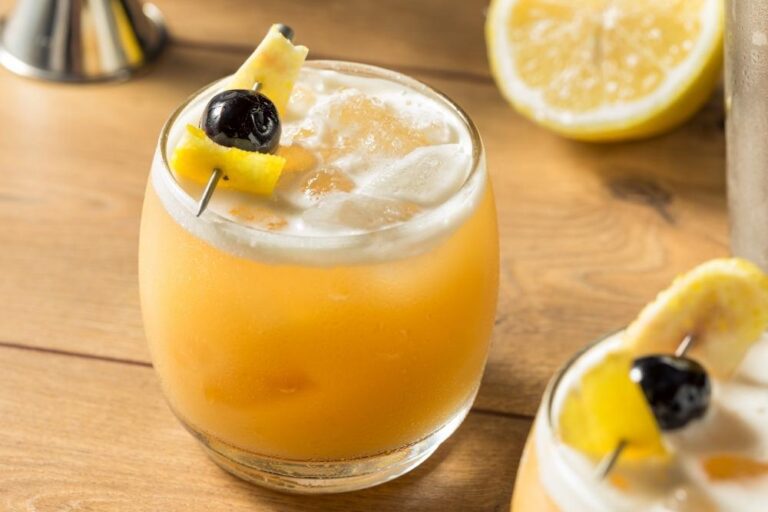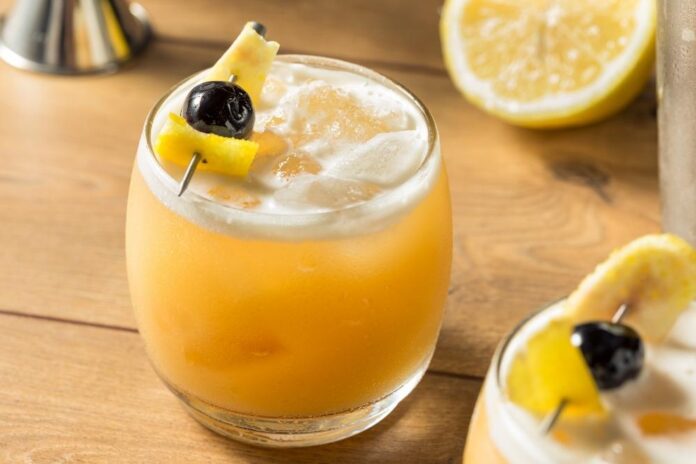 Looking for a smoother sour cocktail that focuses on the fresh ingredients? If so, than the Vodka Sour cocktail is perfect for you.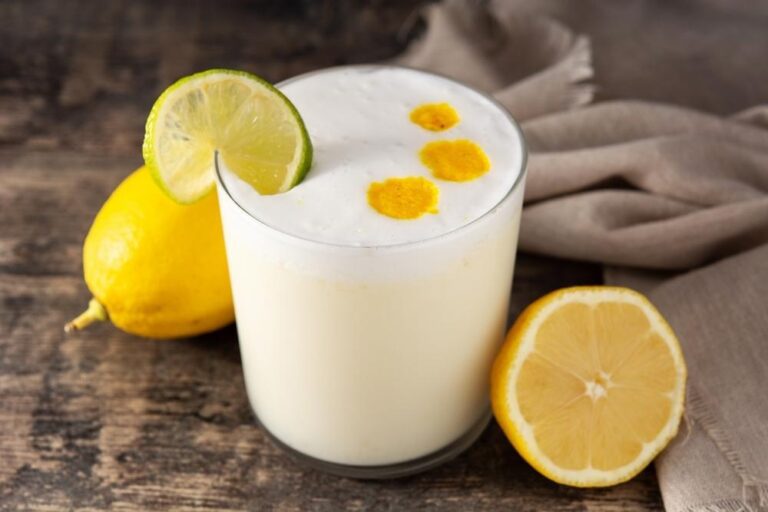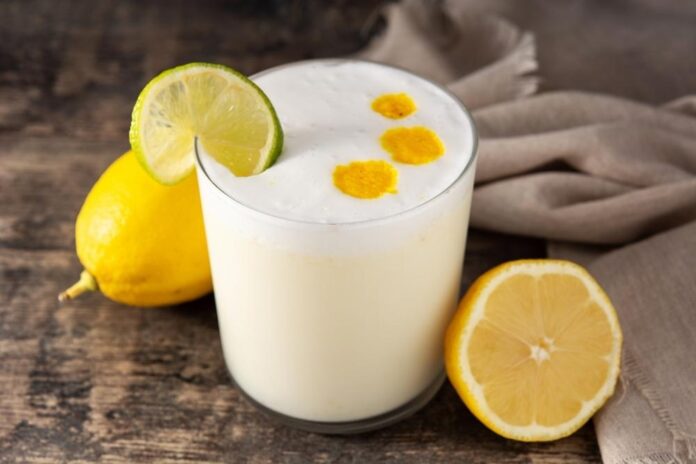 The Tequila Sour is a modern and festive take on this classic cocktail. Try this unique and highly tasty drink today!