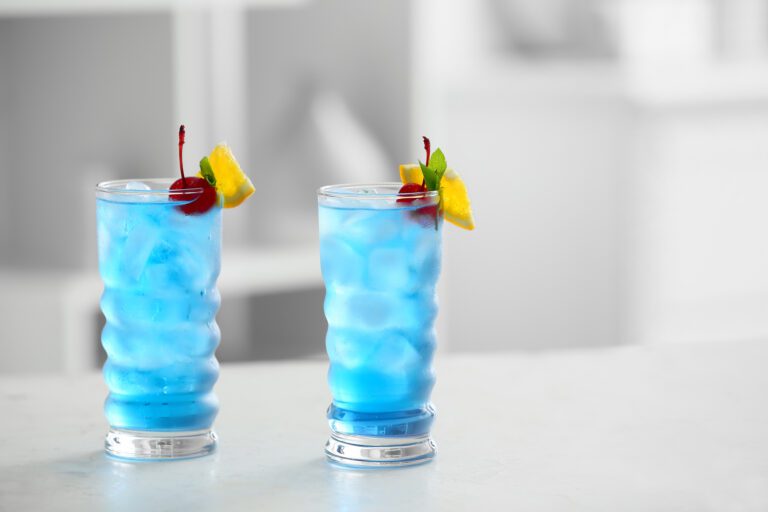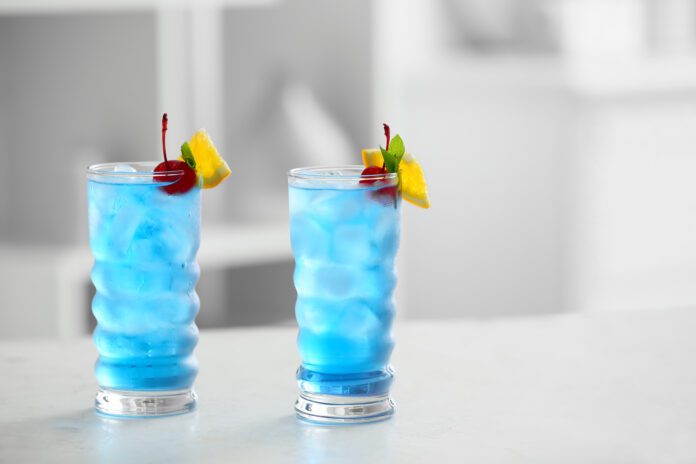 This page may contain affiliate links. Please see our Disclaimer for more information. Always drink responsibly and adhere to your local legal drinking age.
The Blue Motorcycle drink is similar to a Long Island Ice Tea and has gained popularity over the years. It's generally beloved by bartenders and enthusiasts, as it requires little to no skill, knowledge, and equipment to make. Also, a Blue Motorcycle is eye-catching, delicious, and refreshing, so I have an awesome recipe if you're looking for a signature drink to serve at your next summer party.
Even though it is easy to make a Blue Motorcycle cocktail, learning a bit about its history, ingredients, and how to serve it best can help you get that perfect, professional-looking glass that's bound to impress even your pickiest guests. If you've got some time on your hands, read on.
What's a Blue Motorcycle?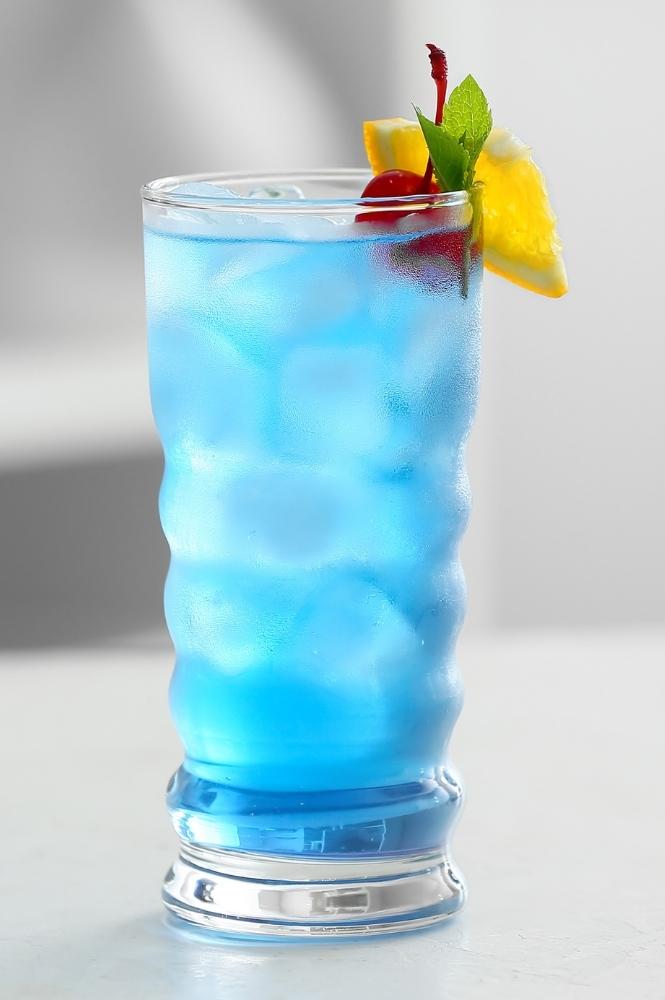 The Blue Motorcycle drink is a cocktail with rum, gin, blue curaçao, tequila, vodka, and lemon-lime soda. The beverage is renowned for its signature bright blue color and potent punch. Blue Motorcycle is one of the strongest cocktails, containing all four major spirits. 
As you can see, it is called a Blue Motorcycle due to its bright blue color. The cocktail is often seen as a variation of the classic Long Island Ice Tea due to the similarity in ingredients. However, while the latter would be topped off with cola and triple sec, its newer (and bluer) variation calls for Sprite and blue curaçao instead. As a result, Blue Motorcycle is a lighter, more citrusy alternative than its predecessor, making it better suited for summertime parties and gatherings. But like Long Island Ice Tea, AMF (I'll be using Blue Motorcycle and AMF interchangeably throughout this article) is just as easy to make at home.
However, if you plan on serving Blue Motorcycle to a bunch of night partygoers, keep an eye on your guests because (as you might've imagined by now) the cocktail is an alcohol and sugar bomb that'll get everyone buzzing.
Alcohol Percentage
A Blue Motorcycle contains a whopping 22% alcohol percentage (or five times more than your average beer bottle). Therefore, you don't want anyone drinking these in excess, and moving on to lighter or non-alcoholic beverages after the first glass or two is best.
On the other hand, if you're looking for a quick, delicious way to get a buzz, I can't think of a better cocktail. Even though a Blue motorcycle contains five different liquors, it goes down much smoother than you'd think. But if you're a fan of sweeter cocktails that taste more like fruit punch than an alcoholic drink, AMF isn't the best option.
If you're an amateur bartender, a Blue Motorcycle is an excellent drink to practice your skills. The best thing about the cocktail is that it's highly customizable and allows for a large margin of error. This means that even if your hand slips once or twice while pouring the liquor, the final product will still taste fantastic (and people who don't know better won't be able to tell the difference).
Also, if you prefer one of the liquors over the others, you're free to play with the proportions mentioned in the following recipe and make this cocktail your own.
What Does A Blue Motorcycle Drink Taste Like?
If you enjoy a refreshing and bold drink, you're in for a real treat! Have you ever wondered what a blue motorcycle drink tastes like? Well, let me tell you, it's a unique and exhilarating fusion of natural flavors that will leave your taste buds dancing in excitement.
Picture this – a delicious blend of blue curacao, vodka, rum, gin, tequila, and some refreshing lemon-lime soda, all mixed together to create a sweet and tangy drink. The blue color of the drink is sure to catch your attention, but the bold and irresistible taste will keep you coming back for more.
Although it is an extremely strong cocktail, Blue Curaçao and lemon-lime soda help balance the drink and greatly reduce the alcoholic taste. This is an easy drink and one of the most delicious recipes we have tried.
Whether you're lounging on the beach, hanging out with friends, or just enjoying a nightcap, a blue motorcycle drink is an experience that you won't forget. So why not ride into flavor town and try one of these delicious drinks for yourself? Trust me, your taste buds will thank you!
History of the Blue Motorcycle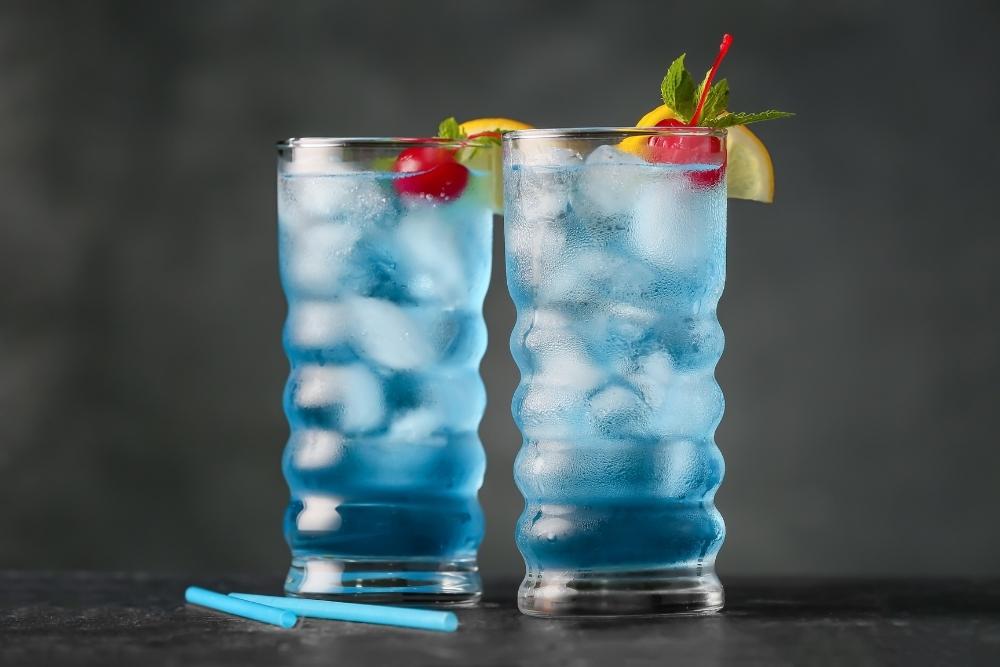 Compared to most classics, Blue Motorcycle is a relatively new invention. The cocktail is believed to have originated in 1970s New York when it was created as a summer version of the Long Island Ice Tea. Over the years, it became better known in bars, restaurants, and hotels across North America and Europe.
However, Blue Motorcycle didn't reach peak popularity until the mid-2010s, as a new generation of young adults discovered the convenience and delicious taste of the vibrant blue cocktail.
Even though Blue Motorcycle was widely viewed as just another Long Island Ice Tea variation, the cocktail has taken a life of its own. This is partly because the cola to Sprite and triple sec to blue curaçao swap can significantly affect the beverage's appearance and taste.
As a result, it's safe to say that AMF provides a drinking experience that can't be compared with anything else you've ever had before.
What You Need To Make a Blue Motorcycle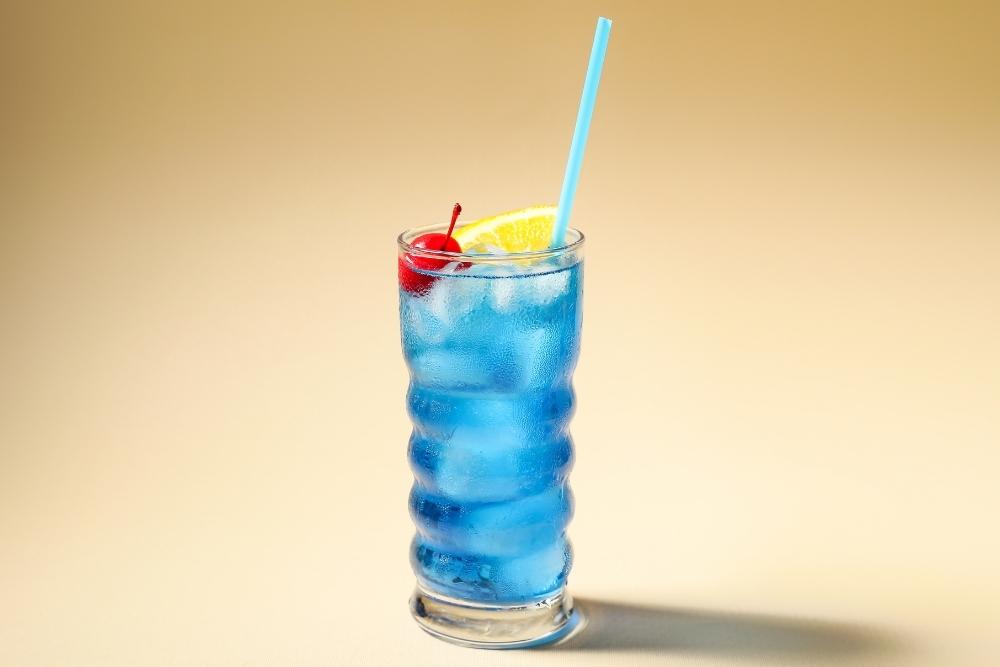 Before going through the following recipe, ensure you have the right equipment and ingredients to make a mind-blowing Blue Motorcycle. Even though, as mentioned, the recipe doesn't call for much, it's still a good idea to learn more about what you're getting into before promising your friends a delicious glass of AMF at your next gathering.
Regarding equipment, you'll only need a cocktail shaker and a glass of your choice. However, a tall bar glass usually works best (more on this now). The former will allow you to measure all spirits in this recipe as precisely as possible. At the same time, the latter will help you put the perfect Blue Motorcycle serving size, which usually consists of 300-400 ml (10-13.5 oz).
Also, you can always add a stainless steel straw to the glass. I strongly suggest you don't skip this step, as adding a straw makes it easier for a tipsy bunch to drink without making a mess all over the party floor. Plus, it allows your guests to pace themselves while sipping such a potent beverage.
Garnishes
On another note, you'll want to make sure you've got your hands on the usual add-ons and garnishes, such as:
Cubed ice
Lemon wedges
Maraschino cherries
Remember that the exact quantities you'll need will depend on the number of servings you plan to make. Additionally, ice can be added or omitted depending on your preferences. However, the classic Blue Motorcycle recipe calls for it.
Ingredients
I've already mentioned the ingredients you'll need throughout this article and will discuss them in the following recipe. However, before busting out your shaker, you'll want to make sure you have access to the following:
Vodka – A premium vodka will help reduce the alcohol taste and make this a smoother cocktail.

Gin – You'll want to use a dry gin for this recipe. Some popular options for a dry gin include Beefeater, Tanqueray, and Bombay Sapphire.
Tequila – A blanco tequila works best so you don't add unwanted flavors.
Rum – The goal when you make this recipe is for it not to taste like pure alcohol, so an unflavored white rum works perfectly.

Blue Curaçao – This recipe uses Blue Curaçao to give it a colorful twist while adding a delicious citrus taste. It wouldn't be a blue cocktail without this.

Lemon-lime soda – We recommend using a lemon-lime soda such as Sprite of 7UP.
While the garnishes are optional, the above ingredients are essential when making an authentic Blue Motorcycle. You'll notice I didn't provide specific quantities for the above. As I said earlier, you can adjust the proportions according to your preferences — as long as the five core ingredients remain.
You don't want to exclude the blue curaçao: It gives the beverage a distinctive look. Most of your job is done after you've gathered all your ingredients, garnishes, and equipment. The cocktail-making process should only take 5-7 minutes, depending on how many people you plan to serve. The process might take longer if you make individually poured and garnished cocktails for a crowd.
Before moving on to the next section, I want to remind you that when making a Blue Motorcycle, you should never use a blender to mix all ingredients. That's because fizzy soda and alcohol in a blender are a recipe for a small explosion. Therefore, only use the equipment to mix the spirits and add the Sprite or 7Up afterward.
How to Make A Blue Motorcycle Cocktail
Are you ready to wow your taste buds with a vibrant and refreshing cocktail? Look no further than the Blue Motorcycle cocktail recipe! This eye-catching drink is a must try for any occasion, from a summer barbecue to a night out with friends.
To make your own, fill a cocktail shaker with 0.5 ounces each of vodka, rum, tequila, gin, and blue curaçao, and add ice.
Pour into a tall Collins glass filled with ice, and finish it with a splash of lemon-lime soda.
Give it a good stir, garnish, and voila!
You'll be sipping on a dazzling blue concoction that's sure to impress. And the best part? The combination of spirits gives this cocktail a potent kick to keep the party going all night. So mix up a Blue Motorcycle, and let the good times roll!
How To Serve a Blue Motorcycle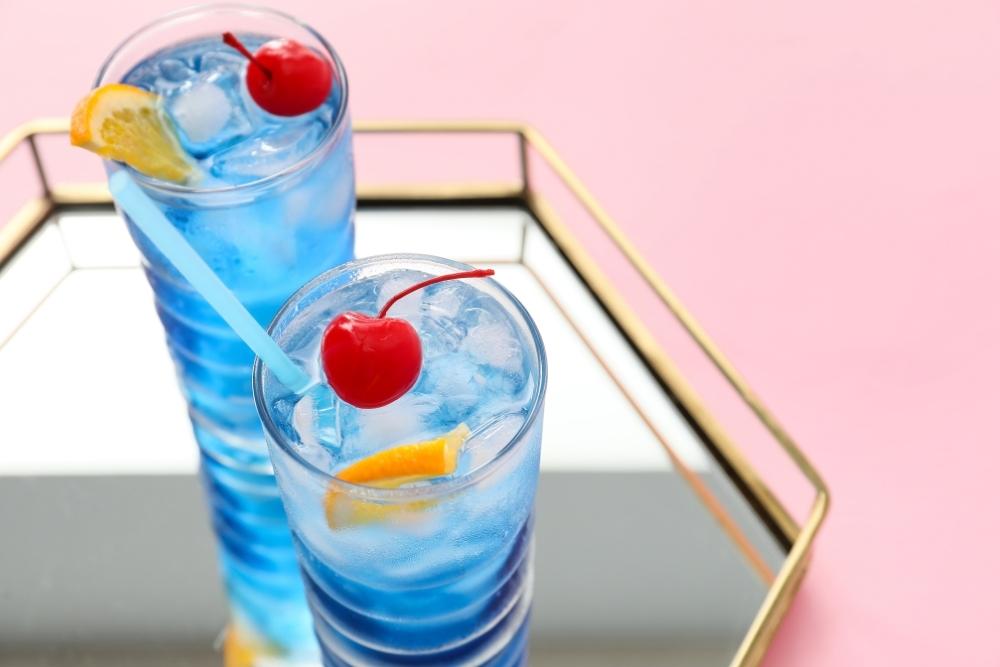 A Blue Motorcycle is as easy to serve as it is to make. To give your guests the full AMF drinking experience, you'll want to serve it in a tall, narrow bar glass filled with ice. This summer drink is best garnished with fresh lemon slices and maraschino cherries. But, as I mentioned, you can get creative regarding garnishes. The great thing about a Blue Motorcycle is that it can be served in just about any glass. If you're not overly worried about impressing your guests with your cocktail presentation, go with what you already have.
Bartender Tips and Tricks
As a bartender, it is important to be able to prepare and serve a variety of cocktails, including the popular and classic Blue Motorcycle. However, creating a consistent and tasty drink can be challenging, particularly for those new to the craft. Therefore, it is helpful to have tips and tricks to help you perfect this refreshing drink.
Always measure your ingredients carefully to ensure the perfect balance of alcohol and mixers.
Shake the drink thoroughly and strain it over ice to achieve its classic frothy appearance.
Use quality ingredients such as fresh citrus juices and top-shelf spirits.
Take the time to practice and perfect your technique, as consistency is key to delivering a satisfying drink to patrons.
For a sweeter cocktail, you can add a bar spoon of simple syrup. Or, for a bit of acidity and freshness to the cocktail, you can use some freshly squeezed lemon juice and simple syrup. Just be careful not to add too much extra sugar.
With these tips and tricks in mind, you will be well on your way to mastering bartending and delighting your customers with a perfectly crafted Blue Motorcycle cocktail.
Blue Motorcycle Drink Variations
If you like the concept of a Blue Motorcycle, but the drink doesn't fit your preferences, you can choose one of these delicious variations that are just as enjoyable and impressive as the OG.
Long Island Ice Tea. As mentioned, the Blue motorcycle is a Long Island Ice Tea variation. Both of them are delicious cocktails that get you buzzed fast. Swap the lemon-lime soda for coke and the blue curaçao for triple sec, and you'll have your own Long Island Ice Tea.
AMF, Adios Motherfucker, or Goodbye Motherfucker. This is another blue Long Island variation that contains a lot of alcohol. The main difference is that this cocktail adds a sweet and sour mix, which gives it a refreshing bite of citrus that mixes well with several kinds of alcohol.
Virgin Blue Motorcycle. Whether you're at a family-friendly summer gathering or want to make the designated drivers feel as included as possible, this virgin variation of the cocktail is just the recipe you've been looking for. Even though (due to the number of spirits) making the OG drink non-alcoholic may seem impossible, all you'll need to make the Virgin Blue Motorcycle is lime juice, blue cream soda, and pineapple juice.
Blue Motorcycle Drink Recipe Card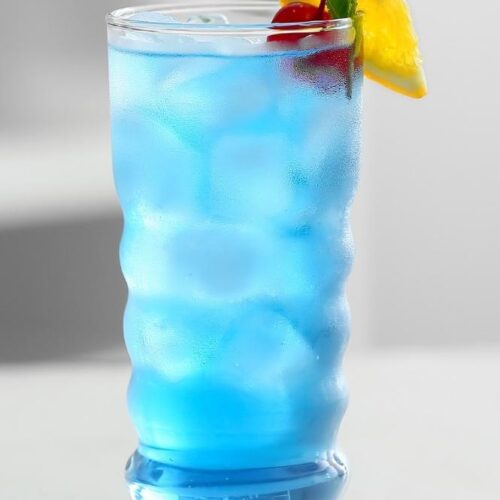 Awesome Blue Motorcycle Recipe
This Blue Motorcycle drink is cool but strong, like the biker gangs in your favorite movies. Mixing four types of alcohol and Blue Curacao gives this drink its distinctive taste and look.
Print
Pin
Ingredients
.5

oz

Gin

.5

oz

Rum

.5

oz

Tequila

.5

oz

Vodka

.5

oz

Blue Curaçao

8

oz

Lemon Lime Soda

(Sprite or 7UP)

1

Lemon Wedge

(Garnish)

1

Maraschino Cherry

(Garnish)

Ice
Instructions
Add Gin, Rum, Tequila, Vodka, and Blue Curaçao to Cocktail Shaker with ice

Shake Well Until Ingredients are Fully Mixed (10-15 Seconds)

Pour the Entire Contents of the Cocktail Shaker into Bar Glass (Including Ice)

Garnish with Lemon Wedge and Maraschino Cherry
Bartender Notes
The difference between the Blue Motorcycle and the AMF is the AMF also contains Sweet and Sour Mix.
Final Cocktail Thoughts
Blue Motorcycle (or AMF) is a vibrant blue cocktail that originated in New York in 1972. The drink closely resembles the classic Long Island Ice Tea. It features five different spirits, making it one of the most potent cocktails on any bartender's menu. The light, refreshing drink requires little experience, skill, and equipment. In short, it's the perfect cocktail even for novice hosts to serve their guests during a summertime gathering or party.
Similar Party Cocktails
AMF – For a slight variation of this recipe, try the original AMF cocktail.
Jungle Juice – Jungle juice is the ultimate party cocktail. You can make this delicious drink in bulk, which will impress any guest or taste bud.
Incredible Hulk – This tasty superhero-themed cocktail will make you want to smash your thirst.