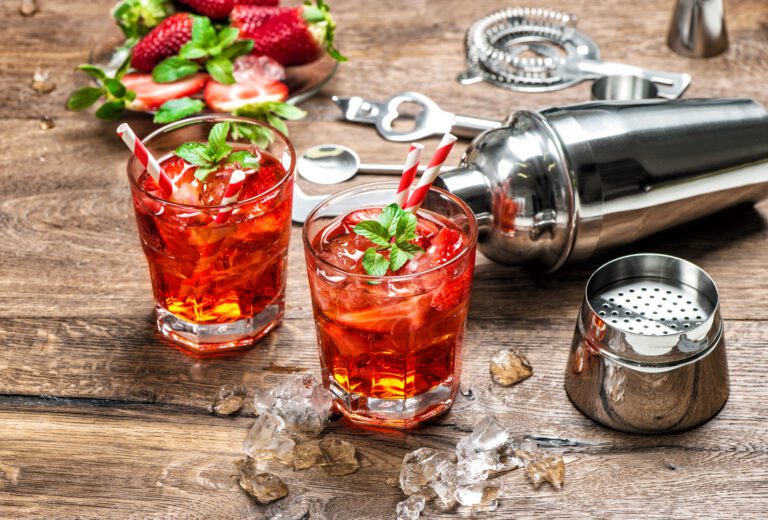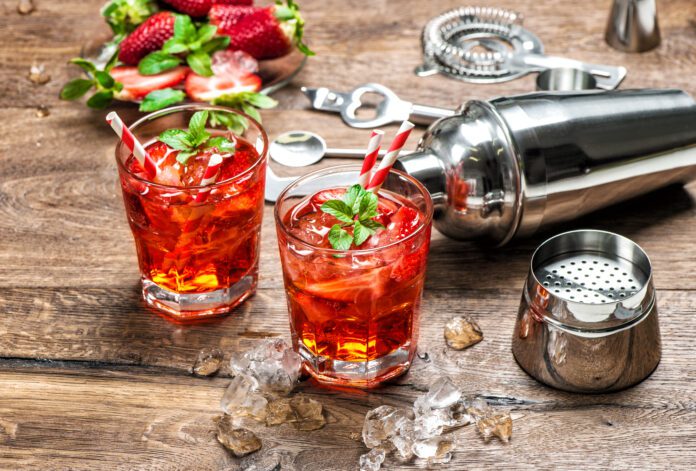 This page may contain affiliate links. Please see our Disclaimer for more information. Always drink responsibly and adhere to your local legal drinking age.
Raise a glass and cheers to super tasty cocktail creations! Looking for something unique that will make your happy hour pop? Look no further than this delicious Strawberry Hennessy cocktail.
This unique and fabulous drink is made with the perfect combination of Hennessy, strawberry syrup, champagne, fresh strawberries, and a mint garnish. All these ingredients combine to create an unforgettable flavor sensation that will please any crowd.
So if you're looking for a new libation to share with friends or something special for yourself, look no further than this amazing Strawberry Hennessy cocktail. We've got the recipe here so you can whip up this mouthwatering concoction in no time flat! So grab the ingredients, and let's get started on this delicious treat!
What Is a Strawberry Hennessy Cocktail?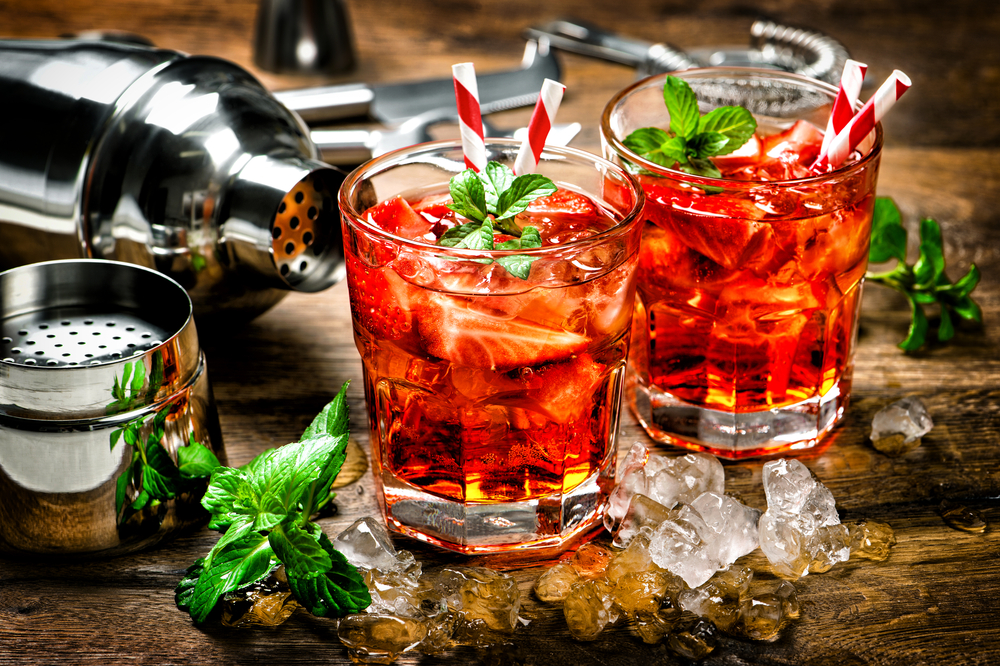 The strawberry Hennessy Cocktail is a sweet strawberry-tinted drink with just enough champagne to keep you bubbly for the night. This cocktail is ideal for special occasions like weddings, birthdays, or just sitting back, relaxing, and enjoying joy in a glass. 
If you're looking for a new delicious, refreshing drink, the Strawberry Hennessy is the perfect cocktail. Made from Hennessy Cognac, strawberry syrup, champagne, fresh strawberries, and a mint garnish, this delicious cocktail has all the sweet flavor of fresh fruit combined with the smooth taste of Hennessy to make one fantastic sip.
The combination of the sweetness of the strawberries and their tartness with the creamy texture of Hennessy makes it a truly delightful treat! Best of all, you can prepare this cocktail in just minutes!
This cocktail is straightforward to put together and is not easily forgettable. As mentioned above, this drink sounds like it comes from a fairytale, and once you get a sip of it, you can't have enough.
What Does a Strawberry Hennessy Drink Taste Like?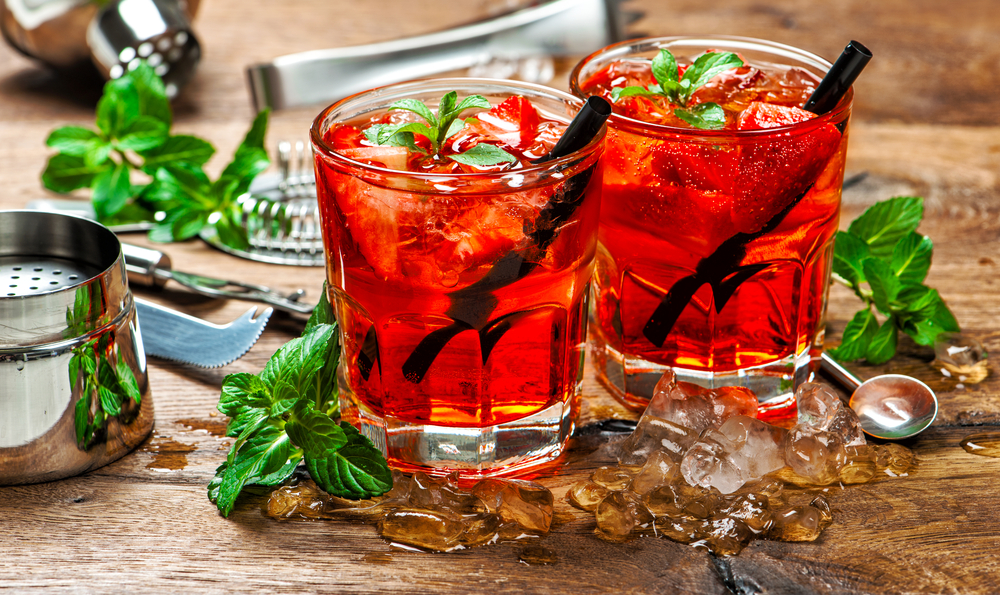 If you're looking for a summer-themed drink, this cocktail is ideal. But before you wander into this mesmerizing recipe, you might be curious about what it tastes like.
A sweet and tart blend of Hennessy, strawberry syrup, and champagne—the Strawberry Hennessy is delicious with a classic kick! It's equal parts bold and refreshing—the perfect cocktail for any occasion. The strawberry syrup and fresh strawberries provide a juicy base for the delicate flavor of the champagne and Hennessy, creating an explosion of flavor in every sip.
You'll want to use perfectly ripe strawberries to bring out the flavors in this cocktail. Ripe strawberries are sweet and juicy without being overly sour or making your drink too overpowering. And when combined with a hint of mint garnish to balance the sweetness? It's simply divine!
Strawberry Hennessy Ingredients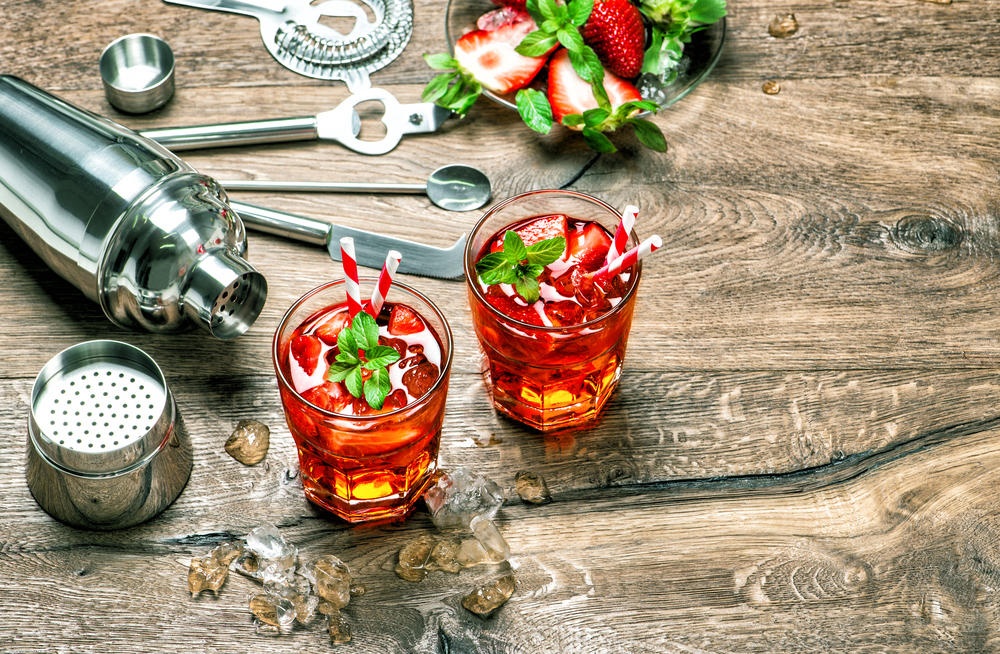 Ready to get started? Here's what you need to create the perfect Strawberry Hennessy Drink:
Hennessy Cognac – For the cocktail base. You'll need 1 ½ ounces of cognac, more or less, depending on your preference. Learn more about cognac here. For this recipe, normal Hennessy VS will do, but you could try the premium Hennessy XO for added smoothness and notes of vanilla and oak.
Strawberry Syrup – You can either buy strawberry syrup or make it yourself. Learn how to make homemade syrup below. You could also use strawberry puree for added strawberry flavor, but the drink will be less smooth, so we recommend you strain with a sieve before serving.
Champagne – We recommend 2 ounces for four servings, but adjust to your taste!
Fresh Strawberries – You'll want about eight large strawberries for four servings. Slice them into thin slices and set aside for garnishing later.
Mint Leaves – You'll want 5-6 leaves for every two servings of this delicious cocktail for garnish.
Ice Cubes – Add clear ice to your cocktail glass to make this homemade strawberry Hennessy recipe stand out.
Homemade Strawberry Syrup
Who doesn't love syrup? As an adult, you always carry some parts of your childhood, such as snow cones with the infamous strawberry syrup!
Sweet strawberry syrup is essential to make this cocktail work. There is no need to use a specific brand of strawberry syrup, although it is best to consider a higher-quality brand. Note that the best strawberry syrup would be homemade. You can quickly whip up your strawberry syrup at home with only three ingredients to make your drink unique. The recipe can serve about seven drinks, saving you money considering the cost. Ingredients:
½ cup (120 ml) water
½ cup (100 g) sugar
1 cup (166 g) chopped-up strawberries
Follow the recipe below to start making your strawberry syrup:
Combine your sugar and water in a saucepan over medium heat. Never try to rush this process since the sugar can burn quickly.
Stir the sugar-water mixture until all the sugar has dissolved. Then, add your chopped-up strawberries. The more refined you chop your strawberries, the better since they get soft quicker.
Bring the sauce mixture to a boil for roughly 10 minutes. Don't increase the heat to prevent this sticky sauce from sticking to your pan.
Let your mixture cool off for a few minutes. Then, using a sieve strain the strawberry syrup into a sterilized glass bottle. It's essential to clean your bottle with boiling water beforehand to prevent bacteria growth.
Seal it and then refrigerate once you've filled the glass bottle. You can keep your homemade strawberry syrup in the fridge for up to 3 weeks and you're ready to serve it anytime.
Bar Tools Needed
To make this deliciously potent drink, you'll need some equipment to help with preparation. Luckily, you don't need a bartender's tool case to be able to make this drink at home. You'll need the following:
Rocks Glass: Why a Rocks Glass? It might feel like you want to use more oversized glasses for this unique drink, but that will take away from the fantastic experience. Rocks Glasses are the ideal size for this cocktail, and since you'll be using the infamous Hennessy Cognac, why not do it the original way?
Bar Spoon: You'll likely need a bar spoon to mix the ingredients. A bar spoon can help, but any longer spoon should do the job if you don't have one at home.
How to Make a Strawberry Hennessy Drink (5 Easy Steps)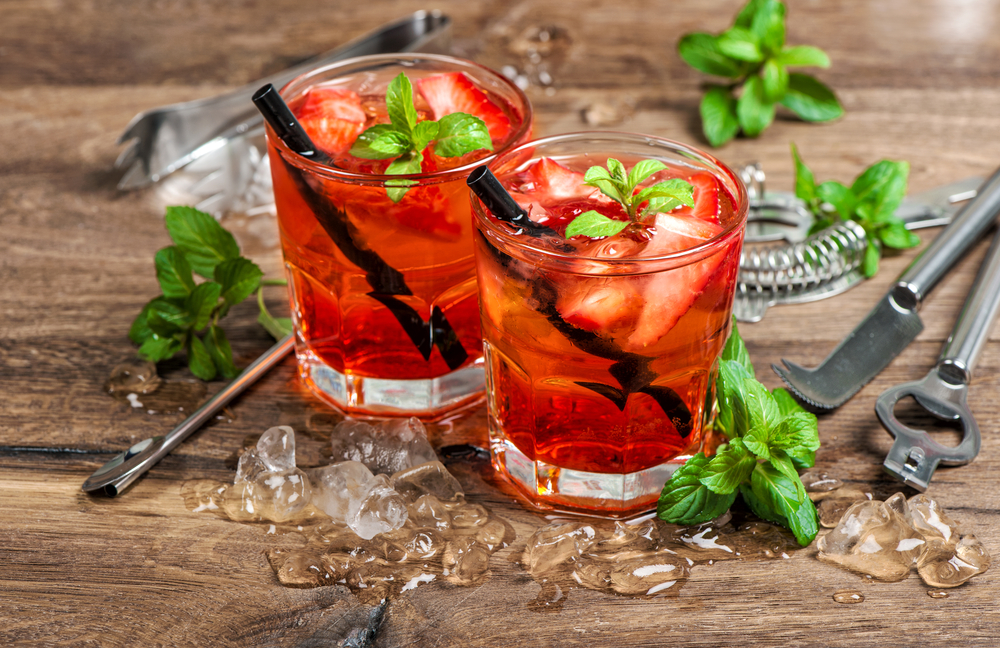 Ready to mix up the best Strawberry Hennessy recipe around? Just follow these steps!
Step 1: Prep the Strawberries
First, cut the fresh strawberries into thick slices, and set them aside. You can muddle them if you want an extra sweet kick.
Step 2: Measure and Pour Hennessy
Next, measure 1.5 ounces of Hennessy into a rocks glass with ice.
Step 3: Add Strawberry Syrup
Add 1.5 ounces of strawberry syrup to the glass. For a sweeter cocktail, use 2 ounces of strawberry syrup instead.
Step 4: Top with Champagne
Top your cocktail with your favorite champagne until the glass is almost full.
Step 5: Garnish with Strawberry and Mint Leaves
Top off your drink with sprigs of mint leaves and your previously cut-up strawberries and gently stir. Feel free to get creative! If you don't have mint leaves, use citrus wedges as a fun substitute.
Bartender Tips and Tricks
We've got the basics of the recipe down for a delicious strawberry Hennessy cocktail, but here are some bartender tips and tricks to make your drink even better.
Use Quality Ingredients
The quality of your ingredients really counts when it comes to this drink. Use a good-quality Hennessy, a flavorful strawberry syrup, and effervescent champagne. You'll be so glad you did!
Muddle the Strawberries
You can muddle the fresh strawberries with a spoon before adding them to your glass to release more flavor. Do this directly into the glass you're serving the cocktail in for maximum impact.
Fancy Garnish
A fancy garnish can go a long way to make your cocktail look even more inviting and exciting. Mint sprigs work really well as a garnish, or you can get creative with edible flowers or other types of fruits. Experiment and find what works best for you.
Now that you know these bartender tips and tricks, you're ready to make an unforgettable strawberry Hennessy cocktail!
Use Homemade Strawberry Syrup
As discussed above, you can always use syrup from your local marketplace, but you should consider making your syrup at home to make this drink extraordinary.
Add the Champagne Gently
Having a flat cocktail can impact the pleasure of this drink, so to prevent the cocktail from going flat quickly, experts recommend adding the champagne slowly. you can do this by slowly pouring it onto the back of a bar spoon.
Substitute Hennessy for Other Liquor
If you struggle to find Hennessy or don't like the flavor, you can always substitute it for other liquor.
Strawberry Hennessy Recipe Card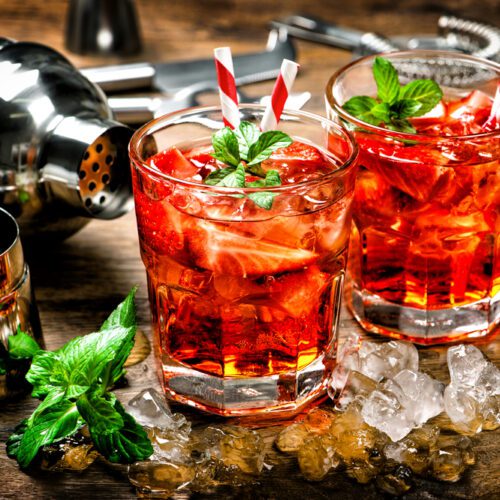 Best Strawberry Hennessy Drink Recipe
Tantalize your tastebuds with this delicious Strawberry Hennessy drink Recipe! Made with Hennessy, strawberry syrup, bubbly champagne, and fresh strawberries. Try it today!
Print
Pin
Ingredients
1.5

oz

Hennessy Cognac

1.5

oz

Strawberry Syrup

4

oz

Champagne

(A Brut is Recommended)

2

Strawberries

Sliced in Half

2

Mint Leaves

(Garnish)

Ice
Instructions
Add Hennessy and Strawberry Syrup

Stir Until Ingredients are Mixed

Add Strawberries and Gently Stir, Until Evenly Mixed

(Optional) Garnish with Mint Leave
Bartender Notes
For the best taste, try making homemade strawberry syrup.
Gently add the champagne to prevent the cocktail from going flat quickly.
The Hennessy can be substituted for other Cognacs or your favorite liquor.
Rub the mint leaves gently in your hands to release the flavor.
FAQ
Let's break down some of the most frequently asked questions and provide you with some answers.
How is this different from a frozen strawberry daiquiri?
The significant difference between a strawberry Hennessy drink and a frozen strawberry daiquiri is the alcohol content and ingredients. A daiquiri contains rum, fresh strawberries, lime juice, and sugar, while the strawberry Hennessy drink contains Hennessy, fresh strawberries, champagne, and strawberry syrup!
Both are fruity and delicious summertime drinks, and their fruity flavor is sure to be a hit.
What type of Hennessy should I use?
When picking the best type of Hennessy for this recipe, we recommend using cognac. Any cognac will do just fine and deliver a robust flavor to your cocktail.
How can I adjust the sweetness and tartness of my drink?
If you want to make your beverage tarter, add freshly squeezed lime juice or a splash of champagne. To make your drink sweeter, add more strawberry or some simple syrup to balance the flavors.
Can I adjust this recipe for low-sugar diets?
Absolutely! You can use low-sugar substitutes for simple or strawberry syrup instead of regular ones. This way, you can make a delicious, LOW-SUGAR version that still contains all the same flavors as a regular one!
How much does Hennessy cost?
Prices in your local area may differ, so check out our Hennessy price guide.
What is Hennessy?
Hennessy Cognac is a type of brandy made only in the Cognac region of France. This recipe calls for VS, but this popular cocktail can be made with any version.
Conclusion
And that's it! You can make a delicious and visually stunning drink with strawberry Hennessy in just a few simple steps. The sweet and tart combination of Strawberry Hennessy and champagne creates a balanced bite that will tantalize your taste buds, and the fresh strawberries and mint give it a refreshing finish.
Whether celebrating a special occasion or wanting to impress someone with a unique cocktail, this Strawberry Hennessy drink recipe is ideal. You can easily double or triple the recipe if you need to make more drinks. So go ahead, give this recipe a try, and enjoy!
Other Delicious Cocktail Recipes
Incredible Hulk – Unleash your inner beast with the superhero-themed cocktail. This easy-to-make green drink is a delicious treat for any occasion.
Brandy Crusta – If you are looking for another cognac cocktail to try, then the Brandy Crusta won't disappoint. The perfect blend of Lemon, bitters, and cognac create this classy and timeless cocktail.
Thug Passion – 90's rap fans should recognize this one. Made famous by rapper 2Pac, this is a tasty cocktail of Alize and champagne, perfect for any party.