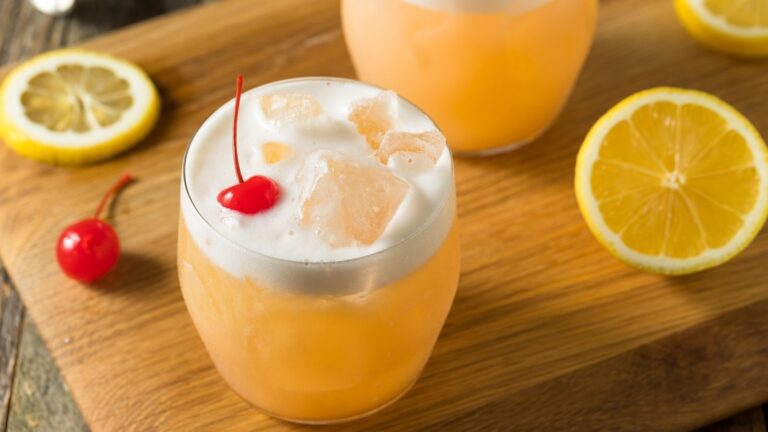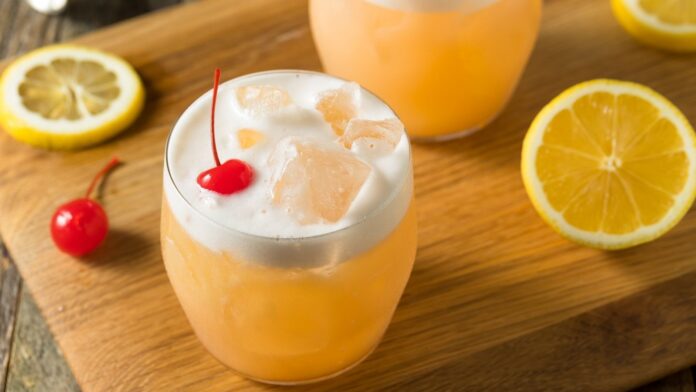 This page may contain affiliate links. Please see our Disclaimer for more information. Always drink responsibly and adhere to your local legal drinking age.
Nothing beats a refreshingly delicious cocktail, and nothing fits that description more than a classic whiskey sour. The whiskey sour has a rich history, and has become exceedingly popular. 
Whiskey sour is a classic cocktail. Its main components are whiskey, lemon, and simple syrup. The type of whiskey used is often bourbon. Egg white can be added to form a frothy texture. It can be customized with additional ingredients like Angostura Bitters, red wine, etc. 
This classic cocktail drink has a long history. It has continued to evolve, resulting in different variations that many enjoy. Later on, I'll share a special recipe with you, so keep reading to reach that part.   
What Is a Whiskey Sour?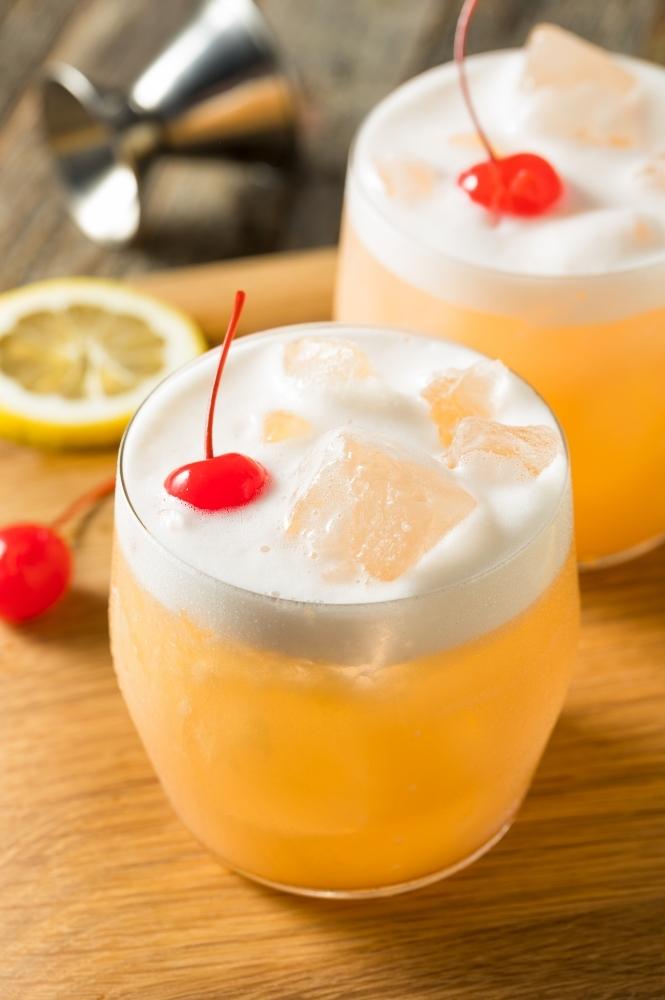 First off, I would need to talk about the whiskey sour itself. What makes it what it is? 
A whiskey sour is a drink made with whiskey (usually bourbon), a citrus component (lemon, lime, or both), and sugar (simple syrup or maple syrup). Egg white or cocktail foamer can be added to create a froth or foam on top. It is usually garnished with a cherry or orange.
A whiskey sour is a liquor, citrus juice, and sugar at its base, but different ingredients can be added in – red wine, egg white, etc. Some classic components have been traded for a similar alternative: lemon for orange, simple syrup for grenadine or maple syrup, and bourbon for scotch. 
This classic status of this drink is further affirmed by its membership in the list of "the unforgettables" by the International Bartenders' Association (IBA).  
What Are Sour Cocktails?
Did you know that a whiskey sour is from the same family of drinks as a Margarita? They are both sour drinks!
Sour cocktails refer to the group of drinks made with a base liquor, a citrus or acidic ingredient (often lime or lemon), and a sweetener (like simple syrup). A classic example of a sour cocktail is whiskey sour and its variant, New York Sour. Other sour drinks include Amaretto Sour and Margarita. 
A sour mix has also been made to make drinks preparation easier. Thus, instead of manually squeezing out lemons, production is accelerated by using this sweet fruit juice. However, nothing beats fresh fruits, so make your drink with fresh lemon to achieve that delicious taste. 
What Is the History of the Whiskey Sour?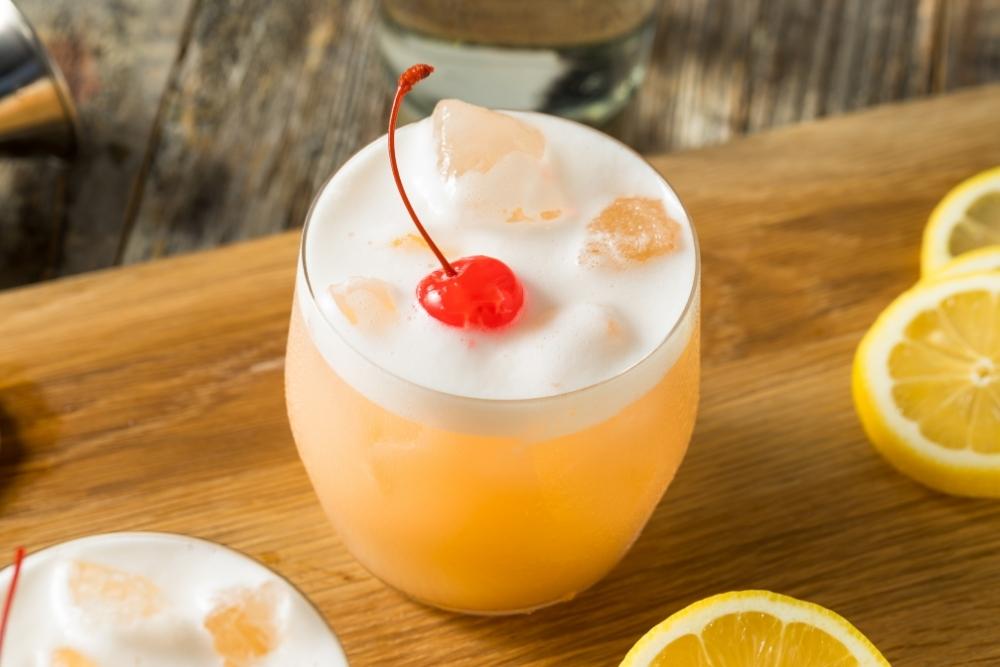 As you can recall, I have told you that whiskey sour has a long history. It goes back to the days of long periods of sailing over the seas. Indeed, sailors enjoyed the drink before it ever came to the shore. 
The history of the whiskey sour goes back to the 1700-1800s when sailors had to bring many lemons or limes and liquor with them on board. These necessities were brought together to make the drink. Jerry Thomas' book, The Bartender's Guide, then included the drink's first written recipe. 
For many sailors, the threat of scurvy due to the lack of vitamin C was a significant concern. The disease can be fatal, making it urgent to find a way to prevent and deal with it. Thus, they would bring loads of fruits rich in vitamin C: citrus fruits like lemons, limes, and oranges. 
Sailors also need something to drink on board, especially since seawater is not an option. It had to be a liquid that would be potable even during a very long journey, and liquor fits the bill. Thus, besides whiskey, they would bring other forms of alcohol like rum and gin. 
Although the saying goes that you should make lemonades out of lemons, the sailors decided they would instead make cocktails out of the lemons and alcohol they had on board. They then added some sugar and water to taste, and voila! The whiskey sour was born. 
What Are the Ingredient Proportions for a Whiskey Sour?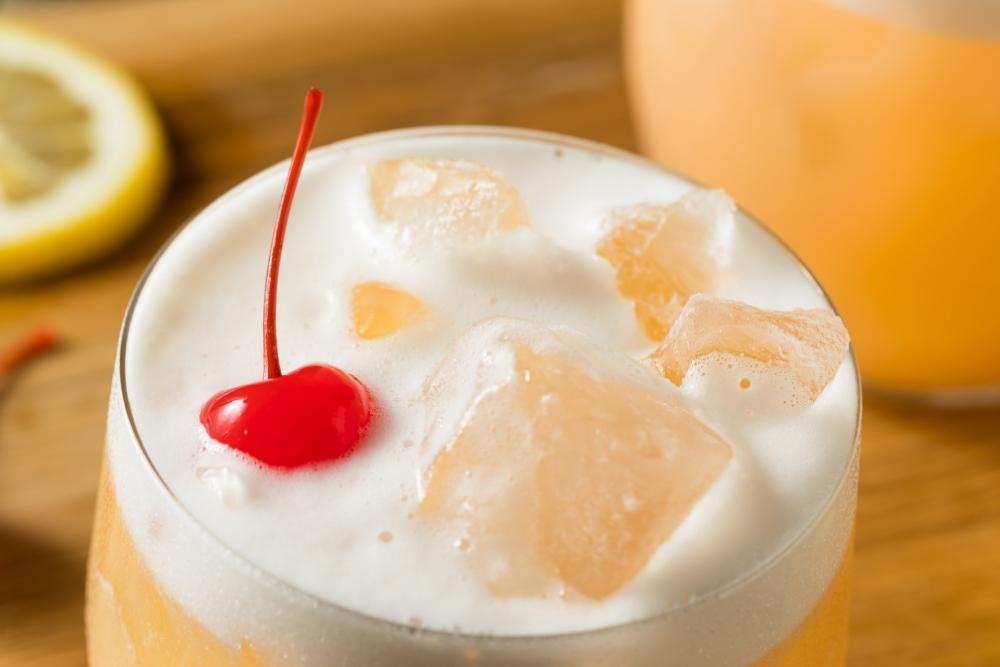 Proportions are crucial in achieving the balance and taste the drinker prefers. Although you can tweak them a bit for your taste, there is a ratio that many would, more or less, follow.
The ingredient proportions for whiskey sour are two parts liquor (bourbon), one part citrus ingredient (lemon or lime), and one part sweetener or sugar. These are, more or less, the ratios in the IBA's whiskey sour recipe. The parts can be changed slightly for preference. 
In the IBA's recipe, 45 ml (1.5 oz) of bourbon whiskey, 25 ml (0.8 oz) lemon, and 20 ml (0.7 oz) of sugar syrup are used. This is close to my delicious whiskey sour recipe's proportions: 59 ml (2 oz) of bourbon whiskey, 30 ml (1 oz) lemon juice, and 15 ml (0.5 oz) simple syrup. 
Is Whiskey Sour Served on the Rocks?
Serving the drinks on the rocks means you do so with ice on the glass. It keeps it cold and refreshing but can dilute the taste if left too long to sit. 
You can serve whiskey sour on the rocks with a rocks glass, although not strictly so. Some have it straight up or shaken with ice before being poured into an ice-less glass. Then, it can be garnished with a half-slice of orange and cherry. 
My recipe has the whiskey sour strained into a rocks glass. Then, you can garnish it with a slice of lemon and cherry. 
What Are the Variations of Whiskey Sour?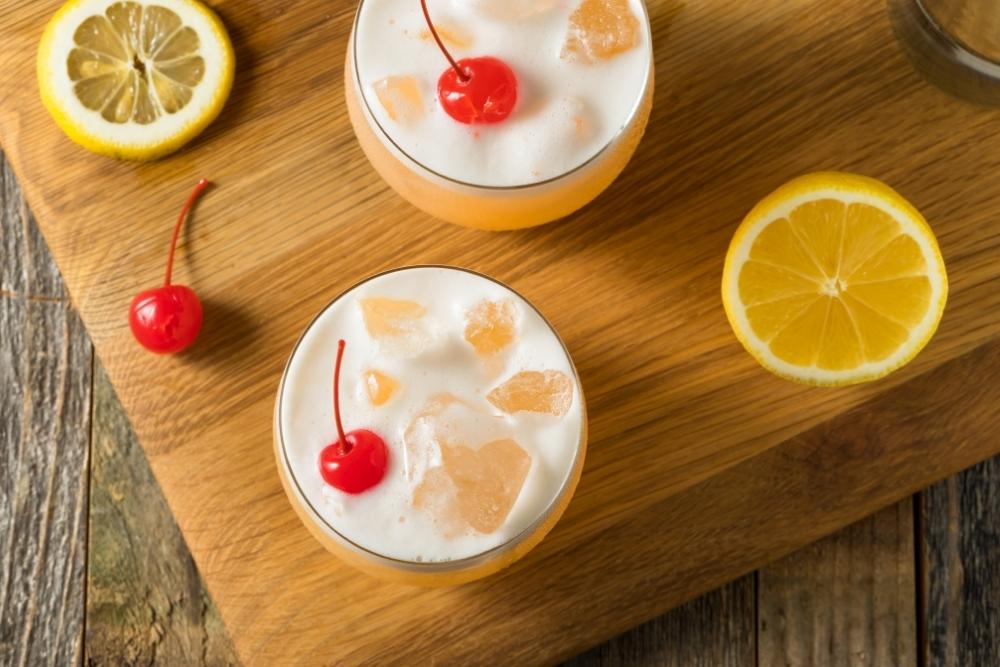 While the base of a whiskey sour – whiskey, citrus/acidic component, sweetener – has been preserved in many recipes, tweaks and additions have been made. These variants have become so popular as to earn their names. 
Some popular variations of whiskey sour include the New York sour, Boston sour, Scotch Sour, and Amaretto sour. These may have added components like egg white or red wine. Some may have classic ingredients traded for alternatives, like scotch for bourbon. 
Boston Sour: Whiskey Sour With Foamy Egg White Topping
The Boston sour's distinct frothy foam is attributed to the egg white component. The IBA's official whiskey sour recipe mentions 20 mL (0.7) of egg white; however, it is optional, but you can refer to it when making a Boston sour. They did note that you would have to shake harder to incorporate the foam, but you can also use techniques like dry shake and reverse dry shake to achieve the effect. 
Later on, you will also notice that my whiskey sour recipe is kind of a Boston sour. It incorporates one egg white to get beautiful and delicious foam, but you can also use aquafaba for an egg-free option. Aquafaba is made from water from chickpea, soybean, or other neutral-tasting bean water. 
New York Sour: Whiskey Sour With Red Wine 
The New York sour has become such a famous whiskey sour variant that it has made its way into IBA's "New Era Drinks" list. You would need rye whiskey or bourbon for liquor, simple syrup as sweetener, and fresh lemon juice for acidity. Added components are a few drops of egg white and red wine (Shiraz or Malbec). The red wine that floats on top of the drink making the New York whiskey what it is and gives it an iconic red layer.
Scotch Sour: Whiskey Sour With Scotch Instead of Bourbon
Although bourbon is the popular liquor of choice for whiskey sour, there are other types of whiskey you can use. One of them is rye whiskey, used for New York sour. But for Scotch sour, Scotch whiskey is used. 
Although scotch and bourbon are both whiskeys, they have distinct flavors because of what they were made from. Bourbon is produced from corn mash, while scotch is made from aged melted grains. 
Amaretto Sour: Whiskey Sour With Amaretto Liqueur
The Italian liqueur amaretto is noted for its sweetness, slight bitterness, and almond or nutty flavor. It can be made from apricots and almonds. 
It can be drunk by itself but is often mixed with drinks, like whiskey sour, Amaretto sour, or The Godfather. The liqueur is also used in making treats like almond bear claws, cookies, and tiramisu. 
A sample recipe of amaretto sour uses three parts amaretto, one part whiskey, and two parts lemon juice. 
What Are Angostura Bitters? 
In my recipe, you will see that I will be using Angostura Bitters. Bitters contribute to the complex flavors of drinks. 
Angostura Bitters are a brand of bitters made from aromatic herbs and spices. It was named after the town it was first produced in 1824. Now, it is often used in making cocktails. 
Another related drink that makes use of Angostura Bitters is the Trinidad Sour. This cocktail is also part of the IBA's "New Era Drinks ." The recipe uses Angostura Bitters, orgeat syrup, fresh lemon juice, and rye whisky. 
What Is Grenadine? 
Although I've only mentioned it in the recipe notes as a suggestion, you can also add grenadine for an additional flavor. 
Grenadine is a popular, non-alcoholic cocktail ingredient. It was initially made from pomegranate and was named after seeded fruit. However, it is now made with blackcurrant and other fruit juices.   
Whiskey Sour Recipe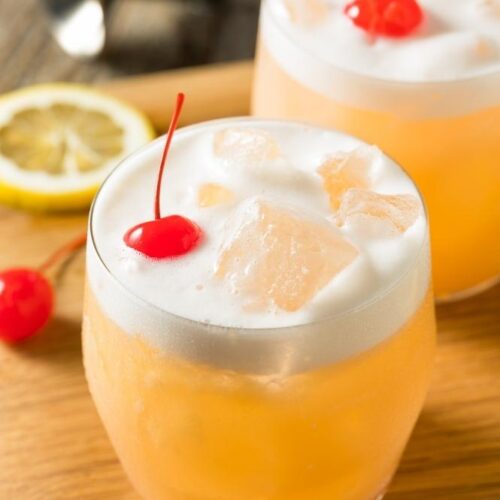 Delicios Whiskey Sour
The Whiskey Sour is a highly popular cocktail. The sour lemon and bitters are perfectly balanced out with a hint of sweetness and a light and frothy foam.
Print
Pin
Equipment
Cocktail Shaker

Rocks Glass
Ingredients
2

oz

Bourbon Whiskey

1

oz

Lemon Juice

1/2

oz

Simple Syrup

3

dashes

Angostura Bitters

1

Egg White

Maraschino Cherry

(garnish)

Lemon Wedge

(garnish)

Ice
Instructions
Add Bourbon Whiskey, Lemon Juice, Simple Syrup, Angostura Bitters, the Egg White to the Cocktail Shaker (don't add ice yet).

Shake vigorously for around 15 seconds. This will help turn the Egg White into delicious foam.

Add Ice and shake cocktail for another 30 seconds.

Strain the drink into a Rocks Glass over Ice.

Garnish with Maraschino Cherry and Lemon Wedge.
Bartender Notes
You can substitute 2 tablespoons of aquafaba for an egg free option.
Try adding some grenadine to add a cherry flavor to your Whiskey Sour.
Simple syrup can easily be made at home by heating equal parts water and sugar until dissolved.
Final Cocktail Thoughts 
In its most basic sense, a whiskey sour is a cocktail made of whiskey (often bourbon), a citrus juice, and a sweetener. Over the years, variations have been made, like the New York sour, Scotch sour, amaretto sour, and Boston sour. The recipe in this article is also a variant, using Angostura bitters and egg white. 
Similar Sour Cocktails