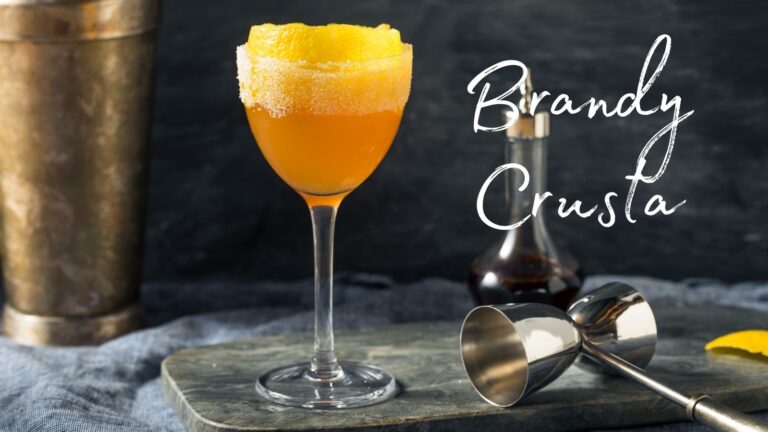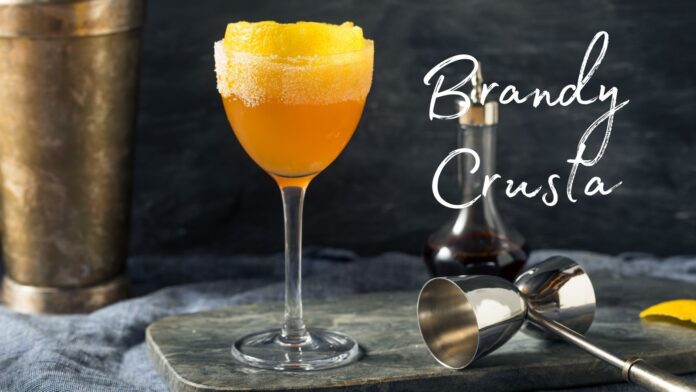 This page may contain affiliate links. Please see our Disclaimer for more information. Always drink responsibly and adhere to your local legal drinking age.
A Brandy Crusta is an excellent drink for multiple occasions. The brandy has a natural fruity taste, and the citrus additions give it a crisp balance that pairs excellently with the sugar rim. This cocktail has been around for ages, and for a good reason.
Brandy Crusta is a timeless cocktail that originated over 150 years ago. The drink balances aged brandy, fresh lemon juice, syrup, and other sweet and citrus ingredients to create a well-balanced—yet often sour—cocktail. It's known for its oversized lemon peel that typically adorns the glass.
What makes a brandy crusta timeless? Aged brandy, quality liqueurs, citrus additions, and a sugar rim that pulls it all together. There's a reason this drink has been around for ages.
What Does a Brandy Crusta Taste Like?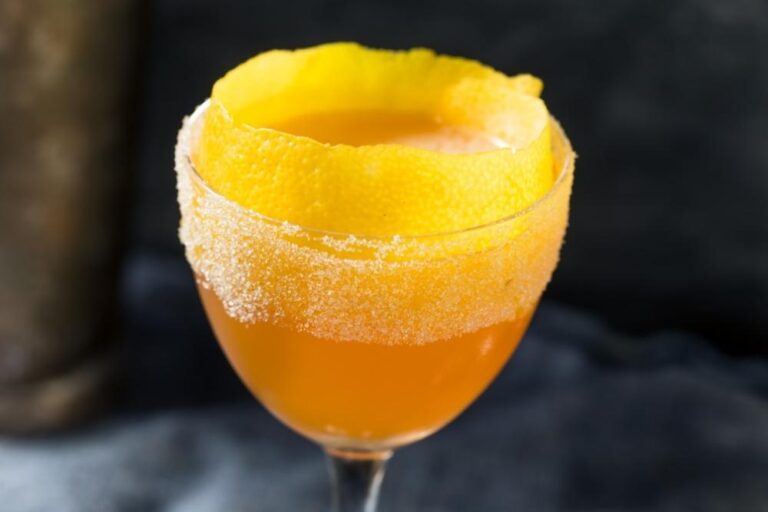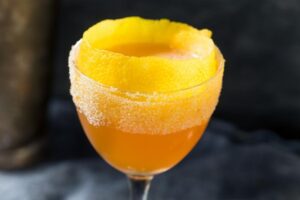 Brandy is most commonly made from fermented grape juice. However, you can also make brandy from cherries, apples, apricots, and pears. If you make brandy from those alternative fruits, the spirit will taste strongly of those flavors instead of traditional brandy flavors made from grape juice.
Brandy Crusta tastes strongly of brandy with hints of lemon and citrus flavors. Brandy is a fruity spirit, so it's naturally sweet. Some brandy takes on underlying flavors of oak if it's aged in a wood barrel, which can enhance its taste. 
A Brandy Crusta balances out the sweet taste of the brandy with a zesty and crisp citrus flavor. Most brandy crustas include lemon juice, and some add orange peels or apricots to balance the taste further. Additionally, the sugar rim will add another sweet element that creates a satisfying tangy and sweet combination. 
Due to the ingredient variables, you can make your Brandy Crusta as crisp or sweet as you would like.
What's in a Brandy Crusta?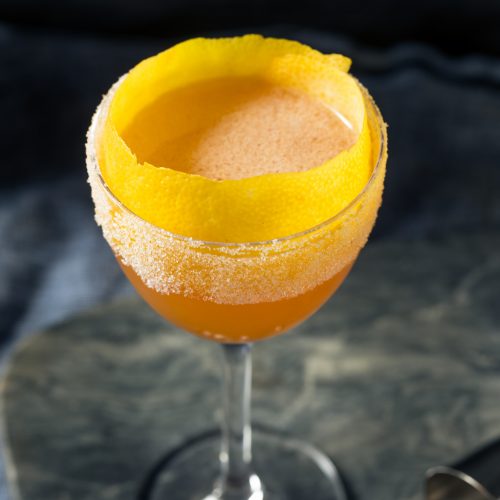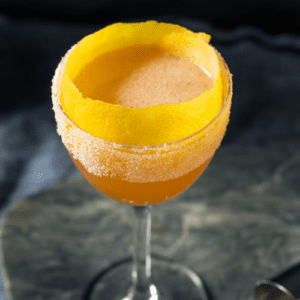 Most Brandy Crustas contain:
Brandy
Sugar syrup
Maraschino liqueur
Lemon juice (preferably freshly squeezed)
Angostura bitters
Orange liqueur
A sugar rim. 
Additional garnishes like lemon or orange peels are usually present.
One of the most important aspects of a Brandy Crusta is its sugar rim. Crustas are always served with a sugar rim, so it's important not to skip this step. They're also typically served in a stemmed glass, so make sure you have the appropriate glassware for your drink!
Which Brandy To Choose?
You should choose the Rémy Martin XO, blended from up to 400 different types of Eau de vie, meaning unaged brandy that isn't made from grapes and is double distilled. It contains various notes to take your drink to the next level. You'll taste plum, oranges, and hints of cinnamon in this spirit.
The best Brandy Crustas use a high-quality brandy. The Rémy Martin XO is first choice, but check out these different brands of brandy for some other exquisite options:
Hine Homage Cognac: This French spirit is a high-quality brandy that will truly enhance the flavor of your Brandy Crusta. Brandy is considered mature when it has aged over two years. Hine Homage Cognac is aged at least ten years, and it's harvested from grapes in the Grande Champagne. 
Ararat: For a more affordable option, try this American brandy. It's made from white grapes and spring water and is aged a minimum of three years and a maximum of six years. Ararat has been in business for over 100 years, and they are skilled in making brandy.
Where Did Brandy Crusta Originate?
The Brandy Crusta originated in New Orleans in the 1850s by an Italian bartender named Joseph Santini. The drink originated in his New Orleans bar, Jewel of the South. It was supposedly invented to alleviate the bitter taste of ordinary cocktails. 
A little over ten years after its original conception, Jerry Thomas published the drink in his 1862 book, Bartenders Guide: How to Mix Drinks, or the Bon Vivant's Companion. Since its inclusion in the book, the cocktail has gained national notoriety and has been a staple in bars across the country.
How To Make the Best Brandy Crusta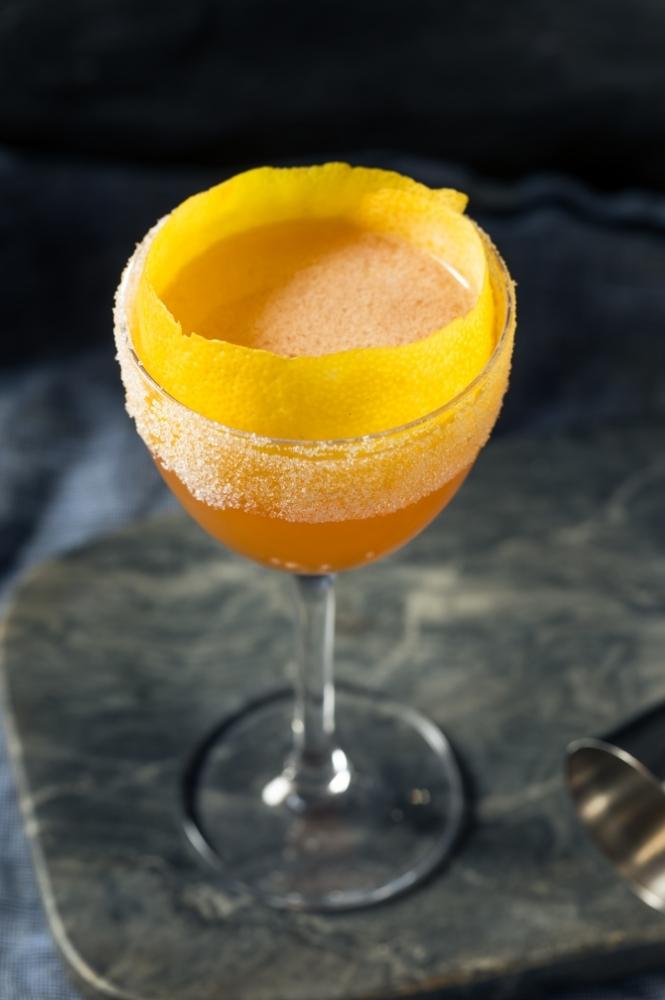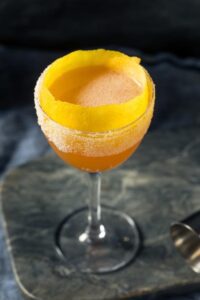 The key to making a fantastic Brandy Crusta lies in the quality of the brandy and the balance of ingredients. Opt for high-quality liqueurs in your Crusta, and choose a quality orange and Maraschino liqueur. These both have very different tastes, so it's crucial to select ones with the most vibrant and intense flavor to get the most out of your Brandy Crusta.
Variations To Add to Your Brandy Crusta
Choose a different base brandy: You can switch up your Brandy Crusta by using different types of brandy to change the taste. Opt for a cherry brandy or apple-based brandy to see how it changes the taste, or try a Spanish or South American-based brandy for a more complex, crisp taste.
Choose a different syrup: Although not all recipes call for syrup in a Brandy Crusta, many do. Changing the syrup will change the consistency of your cocktail. Some people use simple syrup (sugar syrup), while others prefer gum syrup, and some prefer no syrup. Simple syrup will produce a lighter cocktail, while gum-based syrup will give your cocktail a smooth, velvet-like texture.
Add different garnishes: Try adding fresh apricot to your cocktail and see how the flavor changes. Replace a traditional lemon peel with an orange peel, or skip the large peels altogether and add a smaller peel or garnish. You can also replace lemon with a citron zest to see how the taste changes.
Upgrade your rim: The sugar rim is an essential part of the Brandy Crusta. However, you can amp up your glass by adding lemon juice to the sugar. Or replace the lemon juice with grapefruit, lime, or other citrus juice flavors to make your drink pop.
Brandy Crusta Recipe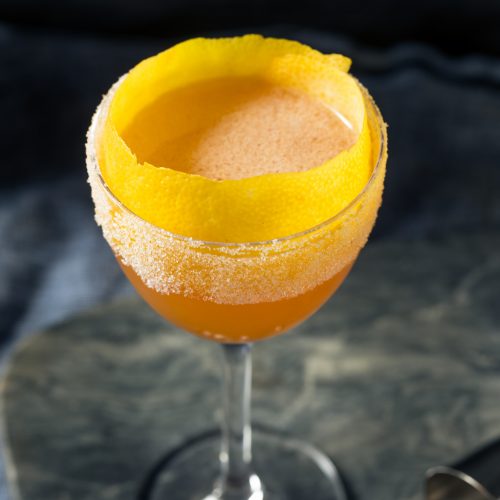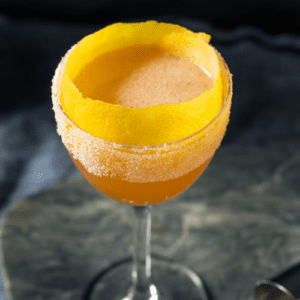 Delicious Brandy Crusta Cocktail
First introduced in 1862, the Brandy Crusta is a timeless and delicious lemon flavored cocktail.
Print
Pin
Equipment
Small Wine Glass

Cocktail Shaker

Fine Mesh Strainer

Y-Peeler
Ingredients
2

oz

Cognac

1/2

oz

Lemon Juice

1/2

oz

Curaçao

1/4

oz

Maraschino Liqueur

2

dashes

Angostura Bitters

Ice

(Used in Cocktail Shaker)

1

Large Lemon Peel

(Garnish)

Sugar

(For Rim of Wine Glass)
Instructions
Chill small wine glass by adding ice and letting it sit while you prepare the cocktail.

Add Cognac, Lemon Juice, Curaçao, Maraschino Liqueur, and Angostura Bitters to Cocktail Shaker.

Add Ice and shake until ingredients are fully mixed and cold (around 15 seconds).

Remove ice from your small wine glass.

Roll rim of glass in sugar.

Strain cocktail into the glass using a fine mesh strainer.

Peel Lemon (try and get a long and wide peel).

Twist Lemon peel over cocktail to extract flavors.

Wrap Lemon Peel into a large circle and place inside the top of the glass.
Bartender Notes
Cognac is a type of Brandy that is only made in the Cognac region of France.
You can also use a good Triple Sec liqueur such as Cointreau instead of the C

uraçao

.
If you have time freshly squeezed lemon juice is the recommended choice.
Final Thoughts
Brandy Crusta is a classic cocktail that's simple and easy to make. It's a sour cocktail, although, with the right pairings, it can be very sweet. Start with high-quality cognac or brandy, and use quality liqueurs as well. Use fresh ingredients to add to your cocktail and to make your zest. 
If you need to switch up this classic cocktail, change your base brandy, add different garnishes, or change your syrup to create a new texture and taste.
Similar Classic Cocktails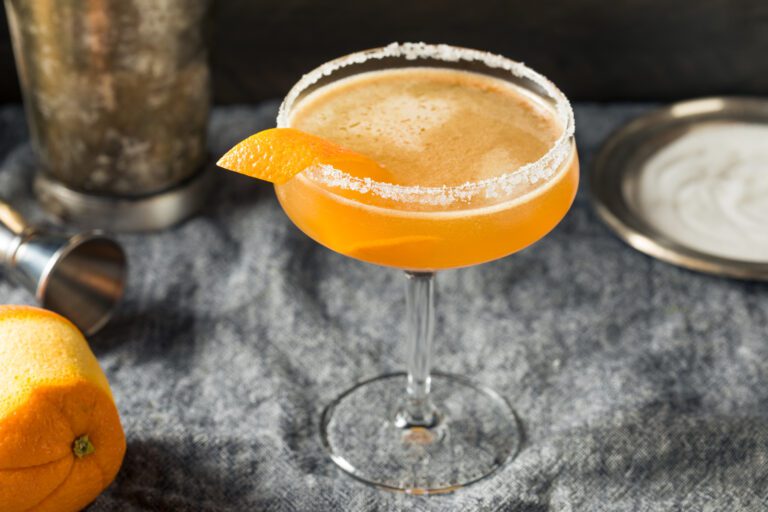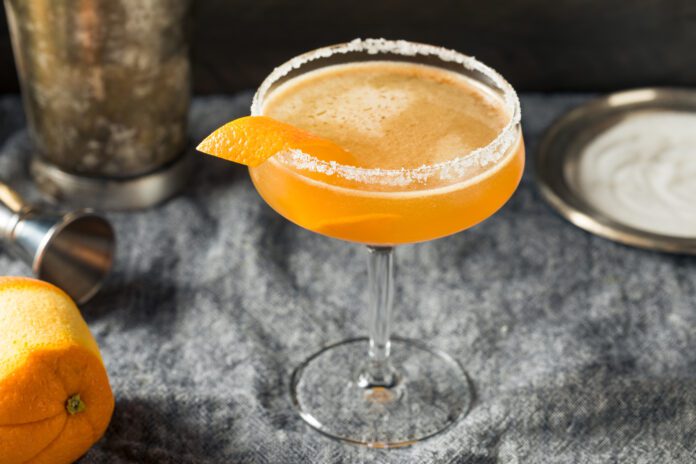 The sidecar is a classic and highly popular drink. Orange and Lemon are combined to create this delicious drink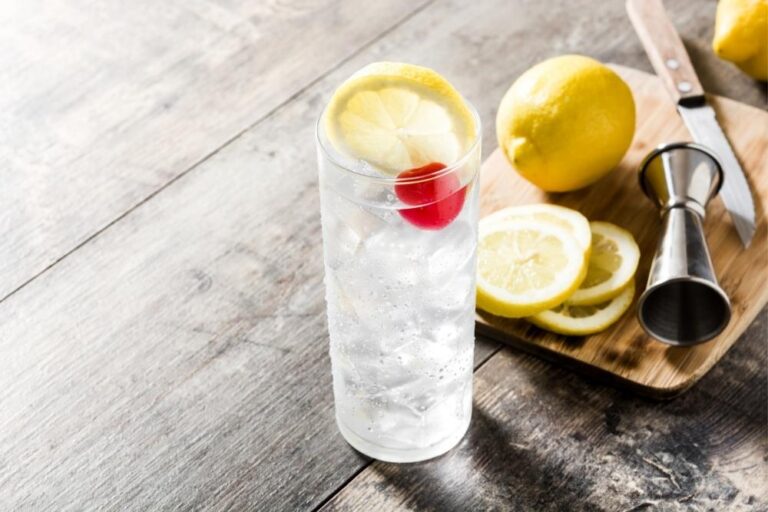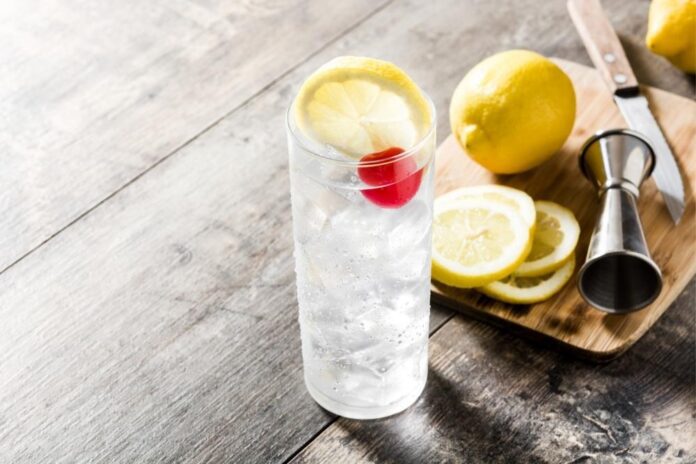 The John Collins is the original and precursor to the Tom Collins Gin Cocktail. This drink combines fresh lemon juice with either gin or bourbon for optimal taste.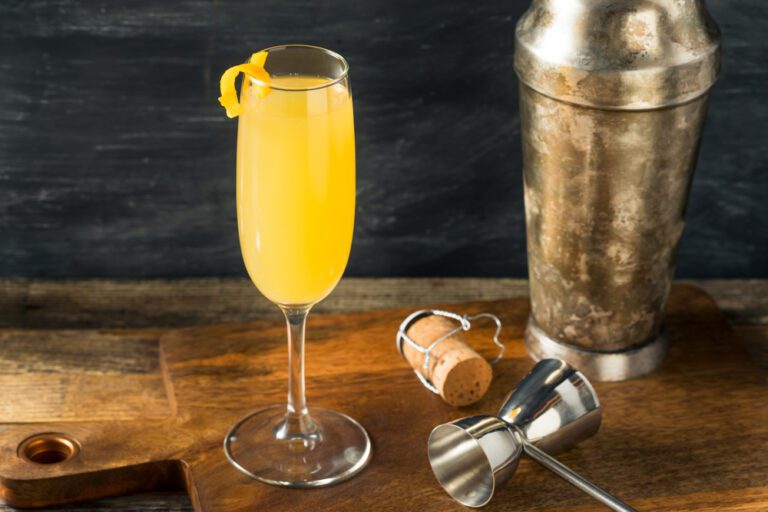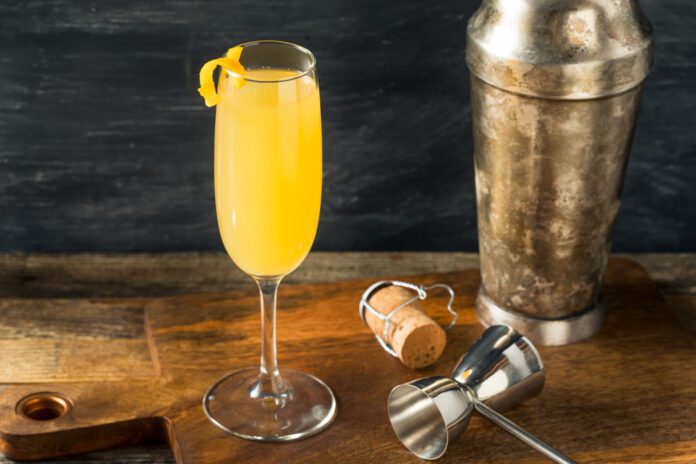 The French 95 is a modern take on a timeless drink. Instead of gin or vodka this version contains whiskey that pairs well with the champagne and lemon.