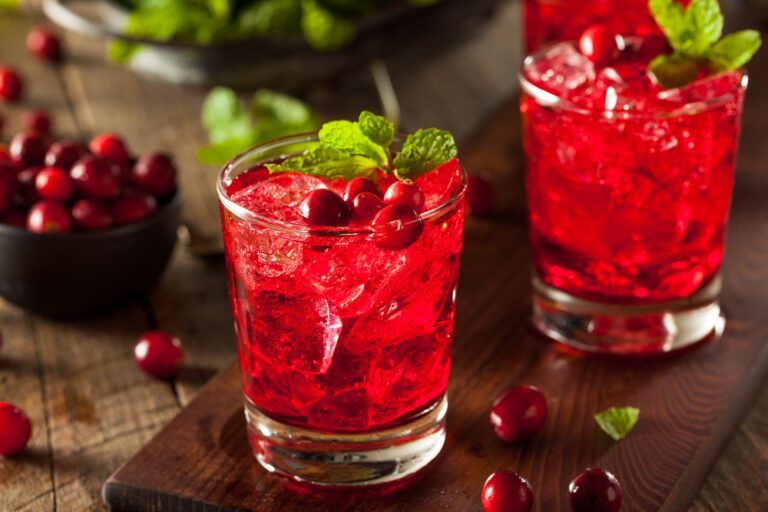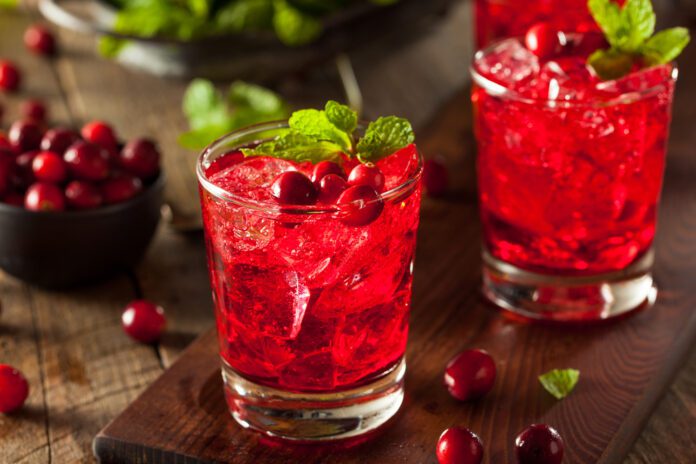 This page may contain affiliate links. Please see our Disclaimer for more information. Always drink responsibly and adhere to your local legal drinking age.
Are you looking for a refreshing, simple twist on the classic vodka cranberry cocktail that will take it to a new level of deliciousness? We've got you covered with a delicious and easy-to-follow recipe guaranteed to hit the spot. This cocktail will impress your friends and family with its vibrant color and refreshing taste.
Why settle for a bland basic recipe when you can make it exceptional? This drink recipe is a delicious, perfectly balanced, and refreshing take on the classic cocktail that will leave you and your guests craving more. So, what are you waiting for? Grab your shaker and get mixing!
What is a Vodka Cranberry Drink?
Are you searching for a delicious, revitalizing beverage to make your night out more enjoyable? You've stumbled upon the perfect solution – the vodka cranberry cocktail!
This timeless libation, also known as a Cape Codder or a Cape Cod, features the velvety taste of vodka and the zesty tang of cranberry juice, resulting in a delightful and extraordinarily effortless concoction. Treat your taste buds to a scrumptious blend of sweet and tangy flavors, ideal for savoring on a scorching summer day or adding a touch of excitement to your outing.
The simple vodka and cranberry juice cocktail has been a favorite for years, but this recipe variation adds a new freshness to the drink you will love!
What Does a Vodka Cranberry Taste Like?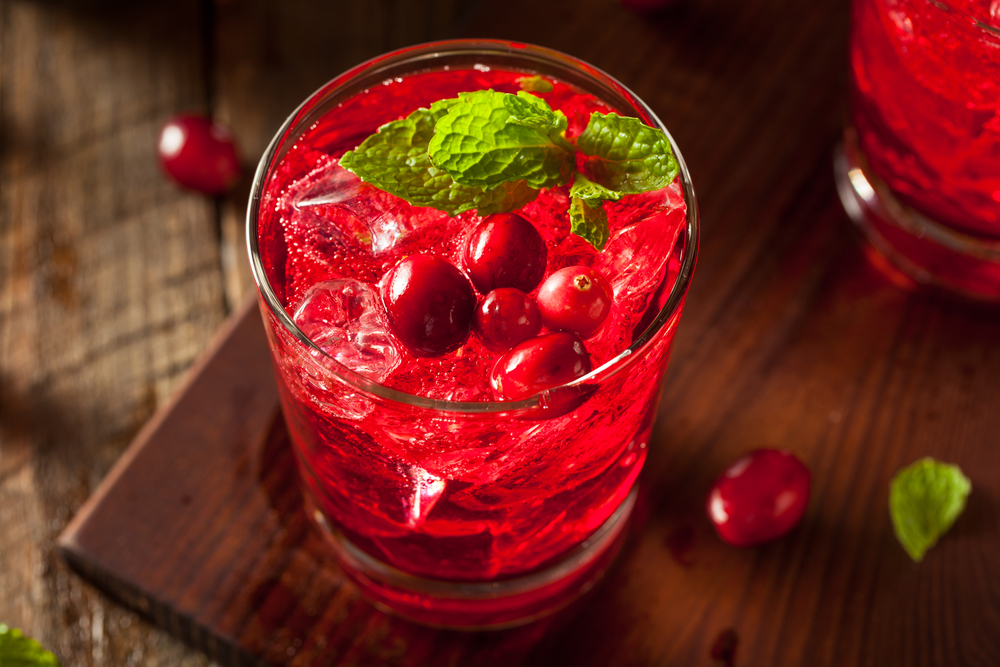 The cranberries' tartness perfectly balances the vodka, creating an incredibly refreshing and invigorating flavor. And with sweetened lime juice, the drink takes on a zesty twist that will tantalize your taste buds.
Each sip is an explosion of flavor, with the tanginess of the cranberry and a hint of lime perfectly blended with the smoothness of the vodka. This cocktail is perfect poolside with friends or for a romantic evening out.
Choosing the Right Vodka for Your Cranberry
If you're looking for the perfect vodka cranberry recipe, one of the first things you must consider is the type of vodka to use. The flavor of your drink will depend mainly on the quality of your vodka, which can make a big difference in the taste.
Here are some tips for choosing the right vodka for your cranberry recipe:
Quality Matters: Opting for a mid to top-shelf vodka will ensure you have a high-quality spirit with a smooth taste.
Consider Your Budget: Vodkas range from budget bottles to luxury brands, so watch your wallet and choose one that suits your needs.
Personal Preference: Many types and flavors of vodkas are available, so don't be afraid to experiment until you find one that best suits your taste buds.
Vodka Cranberry Ingredients
Making a vodka cranberry drink doesn't have to be complicated. You need simple ingredients, and you'll have a refreshing drink quickly.
The Goods
To make a standard vodka cranberry, you'll need the following:
Vodka
Fresh cranberry juice – If you can find it, it will give this drink the best flavor. You can still use regular or diet if that is all you can access.
Fresh cranberries
Sweetened Lime Juice – The lime juice brings out the cranberry flavor and balances the drink. Rose's Sweetened Lime Juice or similar works perfectly.
Ice cubes – This cocktail is traditionally served over ice.
Sprig of mint (optional garnish)
To make it even better, you can add the following:
A splash of fresh lime juice for tartness
A teaspoon of sugar for sweetness
A dash of bitters for balance
And if you want to get fancy, some orange juice, liqueur, or triple sec makes a delicious addition.
And that's it! With minimal effort, you can make a great-tasting vodka cranberry with these simple ingredients.
Bar tools Needed
Before blending your vodka cranberry concoction, you'll need a few tools to ensure you have them on hand. Don't worry—none of these items are expensive, and you'll likely already have them in your kitchen.
Here's what you'll need:
A jigger or measuring cup – this is used to measure each ingredient so that your drink comes out with the right flavor.
A strainer – this will be used to strain the mixture before pouring it into glasses. This ensures that no ice cubes make their way into your glass!
A long stirring bar spoon or swizzle stick stirs your drink while it's in the shaker or mixing glass.
Rocks glasses – these glasses you'll use to serve your vodka cranberry. A highball glass will also work great with this recipe.
Now that you know what bar tools to get, all that's left is to gather up your ingredients and get started!
How to Make A Vodka Cranberry Cocktail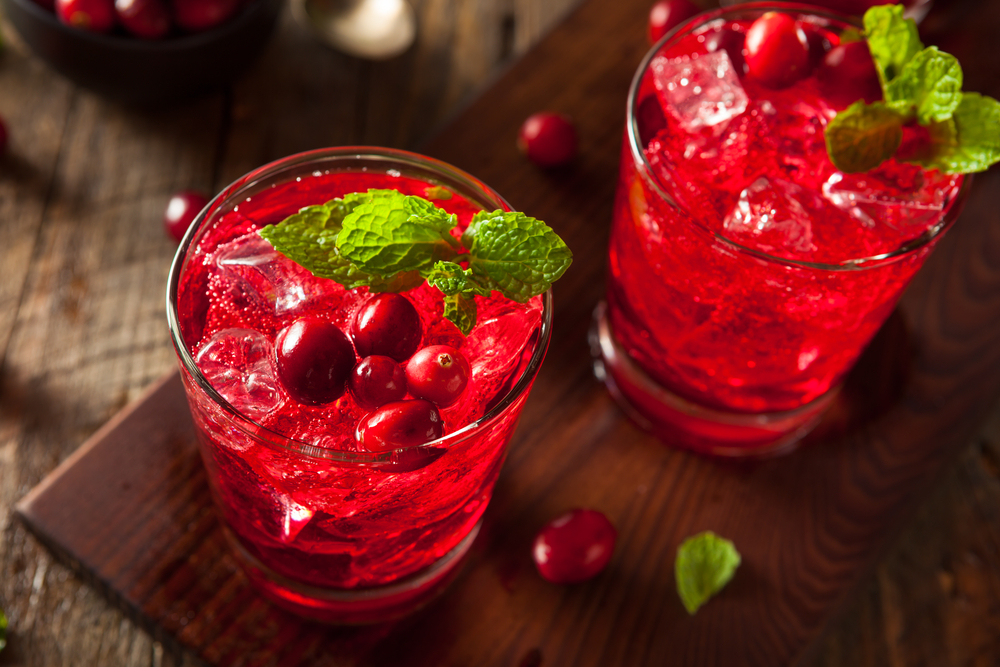 Making a vodka cranberry cocktail is easier than you think!
Here's how to make it:
Fill a glass with ice cubes and a small handful of fresh cranberries
Add 1.5 ounces of vodka
Pour in 4 ounces of cranberry juice
Add a dash of Sweetened Lime Juice to the glass
Stir with a bar spoon and garnish with mint sprig
Serve it up, and enjoy!
If you're looking for a bit more sweetness or depth of flavor, try adding some simple syrup or triple sec for an added kick. You can also use flavored vodkas, like citrus, raspberry, or mango, to give your drink a bit of flavor.
No matter how you customize it, this recipe makes one flavorful and refreshing cocktail perfect for all occasions!
Balancing Sweetness and Tartness
One of the secrets to making a delicious vodka cranberry is finding a good balance between sweetness and tartness. The secret's out, and it's all about getting that perfect ratio! Here are a few tips to get you started:
Flavoring Infusions
These days, plenty of flavored infusions are available, such as strawberries or mango. Adding a few drops to your cocktail can add sweetness while keeping the drink light and refreshing. Just be sure not to overdo it, or your drink will become too sweet.
Sugars & Sweeteners
If you want an ultra-sweet vodka cranberry, feel free to add some simple syrup or another form of sugar/sweetener. This can also help thicken your drink if it is too thin for your taste. Keep in mind—a little bit goes a long way here!
Natural Juices & Fruits
If you prefer something more natural, adding some freshly-squeezed juice from oranges or lemons can bring that tartness without making it too sweet. You can also slice up some fresh fruit, like strawberries or limes, and muddle them in the drink for a subtle sweetness that won't overpower the flavor of the vodka cranberry.
Once you find the right balance between sweet and tart in your vodka cranberry recipe — voila! You'll have an incredibly delicious beverage that pairs perfectly with any occasion.
What Kind of Glass Do You Use?
So, you've got your ingredients, and you know what you're making — but what kind of glass do you use for your vodka cranberry?
The choice of glass can make or break this drink's presentation. You'll need a tall glass — like a highball or a Collins glass works best — so that the ice and fruit can fit in the glass comfortably. The thinner walls of a Collins glass will also help keep your drink cool while sitting on top of the bar.
You can get creative with your glasses and provide some variety for extra festive flair. A mason jar is especially nice for large batches, making it great for parties and gatherings with groups — or if you want an extra BIG batch for yourself! And if you're feeling fancy, a martini or coupe glass is also perfect for serving these tasty drinks.
No matter which type of glass you choose, the important thing to remember is that vodka cranberries are made to be seen! So pick something tall and elegant, and prepare to serve one delicious cocktail.
Add Ice and Garnish to the Perfect Mix
Finally, it's time to put the finishing touches on your vodka cranberry concoction. Grab some ice and add it to your glass—measuring one-third of a cup should fill halfway for a single serving.
Now for the best part! Add in your favorite garnish. A few slices of lime or some maraschino cherries are a delicious way to brighten up your cocktail and give it a unique flavor. You can also go for something fancier and use fresh berries or citrus zest as a garnish. It's up to you!
That's all there is to it—you now have the perfect vodka cranberry cocktail that's both simple and refreshing. Get creative with this recipe, add more ingredients, or experiment with different types of vodka for an extra-special twist on this classic drink!
Finishing Touches to Upgrade Your Cocktail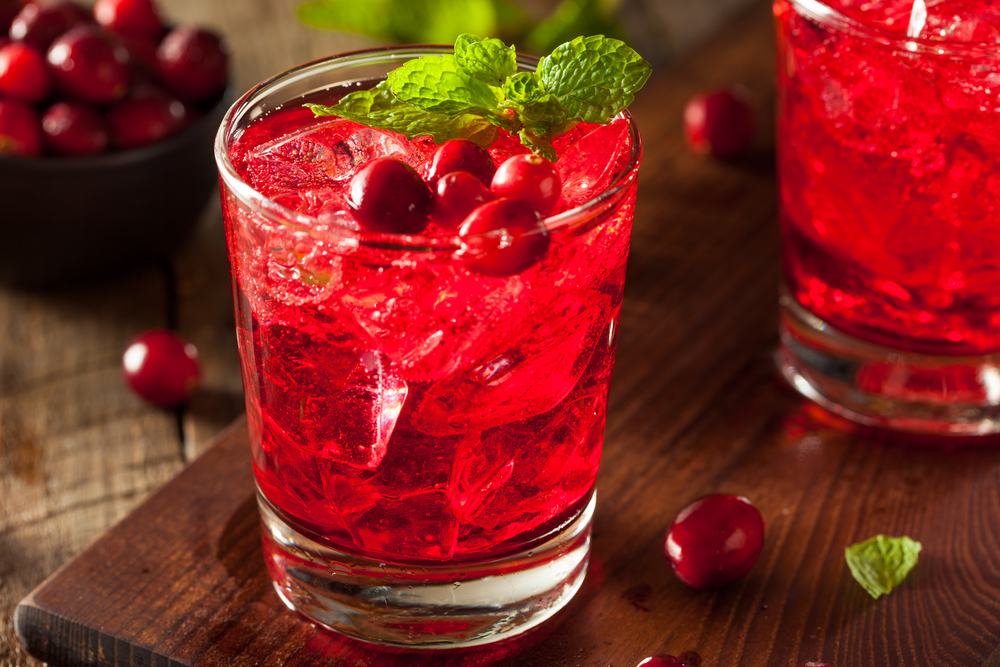 Once you've combined the ingredients, it's time to add the finishing touches to make your vodka cranberry cocktail even more delicious. Here are a few tips and tricks for making the perfect sip:
Rim It
Adding sugar or salt around the rim of your glass gives the drink an extra flavor. Use demerara or turbinado sugar around the edge if you like a sweet taste. Or, if you're feeling adventurous, mix a few types of sugars together! Use kosher or coarse sea salt on the rim for a savory flavor.
Add Fresh Fruit
Adding fresh fruit is an easy way to add color and extra flavor to your vodka cranberry. Try adding fresh slices of orange, lemon, raspberries, or blueberries for a natural sweetness and bright presentation. You can also muddle some raspberries in the bottom of your glass for even more fruity flavors!
Garnish with Mint
Mint leaves can decorate your glass and give it an herbal flavor that pairs well with vodka cranberry. Try adding a sprig of mint as a garnish to finish your cocktail!
These little touches can take your vodka cranberry from good to great—try each of these finishing touches for an amazing cocktail that will wow everyone at your next gathering!
Bartender Tips and Tricks
Above all, mastering a perfectly balanced vodka cranberry cocktail is all about personal preference. But a few tips and tricks can help you create an even more delicious and refreshing drink.
Gin Instead of Vodka?
If you want to mix things up and try something slightly different, consider substituting gin for vodka. It adds an extra kick with its herbal notes, adds complexity to the flavor, and is slightly sweeter than vodka.
Alternate Sweetener?
If you're not into using simple syrup for sweetness, you could try using honey or agave nectar. Personally, I love to use honey because it has a mellow undertone that's so delicious!
Fruity Ice Cubes?
Trust me—it's tasty! Freeze fresh fruit like strawberries or pineapple into ice cubes, then add the cubes to your drink instead of regular ice cubes. This will give your vodka cranberry cocktail an extra flavor boost without the added sugar!
Change Up Your Garnish
And lastly, if you want to really impress your friends at your next gathering, why not get creative with your garnish? Try using rosemary sprigs or lemon wedges instead of lime wedges—it'll make for an exciting presentation and add even more flavor to the drink.
Vodka Cranberry Recipe
You can make the classic vodka cranberry cocktail in no time, and it's easy to customize for your taste. Follow this simple recipe, and you'll have a deliciously refreshing drink ready in minutes!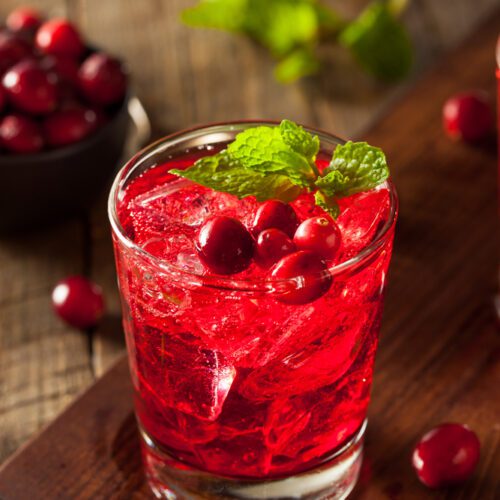 Delicious Vodka Cranberry Cocktail
Try this easy and delicious vodka cranberry drink - the perfect summer cocktail! Sweet, tart, and full of flavor, this is sure to be a hit.
Print
Pin
Equipment
Jigger

Bar Spoon

Rocks Glass
Ingredients
1.5

oz

Vodka

4

oz

Cranberry Juice

Fresh

1

dash

Sweetened Lime Juice

5-10

Cranberries

Fresh

1

sprig

Mint

Ice
Instructions
Fill the rocks glass with fresh cranberries and ice cubes

Add a dash of sweetened lime juice

Stir and garnish with mint
FAQ
Do you have questions about making a delicious vodka cranberry? Here are some answers to your most common questions:
Q: How much vodka do I need?
A: The amount of vodka depends on the desired strength. Generally, 1 part vodka to 3 parts cranberry juice works well. You can use two parts vodka and 1 part cranberry juice for an extra-strong cocktail.
Q: What type of vodka is best for a vodka cranberry?
A: Light-flavored vodkas like plain or citrus flavors work best for a vodka cranberry since their flavor won't overpower the tartness and sweetness of the cranberry juice.
Q: Can I make this cocktail with other juices?
A: Absolutely! Mixing in other juices like grapefruit, orange, or pineapple can give your drink a unique flavor profile. You can also add flavored syrups for added sweetness or a bit of sparkling water for extra fizz.
Conclusion
A vodka cranberry is one of the simplest and most refreshing drinks you can make. It only takes a few minutes and requires no special tools or ingredients. All you need is good-quality vodka and some tart cranberry juice. Add a few fresh cranberries or a sprig of mint, and you've got a delicious drink perfect for any occasion. Now that you know how to make this classic drink, you can impress your friends with your delicious vodka cranberry recipe!
The result is a delightful drink that offers an invigorating mix of flavors that'll tantalize your taste buds and keep you refreshed all night!
Must Try Cocktail Recipes