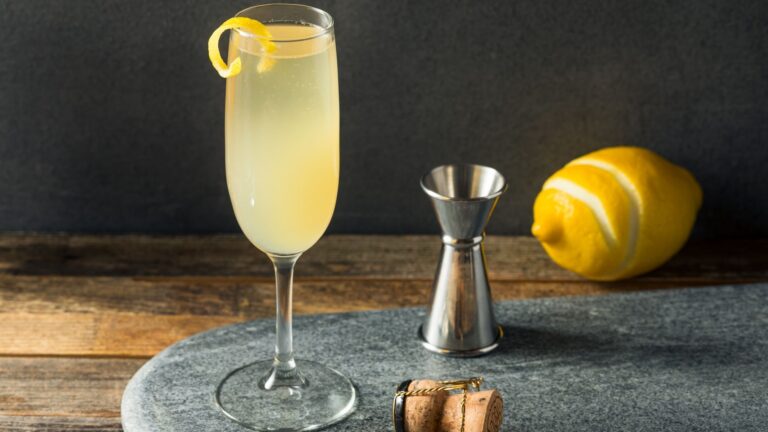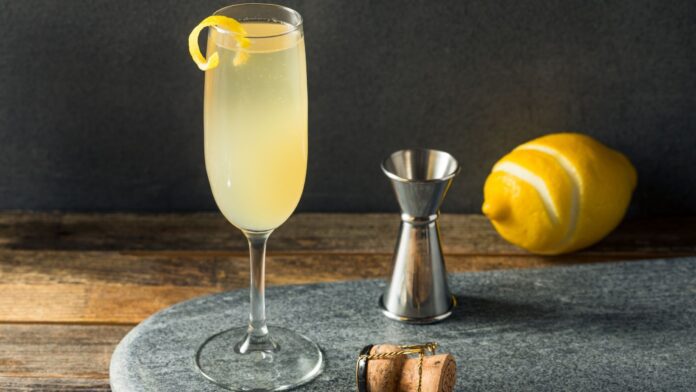 This page may contain affiliate links. Please see our Disclaimer for more information. Always drink responsibly and adhere to your local legal drinking age.
If you want to expand and spice up your bar selection, look no further because you can make the best out of your next house party simply by adding the perfect cocktail that will leave your guests in awe—this French 75 recipe!
French 75 is a classic drink made with a combination of gin and champagne. It comes with a very rich history, and its taste is refreshingly well-balanced, perfect for any kind of event—from casual brunch, birthday celebrations, to dinner parties! 
This article will teach you how to make French 75. Aside from the recipe, we will also discuss French 75's history, taste, and shelf life. Lastly, we will answer some common questions you may have about this drink.
What is French 75?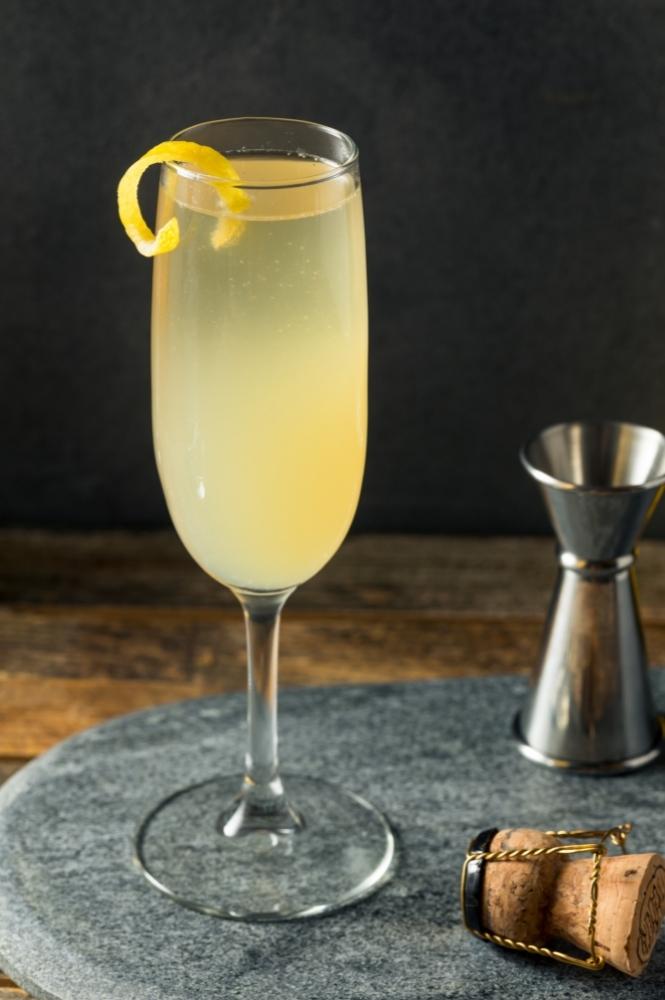 Also known as 75 Cocktail in most parts of the world and Soixante Quinze (seventy-five) in France, this cocktail is a sophisticated gem.
French 75 is an alcoholic drink consisting of gin, lemon juice, simple syrup, and champagne. It is made by vigorously shaking the gin, lemon juice, and syrup using a cocktail shaker and topping the glass with champagne as a final layer and garnishing with a lemon twist.
You can also be creative and play around with the ingredients, as they are not strictly set in stone. An example would be using cognac, a type of brandy that has already been becoming a popular replacement for gin.
French 75 has been one of the most beloved cocktails since 1915—not just among the French but also among many cocktail enthusiasts around the world. In fact, it's been recognized as a classic drink in the International Bartender Association's official list of cocktails. As a well-known drink, it's becoming a favorite brunch alternative to mimosa for people who want a boozier kick in the morning.
What Does it Taste Like?
This classic drink has a very complex taste. Owing to the presence of lemon juice, its taste is mainly bright and citrusy. Simple syrup, in addition, produces a sweet accent while the gin gives off a herbaceous, botanical taste. The ingredients of French 75 combine together to create a perfect overall mouthfeel, turning complexity into one refreshing taste. 
The two alcoholic components of French 75—gin and champagne—provide the drink's strong booze and buzzy features. This means that you should not let the simple visuals of the drink fool you. Behind this pastel facade is a high alcohol content that can make even the toughest one dizzy if drank beyond moderation.
In the French 75, gin takes center stage. With a slightly bittersweet botanical aftertaste that pairs perfectly with any kind of champagne. You also don't need expensive champagne for a French 75. If you're on a budget, this will still be the cocktail for you.
History of French 75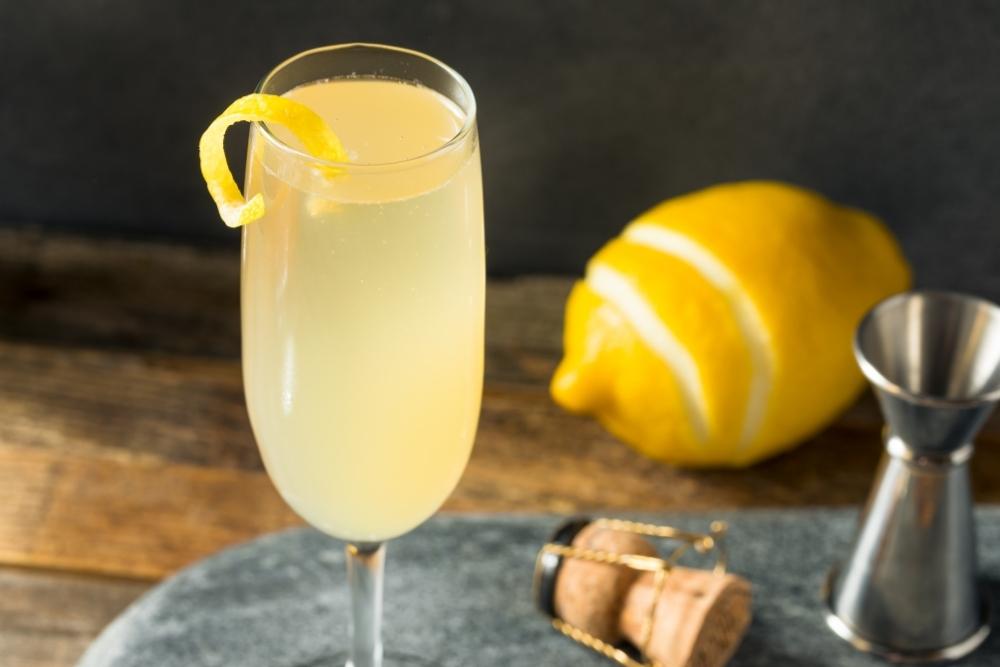 According to historians, French 75 made its first appearance in the early 1900s at a New York Style Parisian bar in Paris, the birthplace of well-known world cocktails such as Bloody Mary, Monkey Gland, Between the Sheets, and many more. This happened one year after the First World War when a French bartender decided to make a specialty cocktail inspired by the most potent weapon used by the French army.
History From a Gun
The weapon in question, where French 75 derived its name, is the French M1897 75 millimeter field gun. Historians state that around 20,000 copies of this gun were produced at this time as it was the deadliest kind on the market. 
This gun contributed to the victory of France, so barman Harry MacElhone was inspired to create a cocktail as powerful as this weapon. He originally called this drink "Soixante-Quinze," which can be translated as Seventy Five. Soixante-Quinze was associated with the gun as intended, and eventually, it was known to be the most powerful drink in the world.
First Renditions
Over the decades, various changes have been made to the components and overall presentation of French 75. The initial version was composed of: 
Dry gin
Applejack brandy 
Grenadine 
Lemon
This 1915 original variant was provided to customers in a glass called Nick and Nora. 
Not more than ten years later, the drink was modified, changing all ingredients except dry gin or cognac. This rendition consists of Calvados, lemon juice, and grenadine, which were all combined and served in a coupe glass. After several modifications, the drink was reworked in 1927 and has never undergone a major change since then.
French 75 rose into popularity when American soldiers brought home the recipe, where it got featured at the Stork Club in New York, the place that made the drink famous in the US and beyond.
What Is the Best Gin for French 75?
The gin you put in your French 75 will be a significant factor that will decide how good your drink will taste, so it's very important to pick the right one! If you choose the wrong kind of gin, your French 75 will taste off no matter how high quality the rest of the ingredients. 
If you pick the right one that compliments the other components, the whole drink will be delectably memorable, to say the least.
The best gin for French 75 is a standard dry gin with juniper if you want to play safe and stay with the classic French version. This is preferable because it perfectly matches the citrusy taste of lemon in gin cocktails. A known brand of this is Beefeater, the one commonly used in bars. 
Another option is Hendrick's if you want to put an extra botanical pinch into your drink, as this brand has cucumber and rose.
Is There a Non-Alcoholic Version?
You can make a non-alcoholic French 75 by replacing the champagne with non-alcoholic sparkling wine, cider, or grape juice and using tonic water as an alternative to gin. By doing this and adding some citrus bitters, you can create a mocktail, a term for the non-alcoholic version of a cocktail.
They are just as flavorful and refreshing, but they have no alcohol content, and the best thing is that they won't make you feel awful at the end of the night. Non-alcoholic French 75 is an easy-to-make drink that is perfect for kids, pregnant women, people with allergies, and those who are cutting down on alcohol!
What Is French 75 Commonly Paired With?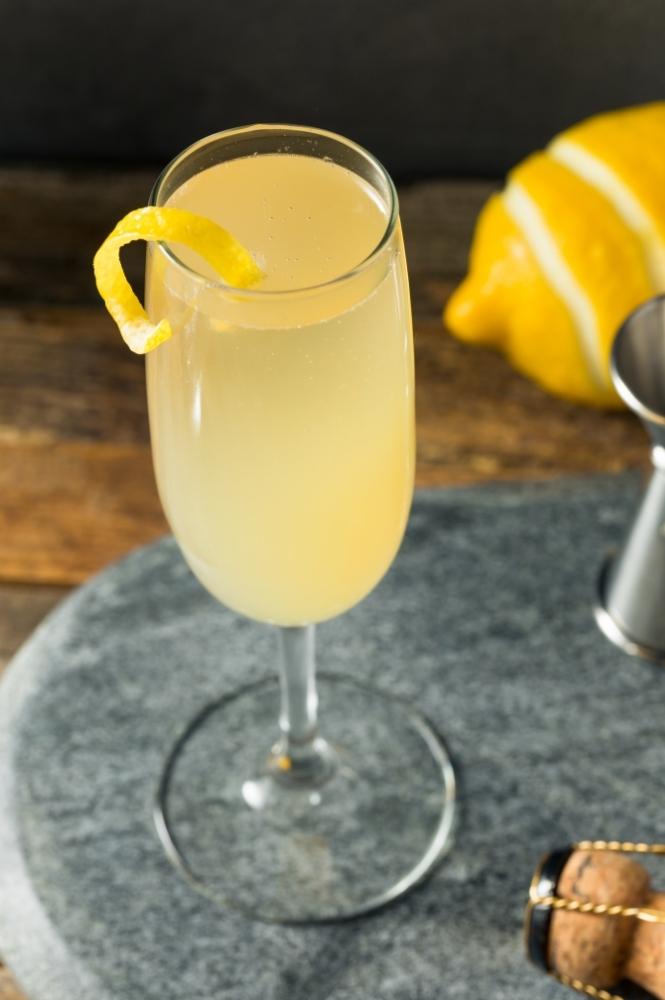 French 75 is commonly paired with finger food. However, if you want a heavy meal together with your drink, feel free to try it with some rice dishes, as French 75 is becoming a favorite drink partner during brunch these days.
The best meals to pair with French 75 are the ones you can eat in simple celebratory meals and formal events, such as the following: 
Steak 
Salad 
Spaghetti with clams 
Pasta alla carbonara 
Chicken tikka masala 
Paella mixta. 
Chefs also recommend pairing the botanical taste of French 75 with shrimp cocktail and sushi because the citrusy taste of lemon enhances and compliments the flavor produced by sea minerals.
When Is French 75 Best Served?
French 75 is best served at celebrations. It is a versatile cocktail drink that makes any celebration better. You can serve it on various occasions, from casual gatherings to sophisticated events. 
Here are some examples of events that call for a nice serving of French 75:
Christmas
New Years' Eve
Birthday Parties
Graduation Dinners
Bridal or Baby Showers
Romantic Date Nights
Weddings
Family Reunion
Basically, you can have French 75 in almost every event that warrants a celebratory drink. You can even make a kid-friendly version of this drink using non-alcoholic ingredients, turning it into an excellent refresher for children's parties!
Can I Make it of Time?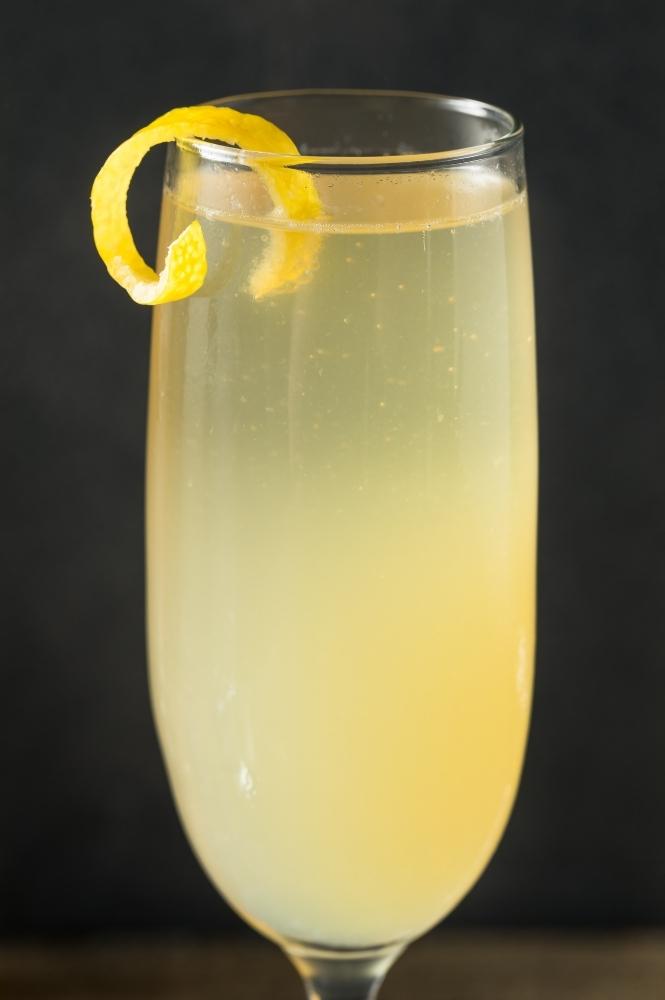 You can make French 75 ahead of time. If you're planning to make a large portion of French 75 in advance, you can multiply the amount of ingredients based on the number of servings you need to produce.
Follow the instructions below to make French 75 ahead of time:
Combine the lemon juice, gin, and syrup that will serve as the drink's base and pour them into a large container. 
Seal it with a lid before putting it inside the fridge until it's ready to serve. 
Take note that you should not combine the final layer to the base yet. You should only pour the champagne when serving the drink in individual glasses. Additionally, the base mixture should only stay in the fridge for a maximum of 24 hours.
Is French 75 Girly?
While French 75 being a girly drink is a common perception, this isn't correct for many reasons. For one, drinking champagne has nothing to do with your gender identity! The French 75 is to be enjoyed regardless of gender identity. Don't let anybody tell you otherwise!
French 75 Recipe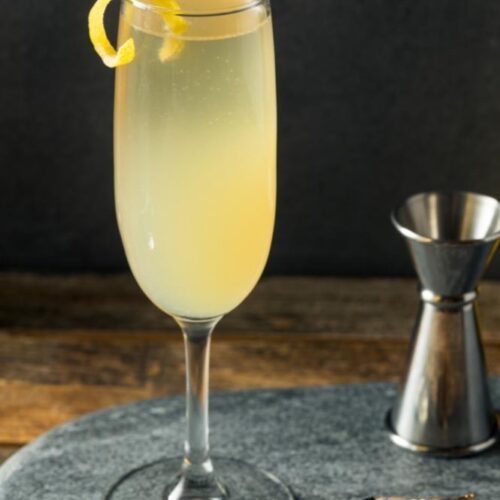 Tasty French 75
The French 75 is a classic, sophisticated beverage that suits almost any occasion. The sweet, bubbly taste is great for all taste palettes. This classic Gin and Champagne based cocktail is a must try.
Print
Pin
Equipment
Cocktail Shaker

Champagne Flute Glass
Ingredients
1

oz

Gin

3/4

oz

Lemon Juice

Fresh

1/4

oz

Simple Syrup

3

oz

Champagne

Lemon Twist

(garnish)
Instructions
Add Gin, Lemon Juice, Simple Sugar, and Ice to Cocktail Shaker

Shake Until Chilled and Strain into Champagne Flute Glass
Final Cocktail Thoughts
The French 75 cocktail is a classic, sophisticated beverage that suits almost any occasion. The sweet, bubbly taste is great for all taste palettes. You'll likely be a most popular host should you decide to serve it at your next dinner party, cocktail evening, or celebration. 
Similar Cocktail Recipes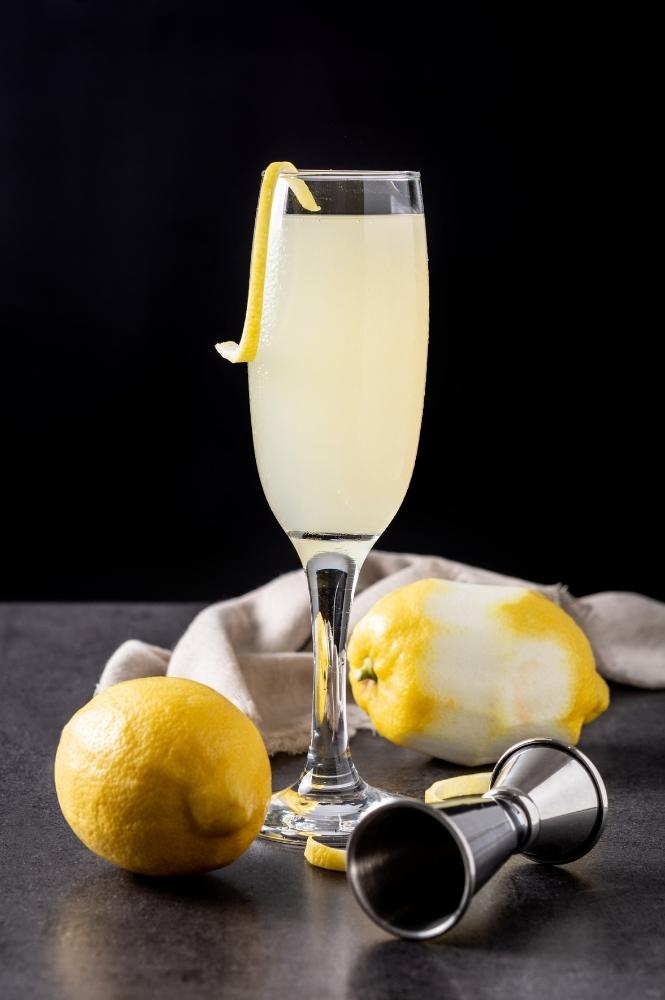 Vodka more your style? than the vodka based French 76 is the best version of this cocktail for you!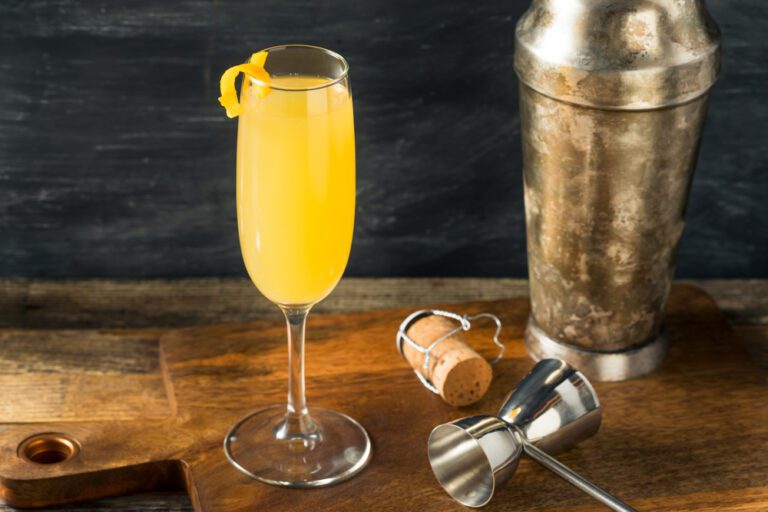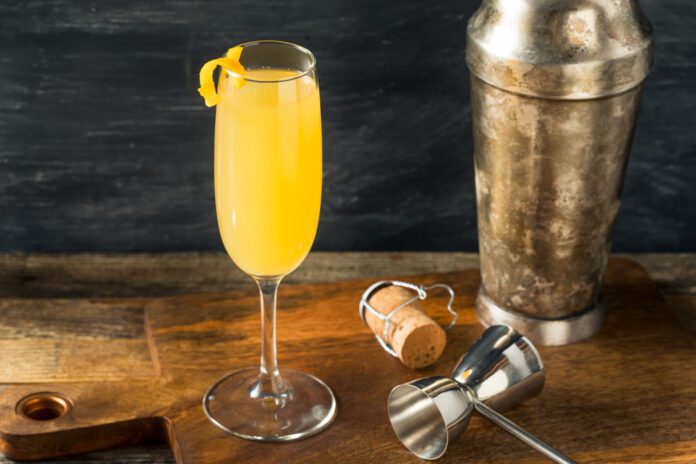 Would you like a stronger alcohol and woody taste? The French 95 replaces the gin with whiskey to create this modern cocktail.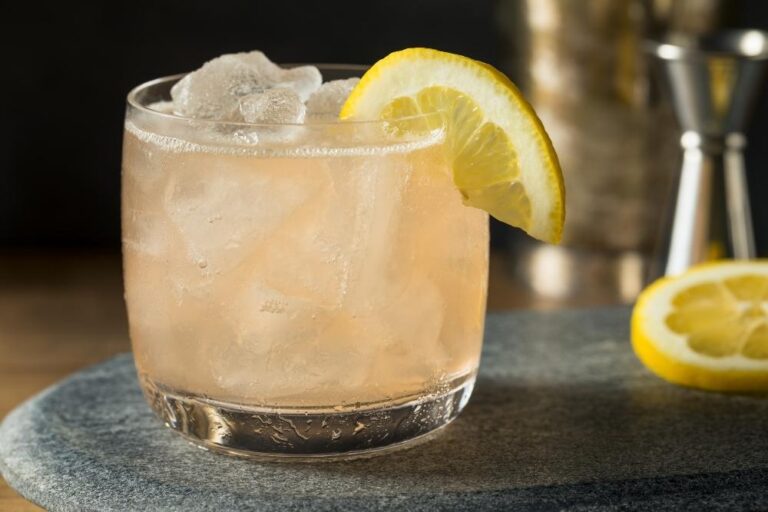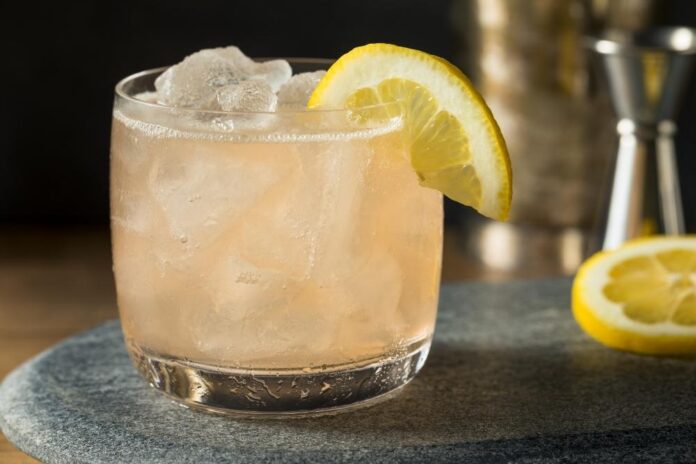 The Fitzgerald is a delicious lemon flavored cocktail. It is similar to the French cocktails, but without champagne and a dash of bitters.