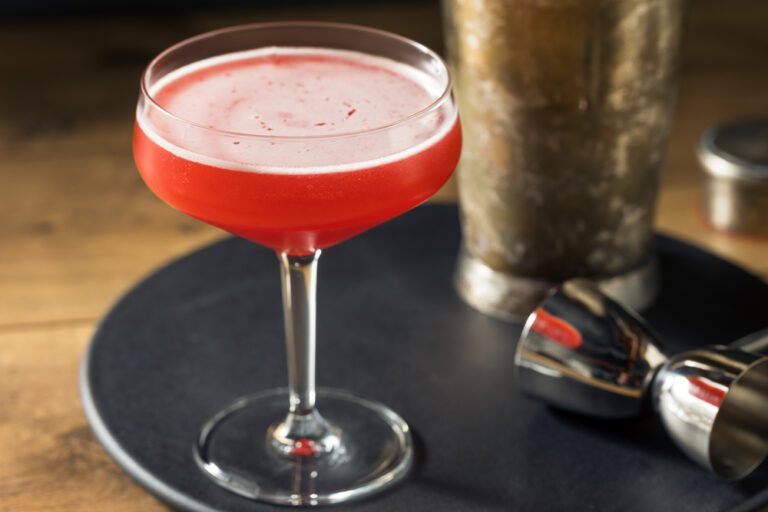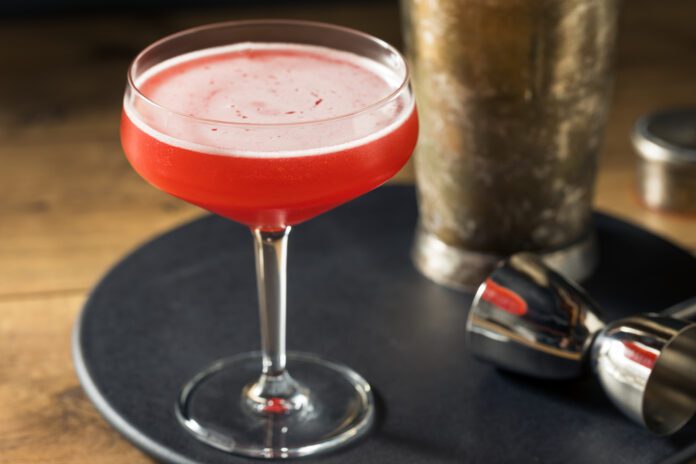 This page may contain affiliate links. Please see our Disclaimer for more information. Always drink responsibly and adhere to your local legal drinking age.
There's no need to travel back in time to enjoy a delicious Scofflaw Cocktail. This prohibition-era drink is still just as tasty today!
In this blog post, we will give you the recipe for how to easily make this classic and super delicious cocktail at home. With just a few simple ingredients, you can be sipping on one of these classic cocktails in no time!
History of the Scofflaw Cocktail
The Scofflaw was created in the 1920s during the prohibition era at Harry's Bar in Paris, France. A Scofflaw was a term used during prohibition to describe someone who continually defies the law and, as such, the name of the Scofflaw Cocktail was born.
It is a variation of the popular French 75 cocktail. The original recipe called for gin, lemon juice, sugar, and absinthe. However, during prohibition absinthe was not available in the United States. So, the Scofflaw was created using rye whiskey instead.
The Scofflaw became a popular drink during prohibition because it was easy to make and tasted great. It was also one of the few cocktails that could be made without using any illegal ingredients (besides the liquor).
What Does it Taste Like?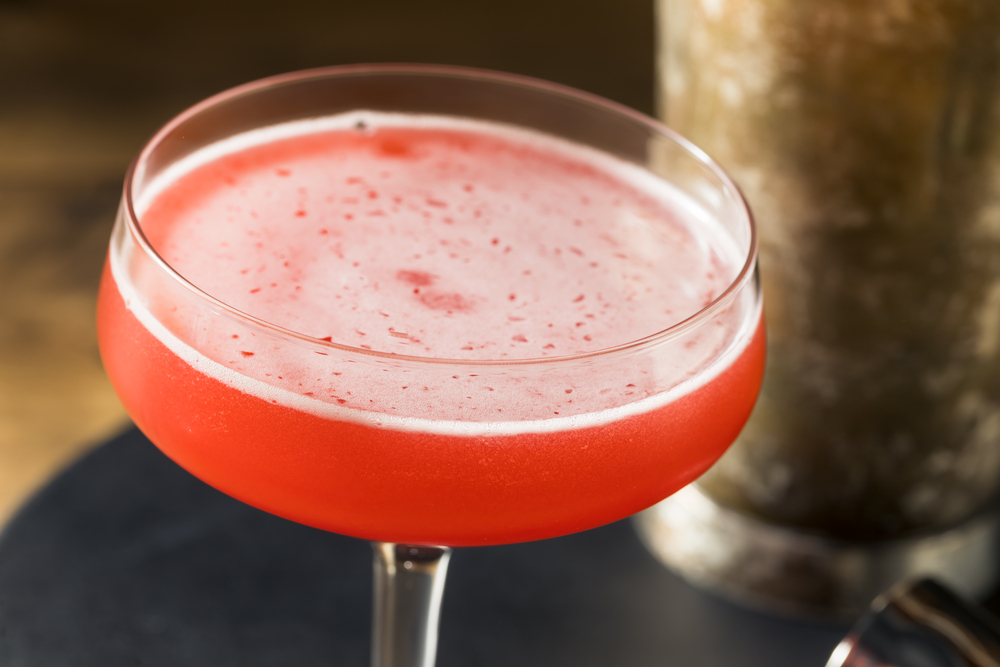 The Scofflaw is a refreshing and flavorful drink. The spirits give the cocktail a nice, smooth flavor with a bit of a kick depending on the brand you use. The lemon juice gives it a tart and tangy taste. The grenadine adds a touch of sweetness while the dry vermouth provides a slightly bitter flavor.
It is perfect for fans of the Whiskey Sour and the Sidecar. Overall this cocktail tastes like a well-balanced mix of sweet, sour, and strong.
Scofflaw Cocktail Ingredients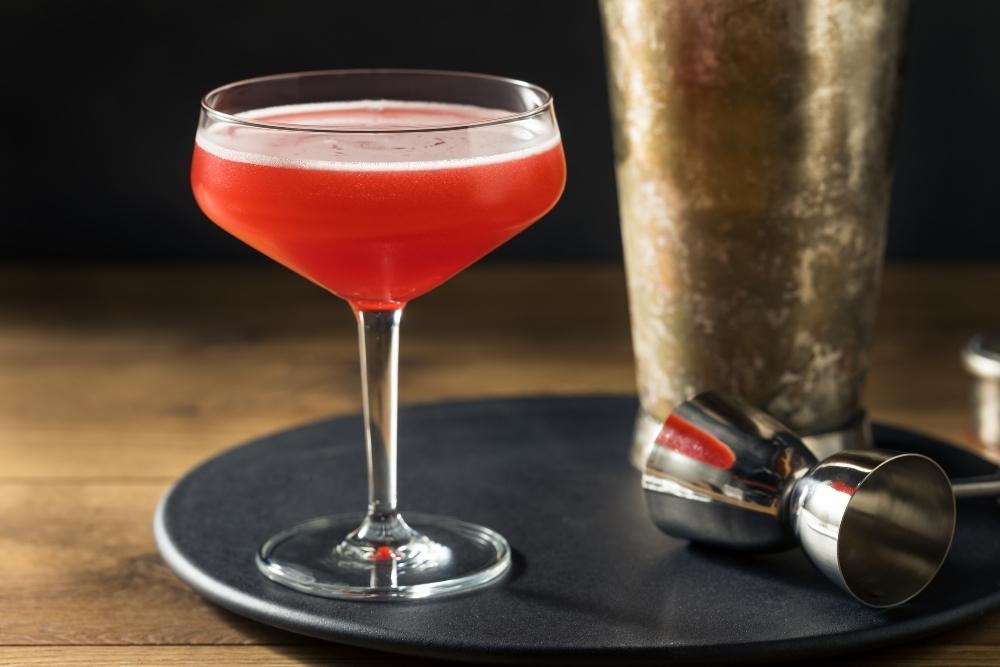 The Scofflaw Cocktails contains just a few simple ingredients:
Rye Whiskey – This form of whiskey is made from at least 51% rye. We recommend using a high-quality liquor for this cocktail such as Bulleit, Sazerac, or Rittenhouse.
Dry Vermouth – This is a type of fortified wine that has been flavored with herbs. For this recipe you will want to use a red dry vermouth such as Noilly Prat or Martini & Rossi.
Grenadine – Grenadine is a non-alcoholic syrup typically made from pomegranate. It adds a touch of sweetness, which some people compare to a cherry taste.
Lemon Juice – Always use fresh juice when you are able. This will give the cocktail a tart and tangy flavor.
Ice cubes – The ice is only used in the cocktail shaker to chill the drink, so no need for any special or decorative ice cubes.
Orange Bitters – These are a type of concentrated citruses that are used to add flavor to cocktails. They are made from the peel of oranges and are concentrated, so a little goes a long way.
What is the best whiskey to use for this cocktail?
There are a few different types of whiskey that you can use for this drink. We recommend using a high-quality rye whiskey such as Bulleit, Sazerac, or Rittenhouse. These brands will give it a nice, smooth flavor with a bit of a kick. You could also use a bourbon whiskey if you prefer.
Bar Tools Needed
In order to make this cocktail, you will need a few bar tools:
How to Make the Scofflaw Cocktail (4 Easy Steps)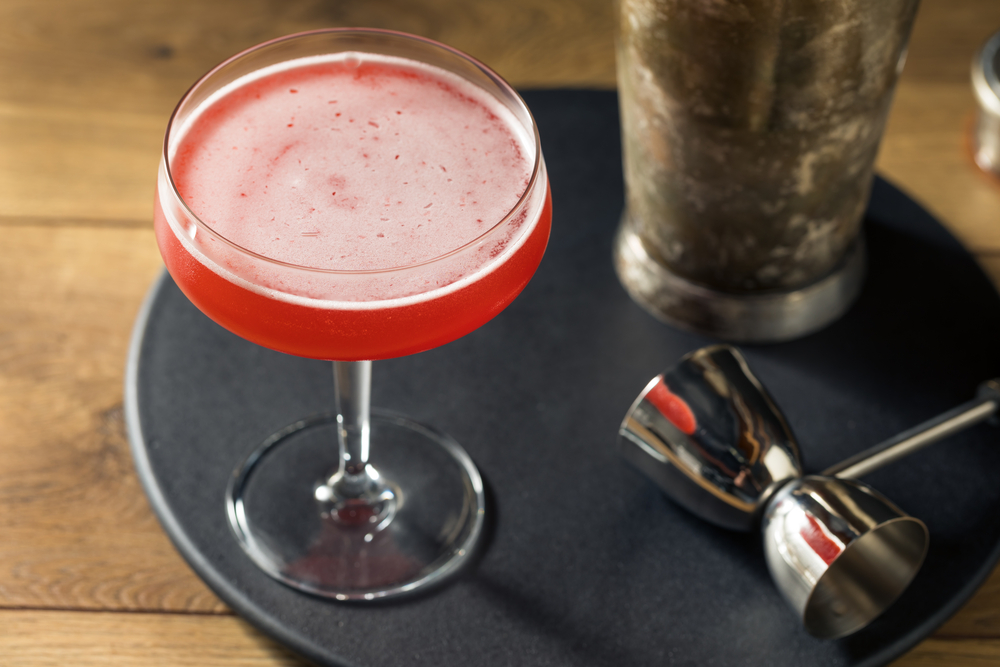 Now that you know all about the Scofflaw Cocktail, let's learn how to make one!
Start by adding your liquid ingredients (rye whiskey, dry vermouth, lemon juice, grenadine, and orange bitters) into a cocktail shaker.
Add ice and shake vigorously until the ingredients are well combined.
Strain into a chilled cocktail glass.
Garnish with a lemon wedge or cherry, if desired. Enjoy!
Bartender Tips for the Perfect Scofflaw
There are a few bartender tips that you can follow to make the perfect Scofflaw Cocktail:
Use high-quality ingredients. This will make a big difference in the taste of your cocktail.
Orange bitters are highly concentrated. So, a little goes a long
Be sure to shake the ingredients together vigorously. This will help to blend the flavors together and give you the perfect chilled drink.
Garnish with a lemon wedge or cherry to add a bit of sweetness and color. The garnish will elevate the overall look of your drink.
The Dry Vermouth, lemon juice, grenadine, and orange bitters all balance each other out. So any change to any of them can drastically change the final taste.
Cocktail Variations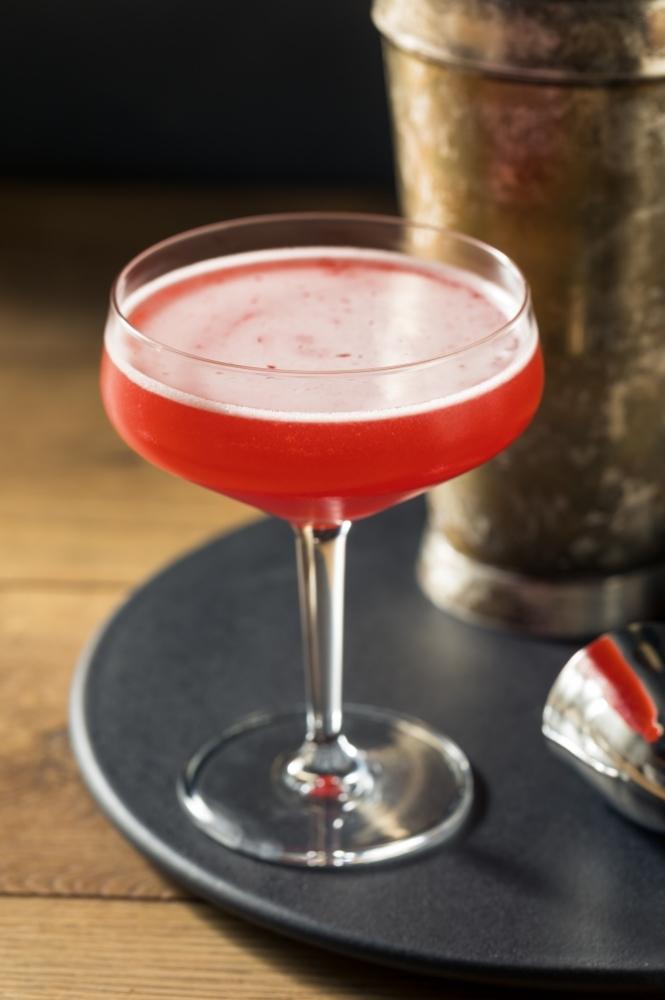 If you loved the classic Scofflaw, then you will definitely want to try one of these delicious recipes:
If you want a sweeter version, add in an extra few dashes of grenadine.
Use bourbon instead of rye whiskey for a smoother alcohol taste.
Substitute the vermouth with pomegranate juice for a less strong cocktail, that is also a little sweeter and slightly tangy.
Try substituting the orange bitters for a different type of bitters to change up the flavor. We recommend trying grapefruit or cherry.
The lemon juice can be substituted with orange juice for a less sour taste.
Add in a splash of seltzer water for a bubbly twist.
Scofflaw Cocktail Recipe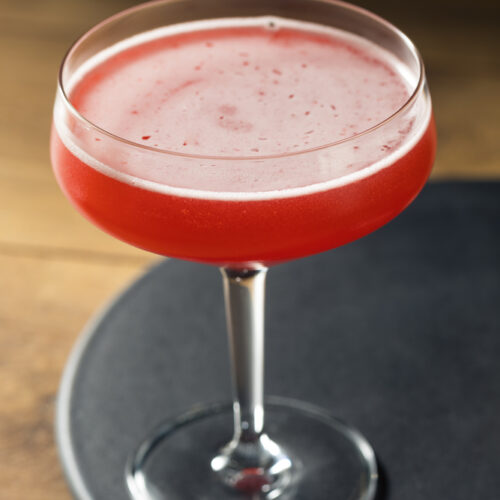 Amazing Scofflaw Cocktail - Prohibition-Era Recipe
The Scofflaw Cocktail is a great tasting prohibition style cocktail. Rye whiskey, vermouth, grenadine, bitters, and fresh lemon juice are expertly blended to create this delicious and unforgettable recipe.
Print
Pin
Equipment
Cocktail Shaker

Hawthorne Strainer

Jigger

Coupe Glass
Ingredients
2

oz

Rye Whiskey

1

oz

Dry Vermouth

(Red)

1/4

oz

Grenadine

1/2

oz

Lemon Juice

Fresh

2

dashes

Orange Bitters

Ice
Instructions
Add Ice to Coupe Glass and Set Aside to Chill

Add Rye Whiskey, Dry Vermouth, Grenadine, Lemon Juice, and Orange Bitters to Cocktail Shaker

Add Ice to Cocktail Shaker and Shake Vigorously Until Drink is Well Chilled (15-30 Seconds)

Remove Ice from Coupe Glass

Strain Cocktail into Chilled Coupe Glass
Final Thoughts
Transport yourself back in time to the Prohibition-Era with The Scofflaw Cocktail. You don't need to be in a bar in Paris or New York to enjoy it. Whether you are looking to impress your guests or simply sip a tasty classic at home, this recipe is sure to please.
So what are you waiting for? Put on your best flapper dress or old-timey gangster suit and enjoy this timeless cocktail!
Classic Must Try Cocktails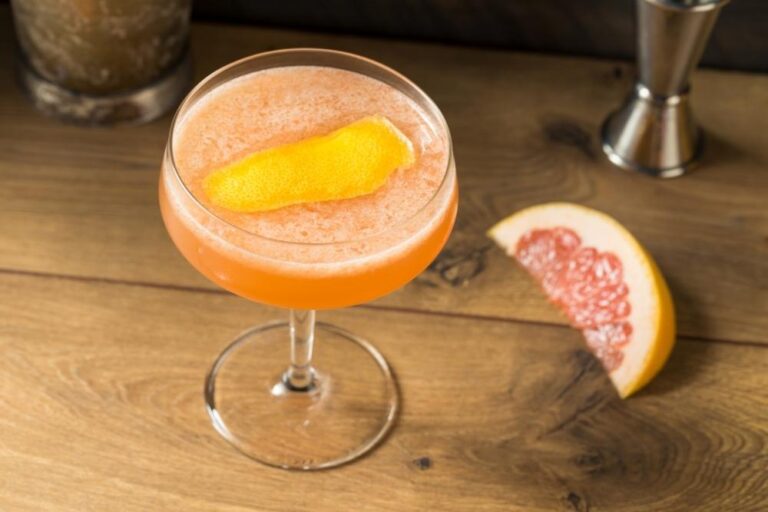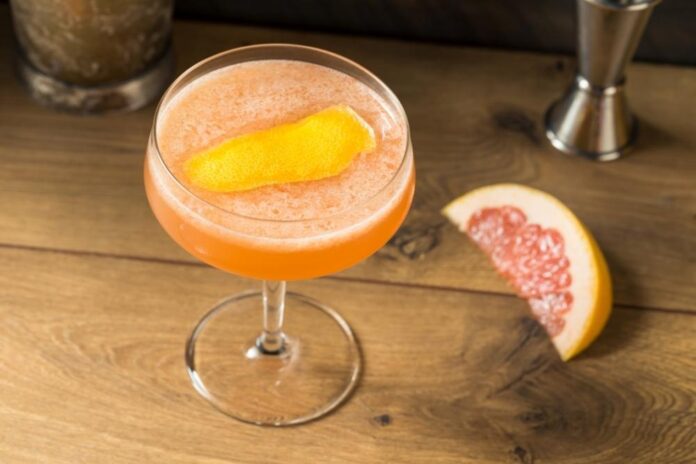 The Classic Brown Derby blends bourbon whiskey and grapefruit into one delicious cocktail.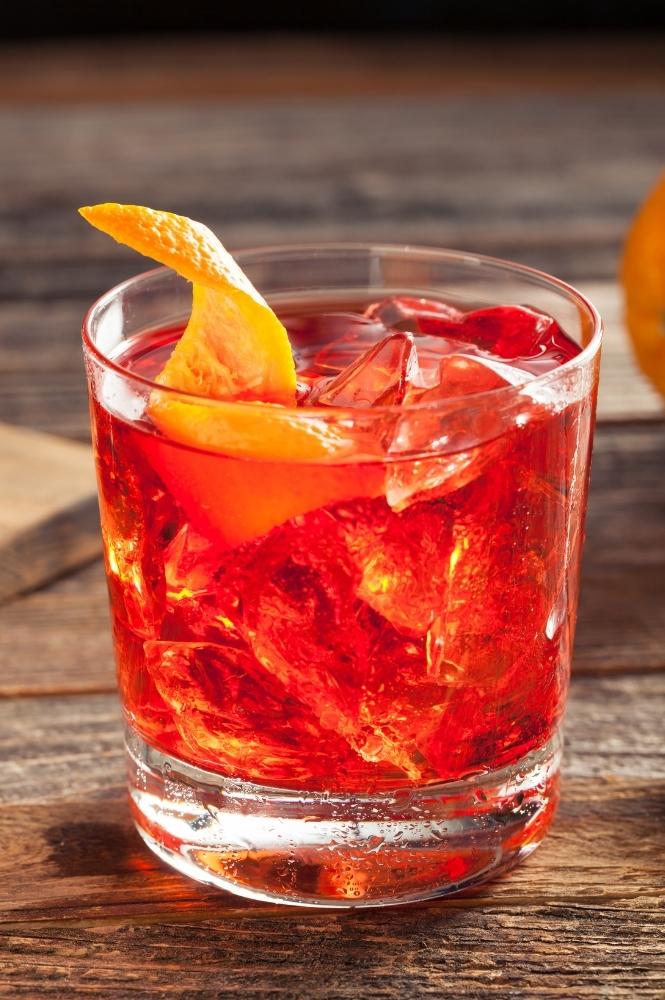 The Negroni has been a favorite drink for generations, and once you taste this mixture of gin, sweet vermouth, and campari you will instantly know why!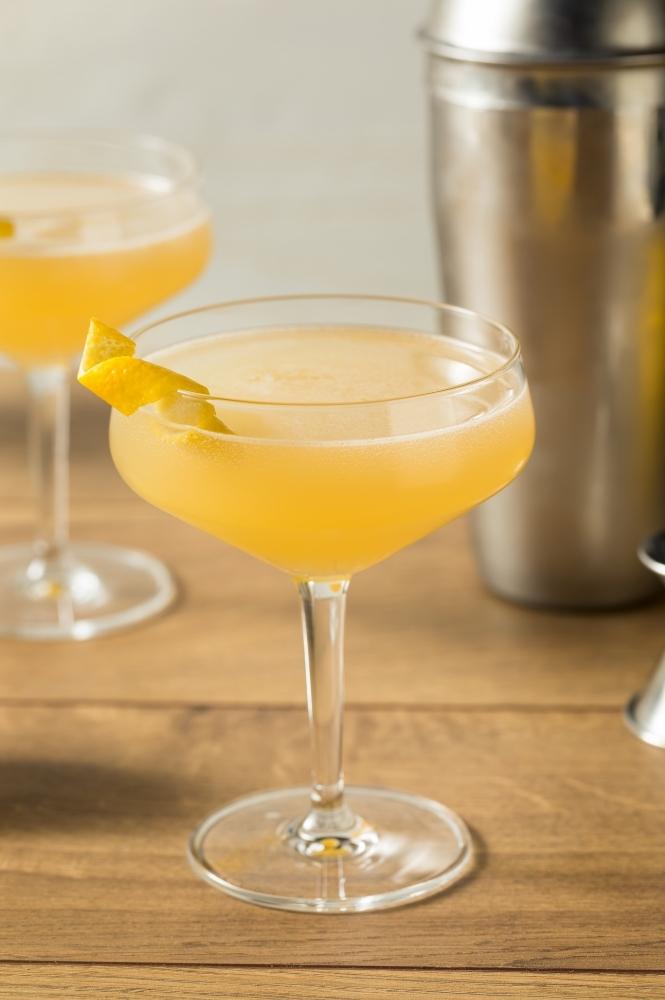 Despite the sinister name, this classic cocktail is one tasty treat!