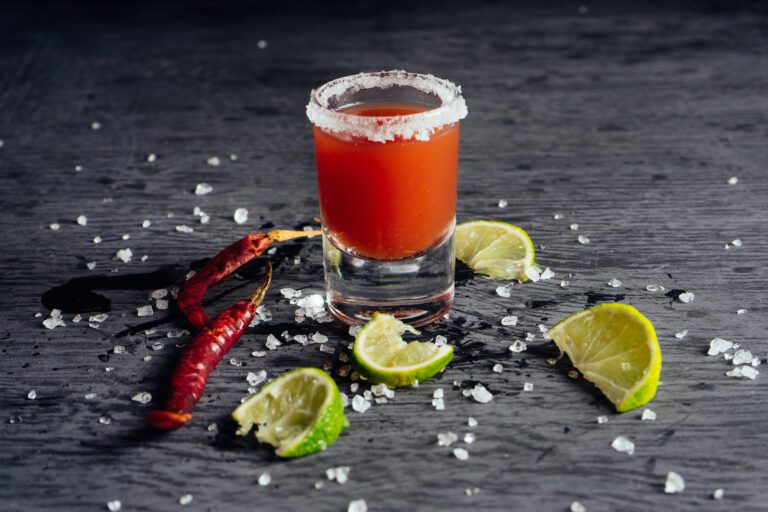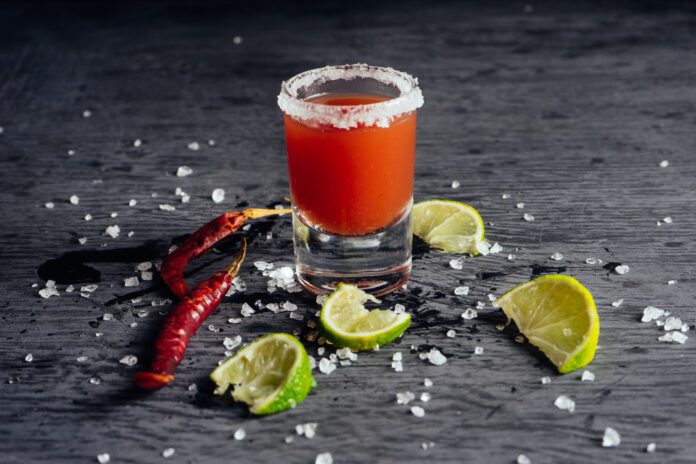 This page may contain affiliate links. Please see our Disclaimer for more information. Always drink responsibly and adhere to your local legal drinking age.
This Paleta Shot recipe is inspired by the delicious and fresh flavors of a Mexican popsicle. It's made of a mixture of a sweet and fresh watermelon and mango flavor, with an added kick of hot sauce mixed with Tequila.
If you're looking for the perfect summer drink with a mix of sweet and spicy, then look no further. I've got the perfect drink for you.
Keep reading to learn the history of the Paleta and the best ingredients you should use to make this tasty drink. I'll also provide the step-by-step directions for preparation and cover how to properly present and serve the shot.
History of the Paleta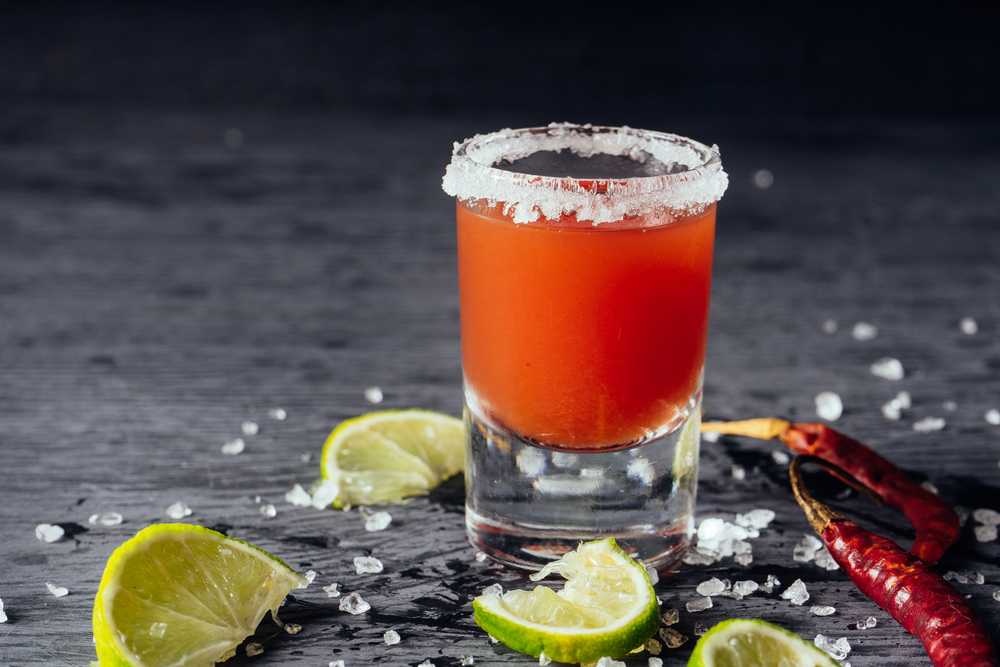 A Paleta is a watermelon-flavored Mexican popsicle that is brushed with chili powder. In the 1940s, in a city called Tocumbo, this frozen treat was created by a couple of local families and became a major hit with the locals.
Since this popsicle was becoming so popular, the families needed a facility to meet production needs. According to Monarca Gourmet Paletas, they moved their business into Paleterias, so the name Paleta was given to the frozen treat.
This popsicle is a childhood favorite in Mexico. The sweet and spicy mixture gives it a fun and unique taste. The Paleta is also called a "Mexican-style popsicle."
The Paleta Shot Is Born
The Paleta shot drink is named after this famous Mexican-style popsicle because the ingredients are made to mimic the watermelon and spicy flavors. The Paleta Shot originated in El Paso, Texas.
There is a unique culture in El Paso that Texas Monthly goes into detail about because Pasoans have pulled aspects from its state, Texas, and its neighboring Mexican city, Ciudad Juárez. So, the Paleta Shot was born from this culture cross-over in Southern Texas and Northern Mexico.
The Paleta Shot is a wonderful combination of a favorite childhood treat and an adult beverage. Although this cocktail isn't known everywhere, it's becoming more and more popular. Lucky for you, it's easy to make, so if you can't find it at a local bar, you can make them yourself.
Ingredients for a Paleta Shot
The Paleta Shot has a unique flavor as it gets a mix of sweet, spicy, and savory. Here are the ingredients you need to make this shot:
Tequila
Watermelon Juice
Mango Juice
Tabasco
Lime
Ice
Salt
The sweet flavor comes from the mango and watermelon juice used in the recipe. The spiciness in the shot will come from the Tabasco sauce used. You can also use any other hot sauce if you have a specific one you like.
The savory flavor will come from the liquor used in the shot, commonly some Tequila type. Regular Tequila has a smooth, fruity taste, complementing the other fruit juices and the Tabasco sauce. Any kind of Tequila will do. The higher the price of Tequila usually, the better the quality, so it's up to you what type you use.
Some variations of the Paleta shot used strawberry juice and Tajin Chile powder. However, watermelon juice is the best option if you want it to be similar to the Mexican popsicle flavor.
Types of Tabasco Sauce
This recipe calls for Tabasco sauce. You can go with their regular red pepper sauce, or if you want to, you can go for a hotter sauce Tabasco sells. It's entirely up to you on how much spice you like or don't want in the Paleta shot.
Here are a few of their other flavors in case you want to try a different spice:
Green Jalapeno Sauce
Sweet and Spicy Sauce
Scorpion Sauce
Types of Tequila To Use for the Paleta Shot
For this shot, you can use any brand of Tequila you want. However, the better the Tequila, the better the shot will taste. Here are some of the top tequila brands I recommend you choose from when making a Paleta shot.
Casamigos Blanco: This Tequila has a smooth taste and isn't as bold as others.
Milagro Select Barrel Reserve Anejo: This Tequila has a charred oak flavor for those who like unique flavors.
Sauza Silver: This Tequila isn't as smooth as the higher-end brands, but it's the smoothest in the low price range.
Fresh Juice vs. Store Bought Juice
The Paleta shot calls for mango and watermelon juice, so which type of juice will make the best shot; fresh juice or store-bought juice?
Although store-bought juice will still make for a great taste and drink altogether, freshly squeezed juice will have a better authentic flavor. It's entirely up to you what juice to use, but if you want to make the perfect tasting Paleta shot, use fresh juices for a better flavor.
How To Make a Paleta Shot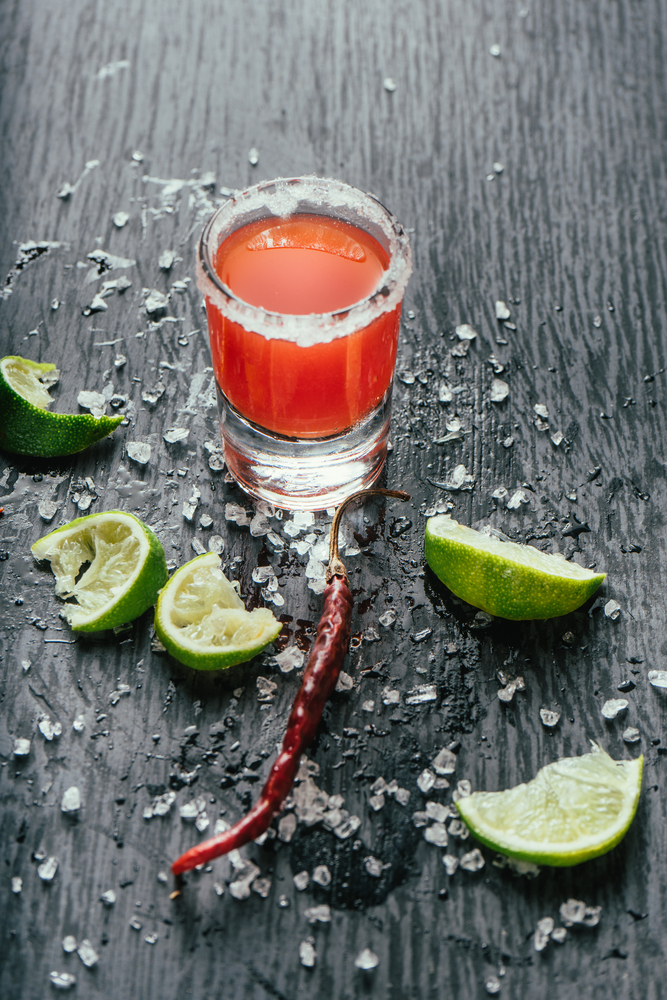 This drink tastes amazing and is incredibly easy and quick to make. The only necessary piece of equipment is a cocktail shaker. The Etens 24 oz. Cocktail Shaker on Amazon is a perfect choice if you don't have one.
If you're unsure about using a cocktail shaker, watch this video and you'll become a pro:
Here's how to make this Paleta shot recipe:
Add the Tequila, watermelon juice, mango juice, Tabasco sauce, and ice into the cocktail shaker.
Shake for a few seconds.
Pour the drink into a salt-rimmed shot glass.
Add a lime wedge to seal the deal.
Enjoy!
Keep in mind, you can make more than just a shot's worth at a time of this drink. All you have to do is increase the ingredients for the desired size glass you're going to be using. Trust me; you're going to want to make more of it – and so are your friends!
For a little more Mexican authenticity, Tajin rimmed shot glasses make a great addition to both the flavor and presentation.
When To Serve a Paleta Shot
Certain types of drinks fit different kinds of occasions. For example, wines are mainly served at weddings, date nights, anniversary dinners, etc. Although there's no "wrong" occasion for any type of drink, some just fit different occasions better than others. So, if you're wondering what type of event or gathering this cocktail is appropriate for, then I've got you covered.
Occasions and events the Paleta shot is perfect for are:
Beach parties
Girls Night
Booze Cruise
Bachelorette/Bachelor Party
Cookouts / BBQs
Happy Hour
Honestly, you can make and serve this shot whenever you feel like it. Yet, since the drink is based on a Mexican popsicle, summertime seems the most appropriate time to serve these.
Presentation of the Paleta Shot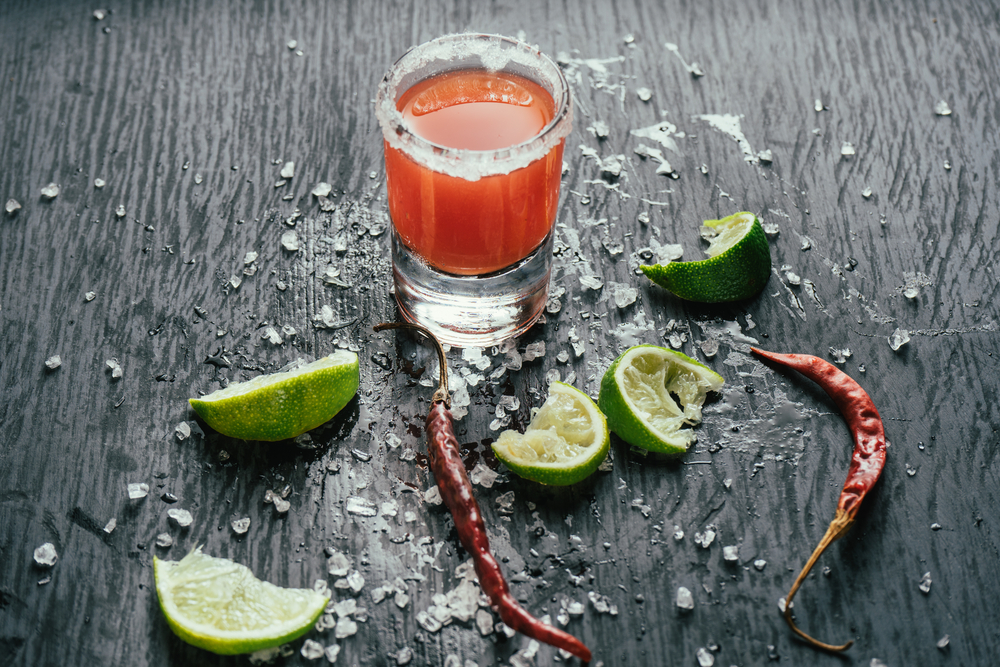 With a drink that has this much pizazz, you'll want to present these in some nice shot glasses. Presentation is everything, and this type of cocktail deserves the best one yet.
Here are some glasses on Amazon we recommend:
To impress your friends and family when serving this Paleta Shot recipe, you can get a shot glasses that come with a tray to serve them. The tray has holes cut out in it to put the shot glasses in so you can carry multiple drinks at once in style. The ElvesHome Shot Glass Set With Tray is the perfect affordable option.
Paleta Shot Recipe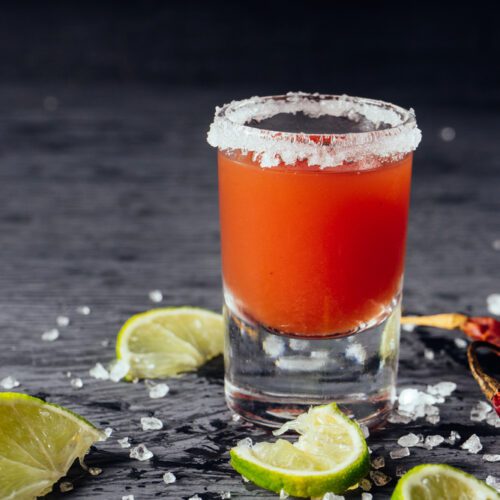 Best Paleta Shot: Mexican Popsicle Inspired
Inspired by everyone's favorite Popsicle, the Mexican Paleta. This shot is a tasty blend incorporating elements of sweet, savory, and spicy.
Print
Pin
Equipment
Cocktail Shaker

Shot Glass
Ingredients
1

oz

Tequila

.5

oz

Watermelon Juice

.5

oz

Mango Juice

1

dash

Tabasco

(or Favorite Hot Sauce)

1

wedge

Lime

Ice

Salt
Instructions
Wet Shot Glass Rim and Dip in Salt

Add Ice, Tequila, Watermelon Juice, Mango Juice, and Dash of Tabasco to Cocktail Shaker

Shake Until Ingredients are Fully Mixed (5-10 Seconds)

Garnish with Lime Wedge On Shot Glass Rim
Bartender Notes
Try it with juice from your favorite Paleta flavor.
Substitute the salt for Tajin for a more authentic taste.
Final Cocktail Thoughts
This Paleta Shot recipe is so delicious that you can invite some friends and impress them with a cool new drink to try. It's sure to be a huge hit among your friends and all lovers of the super delicious Mexican popsicles!
Delicious Shot Recipes You Must Try!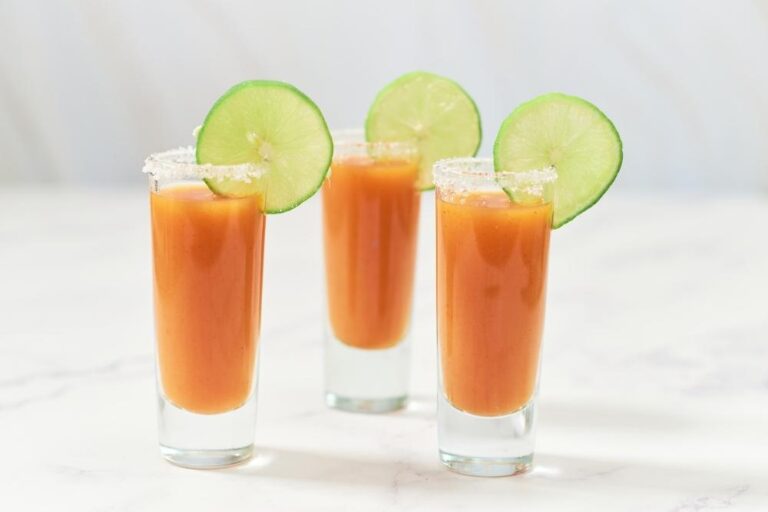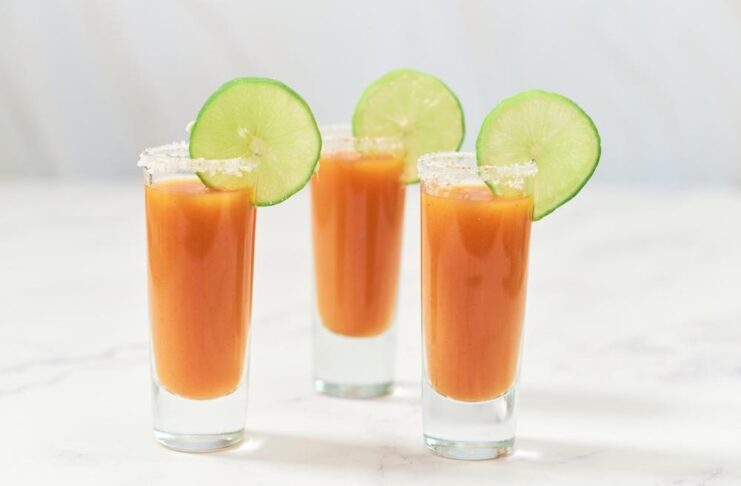 If you love Paleta's, than we are guessing you are also fans of Mexican candy or a spicy watermelon lollipop. Just like everyone's favorite treat this shot is a delicious mixture of sweet and a little spice. This Mexican Candy Shots recipe won't disapoint.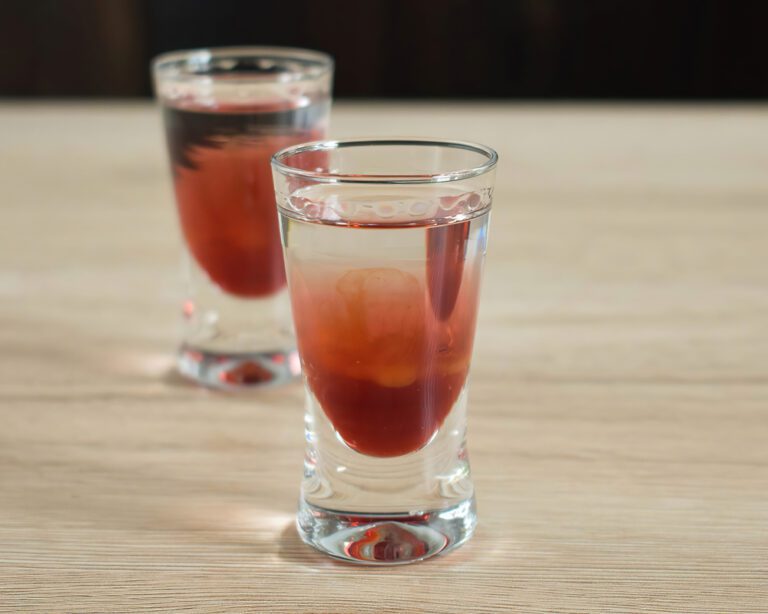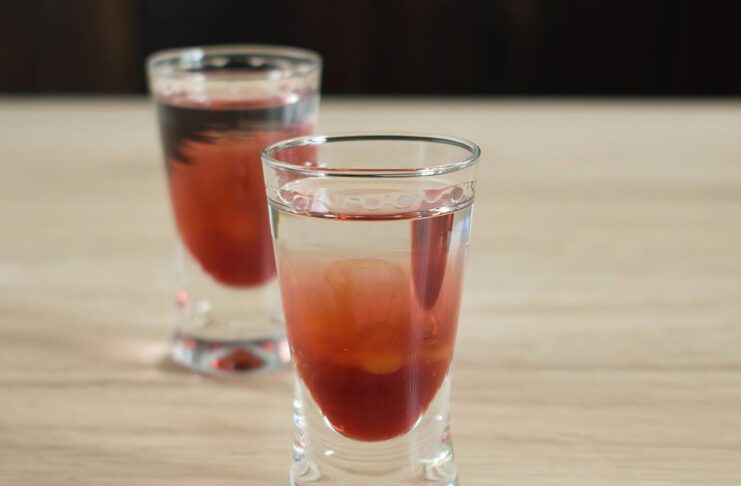 If you are looking for a little more heat, the Prairie Fire shot is the perfect cocktail for you. Just the right blend of heat from hot sauce and kick from Tequila.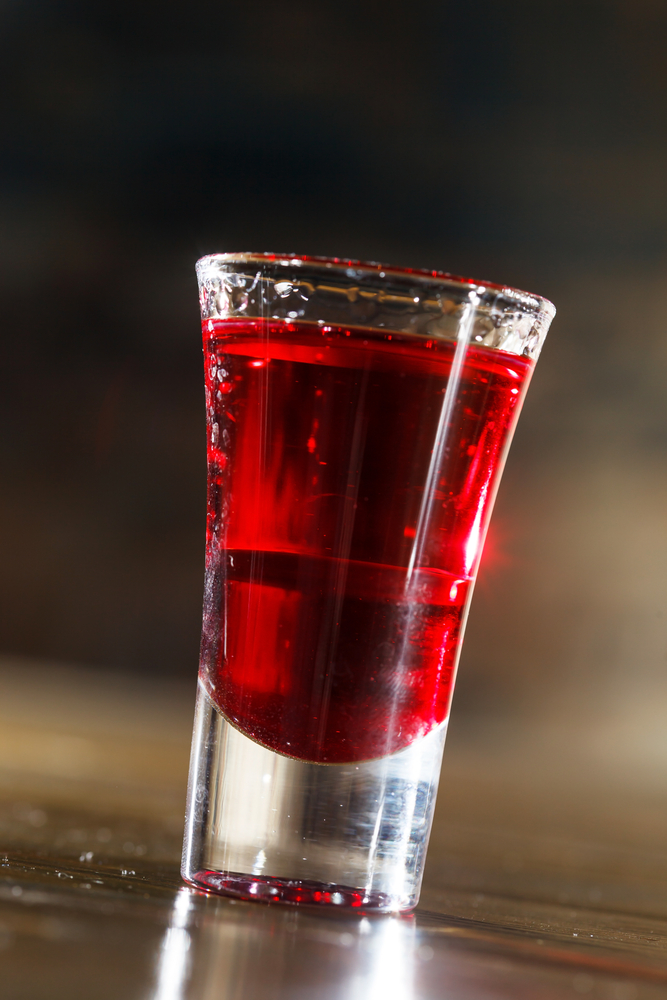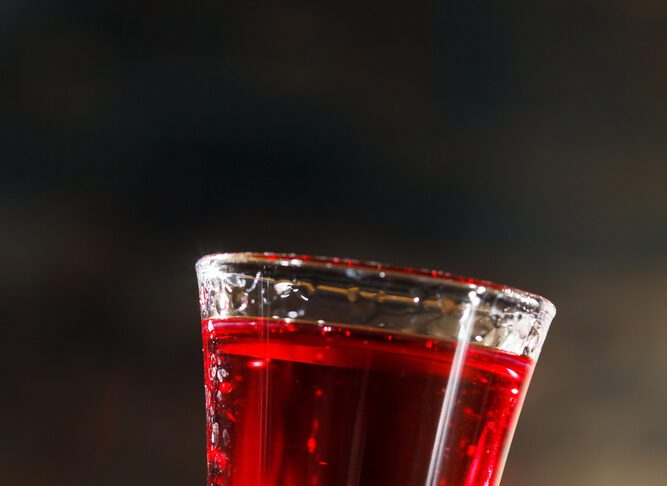 This shot is a fun take on the popular sweet and sour candy. Raspberry flavors mix perfectly with the sour and whiskey in this must try recipe.