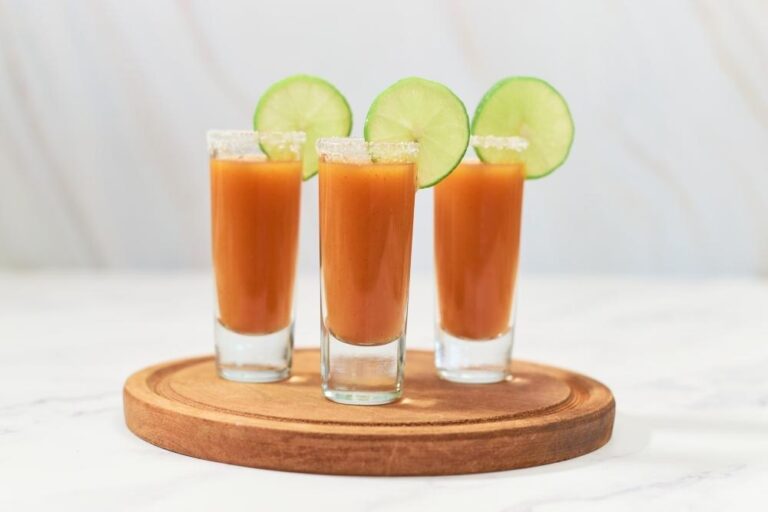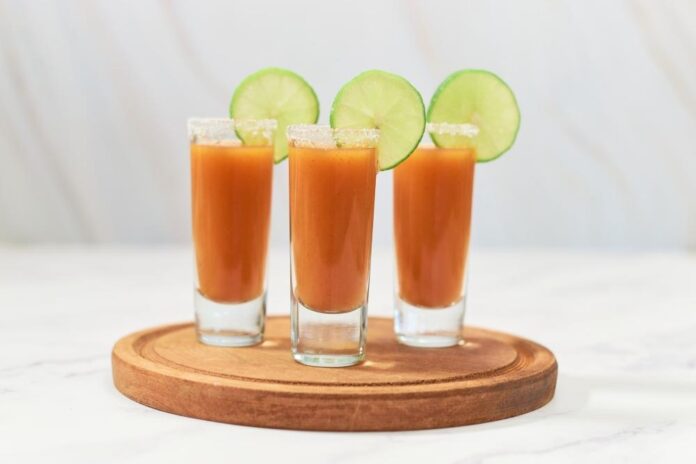 This page may contain affiliate links. Please see our Disclaimer for more information. Always drink responsibly and adhere to your local legal drinking age.
I was once given some great advice about hosting a party: Make sure everyone has a drink in their hand. This wasn't to imply that everyone should be sloppy drunk, but rather that everyone should be comfy and content. The Mexican Candy Shot is a drink known for creating feelings such as these.
The Mexican Candy Shot is a sweet-tasting alcoholic beverage with just a hint of spice. It is made with a variety of fruit juices (the choice is really up to you), some Tequila, and a dash of hot sauce. This is a drink whose ingredients bartenders have tweaked over the years. 
But before we get into how delicious these cocktails are, let's have a quick look at what makes a shot a shot. There are some numbers involved.
History of the Mexican Candy Shot
The origins of this mouth-puckering bolt of sugar, alcohol, and hot sauce are hard to pin down. The trail goes cold in El Paso, Texas, where the drink is known as the "Paleta shot". Paletas are Mexican freeze pops made from fruit, milk, and yogurt. I have had my share of paletas and can attest they are quite delicious.
How watermelon candy shots, in particular, got so popular is another mystery. The best answer, however, lies with Rebanaditas, a watermelon-flavored Mexican candy that's coated with chili powder.
This candy has been popular in Mexico since time out of mind. A bit of spice on top of so much sweetness is always interesting. It works great on candy. In a drink, it's downright delectable.
Whatever the case, the Mexican Candy Shot uses fresh watermelon juice (or sometimes watermelon pucker) and sugar to make things extra sweet. But as mentioned earlier, the fruit you use will depend on who's doing the drinking. Strawberries, pineapples, oranges, and even pistachios have been used.
How Does it Taste?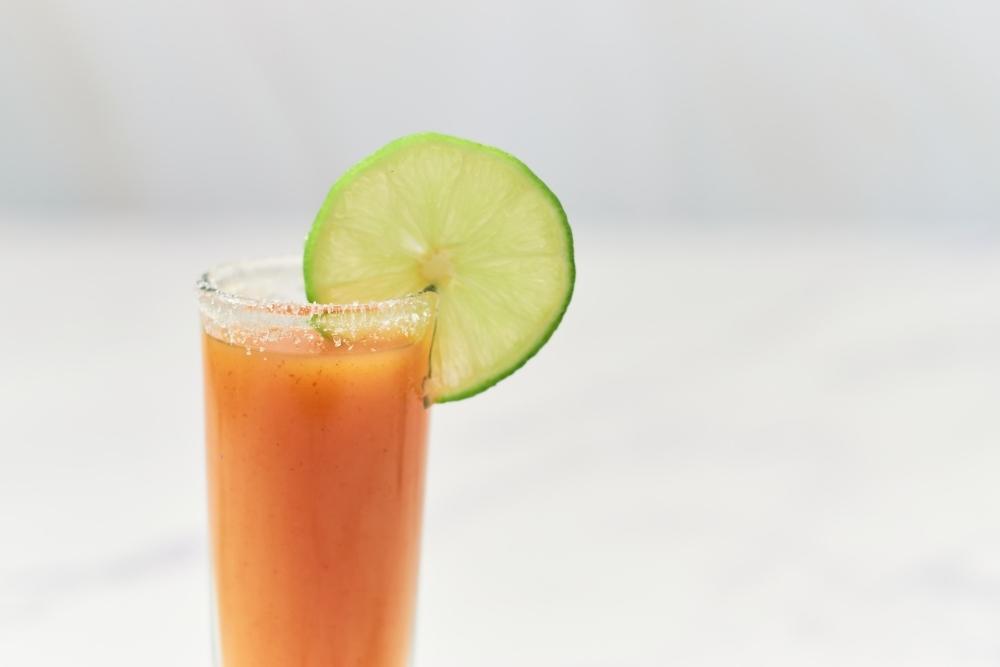 You've never tried a cocktail quite like this one. Or if you have, the memory is such that you always ask for another when the time is right. In both barrooms and at parties, I make it a point to down one of these. Being of the traditional sort, I maintain a preference for watermelon.
A Mexican Candy Shot tastes like candy with just the right amount of spice coming from that drop of hot sauce. A bit more of this spice also comes from red chili and sea salt seasoning, which many bartenders will roll around the rim of the glass.
At first glance, a shot like this appears intimidating. Fresh juice, hot sauce, and red chili together? But as with anything an artist makes, how the drink is prepared makes all the difference.
The key is to create a little twist of spicy flavors right next to all that sweet fruity flavors. It's a delicate balance. Don't worry, though—the recipe on this web page won't steer you wrong.
I'm not sure if I mentioned this during the history lesson, but Mexican Candy Shots are inspired by a highly popular lollipop sold south of the border. These pops also come in a variety of fruit flavors and are coated with a dusting of—you guessed it—chili powder. It works, I'm telling you.
Over the past 10 years, the drink has been getting more and more popular, rising up through Texas and southern California. Today you can even order one in Cleveland, Ohio.
When—and Where—To Serve Mexican Candy Shots
This delightful, delectable cocktail goes over at just about any social event that allows alcoholic beverages.
Think of it this way: party guests (or dinner guests or BBQ guests or whatever) who are familiar with the Mexican Candy Shot will be pleased that you know how to mix such an exciting drink. Guests who haven't tried it—or even heard of it—will doubtless come down with a strong case of "piqued curiosity".
Nor will this latter group be disappointed in what it finds.
How can I be so certain? I've sat right next to friends and family trying the Mexican Candy Shot for the first time.
Their initial reaction? Skittish, hesitant, oh yes. But after the shot? Ah, now they're hooked!
I've seen it happen with my own two eyes. The reel works even better when you know the person's favorite fruit beforehand and order accordingly.
How To Make a Mexican Candy Shot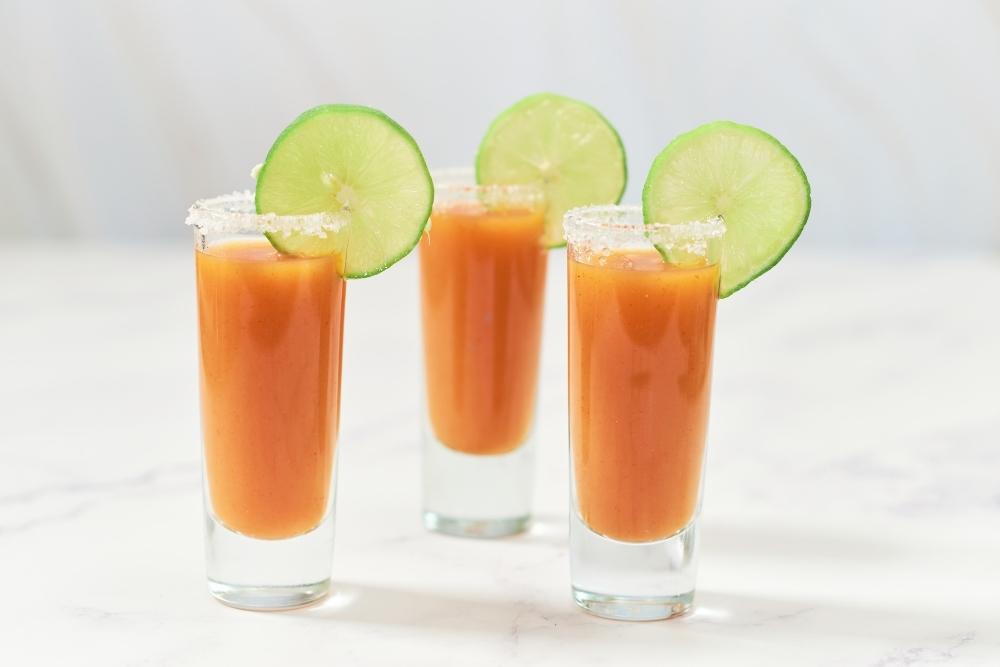 One of the neat things about this drink is that it's so easy to make. This delicious Mexican Candy Shot recipe only contains five ingredients (plus two garnishes): Tequila, watermelon juice, ice, lime juice, hot sauce. Garnish with a lime wedge and a rim of traditional tajin or sugar How you mix these will determine just how well it goes over with guests.
To mix a traditional Mexican Candy Shot:
Circle the rim of a shot glass with a wedge of lime.
Dip the rim onto a plate of Tajin or sugar.
Mix Tequila with watermelon juice, lime juice, and a few dashes of Tabasco sauce into a cocktail shaker with ice cubes.
Shake shake shake! Get the ingredients mixed really well.
Pour it into the shot glass, garnish with a lime wedge, and drink up.
Again, this is one of the old recipes. At the end of this article, you'll find another. Your taste buds may prefer a different fruit flavor.
Also, please be careful with the sugar. Too much provides a sweetness overload. Too little, and that dab of hot sauce is gonna feel like a lot more than just a dab.
Mexican Candy Shot Variations
I don't think there's a drink of any kind that hasn't been fiddled about with. Part of being a great bartender is knowing where and when to add a pinch of this or a dash of that. The Mexican candy shot may have started out with Tequila and watermelon. Still, today there is no magical potion that thrills the masses.
Some people like a bit of rum mixed with the Tequila. Others ask for hot sauce around the rim rather than sugar. As for the fruit schnapps…why, the sky's the limit. Mexican Candy Shots have been made with mangoes, oranges, lemons (yes, lemons), strawberries, and cherries.
Nor does it stop there. My point is that the fruit you choose will never tarnish this cocktail's good name. How you mix it is another matter.
A word about using lemon schnapps to make Mexican Candy Shots: Go in with an open mind, and have a crowbar nearby to have your lips pried open. The last time I tried one of these, I shriveled. But it was still finer than fiddle music.
What Foods Go Well With a Mexican Candy Shot?
To answer this question, let us proceed directly to the cocktail's main ingredient—i.e., the fresh watermelon juice. A Mexican Candy Shot's wisdom precedes it. Various herbs and spices (chili pepper, ginger, flake salt) compliment the taste of these shots quite well.
Foods that taste good with Mexican Candy Shots include chicken, fish, pork, and beef. A good rule of thumb is to make sure your meal pairs up well with the primary fruit ingredient of the cocktail.
Now please don't envision people sitting around a dinner table slamming back shots in between bites of take-out chicken. That certainly doesn't happen often. What I refer to instead is palate agreeableness. So if you do happen to be grabbing a bite in between shots, the above foods will play nice and make friends.
Mexican Candy Shot Recipe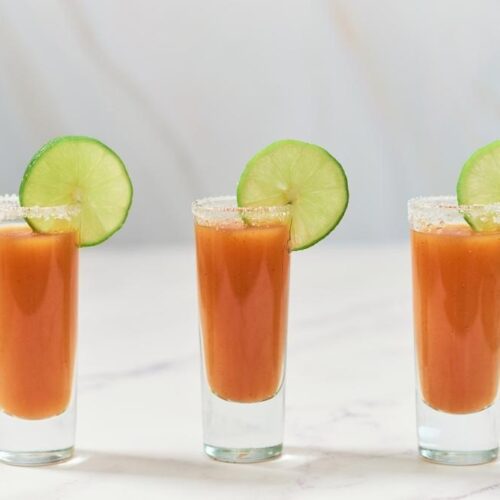 Authentic Mexican Candy Shot
Based on you favorite sweet and spicy candy, this shot is sure to please.
Print
Pin
Equipment
Cocktail Shaker

Shot Glass
Ingredients
1

oz

Tequila

1/2

oz

Watermelon Juice

Fresh

1/4

oz

Lime Juice

Fresh

4

dashes

Tabasco Hot Sauce

Lime Wedge

(garnish)

Tajin or Sugar

(garnish)

Ice
Instructions
Rub Lime Wedge Across Rim of Shot Glass and Dip in Tajin or Sugar

Add Ice to Tequila, Watermelon Juice, Lime Juice, and Tabasco to Cocktail Shaker

Shake Well Until Ingredients are Mixed and Chilled (10-15 Seconds)
Bartender Notes
For a spicier shot add more Tabasco.
Final Cocktail Thoughts
The taste of the Mexican Candy Shot was once confined to esoteric palates. As more and more people became willing to try it, its popularity skyrocketed. "Skyrocket" is certainly a good word for the reactions it creates. It's fun to watch someone drink a Mexican Candy Shot for the first time.
He or she may approach the glass with caution, wondering if you're having them on. But after a commitment is made, the happy expression that follows is almost as sweet as the drink. Now have a look at another excellent recipe for Mexican Candy Shots.
Must Try Shot Recipes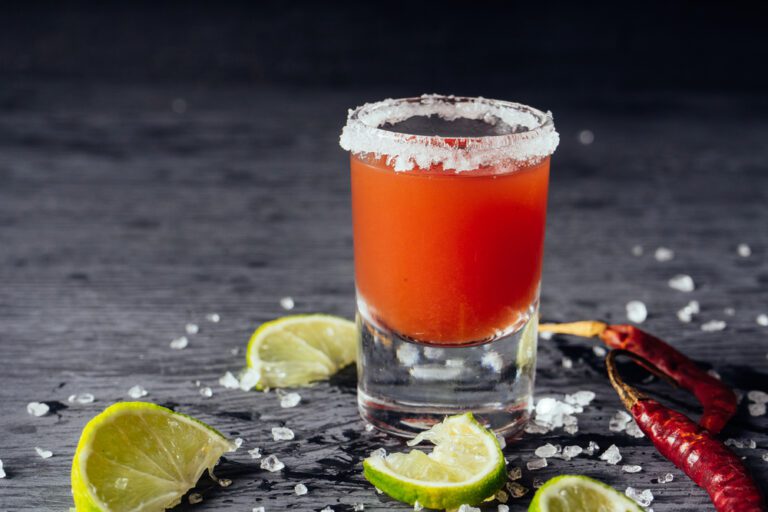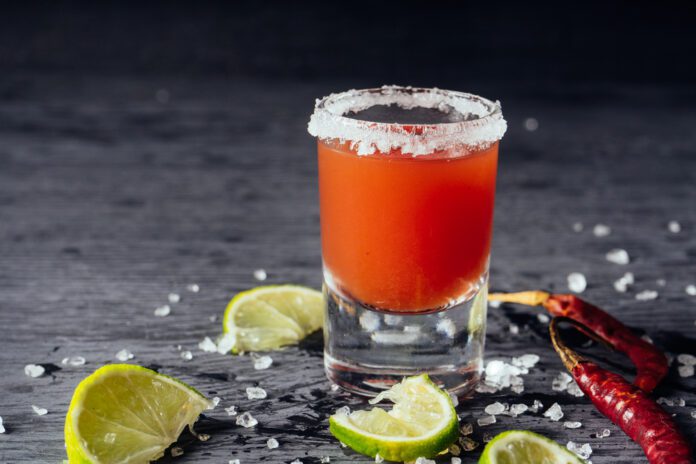 If you are a fan of Mexican candy, than you must love Mexican popsicles right? The Paleta Shot is a nice an refreshing cocktail made with fresh juice.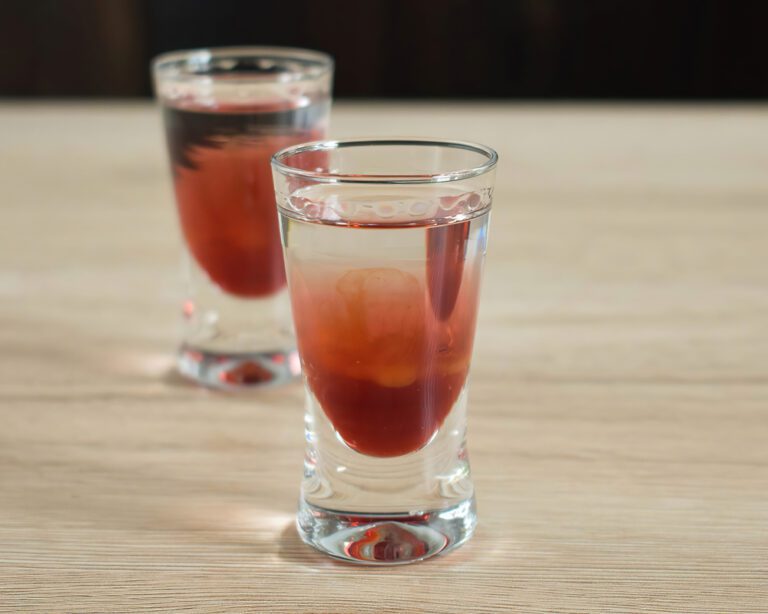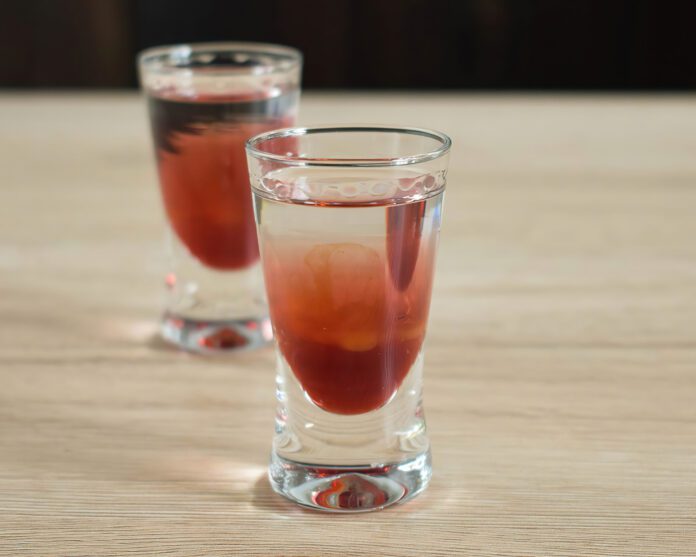 If you are looking for a shot that is a little more spicier, than the Prairie Fire is the perfect drink for you to try. Tequila and hot sauce never burned so good!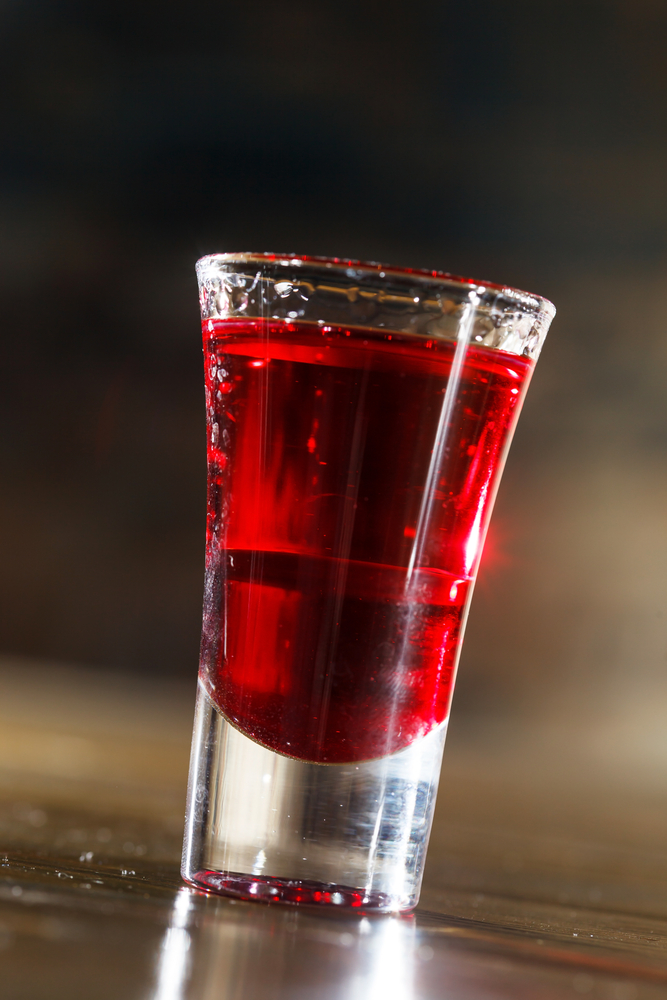 Another candy inspired drink, the Sweet Tart Shot is an excellent blend of sweet and sour.