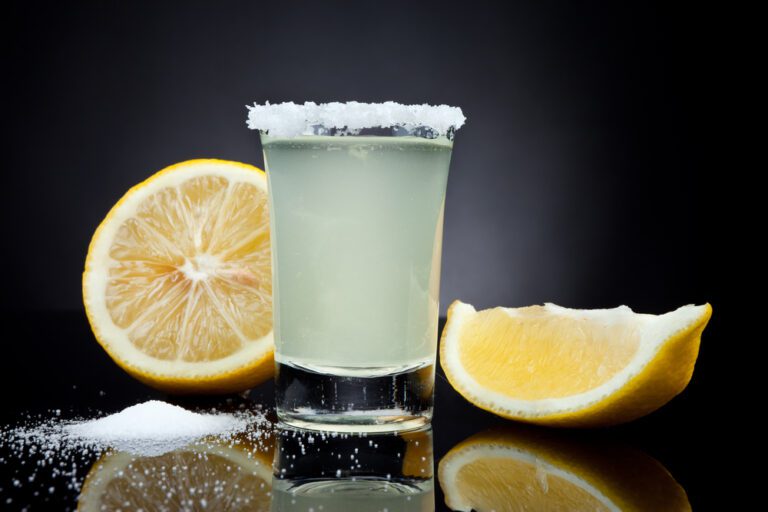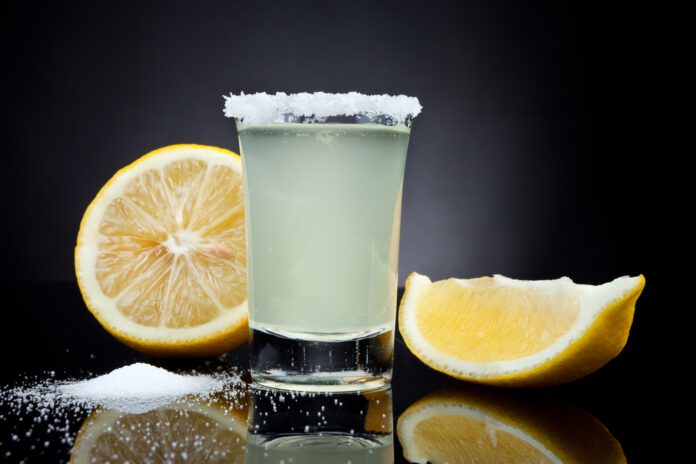 This page may contain affiliate links. Please see our Disclaimer for more information. Always drink responsibly and adhere to your local legal drinking age.
Simple and incredibly easy to make, the Lemon Drop shot is today a popular favorite at bars and nightclubs across the country. Its bright citrus flavors and low alcohol content make it ideal for warm summer or spring nights and large gatherings.
The Lemon Drop shot is a mini-me of the Lemon Drop. It consists of vodka, lemon juice, and simple syrup, so it's probably one of the simplest shot recipes you could ask for – and the most delicious.
The rest of this article will delve into the origins of the Lemon Drop shot and what you'll need to make it.
The Origins of the Lemon Drop Shot
The Lemon Drop shot is a simplified shot-sized version of the Lemon Drop, a cocktail invented in the 1970s in San Francisco. The original Lemon Drop was first made in Henry's Africa, the first "fern bar" in the country. In addition to the ingredients in a Lemon Drop shot, it also used Cointreau. 
Fern bars were among the first singles bars to open in America when, following the sexual revolution, women first started going to bars by themselves. They were called fern bars because they were usually decorated with plants to make the ambiance more appealing to their new female clientele. 
Until then, bars in America had been seedy spaces, exclusively serving men. As a result, bar menus were dominated by whiskey-heavy offerings. The fern bars led to a wave of innovation in mixology, bringing in color and adventurousness and leading to the rise of vodka, rum, and gin-based cocktails on cocktail menus across the nation.
There are several takes on the origin of the Lemon Drop. Perhaps it was an homage to the 19th-century hard-boiled candy known as the Lemon Drop. It might have also been a version of the Sidecar, with the cognac replaced by whiskey or a similar variation of the citrus-forward New Orleans Sour.    
Whatever the case may be, the Lemon Drop was a hit. Today, it continues to have its fans.
What's in a Lemon Drop Shot?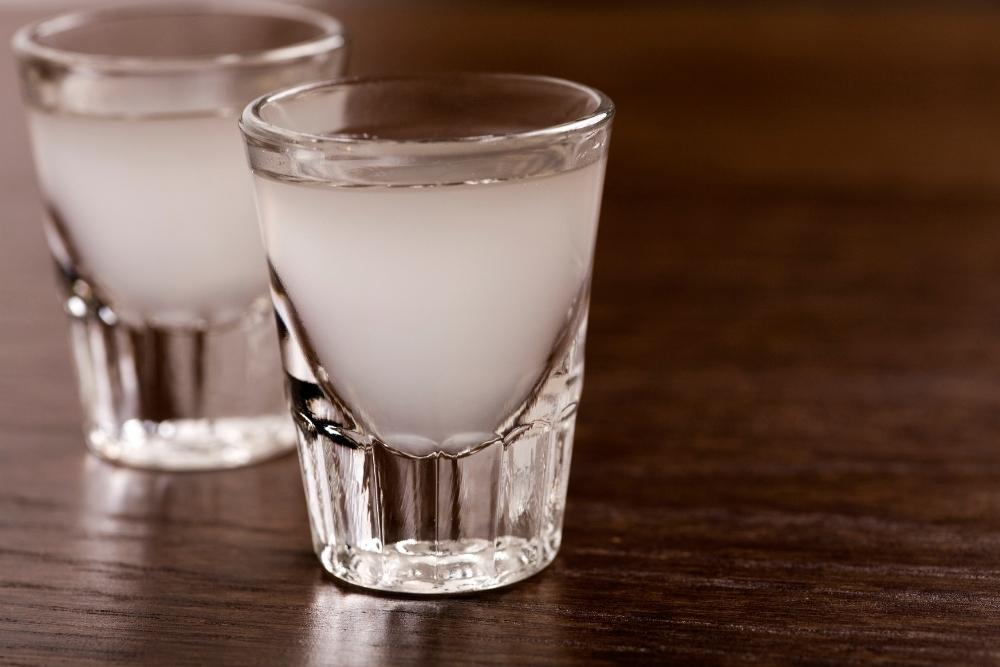 A Lemon Drop shot contains vodka, lemon juice, and simple syrup. It is a very simple cocktail that doesn't require a lot of detail, so it's easy enough for any creative burgeoning bartender.  
Vodka
The liquor used in a lemon drop is usually vodka, as this pairs well with the drink's citrus flavors and makes for a light and refreshing summer drink. I recommend you use a premium brand like Absolut or Grey Goose. 
The more expensive vodkas are purified to remove any taste other than alcohol and will best showcase the Lemon Drop shot's lemon flavor. On the other hand, a cheaper vodka can overpower the lemon and leave an unpleasant aftertaste.
If you're open to the idea of a stronger lemon flavor, I recommend citrus-flavored vodka. Absolut Citron or a Deep Eddy Lemon Vodka would work splendidly for this recipe.   
Lemon Juice
As the name suggests, lemons provide the main flavor component in a Lemon Drop shot. While packaged juices will work just fine, I recommend freshly squeezing your lemon juice. It might seem like extra effort, but it's well worth the end result. Meyer lemons are particularly good in a Lemon Drop shot.
Simple Syrup
Finally, the sugar in a simple syrup will give your Lemon Drop shot that added sweetness that makes it so delicious. You could use sugar, but simple syrup is easier to use as it mixes faster. So, using simple syrup instead of sugar will save you time,  especially if you are making several drinks for a large gathering. 
If you are serving a large gathering, it would also be best to make your simple syrup ahead of time. To prepare the simple syrup, follow these steps:
Dissolve sugar in warm water, with equal parts of water and sugar in the mix. This may take a few minutes.
Set the syrup aside and leave it to cool sufficiently before using it in any drinks. 
If you do not have simple syrup, regular sugar will do just fine. Just make sure to mix it completely into your drink before serving it.  
Garnishing and Tools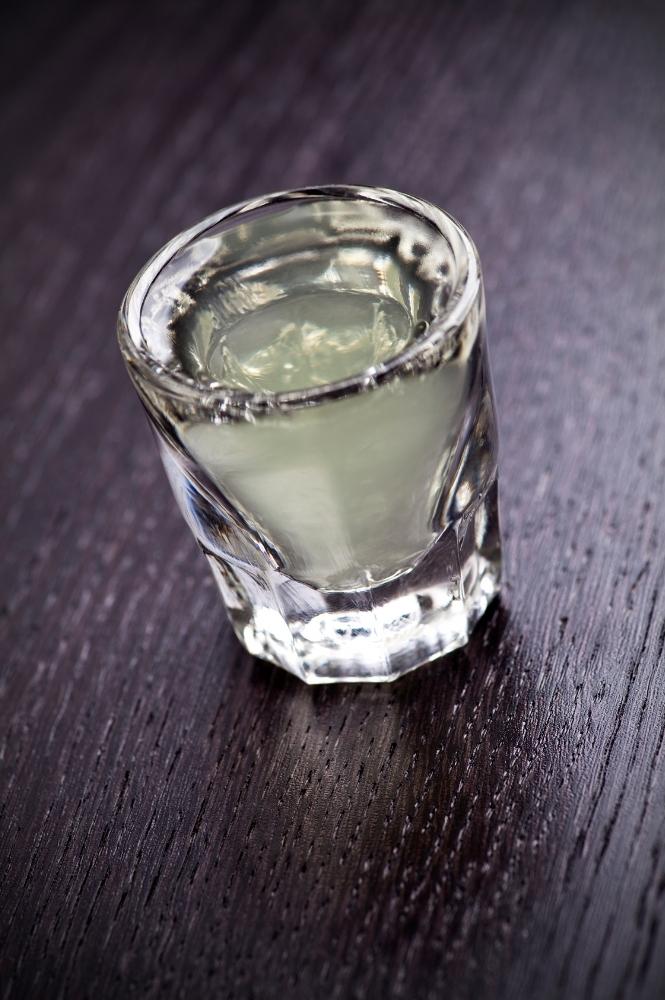 Apart from the major ingredients required to make your Lemon Drop shot, you will also need a few essential bar tools and ingredients to prepare and garnish your drink.
Garnish
While garnishing a cocktail is always optional, the right set of ingredients can enhance the flavors in your drink and add that extra bit of contrast or brightness that makes an already tasty drink irresistible. By adding color and texture, a garnish also makes your drink's visual presentation exquisite.
To garnish your Lemon Drop shot, you will need:
Don't worry if you don't have lemons left over from making cocktails, would prefer avoiding the additional sugar, or are too many drinks down to care. Your Lemon Drop shots will still go down just fine without a garnish.
Tools
To prepare your Lemon Drop shot, you need only the most basic bar tools. Chiefly, these are:
A cocktail shaker
Lots of ice
2 oz (60 ml) shot glasses 
A stainless steel cocktail shaker is an essential tool in any well-stocked bar. Not only does it help mix drinks better, it also chills them well. The best cocktail shakers also come with strainers in-built, making it quicker and easier to pour clear drinks every time.
If you're considering purchasing your very first cocktail shaker, I recommend this 24 oz (118 ml) LUCKYGOOBO Martini Shaker (available at Amazon.com). It's leak-proof, food-grade, dishwasher safe, and comes with an in-built strainer.
If you do not have a cocktail shaker, you can use a bar spoon. Your drinks will taste just as good mixed by spoon, although they may not be served as cold.
You will also need lots of ice to effectively chill your drinks and shot glasses to serve them. I recommend 2 oz (60 ml) shot glasses as these are large enough to hold the shots for this specific Lemon Drop shot recipe, leaving some room for the lemon wedge garnish.
Variations on the Lemon Drop Shot
If you are partial to other citrus flavors, you can replace your vodka with something more exciting. A great option here would be orange liqueur. Cointreau or Triple Sec are great options in this case.
Additionally, you can make your drink stronger or weaker by switching up the measurements. If you're not a fan of a strong drink, you could always go heavy on the lemon.
Lemon Drop Shot Recipe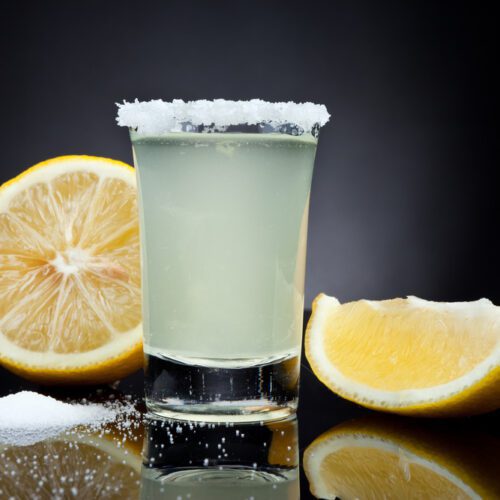 Amazing Lemon Drop Shot
This Lemon Drop Shot Recipe is the perfect cocktail for the Summer and Spring, and for those that like a sweet and refreshing drink with little alcohol taste.
Print
Pin
Equipment
Cocktail Shaker

Shot Glass
Ingredients
3/4

oz

Lemon Vodka

3/4

oz

Lemon Juice

Fresh

1/4

oz

Simple Syrup

Lemon Wedge

(garnish)

Sugar

(garnish)

Ice
Instructions
Wet Rim of Shot Glass and Dip in Sugar

Add Vodka, Lemon Juice, Simple Syrup or Sugar, and Ice to Cocktail Shaker.

Shake Well Until Ingredients are Mixed and Chilled (10-15 Seconds)
Bartender Notes
Dip lemon wedges in sugar for great presentation and to give the drinker something to suck on after to reduce any alcohol aftertaste and tame the tart lemon juice.
We recommend a good quality vodka to not overpower the lemon flavor, such as Grey Goose or Absolut Citron.
Fresh lemon juice is recommend for the best taste, but prepackaged lemon juice will still be super delicious.
If you don't have simple syrup or table sugar, you can use 1 sugar cube or a package of your favorite sugar substitute.
Don't want to use ice then just chill and add cold vodka to your shot.
Final Cocktail Thoughts 
This Lemon Drop shot recipe is too easy a drink to miss – and it's well worth the few minutes it takes to make it. Your guests will love this quick and simple shot, and they'll surely come back for more. Remember to get creative with a fun garnish if you really want to impress. 
Must Try Shot Recipes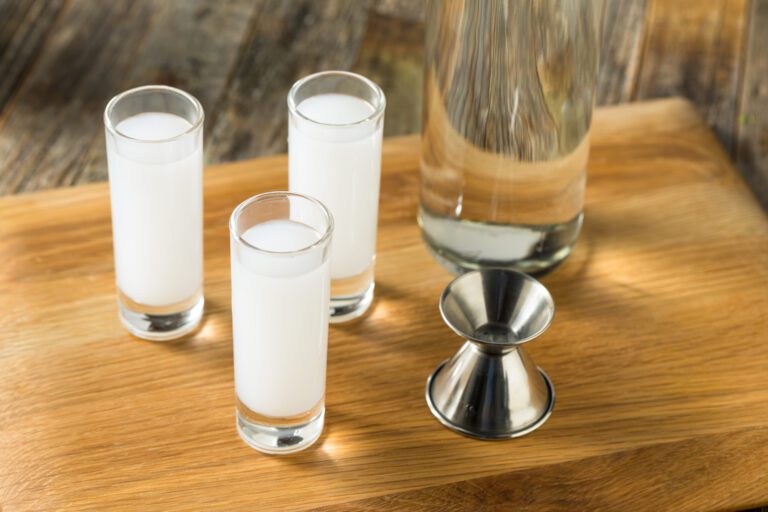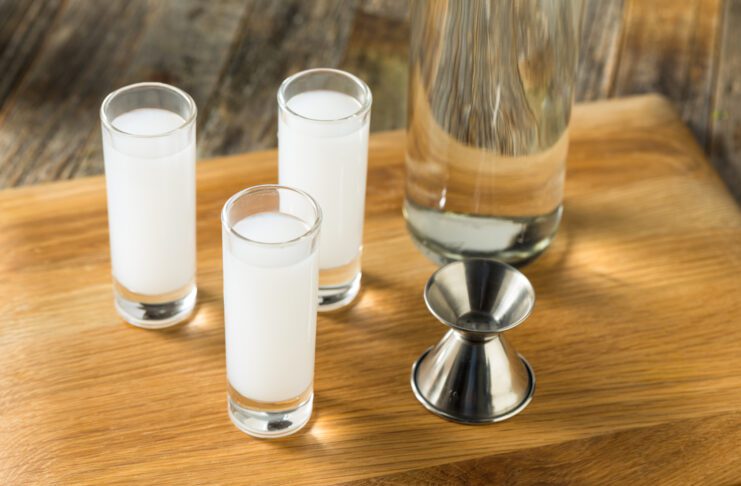 The White Tea Shot is a smooth blend tasting of peaches and lemon, with a slight kick from the vodka. This is a wonderful shot that we highly suggest you try.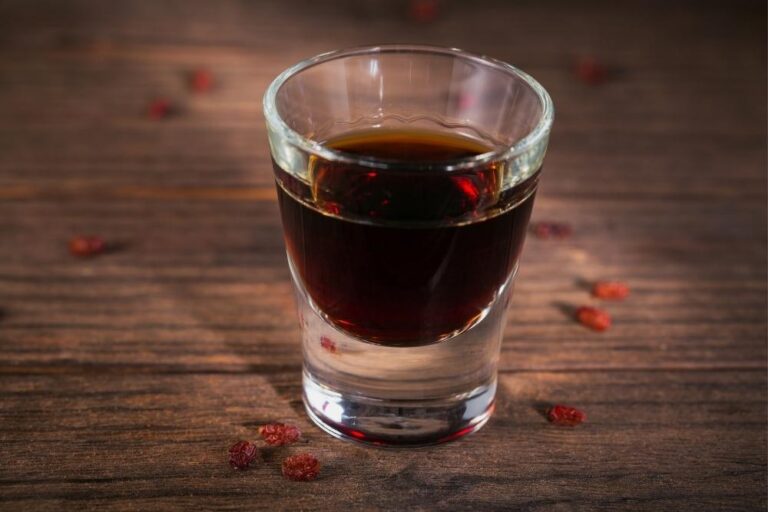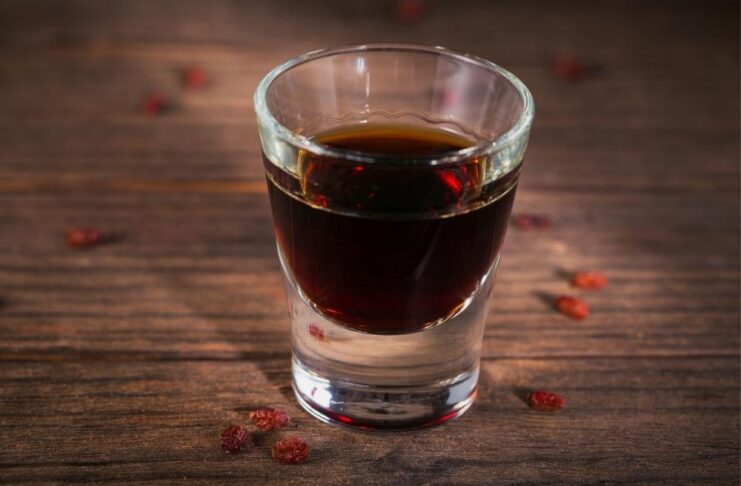 The Grape Ape shot is a fun and fruity cocktail. Grape fans won't be disappointed and will keep wanting more of this shot.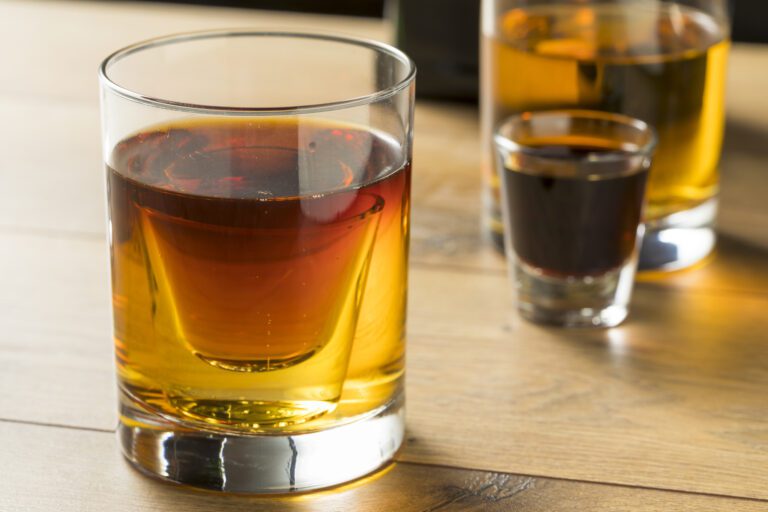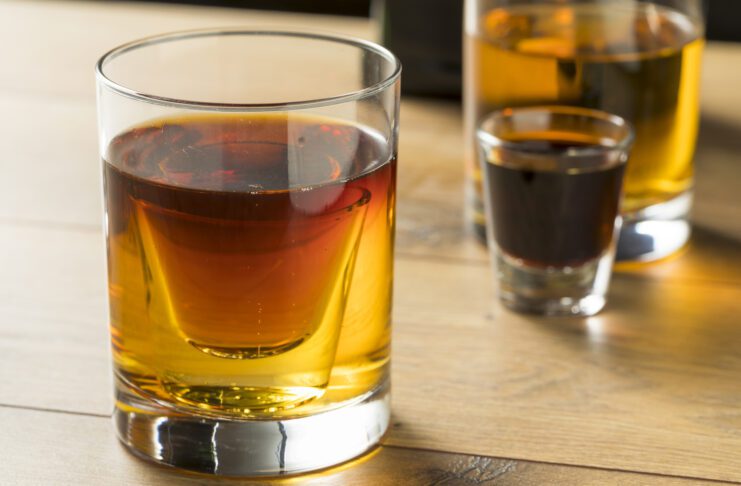 If cherry flavor and fun are two of your favorite things, then you must try this Cherry Bomb Shot.