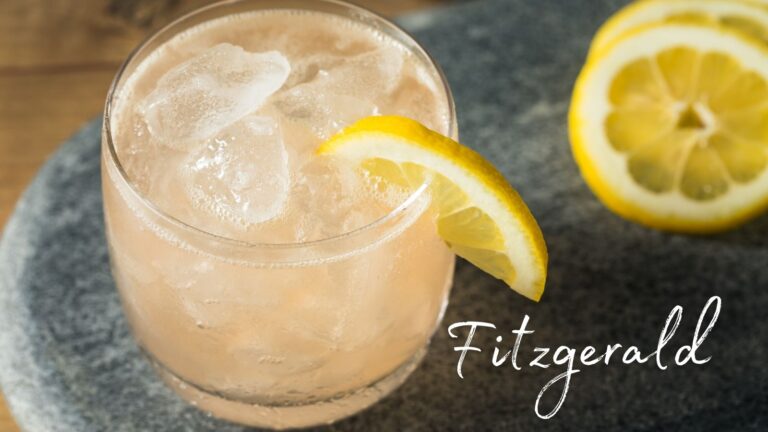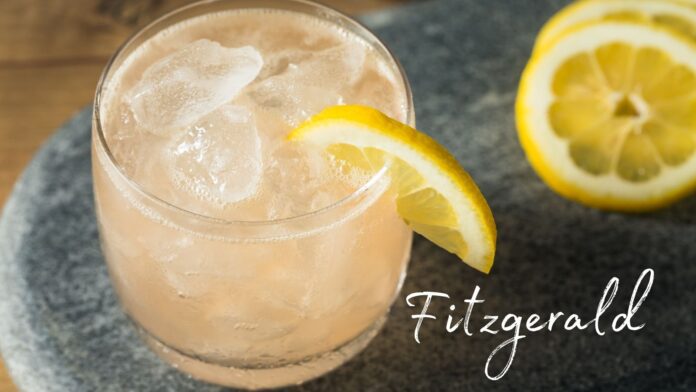 This page may contain affiliate links. Please see our Disclaimer for more information. Always drink responsibly and adhere to your local legal drinking age.
You may assume the Fitzgerald cocktail has been around for many years. Considering its ingredient list and style, it's easy to presume that the cocktail has secured a rightful place among the old classics. However, you may be surprised to learn that the delicious, refreshing Fitzgerald is actually less than a few decades old.
The Fitzgerald cocktail is a gin-based drink created by Dale DeGroff. Its ingredients include dry gin, lemon juice, simple syrup, and a few dashes of bitter. These components work together to balance out the sweet, sour, and bitterness.
At the end of this read, I'll be providing you with the simplest, most delicious Fitzgerald cocktail recipe that is guaranteed to impress your guests regardless of your experience level. But first, let's dive into what you'll need to know about the drink before attempting to make it.
What Is a Fitzgerald Cocktail?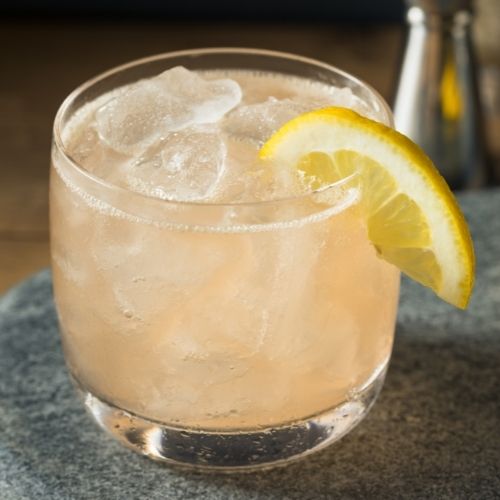 A Fitzgerald cocktail is an alcoholic drink made with gin, lemon, sugar or syrup, and bitters. In short, it's a gin sour with a few additional dashes of bitters. Even though the ingredients and technique are considered classic, the cocktail's flavor profile provides a modern twist. 
The perfect balance between sweet, sour, and bitterness gives this drink a refreshing flavor that makes it palatable even to bitter skeptics. Therefore, if you're looking to convert someone into a gin lover, easing them in with a Fitzgerald is the way to go.
Fitzgerald Cocktail History
As I briefly mentioned, the Fitzgerald is a surprisingly new drink whose history and traditions are still in the making. Given its almost "classic" status, it can be hard to believe it was probably invented during our lifetime.
It's hard to pinpoint a single date or year as the birth of the Fitzgerald. Sources report that while Dale DeGroff, the legendary bartender, invented the drink in the 1990s, its first recorded debut was made as late as 2002.
However, the drink rose in popularity so quickly that even though it was first introduced in a commercial setting only two decades ago, it's widely considered a classic, proving once again the genius of Dale DeGroff.
He concocted the cocktail while working at the Rainbow Room in New york. His legacy to the bartending industry is invaluable, as he's viewed as the person who brought the dying art back to life.
Dale DeGroff was insistent on using fresh ingredients in all of his cocktails, which explains why the fruity lemon notes are at the forefront of this drink's flavor profile.
Another reason why pinpointing a specific date as the birth of the Fitzgerald can be challenging is that when the drink was initially created, it was named the Gin Thing. However, as years went by, it became apparent that the name didn't fit the cocktail's flavors and techniques. Moreover, it simply didn't blend in well with the rest of the drinks on the menu.
Therefore, as Dale thought of giving the cocktail a literary name, Fitzgerald was a no-brainer. The name stuck, and it quickly turned into the all-time favorite we know and love today.
How To Serve a Fitzgerald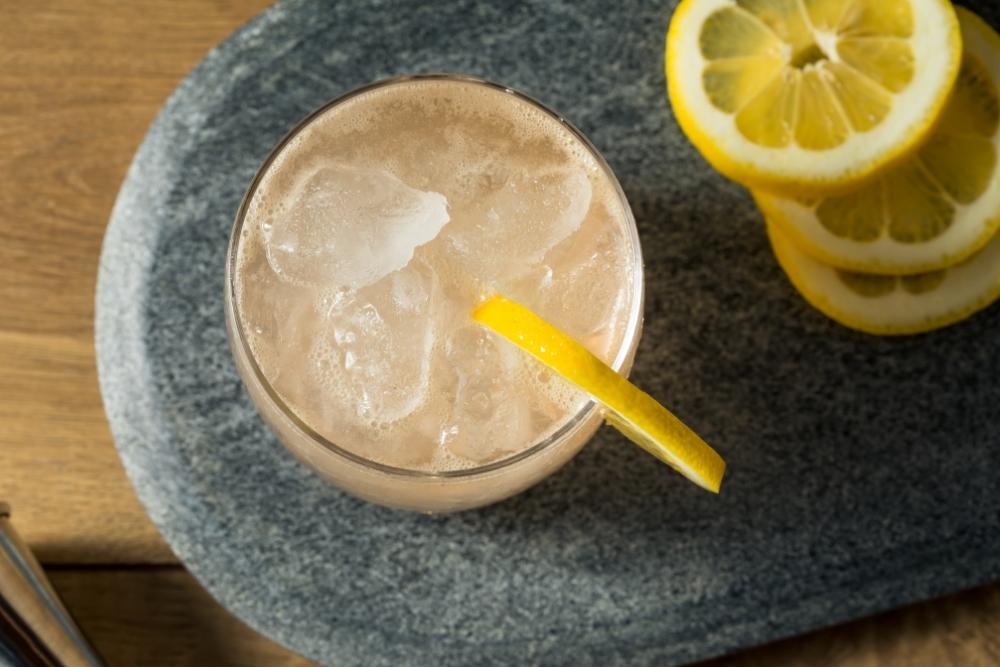 A Fitzgerald might not be the fanciest drink, but the right glass can make a world of difference. Generally speaking, you can either serve a Fitzgerald in a cocktail or old-fashioned glass, depending on how you prepare it.
For example, you can either shake or stir a Fitzgerald. If you prefer the stirring approach, serving it in an old-fashioned glass might be the way to go since it will give you a better range of movement.
Moreover, the glass of choice will also depend on your preferences regarding ice. If you like your Fitzgerald straight up, you'll want to first chill it by stirring it in a mixing glass for 30 seconds, then straining it into a cocktail glass.
On the other hand, if you prefer your cocktail on the rocks, you can serve it over ice in an old-fashioned glass.
What Do You Need To Make a Fitzgerald?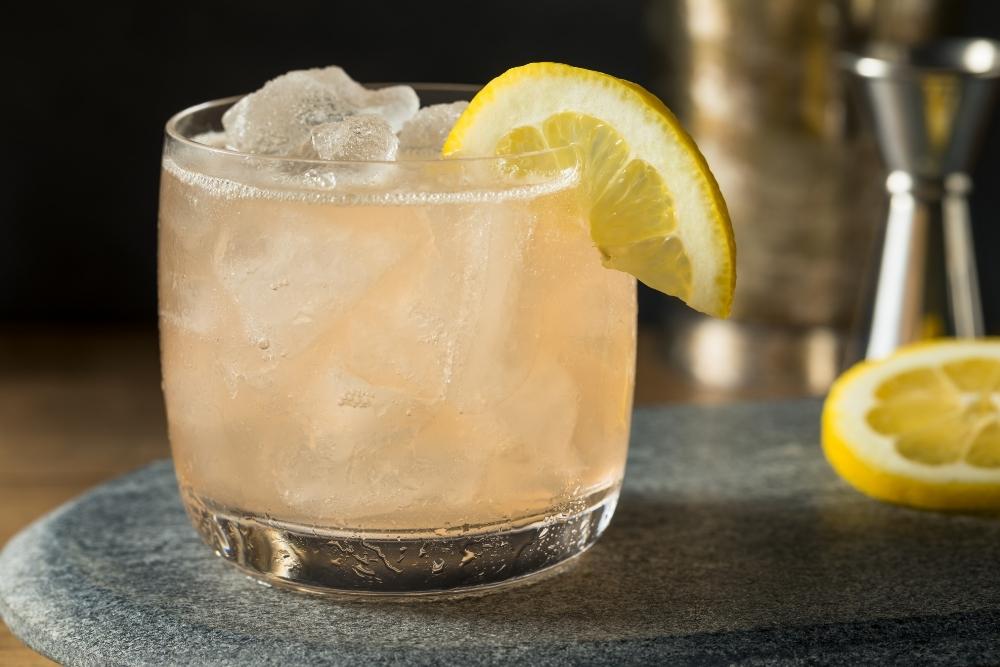 To make a Fitzgerald, you need gin, lemon juice, simple syrup, and Angostura bitters. To make it as authentic as possible, you'll also need ice, lemon slices to garnish, a mixing spoon, a mixing glass or pitcher, and a strainer.
As you can probably tell, the Fitzgerald is one of the easiest cocktails to make, which has undoubtedly helped its rise into the "classic" status. Apart from a few simple ingredients you probably already have at home, all the equipment you'll need is relatively basic and easy to substitute.
Therefore, if you're looking to impress a crowd, the Fitzgerald is the way to go.
Fitzgerald Cocktail Variations
Like a true classic, the Fitzgerald comes in a wide range of variations. Some might even argue that the drink itself is a variation of the beloved gin sour, as the only real difference between the two (minus the optional egg white) is a splash of bitters that take the Fitzgerald to the next level.
Again, as with all classics, it didn't take long before amateur and professional bartenders alike started to experiment with the drink's ingredients and techniques. Therefore, if you like the premise behind the cocktail but are looking to put a twist on it, the following variations are bound to spark your interest:
Lavender Daisy. If you don't have any gin on hand, you can always replace it with a blended scotch alongside some lavender bitters to create the refreshing Lavender Daisy. I'm warning you that if you're not a fan of intense flavors or smells, this won't be your drink. However, if you're anything like me, you'll love the cocktail's rich and invigorating taste profile.
Yellow Dessert Fruit. If intense floral aromas aren't your thing, you can still experiment with the classic Fitzgerald by enhancing the drink's sour, lemony flavors and aromas. To do so, switch the gin for the same amount of mezcal and choose lemon or orange-based bitters.
Fitzgerald Cocktail Recipe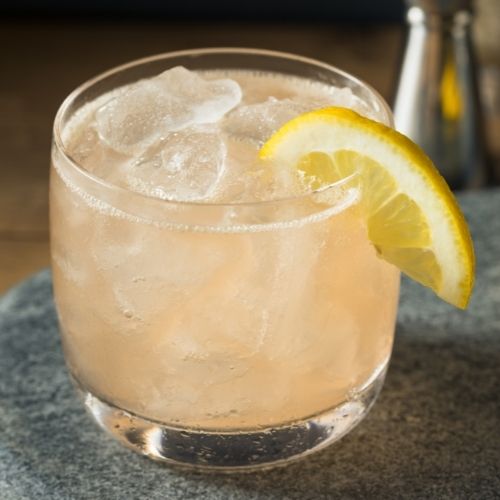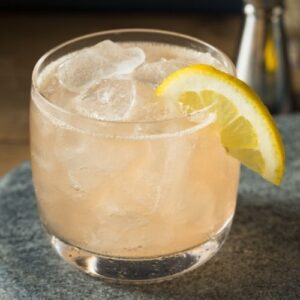 Simple and Delicious Fitzgerald
The Fitzgerald Cocktail is a modern take on the classic Gin Sour, without the egg whites. This simple to make and refreshing cocktail is taken to the next level by using freshly squeezed lemon juice and a premium dry gin.
Print
Pin
Equipment
Rocks Glass

Cocktail Shaker
Ingredients
1 1/2

oz

Dry Gin

1

oz

Fresh Lemon Juice

1/2

oz

Simple Syrup

2

dashes

Angostura Bitters

Ice

1

slice

Lemon

(Garnish)
Instructions
Add Ice to Rocks Glass and set aside.

Add Gin, Lemon Juice, Simple Syrup, Angostura Bitters, and Ice to Cocktail Shaker.

Shake well until all ingredients are fully mixed.

Strain over Ice into Rocks Glass.

Garnish with Lemon slice.
Bartender Notes
Add more simple syrup to the cocktail if it is too sour for your taste.
Final Cocktail Thoughts
A Fitzgerald is one of the simplest cocktails you can make that's guaranteed to impress your guests. The cocktail's refreshing and balanced flavor profile is bound to convert even the most stubborn gin or bitter skeptics.
Even though the drink has only been around for a few decades, its classic taste and technique have helped it quickly turn into a beloved classic. Therefore, if you're looking for a simple, delicious cocktail recipe that everyone will enjoy, the Fitzgerald is just the right drink for you.
Similar Must Try Cocktail Recipes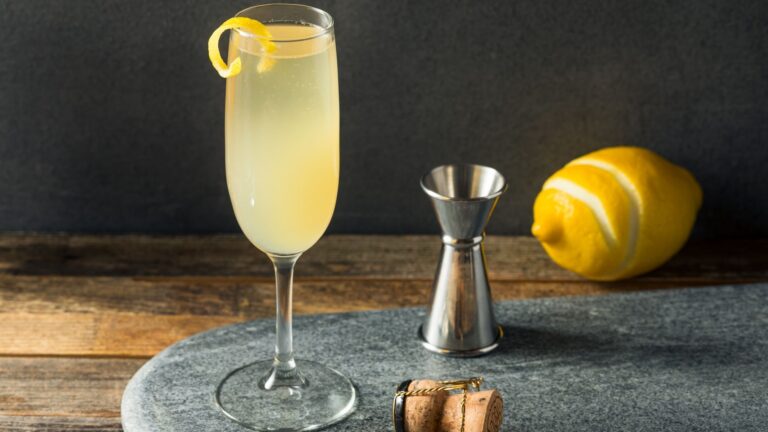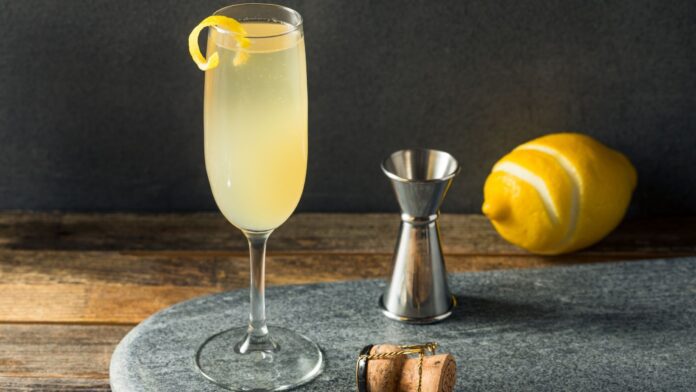 The French 75 is a classic cocktail and can be described as an elegant and the perfect blend of gin, champagne, and lemon.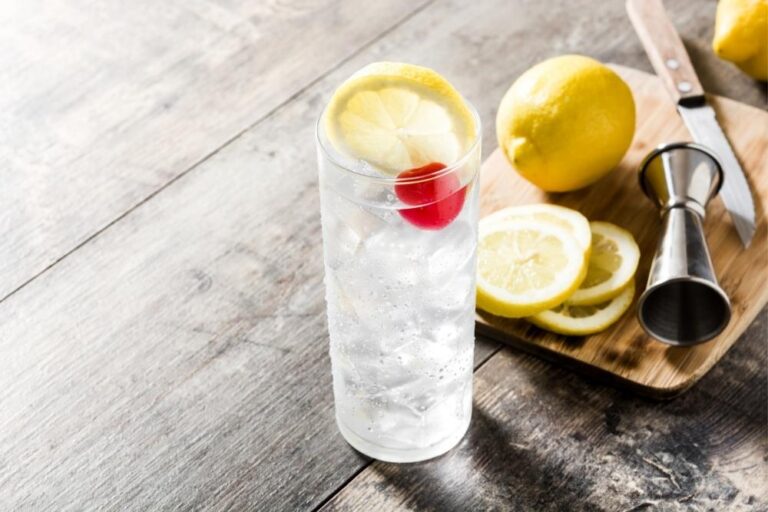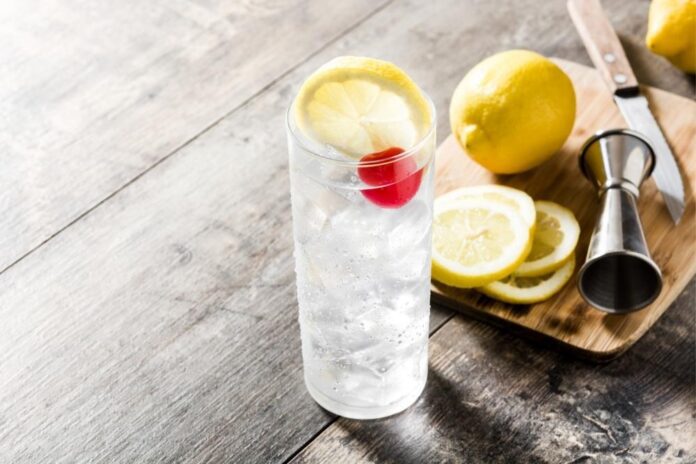 The John Collins is the original version of the highly popular Tom Collins cocktail. This highly refreshing lemon flavored drink will soon become one of your favorite go to cocktails for any occasion.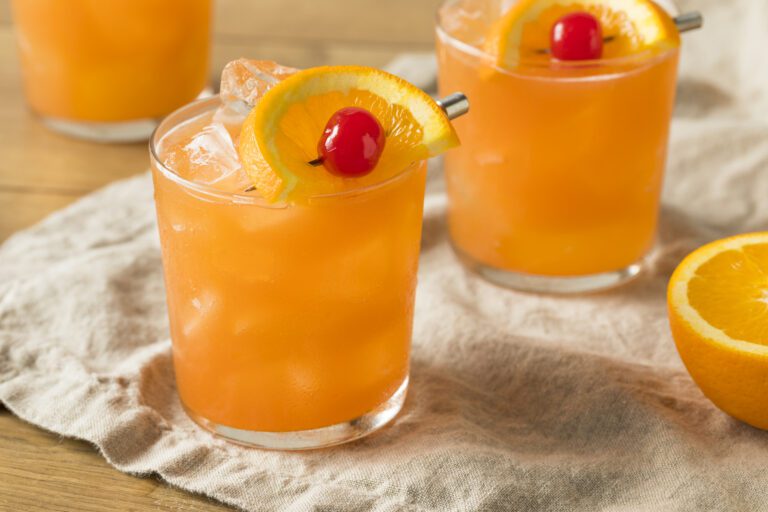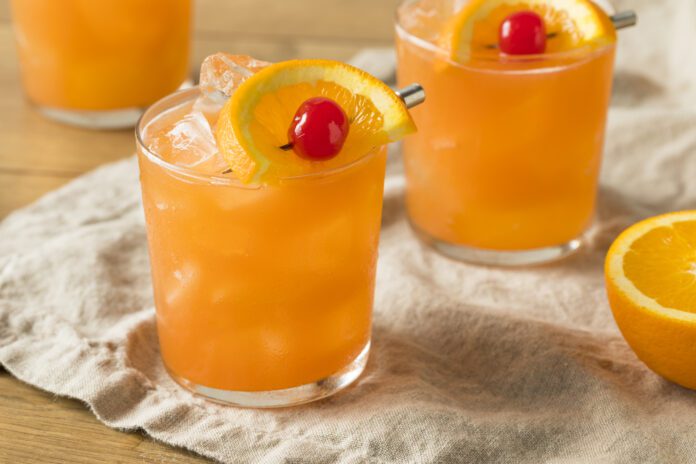 If you are looking for a cocktail that is a little more sour and bitter, than the Amaretto Sour is a drink we highly recommend you try.