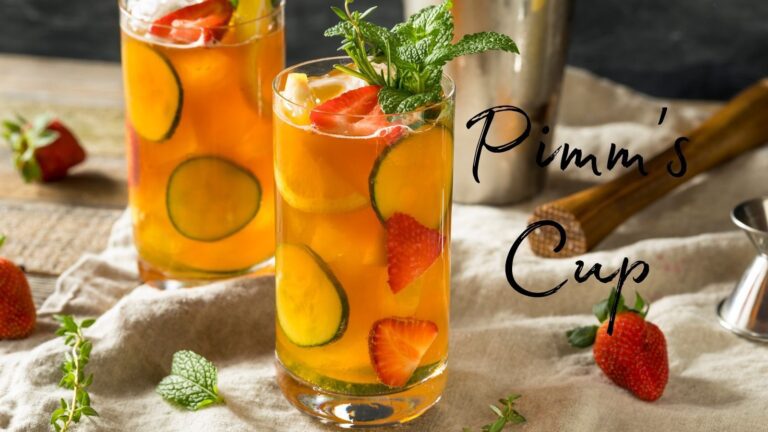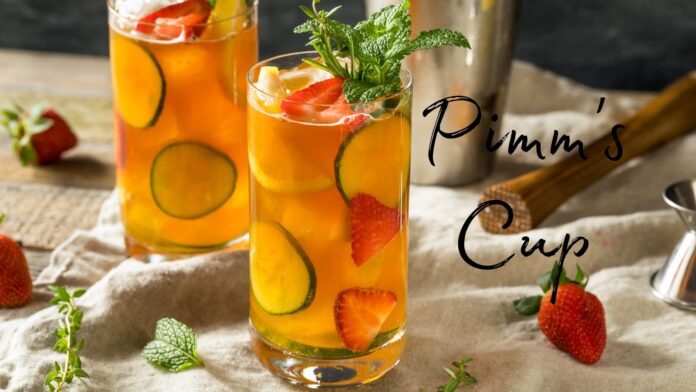 This page may contain affiliate links. Please see our Disclaimer for more information. Always drink responsibly and adhere to your local legal drinking age.
If you're looking for a summery, fool-proof cocktail recipe that's bound to leave your guests wanting more, Pimm's Cup is the drink for you. This tasty, easy-to-make cocktail will keep you feeling refreshed during those dreamy, hot summer evenings. Therefore, if you're thinking of upgrading your bartending skills this upcoming season, I highly recommend giving this perfect Pimm's Cup recipe a try.
The perfect Pimm's Cup cocktail recipe comprises Pimm's No.1 liqueur, lemon juice, ginger ale, cucumber, and strawberries. The summery drink can then be garnished with lemon slices and mint leaves.
In the following sections, you'll learn everything there is to know about what makes the perfect Pimm's Cup cocktail. Before diving into the recipe itself, I'll be taking you through the drink's premise, its history, the necessary tools and ingredients, and much more. If you're interested in learning how to make the drink yourself, keep reading.
What's a Pimm's Cup Cocktail?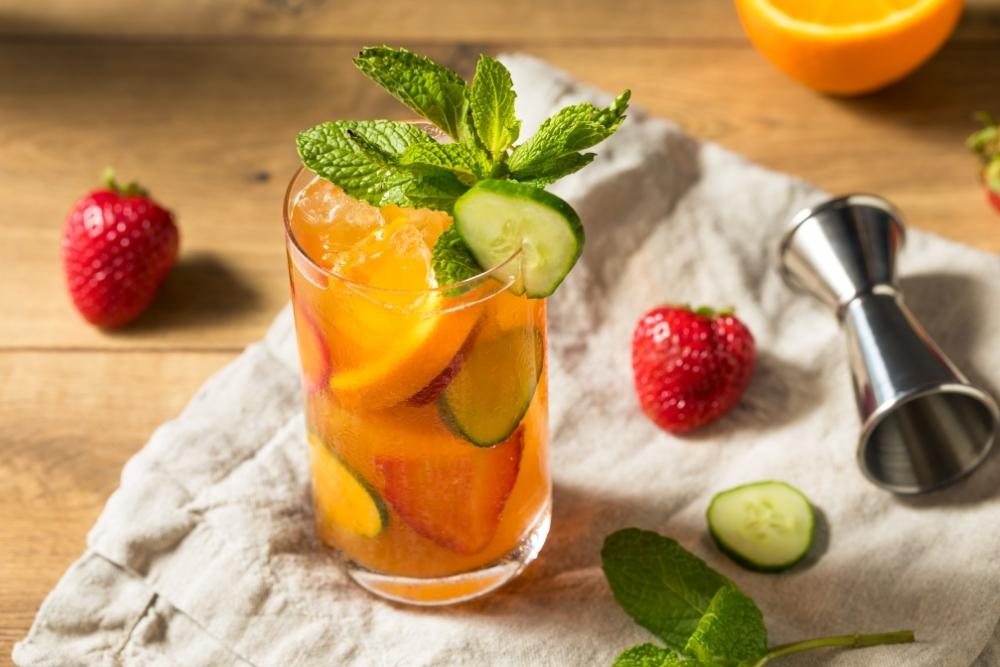 Pimm's Cup cocktail is a classic English creation, widely considered the unofficial Wimbledon drink. Its foundation, Pimm's Cup No.1, is a gin-based liqueur that has been beloved by the British public for a few centuries now. However, the drink that was once only enjoyed by the country's elite is now more popular and accessible than ever.
Pimm's Cup is a summer cocktail made with Pimm's No. 1, invented in the mid-1800s. The drink is renowned for its refreshing, light taste resulting from add-ins such as lemon juice, ginger ale, and fresh fruit. 
The main reasons behind the drink's long-standing success include its tart-sweet flavor and cooling aftertaste, which can feel heavenly when enjoyed under the scorching summer sun.
Moreover, the cocktail is highly versatile. Throughout its centuries of existence, the drink has taken on many variations, allowing bartenders and hobbyists to tailor it depending on their preferences.
For example, even though in the final section of this you'll find a classic Pimm's Cup recipe, when it comes to the fresh fruit and garnishes, you'll be able to get creative.
If you don't have any Pimm's No.1 at hand, I'm afraid you won't be able to properly recreate a Pimm's Cup. If there's one irreplaceable ingredient in this recipe, it's the gin-based liqueur, which is still made according to its original, secret instructions.
However, if you're in a pinch, you can always try to make your own Pimm's No.1 by combining equal parts sweet vermouth, dry gin, and curaçao. Then, you can add a few dashes of an aromatic bitter of your choice until you achieve the liquor's distinct taste.
The cocktail has a relatively low alcohol content; however, it can be easy to overdrink due to its light, fruity taste. Therefore, keep an eye on your guests if you ever decide to serve Pimm's Cup at a party or gathering.
Pimm's Cup Cocktail History
As I briefly mentioned, Pimm's Cup boasts a rich, almost two-century-old history. The drink was invented in the mid-1800s in England by James Pimm (who, as you might've gathered, the cocktail is named after).
He was a bar owner looking to upgrade his menu during a busy summer season. This is how Pimm's Cup came to be. His creation was among the most refreshing, brightest-tasting items on the menu, which is why it instantly became a hit.
As a result, even though the concoction was initially created as simply another drink on the menu to keep loyal customers coming back to the bar, it quickly took a life of its own. By 1859, Pimm's No.1 started being sold separately, which, as you can imagine, exponentially grew the cocktail's success and popularity.
To this day, the base liqueur's recipe remains unchanged and unknown, which makes the drink all the more unique. For this reason, I'd have to say getting your hands on a bottle of Pimm's No.1 is quintessential when it comes to making your cocktail as authentic as possible.
The cocktail has often been referred to as the unofficial Wimbledon drink. In fact, due to its popularity among the tournament's spectators, an exclusive Pimm's Bar was opened on the tennis grounds in 1971. The establishment continues to operate successfully even to this day.
Therefore, if you're a fan of the competition, I'd highly urge you to stop by the Pimm's bar to enjoy a delightful, authentic cocktail that even James Pimm himself would be envious of.
What Do You Need To Make a Pimm's Cup Cocktail?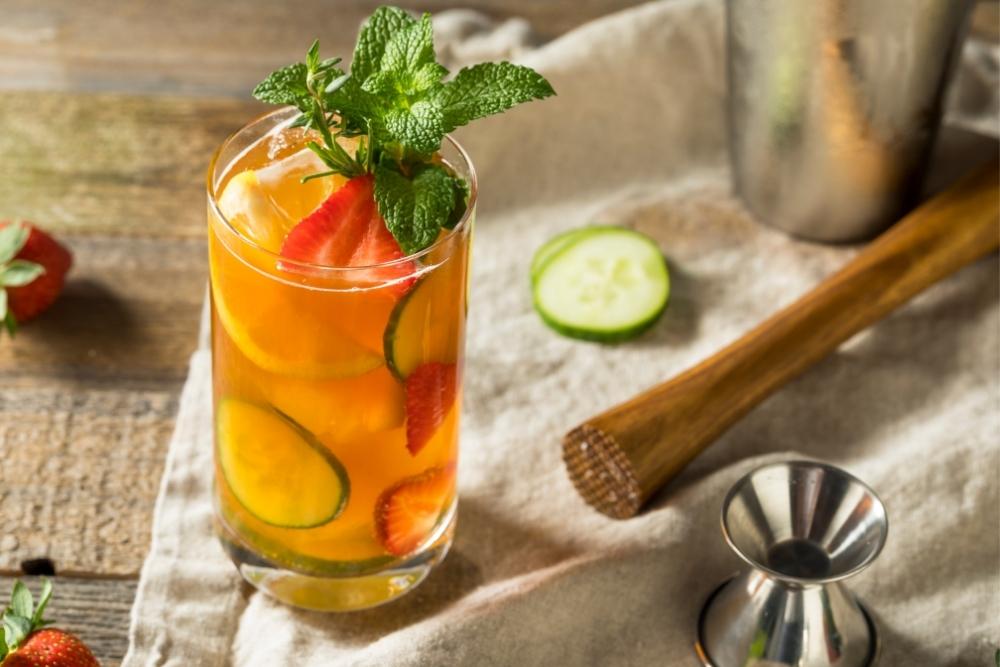 Pimm's Cup is a one-dish cocktail, meaning it is one of the easiest drinks to make at home, provided you've secured all the necessary ingredients.
To make a Pimm's Cup Cocktail, you need a bottle of Pimm's No.1, lemon juice (or another lemon-based non-alcoholic drink), ginger ale, cucumber, and strawberries. You can garnish the beverage using lemon slices or mint leaves. Equipment-wise, you'll only need a serving glass and a mixing spoon.
In short, if you're hosting a summer party at home and are looking for a classic cocktail to impress your guests with, I'm hard-pressed to think of a better choice than Pimm's Cup.
Here's what you need to do to make a Pimm's Cup:
Add all the required ingredients directly into a serving cup or pitcher (if you're making the beverage in bulk).
Combine using a mixing spoon.
Choose your preferred garnishes (the classic recipe calls for lemon slices and mint leaves).
Cut and place the garnishes on the serving glass.
Enjoy!
What Does Pimm's Cup Cocktail Taste Like?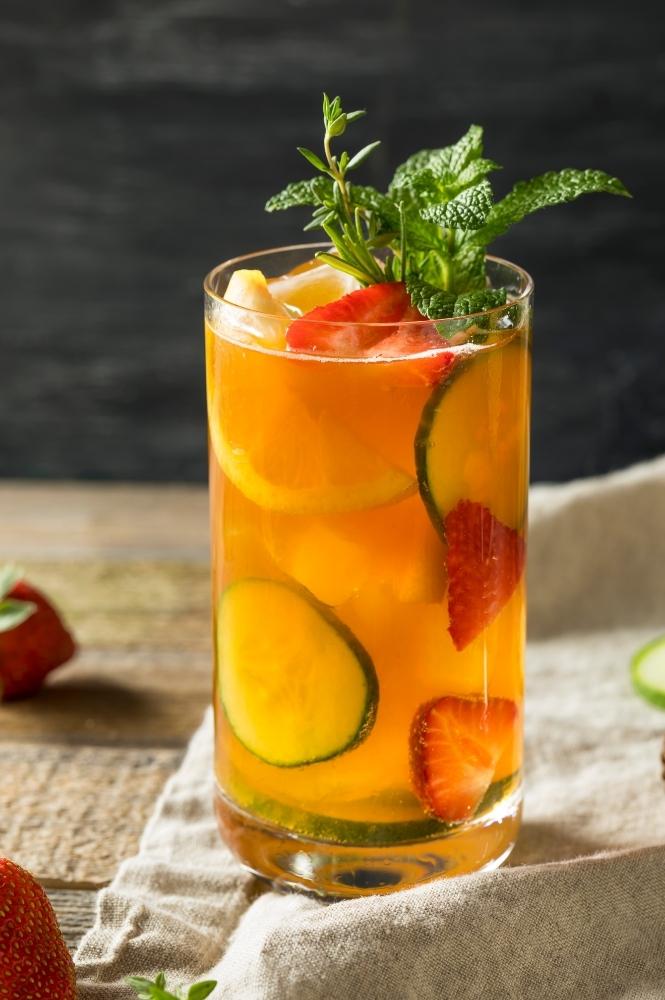 Pimm's Cup cocktail tastes sweet and tart due to its fruity flavor profile. The gin-based drink is often described as "refreshing" and "summery," as its recipe comprises plenty of light add-ins that contribute to a balanced-tasting end result.
However, the drink's full flavor profile can only be experienced firsthand; therefore, I'd highly recommend trying to make a Pimm's Cup cocktail yourself if you're curious about its taste. The drink is so easy to put together; there's no reason why you shouldn't take the time and effort to make the concoction yourself.
In short, Pimm's Cup is summer in a glass. If you're feeling particularly hot on a midsummer evening (or day), this is the cocktail for you. The drink is perfectly balanced, since it carries a punch without feeling too heavy.
Moreover, there's a remarkable equilibrium between the sweetness, bitterness, and tartness, while the fruity and herbal flavors complement each other perfectly.
The low alcohol content contributes to the cocktail's lightness, which is the word that would describe its taste the best.
Ginger Ale vs. Lemon Soda
Even though the cocktail's foundation is undoubtedly Pimm's No.1, the liqueur's non-alcoholic companion plays a significant role when it comes to the overall flavor balance. Even though most authentic recipes call for ginger ale (or ginger beer), many have found the lemon soda substitution to lead to an even more satisfying (and daytime appropriate) end result.
The choice will ultimately depend on your personal preferences. If you're looking for a lighter, tarter cocktail to keep you cool during a hot summer day, making the switch to lemon soda might be ideal for you.
However, the spiced ginger ale usually complements the fruity flavors and aromas much better, not to mention that it contributes to an overall more complex taste. Therefore, if you want your drink to carry a bit of a punch, you'll want to stick to ginger ale.
When To Drink a Pimm's Cup Cocktail?
Pimm's Cup has a distinct flavor profile that doesn't allow it to translate well between seasons and settings. While hardcore fans can make the drink work all year round, generally speaking, there's a time and a place when the cocktail's refreshing, one-of-a-kind taste will have its most significant impact.
The best time to drink a Pimm's Cup Cocktail is during a hot summer day or evening. The drink's flavor profile works better when consumed during hotter months. However, you can drink a Pimm's Cup Cocktail at almost any hour of the day.
Considering its bubbly, light texture and taste, it's safe to consider Pimm's Cup a seasonal drink best enjoyed throughout the summer. However, the good news is there are no hard-set, hourly limitations when it comes to the cocktail's consumption.
Pimm's Cup Cocktail Variations
Throughout the drink's two-century long history, there's been no shortage of creative twists and adjustments made either to its ingredient list or technique. As a result, if you're not entirely sold on the premise of Pimm's Cup yet, you can always take a crack at one of its equally-delicious variations.
Pimm's No.2: Even though Pimm's No.2 (and its consequential cocktail variation) was discontinued, you can try to recreate its taste by adding a bit of scotch to the ingredient list.
Pimm's No.3: This is yet another discontinued liquor that can't be used anymore on Pimm's Cup variations. However, you can somewhat replicate its taste by adding a few drops of brandy to the mix.
Maison Summer Pimm's No.16: This variation elevates the original recipe by complementing it with cachaça, Aperol, and grapefruit.
Rustic Pimm's Cup: You can create this variation by adding a wheat beer and cucumber syrup to the ingredient list.
Pimm's Cup Recipe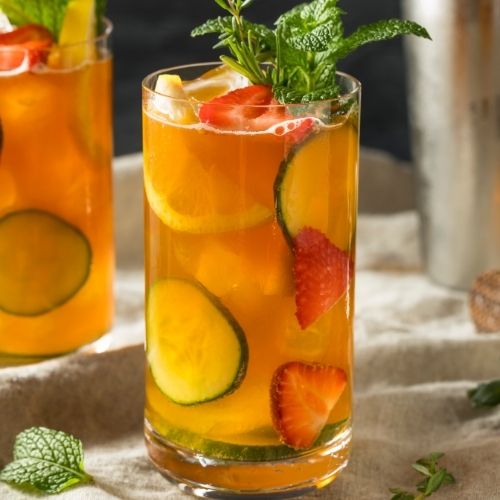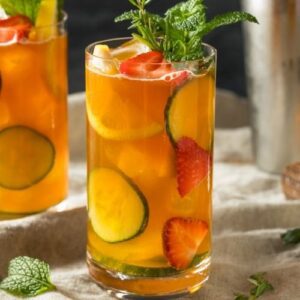 Ingredients
2

oz

Pimm's No. 1 Liqueur

1

oz

Fresh Lemon Juice

Ginger Ale

1/4

Cucumber

(Cut into slices)

3

Strawberries

(Halved)

Ice

1

Lemon Slice

(Garnish)

1

Sprig of Mint

(Garnish)
Instructions
Add Pimm's No. 1, Lemon Juice, and Ice into Highball glass.

Top with Ginger Ale (leaving space on top to add Cucumber and Strawberries).

Add Cucumber and Strawberries and stir until they are evenly distributed.

Garnish with Lemon Wedge and Mint Sprig.
Bartender Notes
Try adding some cucumber flavored vodka for a stronger cucumber taste.
You can muddle the cucumber to really bring out the flavor.
The Ginger Ale can be replaced with your favorite Lemon-lime soda.
Video
Final  Cocktail Thoughts
Pimm's Cup is one of the easiest classic cocktails to make at home. This one-glass drink is guaranteed to leave even your snobbiest guests thoroughly impressed (and refreshed). The perfectly balanced and cooling flavor profile will perfectly complement any summery party or get-together.
Similar Cocktail Recipes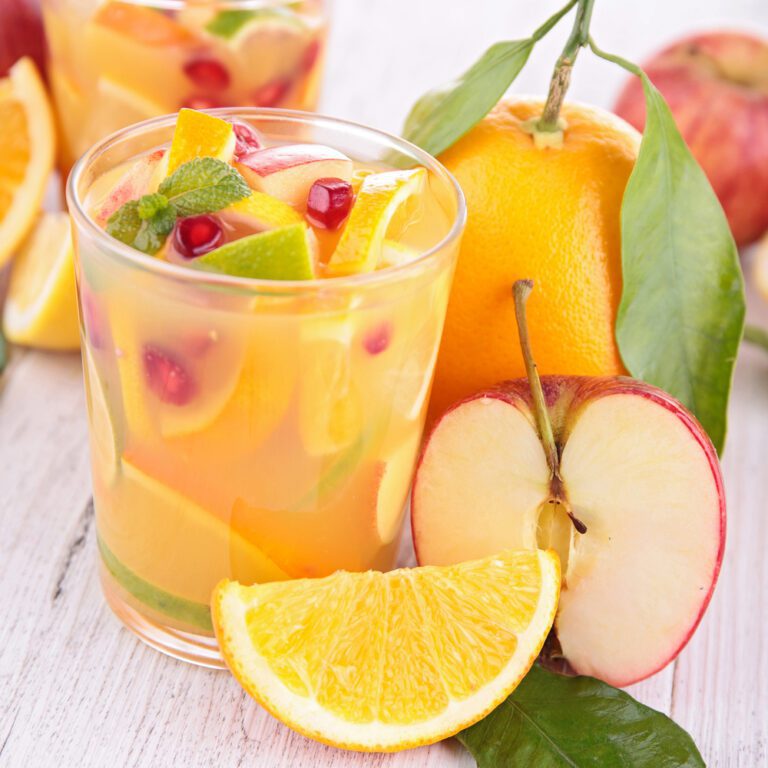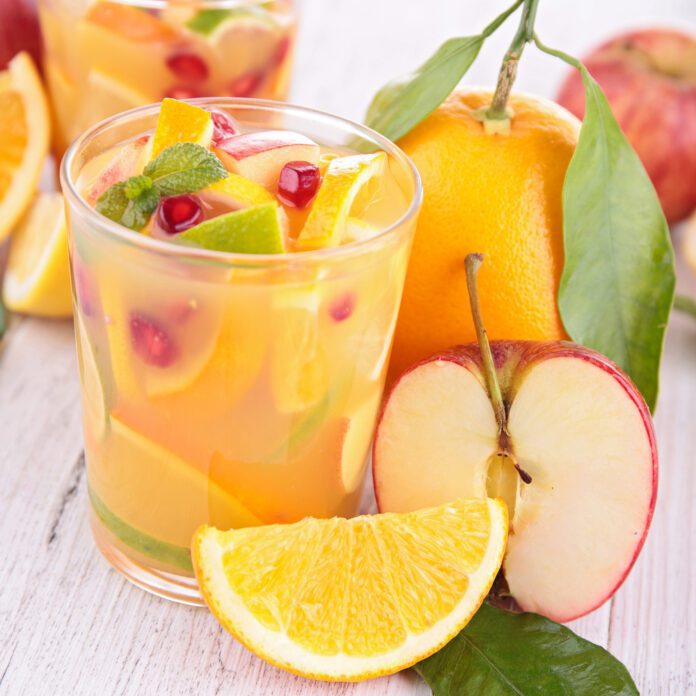 Jungle Juice is the perfect blend of fresh fruit, juices, and your favorite alcohols. This is a party favorite that will be sure to impress.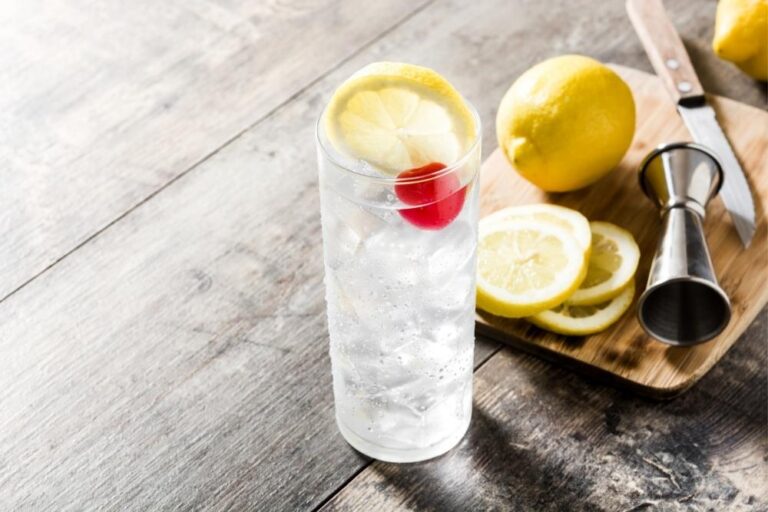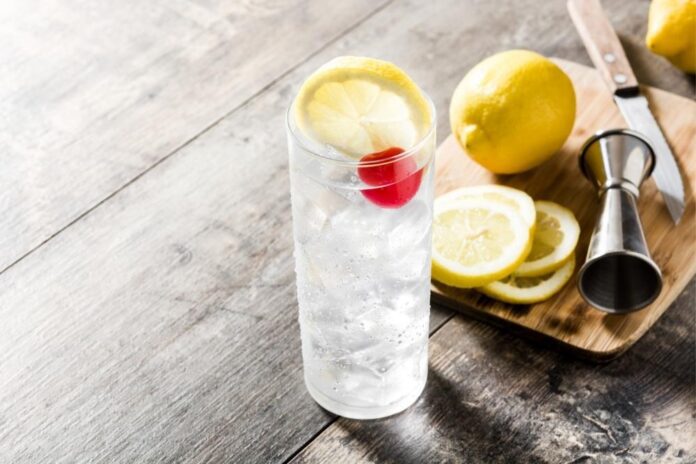 This is a classic cocktail that has been enjoyed by many generations. Fresh lemon gives this cocktail a huge boost in the flavor department.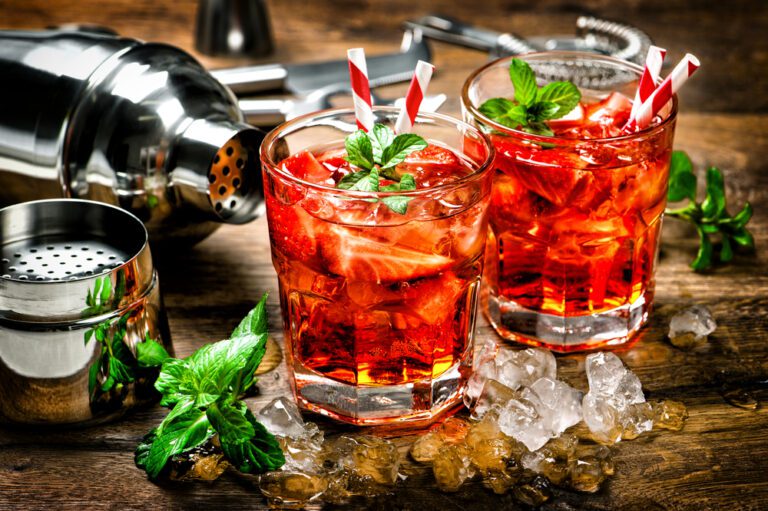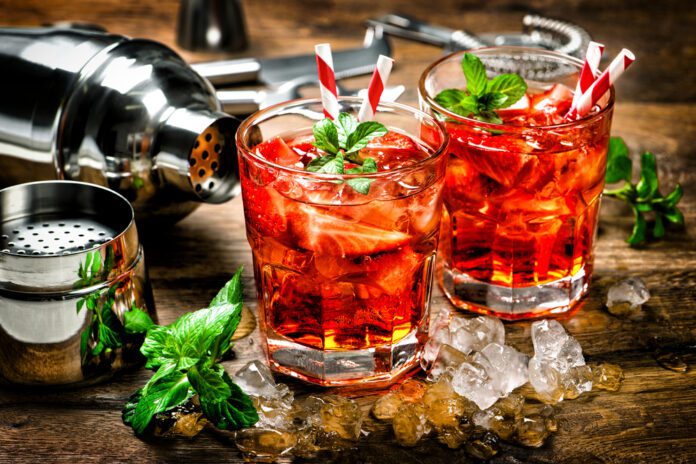 Here is the new favorite cocktail for strawberry lovers.
This fruitful cocktail expertly blends Hennessy Cognac and Champagne to make a classy and tasteful drink.