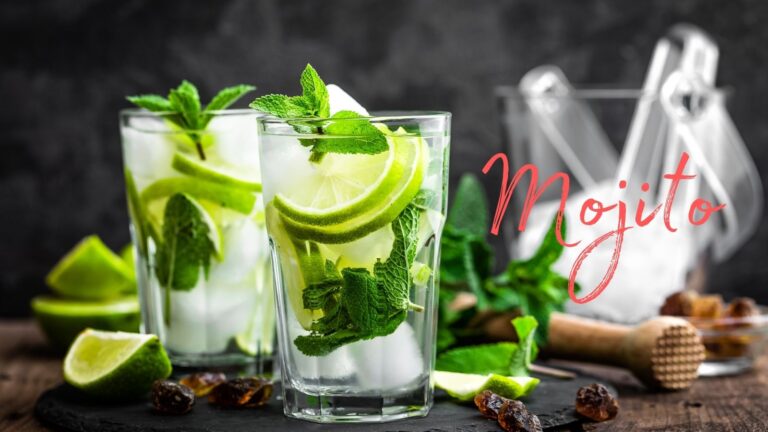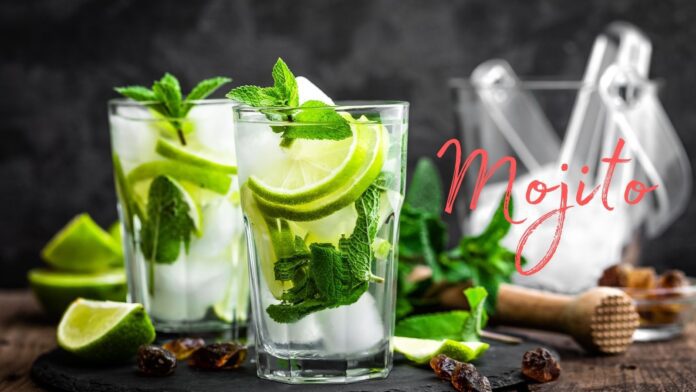 This page may contain affiliate links. Please see our Disclaimer for more information. Always drink responsibly and adhere to your local legal drinking age.
A mojito is a classic cocktail and an alcoholic beverage particularly enjoyed during a hot summer day. Mojitos are loved by many (myself included) and are incredibly simple to make. A mojito is one of those drinks that are just as yummy without the liquor, so anyone can enjoy them.
Mint mojitos are refreshing, sweet, and citrusy cocktails originating from Cuba that won't fail at making you feel like you're on the beach. The alcohol used in a classic mojito is white rum, but there are various alcoholic and non-alcoholic substitutes you can try.
Whether you want to dazzle your friends with your bartending skills or have an at-home cocktail party with your hubby, I will share a recipe that you can't go wrong with. Keep reading to find out how to make a world-class mint mojito from the comfort of your home!
History of the Mojito Cocktail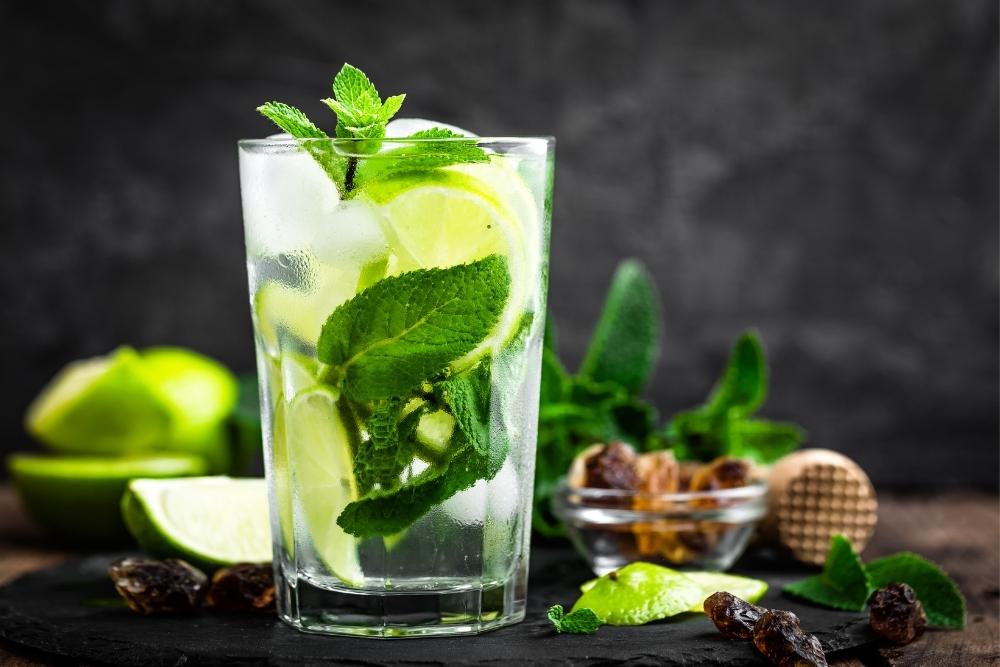 The Mojito cocktail was created in Cuba and is said to date back to the late 1800s. The drink became popular in the United States during the Prohibition era when Americans would travel to Cuba for its rum.
There are many stories about the origin of the mojito. One story claims that a Cuban named Facundo Bacardi created the drink in 1862. Another story says that a man named Constantino Ribalaigua Vert was the inventor of the mojito. And yet another story attributes the creation of the mojito to a sailor named Angelo Ferrer.
The most popular story, however, is that the mojito was created by a man named Francisco "Chico" Morante. Chico was a bartender at La Bodeguita del Medio, a bar in Havana, Cuba. One day, a famous author named Ernest Hemingway came into the bar and ordered an authentic Cuban mojito. Hemingway liked the drink so much that he ordered another one and then another.
After Hemingway's visit, the mojito became a popular drink at La Bodeguita del Medio. People from all over the world came to the bar to try the mojito that Hemingway had made famous.
Best Tips for a Better Mojito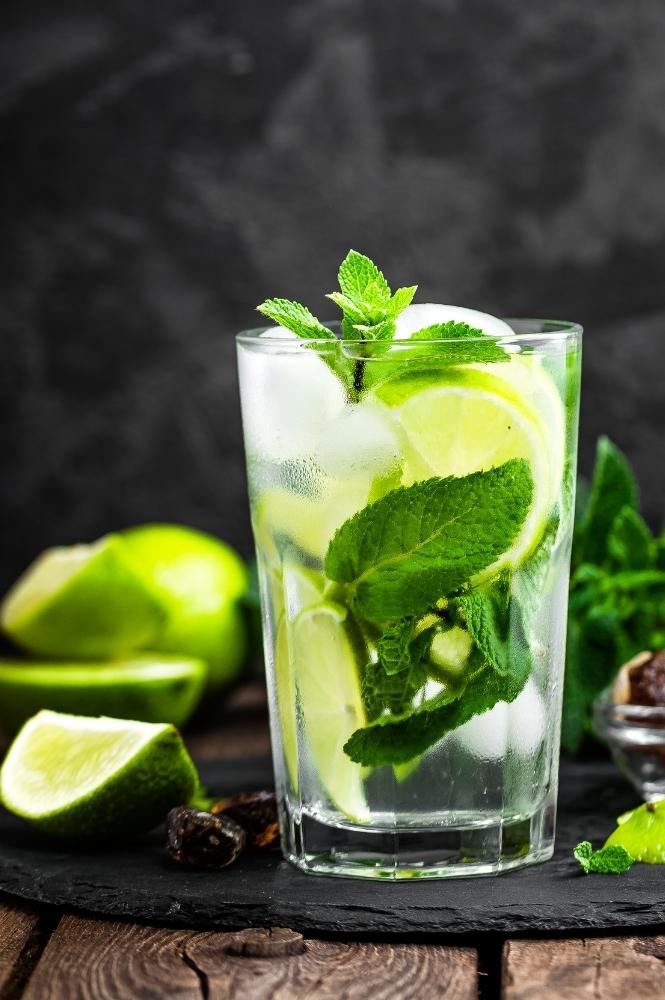 If you want to make a mojito that is sure to impress, there are a few things you should keep in mind. First, use fresh mint leaves. Second, use fresh lime juice. Third, use simple syrup or sugar. Fourth, use white rum. Fifth, use club soda or sparkling water.
If the lime is too overpowering in the drink add more mint to the mojito recipe.
Always use fresh ingredients for the best taste and experience with this mojito recipe. Keep reading to learn how to easily make fresh simple syrup at home.
How to Muddle Mint and Lime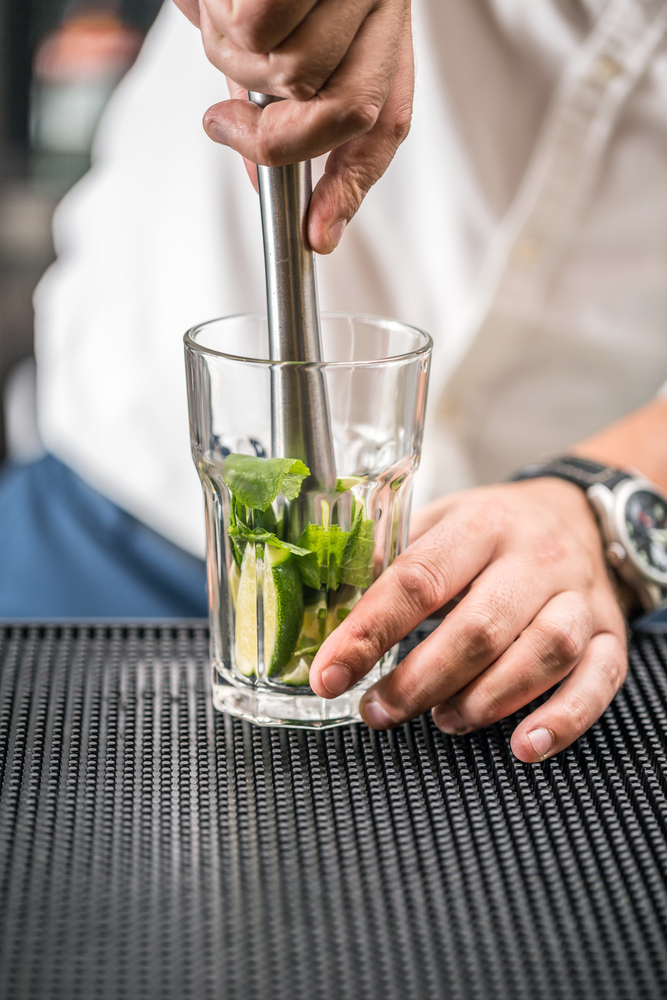 One of the most important steps in making this mojito recipe is muddling the mint and lime. If you've never muddled before, don't worry, it's easy! Muddling is simply a way to release the flavors and juices.
To muddle mint and lime, you will need a cocktail glass (or sturdy glass), a muddler, mint leaves, and lime wedges.
First, add the mint leaves and lime wedges to the cocktail glass and lightly press them with the muddler, while also turning the muddler in a clockwise motion with each press. This will release the tasty mint oils and fresh lime juice. Be careful not to press too hard or you will break the mint leaves and the drink will become more bitter.
What is a Cocktail Muddler?
A cocktail muddler is a bartending tool that is used to mash or crush fruits, herbs, and spices in order to release their flavors. Muddlers are typically made of wood, plastic, or metal. They vary in size and shape, but most have a long handle and a flat, disk-shaped head.
What is the Best Rum for a Mojito?
Now that you know how to muddle mint and lime, it's time to choose the right rum for your mojito. The best rum for a mojito is white rum. White rum is a light-bodied rum with a subtle flavor. It is made from sugarcane juice or molasses and distilled in column stills.
Some of the best white rums for a mojito are Bacardi Superior, Havana Club Añejo Blanco, and Mount Gay Silver Eclipse. Try a nice Cuban rum for an authentic experience.
Try and avoid spiced rums or dark rums for your mojito as they will make the drink too sweet or overpower the flavor of the mint and lime.
Ingredients and Tools You'll Need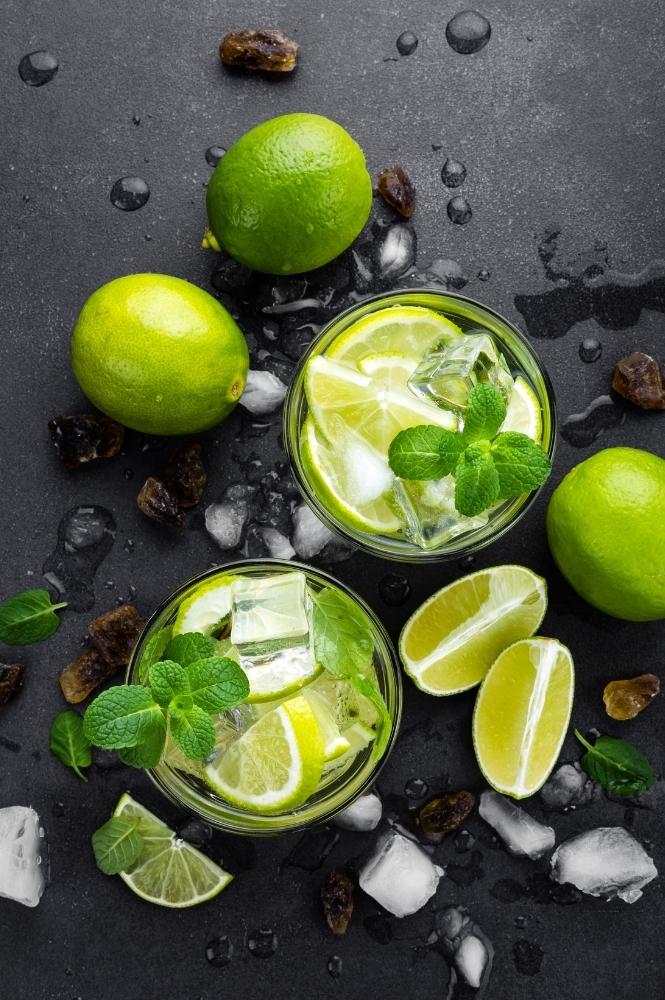 Before getting started, you need to make sure that you have the following ingredients or suitable substitutes: 
White rum.

Ice cubes

Fresh lime wedges (or lime juice)

Simple syrup

Club soda

Fresh mint leaves (or mint sprig)

Cocktail Shaker

Muddler (or wooden spoon)

Bar Spoon

Cocktail glass or highball glass

Lime wheel for optional extra garnish on rim
Since not everyone has bartending tools lying around the kitchen, I'll give you some alternatives further in the article that'll work just as well.
Club Soda Substitutes
If you don't have club soda, don't worry. You can use sparkling water, tonic water, or even soda water as a substitute. These are all similar to club soda and will not change the flavor of the cocktail.
If you want to use a soda like Sprite of 7up, just be aware that these drinks are often quite sugary, so you may want to adjust the amount of simple syrup in the recipe accordingly.
Lime Juice Options
While we always recommend you use fresh lime juice for the best flavor, you can use bottled lime juice if you're in a pinch. Just be sure to check the label and make sure that it is 100% lime juice and not a limeade or sweetened lime juice.
Why You Must Use Fresh Mint
Fresh mint is key to making a great mojito. The flavor is much brighter and fresher than dried mint, so it's worth the extra effort to find it. If you can't find it fresh, you can use dried mint, but use half of the amount called for in the recipe.
How To Make a Mint Mojito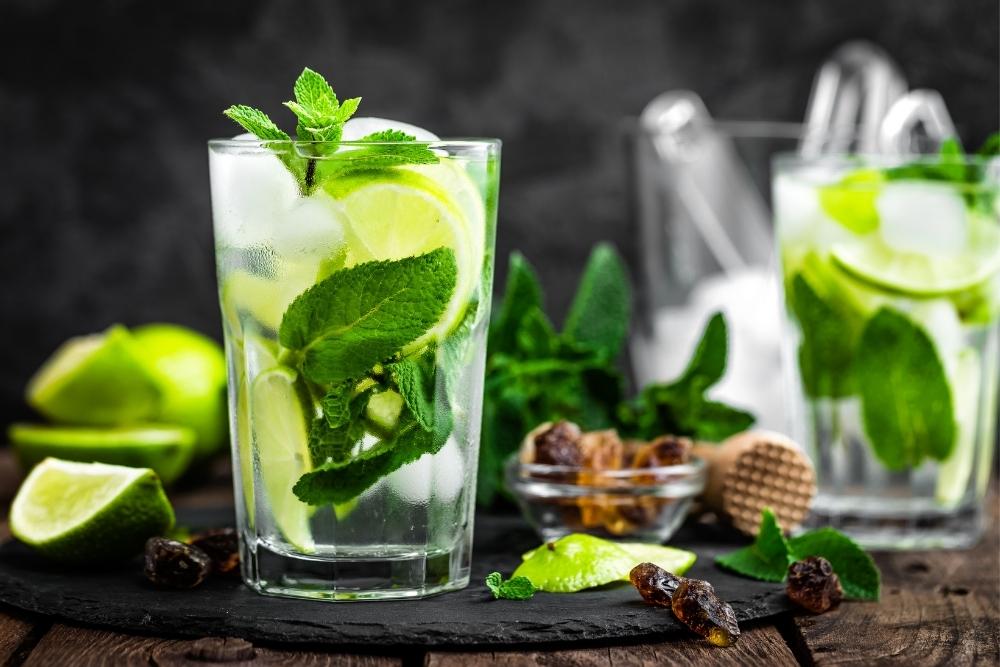 Mint mojitos are fun to make and can be prepared with basic kitchen items if you don't have bar tools. Although mojitos require slightly more effort to prepare than most cocktails (muddling the simple syrup, lime, and mint), they're still relatively simple and fun to make!
Directions
Place one lime wedge (or lime juice) and fresh mint leaves into your glass and start crushing them with the muddler. If you don't have a muddler, you can use the handle of a wooden spoon, pestle, or rolling pin. Don't crush the ingredients to a pulp. You want to simply release the oils and aroma from the mint and lime. Stop muddling once you start smelling the mint, and remember to be gentle!

Add the simple syrup (or two teaspoons of sugar) and remaining lime wedges/juice and muddle again. You can use caster or superfine sugar instead of granulated if you prefer all the sugar dissolved. However, keep in mind that classic mojito recipes contains granulated sugar that adds texture to the drink!

Add your ice, rum, and club soda to the same glass. I prefer to use club soda, as it adds another dimension of flavor and complements the lime taste of mojitos so well. Use white rum instead of spiced for mojitos. If you don't have rum or are not a fan of the taste, you're welcome to use vodka, tequila, or gin. You could use club soda, soda water, or sparkling water.

Stir the mixture well, garnish with mint and lime (optional), and taste. You can add more or less of any ingredient if you wish. Note that using a spirit other than rum will not make it taste like a normal mojito, but it'll be tasty nonetheless!
Classic mojitos are typically served on the rocks, but if you prefer your cocktails chilled, prepare your mojito in a cocktail shaker instead. If you don't have a cocktail shaker, you can use a protein shake bottle to shake it up and strain it into a glass (technically the same as a cocktail shaker, right?).
If you want a virgin cocktail, then simply leave the liquor out. Alternatively, you can use a non-alcoholic spirit, such as Seedlip Spice 94. This deliciously-refreshing cocktail has zero calories and zero alcohol, yet will give your virgin mojito a balanced and unique flavor. 
Another thing to note is that spearmint is the best variety of mint to use for a mojito, as it's not as overpowering as peppermint and has a sweeter taste that's great for cocktails. Regarding the spirit you use, stick to white liquor instead of brown for mojitos. Using brown liquor can take away a mojito's light and refreshing taste, so it's best to stick to clear liquor with your mint mojitos.
How to Make Simple Syrup at Home
If you don't have simple syrup or don't want to buy any, it's easy to make at home! Just follow these steps to bring your mojito recipe to the next level:
Take one cup of water and one cup of granulated sugar and place them both into a saucepan over medium heat.
Stir the mixture until the sugar has dissolved, then turn up the heat and bring the mixture to a boil.
Once the mixture has reached a boil, turn off the heat and let it cool completely before using it in your mojito.
And that's all there is to making simple syrup! You can store it in a jar or container in the fridge for up to two months, so you can make a big batch and have it on hand for all your cocktail-making needs.
Mojito Cocktail Recipe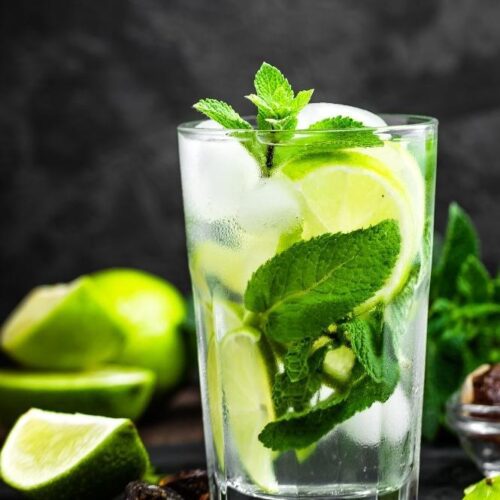 Amazing Mojito Recipe - Fresh Lime and Mint
The rum based Mojito is a delicious and highly refreshing lime and mint tasting cocktail. This is a summer favorite drink that brings out memories of nice warm weather and relaxation.
Print
Pin
Equipment
Cocktail Muddler

Bar Spoon

Cocktail Glass
Ingredients
2

oz

White Rum

1/2

oz

Simple Syrup

6

oz

Club Soda

9

Mint Leaves

Fresh

1

Lime

Cut into Wedges

Ice
Instructions
Add Fresh Mint Leaves and Lime Wedges into Cocktail Glass

Lightly Muddle Mint and Lime until the Mint Oils and Lime juice are released

Add Rum, Simple Syrup, and Ice to Glass

Stir with Bar Spoon until cocktail is Fully Mixed and Mint and Lime are Evenly Distributed
Bartender Notes
Don't over muddle the mint and pulverize it, you want to gently release the fragrant oils.
Mojito Recipe Variations
Now that you know how to make a mojito, it's time to experiment with some flavor variations and create some other cocktails and make a good recipe! If you're feeling adventurous, try one of these mojito recipe variations:
– Strawberry: Substitute the mint leaves for fresh strawberries and muddle them with the lime.
– Peach: Muddle fresh or frozen peaches with the mint and lime.
– Blueberry: Substitute the mint leaves for fresh blueberries and muddle them with the lime.
– Coconut: Add some coconut water or milk to your mojito for a tropical twist.
– Chocolate: Add some chocolate syrup or chocolate chips to your mojito for a delicious dessert cocktail.
– Coffee: Add some cold brew coffee or espresso to your mojito for a caffeinated twist.
There you have it, everything you need to know about making the perfect mojito! Whether you're looking for a classic recipe or want to try something new, I hope this article has inspired you to experiment with this delicious cocktail. Cheers!
Do you have a favorite mojito recipe? Let me know in the comments below!
Final Cocktail Thoughts
In my opinion, Mint Mojitos are some of the tastiest alcoholic beverages around. The only problem with mojitos is that you can't really taste the rum more often than not, which makes it extremely easy to drink and even easier to overdo since you can barely taste the liquor (depending on how much rum is in it, of course). 
So, unless you want to believe you're a native Spanish-speaking Cuban by the end of the night, proceed with caution and enjoy your mojitos in moderation!
Summer Cocktail Recipes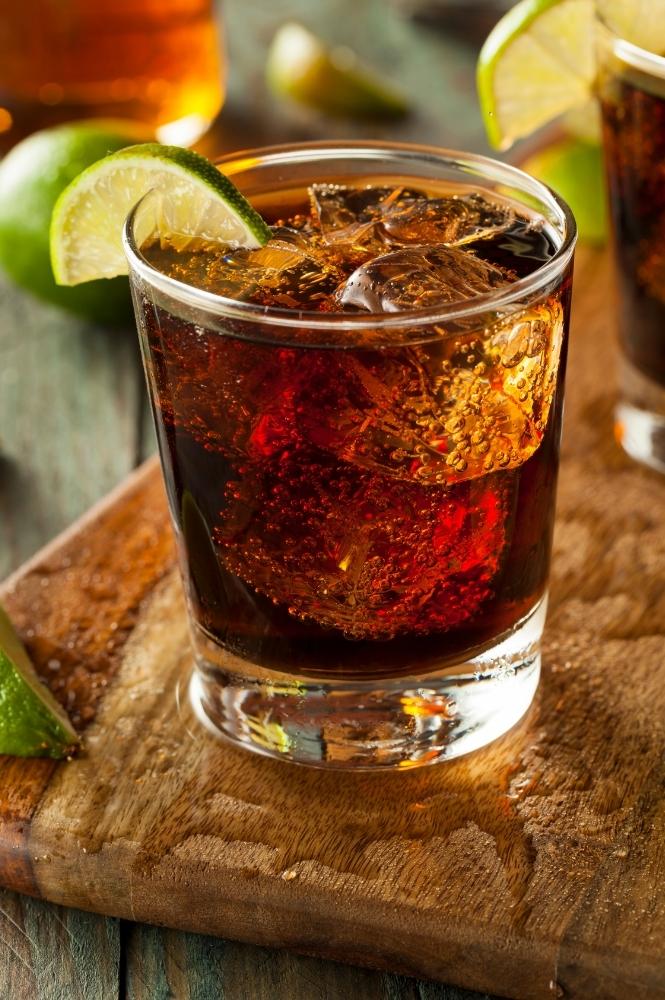 If you want to try another on of Cuba's famous drinks, have yourself a Cuba Libre. This lime and cola flavored drink is perfect for those hot summer days.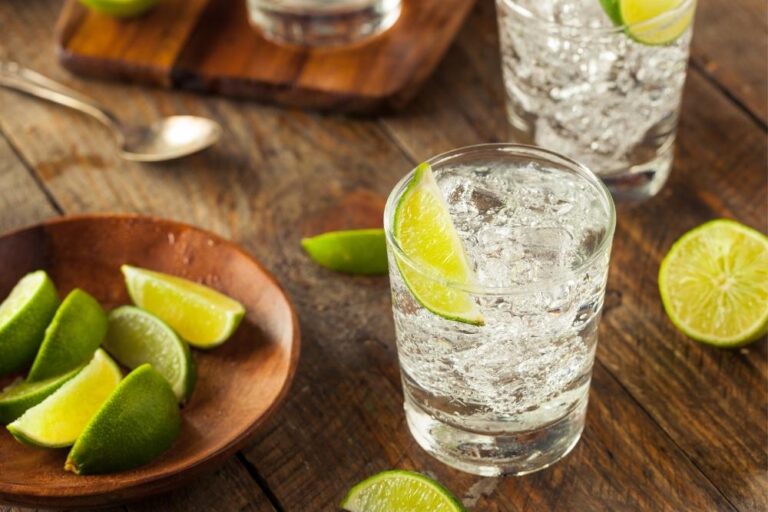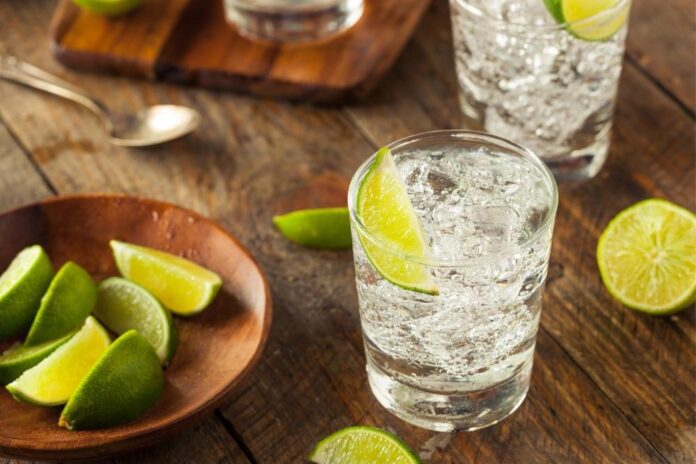 The Vodka Press is a simple, yet a highly delicious and smooth cocktail for any occasion.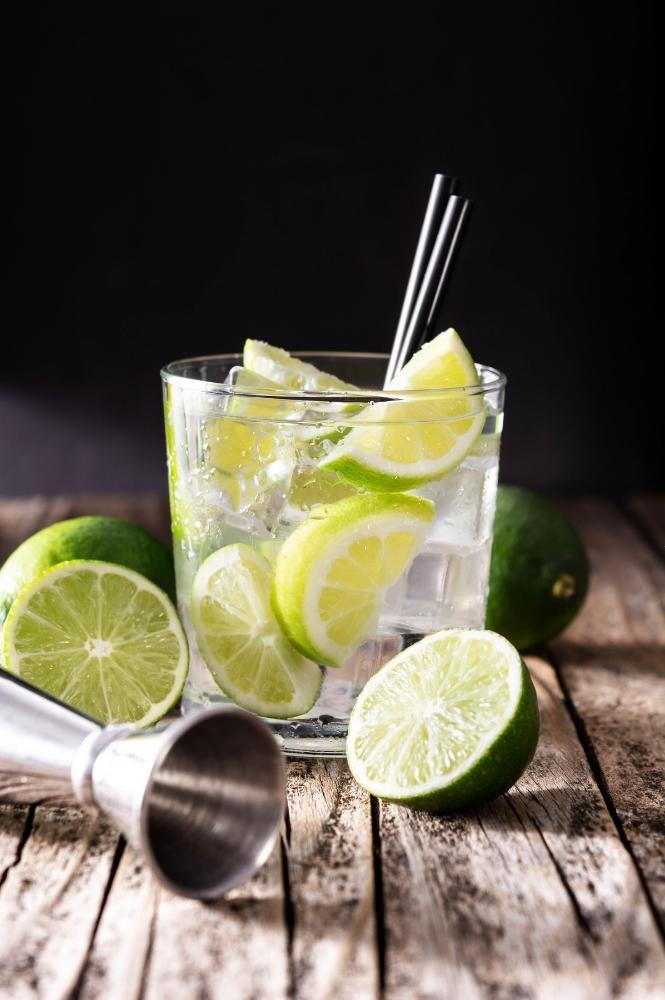 The Caipiroska is a sweet lime flavored cocktail. See why this is one of Brazil's favorite cocktails!