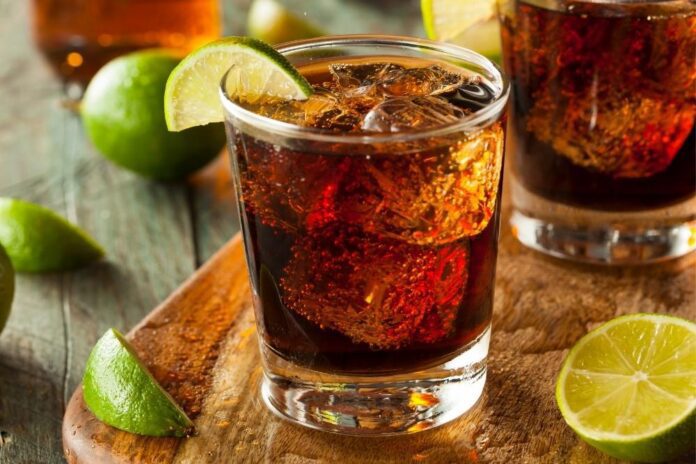 This page may contain affiliate links. Please see our Disclaimer for more information. Always drink responsibly and adhere to your local legal drinking age.
Cuba Libre. The very name of the drink conjures up images of sun-drenched beaches, swaying palm trees, and white sand. This classic cocktail is a favorite among rum lovers everywhere, and with its refreshing mix of lime juice, cola, and Cuba's finest rum, it's easy to see why.
In this article, we'll explore the history and taste of the Cuba Libre drink, as well as give you a recipe so you can make one for yourself!
What's a Cuba Libre?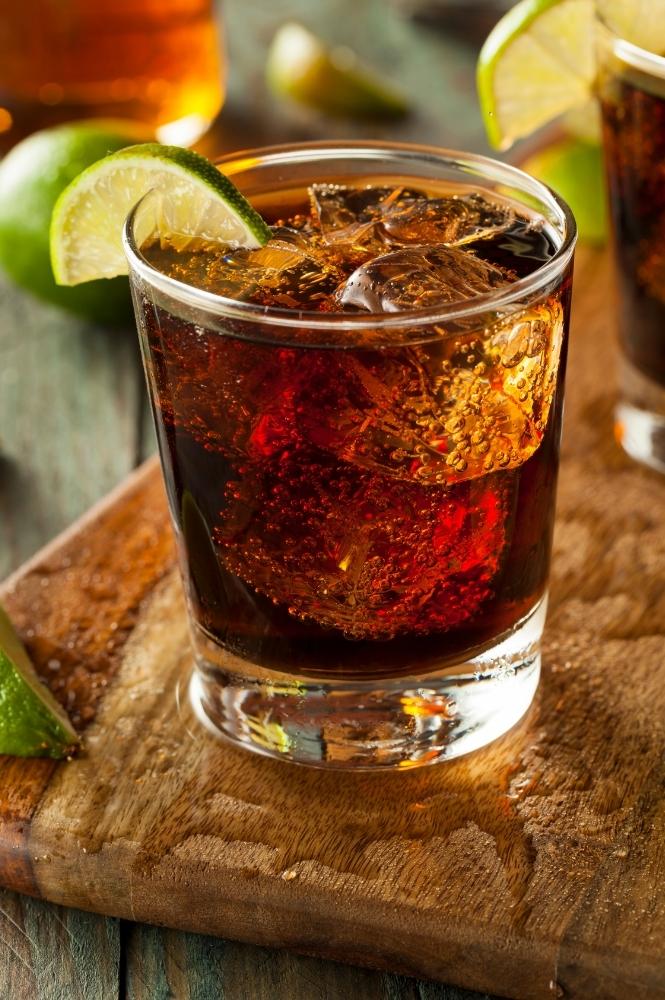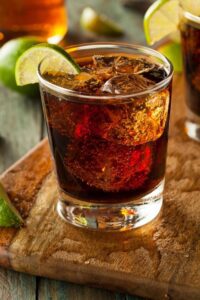 A classic Cuba Libre cocktail is a refreshing mixed drink made with lime juice, Coca Cola, and rum. This cocktail originated right after Cuban independence and the name of the drink translates to "free Cuba."
The Cuba Libre is a tropical take on the classic rum and Coca Cola cocktail. It's a refreshing drink that's perfect for hot summer days.
History of the Cuba Libre Drink?
The Cuba Libre drink is said to have been created in Havana, Cuba in the early 1900s. The first mention of the drink was in a newspaper article from 1902. It is believed that the drink was created to celebrate Cuban independence from Spain.
Legend has it that a Captain in the United States Army came up with the drink by mixing Coca Cola and lime juice to his rum. He then named the drink Cuba Libre to celebrate Cuba's freedom from Spanish rule with the toast "Por Cuba Libre", which means For Free Cuba.
The Cuba Libre cocktail became popular in the United States right after the Spanish American War with American Soldiers and during the Prohibition era, when Americans would travel to Cuba to drink legally. After Prohibition ended, the popularity of the Cuba Libre continued, and it remains a popular mixed drink today.
What does a Cuba Libre Taste Like?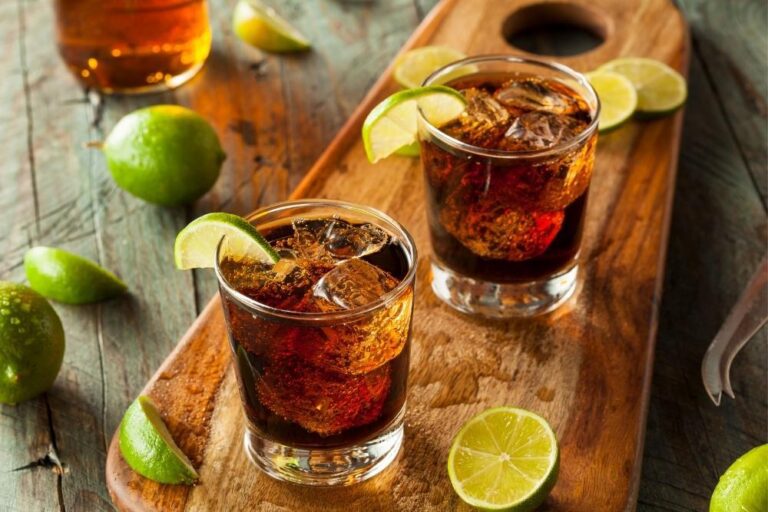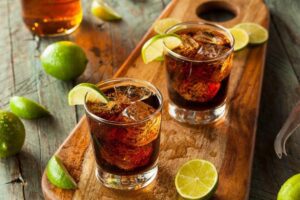 The Cuba Libre is a refreshing and flavorful cocktail. The lime juice gives the drink a tart and acidic flavor, while the cola provides sweetness and carbonation. The rum adds a smooth, sweet, and boozy flavor to the drink.
This is not just a rum and coke, but rather something that tastes very flavorful with an extra tart kick from the lime.
Cuba Libre Drink Ingredients:
Lime juice – Fresh lime juice works best, but you can also use bottled lime juice.
Cola – We prefer the classic Coca Cola, but any brand of your favorite cola will work.
Rum – Based on your taste preference you can either use a light rum, dark rum, or aged rum. The options are endless!
Lime Wedge for garnish – This is optional, but we think it adds a nice touch.
Ice cubes – This classic Cuba Libre Cocktail is best served cold on the rocks.
Cane sugar and brown sugar are often added to the Cuba Libre to give it a sweeter flavor. How much sugar you add is up to you.
Bar Tools Needed
This is a simple cocktail and only requires a highball glass or a rocks glass to serve the drink in and a bar spoon to give a light stir.
4 Best Tips to Make the Perfect Cuba Libre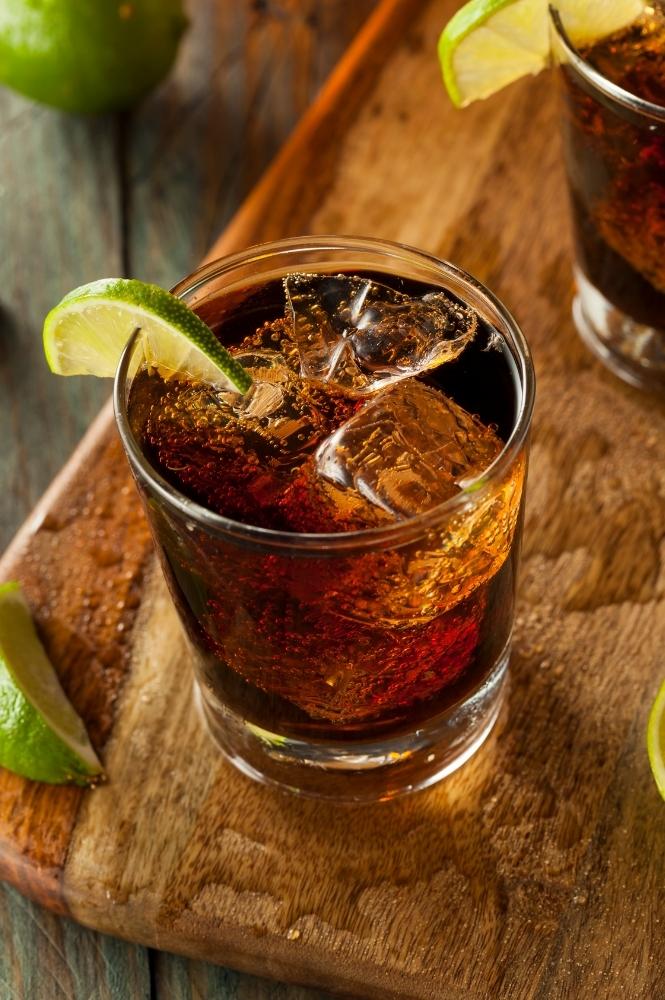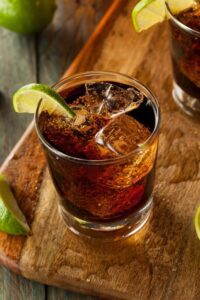 Making a Cuba Libre is easy, but there are a few things you can do to make sure your drink is perfect. Here are our four best tips:
Fresh lime juice gives the best flavor. This is what separates a good Cuba Libre from a great one.
Use a high-quality rum. Cuba's finest rum will give your drink a smooth and flavorful taste.
Use a good quality cola. A high-quality cola will add sweetness and carbonation to your drink.
Serve the drink over ice for a refreshing and cooling experience.
With these tips in mind, you're ready to make the perfect Cuba Libre! Just follow our recipe below.
Types of rum to use: in order of preference
The rum to use depends largely on your personal preference, whether you like a clean and crisp drink with a white rum or a little spice with a barrel aged rum. The sky is the limit when it comes to rum choices, just make sure it is a premium liquor for optimal taste.
Easy Steps to Make the Cuba Libre Cocktail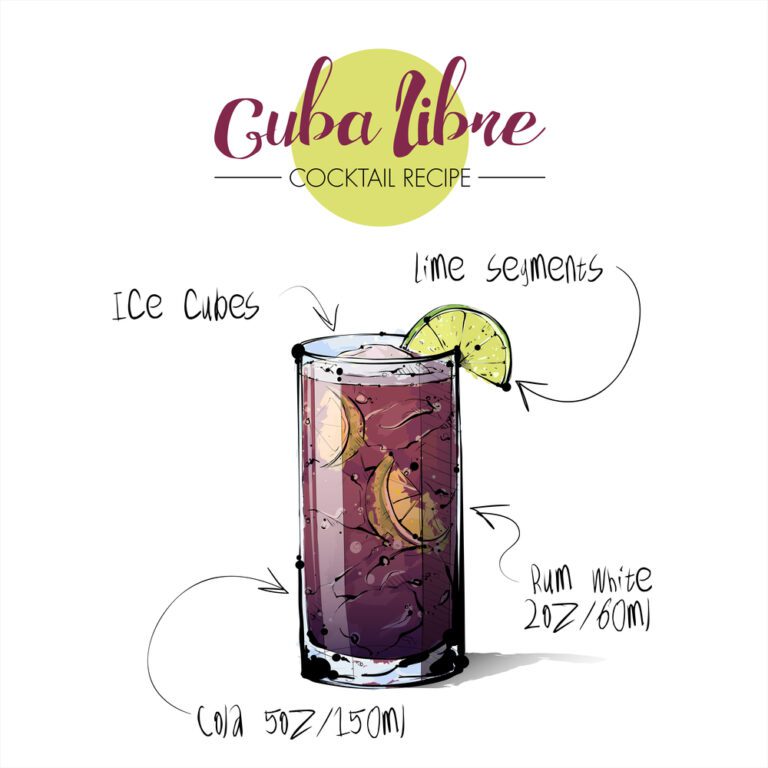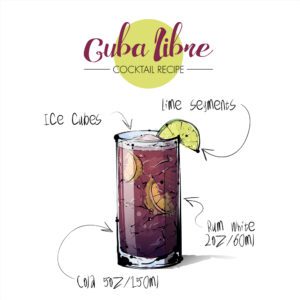 Making a Cuba Libre is easy. Just follow these simple steps:
Step One:
Fill a highball glass with ice cubes.
Step Two:
Squeeze the juice of one half of lime into the glass.
Step Three:
Add two ounces of rum to the glass.
Step Four:
Top off the glass with cola and stir briefly.
Step Five:
Garnish the drink with a lime wedge.
Enjoy!
Best Time to Serve the Cuba Libre?
The Cuba Libre is a refreshing and flavorful cocktail that's perfect for hot summer days. It's also a great choice for happy hour or any time you're looking to enjoy a delicious rum-based drink.
Variations on the Cuba Libre
There are many variations on the Cuba Libre or rum and coke, including the following:
Con Limon: This variation includes lemon juice in addition to lime juice.
Con Leche: This variation includes milk or cream instead of cola.
De Fresa: This variation includes strawberry syrup or puree instead of cola.
De Melon: This variation includes melon liqueur or puree instead of cola.
No matter which variation you choose, you're sure to enjoy a delicious and refreshing Cuba Libre! Cheers!
Cuba Libre Drink Recipe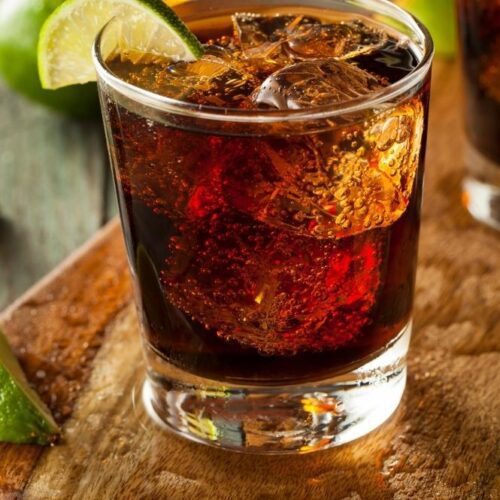 Amazing Cuba Libre Cocktail
The Cuba Libre is a classic cocktail that has been around for over 100 years. This is a simple cocktail to make that blends rum, cola, and lime into one unforgettable experience.
Print
Pin
Ingredients
2

oz

Rum

5

oz

Cola

1/2

Lime

1

Lime Wedge

(Garnish)

Ice
Instructions
Fill Highball Glass with Ice

Squeeze the Juice of Half a Lime into the Glass

Top with Cola and Briefly Stir
There you have it! Everything you need to know about the Cuba Libre, from its history and taste, to tips on how to make the perfect drink. So what are you waiting for? Grab a lime, some rum, and mix up a Cuba Libre today!
Salud!
Similar Cocktail Recipes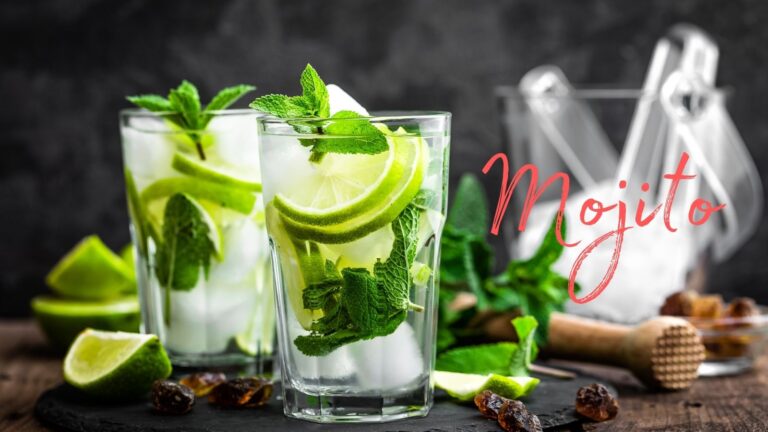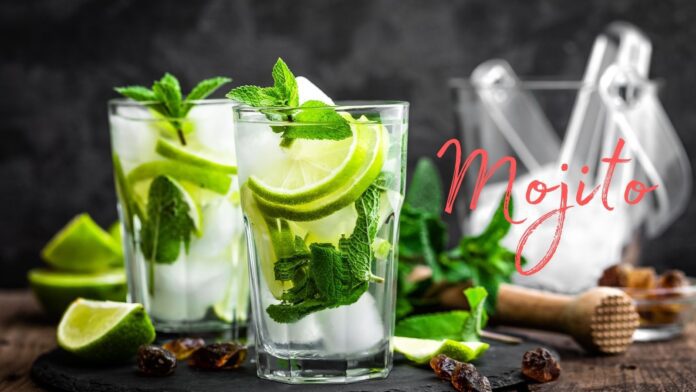 The Mojito is one of the most popular Cuban Cocktails. Instead of the Cola, the Mojito blends Mint, sugar, lime, and club soda to create the perfect summertime cocktail.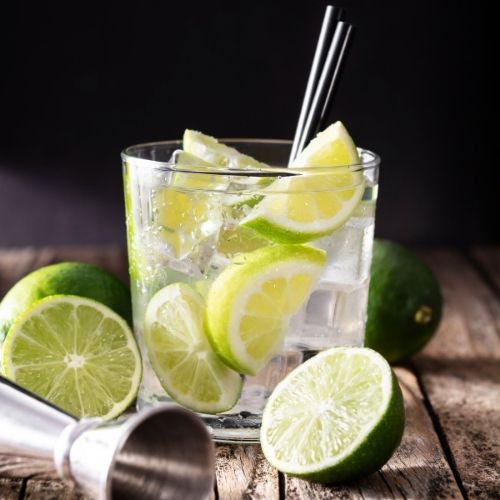 This Brazilian favorite is a must try for fans of lime. This cocktail easily blends simple ingredients into a exquisite experience. The sweetness of the cola is removed for this drink, leaving you with a crisp and tart cocktail.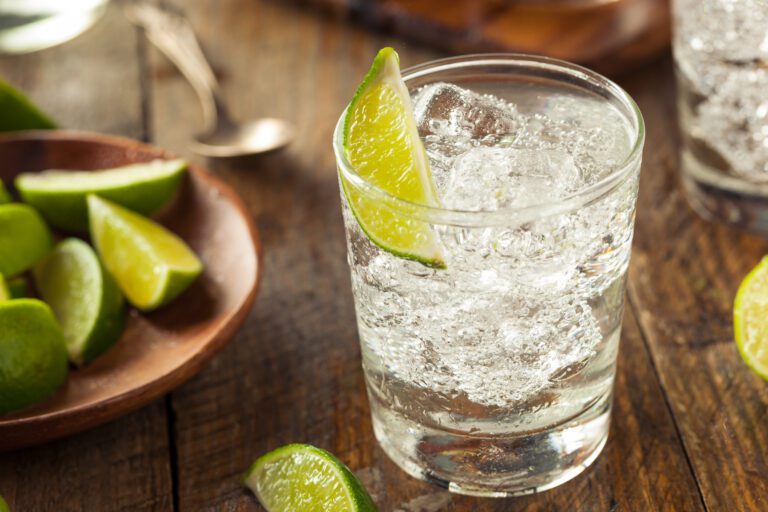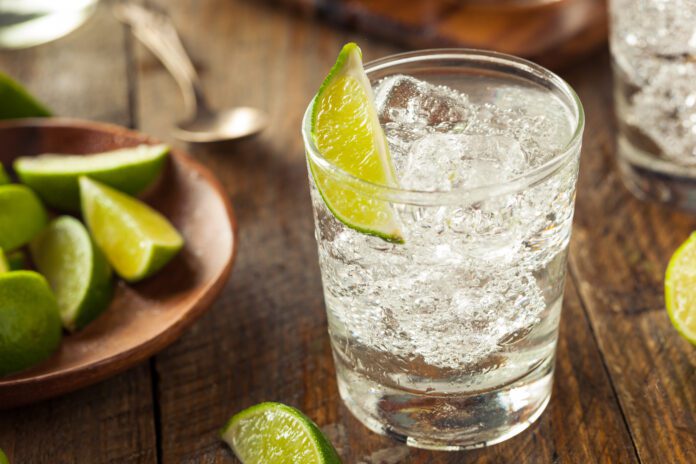 This cocktail is very similar to the Cuba Libre, but instead of a rum and coke, this is a vodka and Sprite to the max.