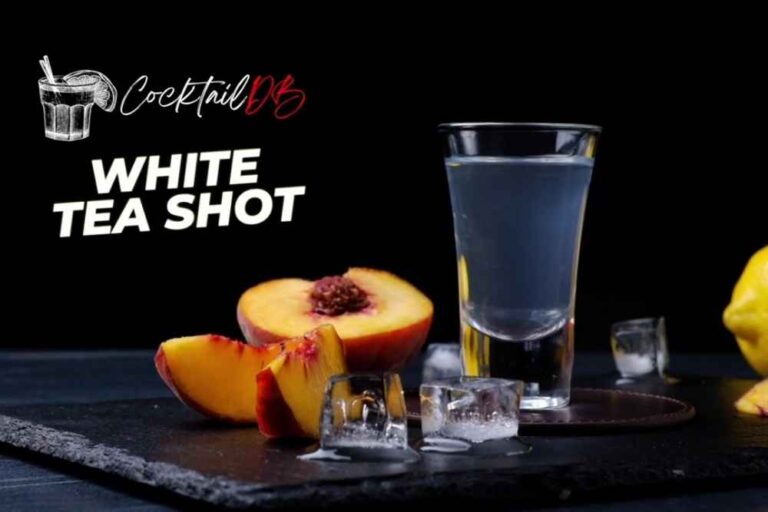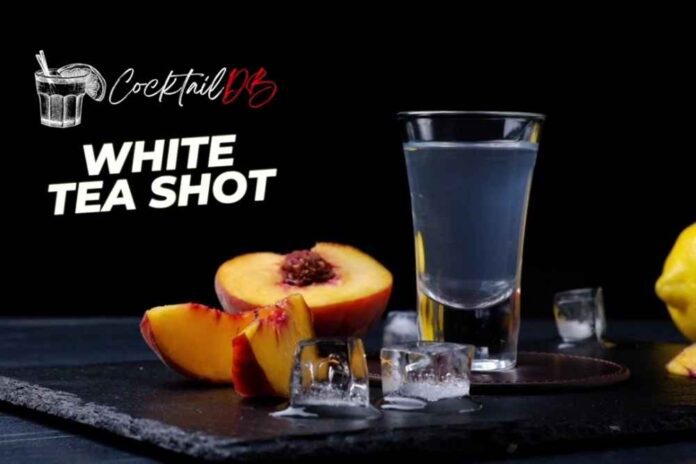 This page may contain affiliate links. Please see our Disclaimer for more information. Always drink responsibly and adhere to your local legal drinking age.
Hey! Are you looking for a delicious and easy way to spice up your next party or get-together? Look no further than this tasty white tea shot recipe! It's a unique blend of vodka, peach schnapps, fresh lemon juice, and simple syrup that'll make everyone rave.
Plus, we've got a super helpful video to walk you through the process step-by-step. So whether you're a pro in the kitchen or just getting started in mixology, there are no excuses for not trying this one. We can guarantee it will be one of the most refreshing drinks you have ever had! Get ready for the party of your life with our white tea shot recipe.
The remainder of this article will detail how the White Tea Shot began and how it got its name. It will also examine the ingredients and bartending tools needed to make this delicious, fruity drink. Lastly, it will provide you with a recipe that is a must-try.
What is a White Tea Shot?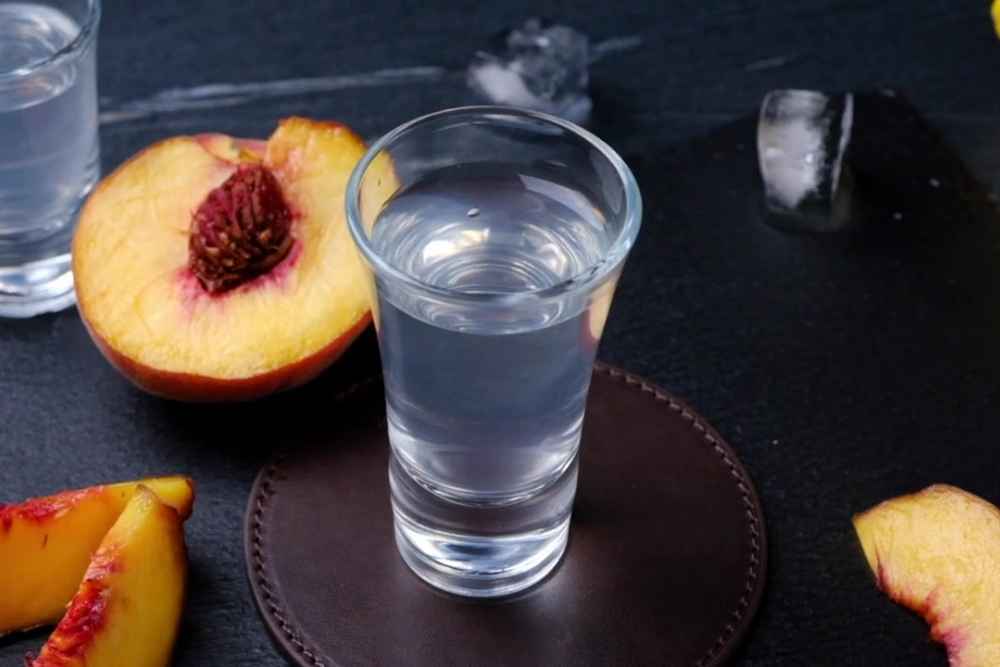 Now you're probably wondering, what is a White Tea Shot? This shot is made with vodka, peach schnapps, fresh lemon juice, and simple syrup. It's sweet and tart with a delicious burst of flavor.
The combination of ingredients makes it one of the best cocktail recipes. The vodka adds a subtle kick, and the peach schnapps gives it that fragrant sweetness that balances out the tartness of the lemon juice. Plus, you get the herbal notes from the white tea— all coming together in perfect harmony.
The drink's name comes from it looking and tasting like white tea. White tea is known for its subtle, delicate flavor and light color, which makes it an ideal taste for cocktails. The White Tea Shot is a refreshing, light drink perfect for sipping in summer. It is perfect for those who enjoy a light, sweet drink that still has a bit of a kick.
What Does White Tea Shots Taste Like?
Ah, the mysterious white tea shot. What does it taste like? Well, it's a combination of sweet and tart that will tantalize your taste buds. This white tea shot tastes like summer in a glass!
The main components of this delicious concoction are vodka, peach schnapps, simple syrup, and fresh lemon juice. The vodka gives this drink a punch of alcoholic flavor balanced by the sweetness from the peach schnapps. Meanwhile, the simple syrup adds a touch of sweetness, while the fresh lemon juice provides a tart finish.
If you've never had it before, think of drinking a white tea shot as an adult take on an Arnold Palmer—it has all the refreshing flavors but with an added kick!
Origins of the White Tea Shot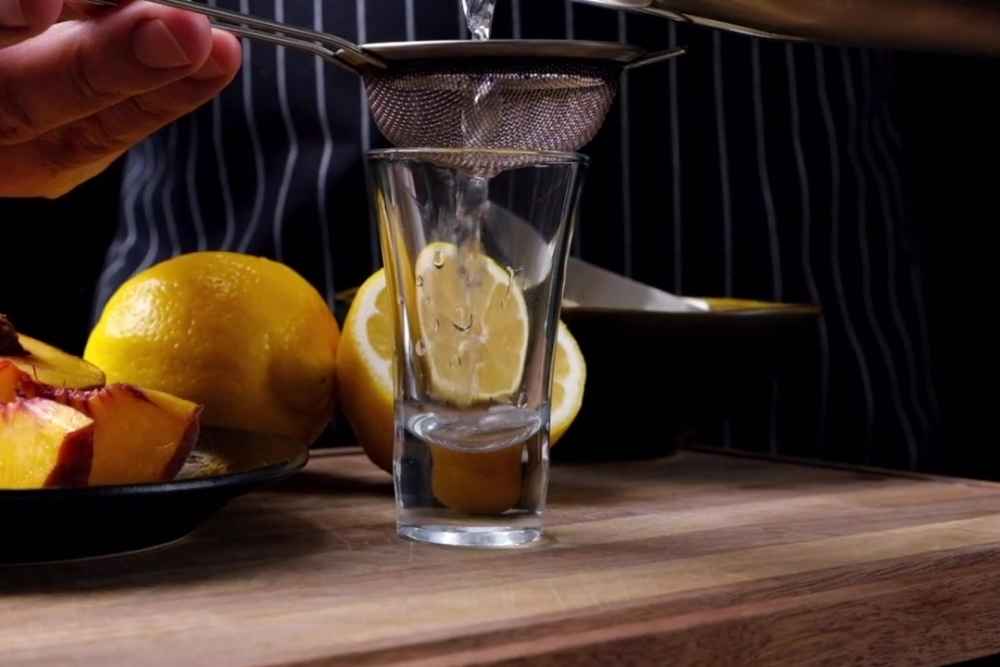 Believe it or not, the White Tea Shot was not the first tea-themed shot to be created. It is actually an alternative take on the original Green Tea Shot made famous by Jameson Irish Whiskey. The Jameson green tea shot has become increasingly popular in recent years, with the white tea vodka shot following closely.
It is unknown exactly where the White Tea Shot was created, but they can be traced back to bars on the Eastern side of the United States. These drinks are primarily served at American bars, although some countries like Canada and the United Kingdom have adopted them.
Is There Actually Tea in a White Tea Shot?
With a name like the White Tea Shot, one would assume that mixing would include adding some tea leaves, whether loose or in a teabag, right?
The White Tea Shot actually does not include any tea. It is called a white tea shot because of its pale color and taste, similar to a white tea drink.
Just as the recipe is based on the original Green Tea Shot, the name is too. They are named after the green color the sweet and sour mix gives the drink. Actual green tea or other loose leaf tea can be used in the classic green tea shot.
Because they do not include a sweet and sour mix, White Tea Shots do not have that bright green color. Instead, they have a much paler hue, so it makes sense that they would be named after a light color like white.
Although it could provide the drink with additional health benefits, tea leaves do not have to be brewed and added to the shot, making the recipe and the mixing process much more straightforward.
What is A White Tea Shot Made of? Ingredients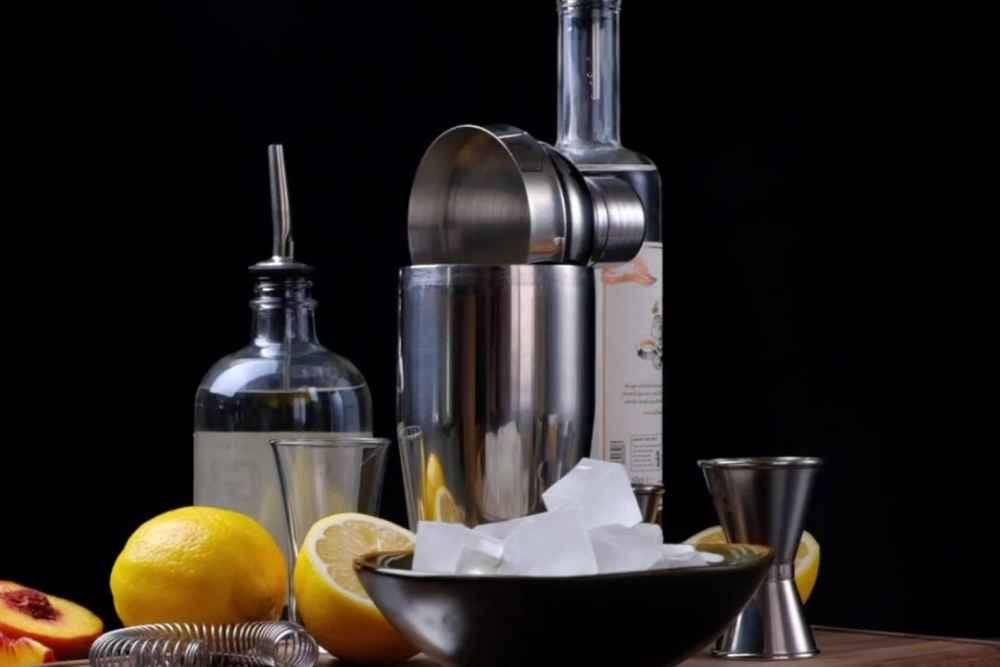 As previously noted, only five main ingredients are needed to make the perfect White Tea Shot. The alcoholic items are products that are easy to find at any liquor store, and the non-alcoholic items can be found at any grocery store.
This White Tea Shot recipe card calls for five main ingredients:
Vodka
The ingredient differentiating the White Tea Shot from the Green Tea Shot is vodka. This recipe will use 1 oz (30 ml) of unflavored vodka. You do not need to purchase any flavored vodka for this drink. Any brand of your favorite vodka will work just fine since it is the drink's base and does not need to provide any additional flavor.
Peach Schnapps
The other alcoholic ingredient included in the drink is peach schnapps. This ingredient is found in both variations of the tea shot. The 1 oz (30 ml) peach schnapps helps balance out the vodka's strength while providing a lot of the fruity flavor that makes the drink taste sweet.
Lemon Juice
There is another ingredient found in both the White Tea and Green Tea Shots: lemon juice. For this recipe, I recommend that the .5 oz (15 ml) of lemon juice come from hand-squeezed lemons instead of a bottle of lemon juice that could be purchased from a store shelf. It will ensure that the liquid is as fresh and tart as possible, giving the shot a bit of tanginess.
Simple Syrup
The fourth main ingredient in the drink is also unique to the White Tea Shot: simple syrup. This recipe uses .5 oz (15 ml) of it. The simple syrup helps round out the drink's sweetness and tone down the sharpness of the lemon juice and vodka.
Simple syrup can be purchased from the grocery store, but it is also easy to make at home. All that needs to be done is to combine equal parts of sugar and water in a pot and heat it on the stove until the sugar is completely dissolved. Once the simple homemade syrup has chilled, it can be added to the drink!
Ice
The final item needed to make a White Tea Shot is ice. Including ice in the cocktail shaker with the rest of the ingredients is to chill them while they are mixed. Once the drink is strained into the shot glass, the ice will no longer be needed.
Bar Tools: White Tea Shot With Vodka
Making a White Tea Shot is relatively easy regarding the mixing tools required for the process. Unlike other, more complicated drinks that take several different bartending utensils to concoct, only three items are needed to mix an excellent White Tea Shot.
Shot glass. Of course, the first item you will need is a shot glass. This recipe makes just enough for one shooter of the drink. Any shot glass can be used for a White Tea Shot. It's not a drink that requires a specific glass or mug to be authentic.
Cocktail shaker. This is by far the easiest way to mix a perfect shot. Add all of the ingredients to a cocktail shaker, give it some good shakes, and it will be combined evenly for a delicious and well-balanced cocktail.
Strainer. Any strainer can be used, although a bartending strainer will make straining the drink from the cocktail shaker into the shot glass easier.
Those are the only tools needed to make a White Tea Shot. This one is quite simple in ingredients and bartending tools compared to other drinks!
How To Make the Best White Tea Shot Recipe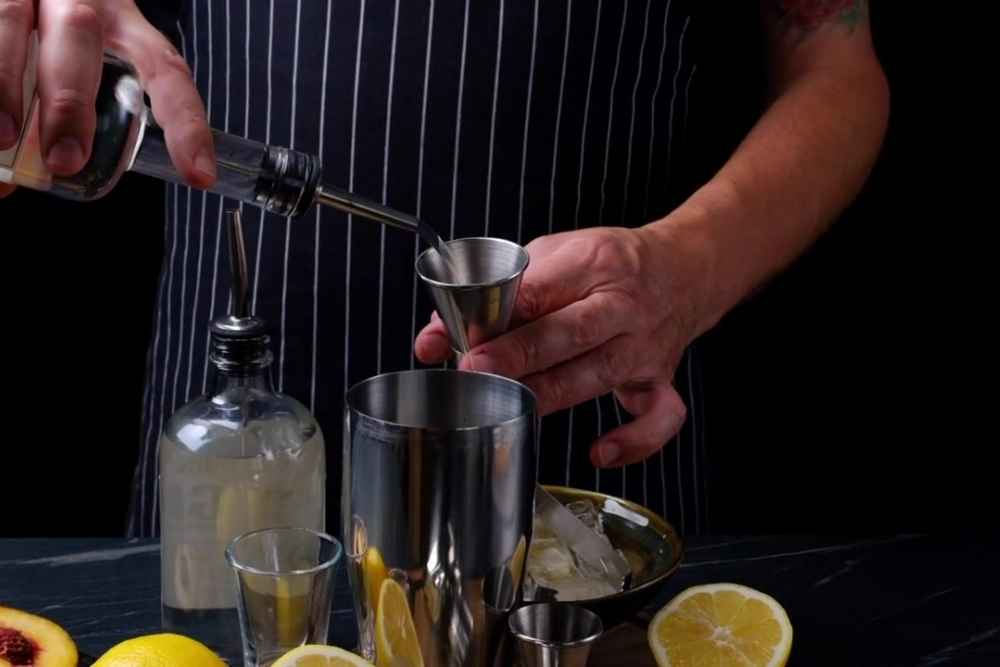 This easy white tea shot recipe only takes 4 simple steps to make:
Get the supplies. The first step in making a White Tea shot is to get the necessary supplies together. This will include the drink ingredients and the bartending tools required to make the shot.
Add the ingredients. Once all needed items are gathered, add equal parts vodka and peach schnapps 1 oz (30 ml), 0.5 oz (15 ml) of fresh lemon juice, and 0.5 oz (15 ml) of simple syrup to a cocktail shaker with ice.
Shake with a cocktail shaker. Place the lid on and shake everything together until the ingredients are all well mixed. This should not take more than 5-10 seconds at most.
Pour into a glass. Once the ingredients are combined, pour the liquid from the cocktail shaker and strain it into a shot glass. The strainer will keep the ice from falling in and prevent any seeds or pulp from the freshly-squeezed lemon from getting into the drink.
The completed cocktail in the shot glass should have a pale yellow, almost white color (hence the name). Tap the shooter on the top of a table when you are ready, and drink up!
Video Guide for Making a White Tea Shot
Once you've gathered up the ingredients, it's time to make this simple White Tea Shot recipe. If you'd like a visual guide, check out the video below, showing you how to make this drink step-by-step.
White Tea Shot Recipe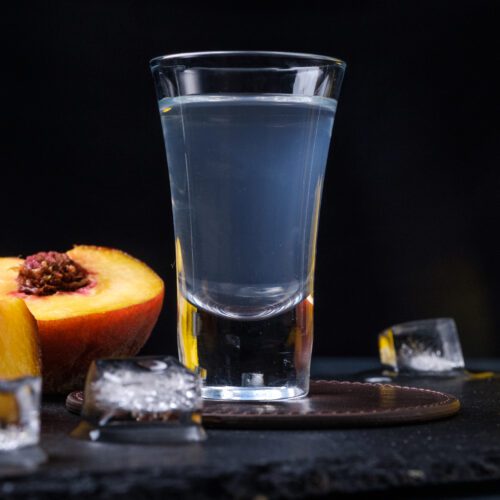 Delicious White Tea Shot Recipe
This White Tea Shot Recipe is a delicious take on the more common Green Tea Shot—a nice sweet blend of fresh Lemon Juice and Peach Schnapps with a slight Vodka kick.
Print
Pin
Equipment
Shot Glass

Cocktail Shaker
Ingredients
1

oz

Vodka

1

oz

Peach Schnapps

.5

oz

Lemon Juice

Fresh

.5

oz

Simple Syrup

Ice
Instructions
Add Ice, Vodka, Peach Schnapps, Lemon Juice, and Simple Syrup to Cocktail Shaker

Shake Until Ingredients are Mixed (5-10 Seconds)

Strain Drink into Shot Glass
Bartender Notes
Try making homemade simple syrup by combining equal parts sugar and water. Heat in pot until sugar is fully dissolved. Chill and serve.
White Tea Shot vs Green Tea Shot?
The Green Tea Shot recipe is usually made with slightly different ingredients than what the White Tea Shot is made with. The recipe for the original green drink typically contains Jameson Irish whiskey, peach schnapps, sweet and sour mix, lemon-lime soda, and lime.
Funnily enough, the White Tea Shot recipe differs fairly from the Green Tea Shot. It is closer to the Lemon Drop Shot recipe since all but one of the ingredients—the peach schnapps—are the same.
The team at Jameson initially dreamed up the Green Tea Shot. It is unknown who created the White Tea Shot, but the recipe most likely came from someone who wanted a less hard-hitting, intense original version.
The base liquor of whiskey is changed to vodka in the White Tea Shot, and the tanginess of the sour mix is replaced with the sweetness of the simple syrup. Although the White Tea Shot still has a very concentrated amount of alcohol, it will not be as bitter or heavy as the Green Tea version.
Recipe Variations
Want to mix up your white tea shot recipe? Don't worry; there are several variations you can try! That's one of the best things about making white tea shots—it's versatile and perfect for creating your signature cocktail. Here are a few variations you might want to try out:
Classic White Tea Shot with Actual White Tea
The classic white tea shot recipe uses actual white tea leaves. This recipe only contains 3 ingredients, replace the peach schnapps and simple syrup with fresh tea, and only takes minutes to make. Chill some strongly brewed white peony tea leaves, chill, and add to the recipe above.
For an added twist, try it with some black tea or other types of white tea.
Fruit Flavors
Fruit flavors always add a nice touch to any drink, and you can also add them to make a fruity shot. We recommend adding some peach schnapps for a sweet taste and even a splash of cranberry juice for a tart balance. You can also opt for strawberry syrup or mint leaves for extra flavor!
Citrus Variation
Replace the simple syrup in your recipe with fresh lemon juice for an extra zingy kick. The sharpness of the lemon juice will balance out the sweetness from other ingredients and give your drink an extra flavor boost.
Pour it Over the Ice
If you're not keen on drinking it straight up, why not pour it over some ice instead? This simple white tea shot is still just as delicious, plus it'll cool down the drink without watering it down too much. It's the perfect way to enjoy your white tea cocktail on a hot summer day.
Substitutions for the White Tea Shot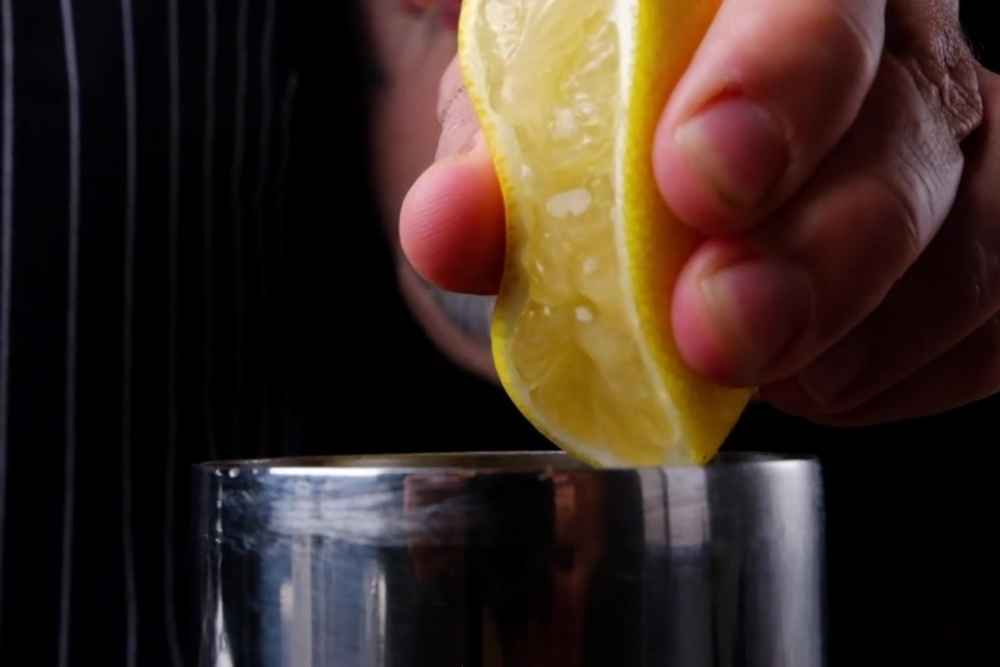 Maybe you don't want to use vodka for your white tea shot, but you still want to make it delicious. No problem! Here are some suggestions for what you can use instead:
Lemon Lime Soda
Add a splash of lemon lime soda to replace the lemon juice and simple syrup.
Gin
Gin can also add a great botanical flavor to a cocktail like this white tea shot and be an easy substitution.
Whiskey
Whiskey is a strong liquor, so you'll definitely need to use less than what the recipe calls for, as it will overpower the other flavors in the drink.
Rum
Many types of rum are available, so you have many options depending on the taste experience you're looking for. You might go for darker rum if you want something bolder or light white rum with a more subtle flavor.
Tequila
Tequila adds a hint of spice and earthy flavors, so it can be another great choice for a white tea shot when used in moderation.
Whatever your chosen spirit may be, ensure the other ingredients don't get lost. After all, this drink is all about finding that balance between tart lemon juice and sweet, simple syrup. And with that perfect balance of ingredients, you'll surely have an awesome drink no matter what liquor or tea you choose!
FAQ
You may have questions about making the delicious White Tea Shot recipe with vodka, so here are some answers to commonly asked questions.
What is White Tea?
White tea is a type of tea that is minimally processed, allowing more of its nutrients and flavor to remain intact. Its flavor is milder than other teas, such as black and green tea. It also has lower amounts of caffeine than most other teas.
A White Tea Shot is a popular alcoholic drink that has gained popularity over the past few years. It is a chilled cocktail made with vodka, lemon, and either peach schnapps or a white tea bag. This drink recipe will focus on the version with vodka and peach schnapps.
Can I Use Another Type of Alcohol?
Yes! You can use any alcohol in this white tea shot recipe. Gin, tequila, rum, or whiskey would all work great. Just make sure to adjust the measurements accordingly if you're using a different type of alcohol than the vodka called for in the recipe.
Can I Substitute Simple Syrup?
Yes! You can substitute simple syrup with an equal measure of honey or agave as an alternative sweetener. Or, if you don't consider yourself a fan of sweet drinks, you can leave it out completely!
Final Cocktail Thoughts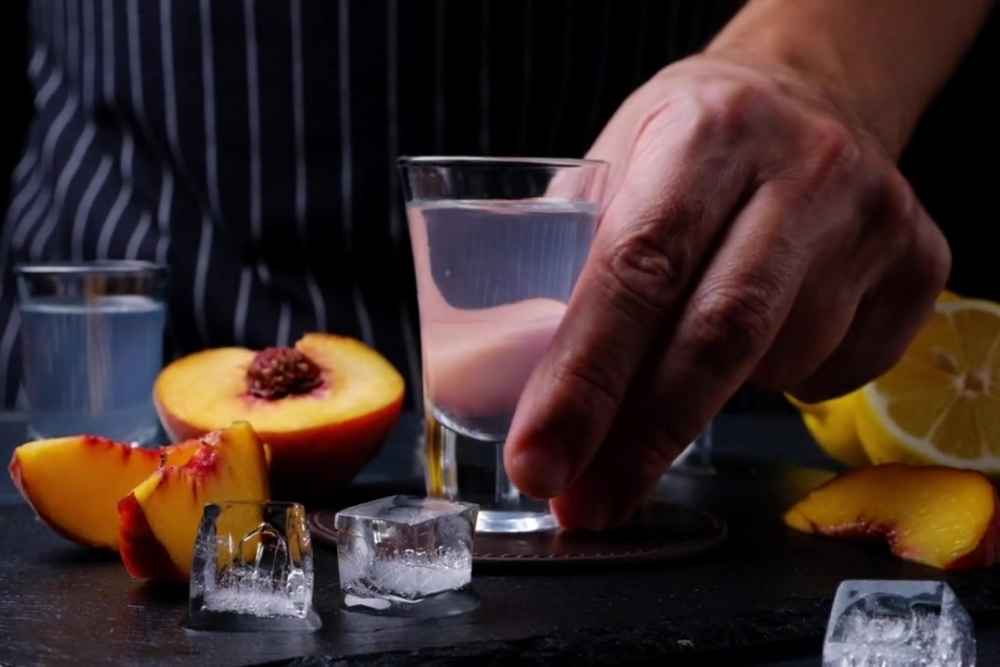 This is a great drink option if you want a shooter with some kick and a hint of sweetness. There are many different ways to enjoy it, including a night out on the town, a gathering with friends, or even a stay-at-home evening with a spouse or partner.
This must-try recipe is the best version of the White Tea Shot, so what are you waiting for? We know you will love this recipe, so go ahead and give this drink a shot!
Delicious Must-Try Shot Recipes