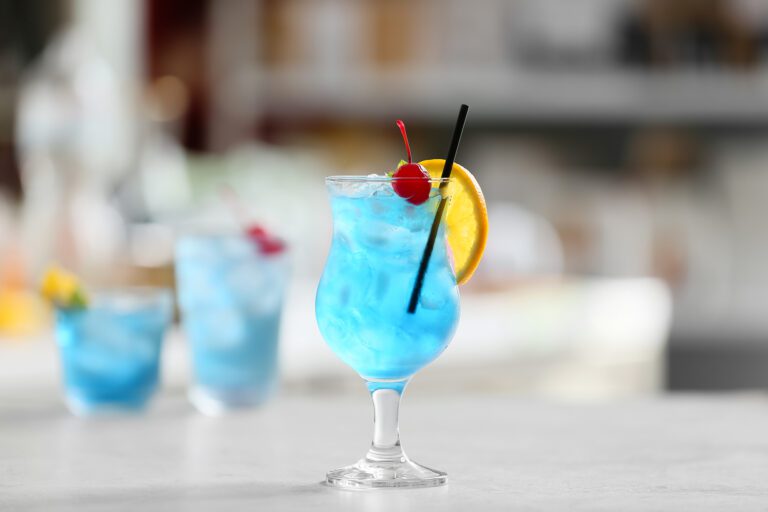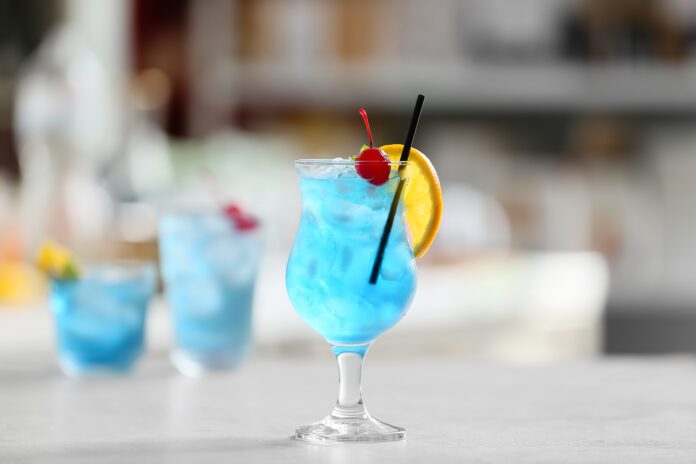 This page may contain affiliate links. Please see our Disclaimer for more information. Always drink responsibly and adhere to your local legal drinking age.
Some cocktails achieve their status from wonderful flavors, unique colors, or catchy names. The AMF cocktail has all three, and it's a strong one. When this drink fills your cup, you'll say adios, motherfucker.
This tasty AMF drink recipe will have you saying adios, motherfucker. It's a strong drink that'll catch you by surprise if you have too many, so enjoy it in moderation. There are five different liquors in it, it's bright blue, and the sweet flavor makes it way too easy to drink.
This article will discuss how the AMF became a household name, what it tastes like, and a recipe that will be the talk of your party.
What Is the AMF Cocktail, and How Does It Taste?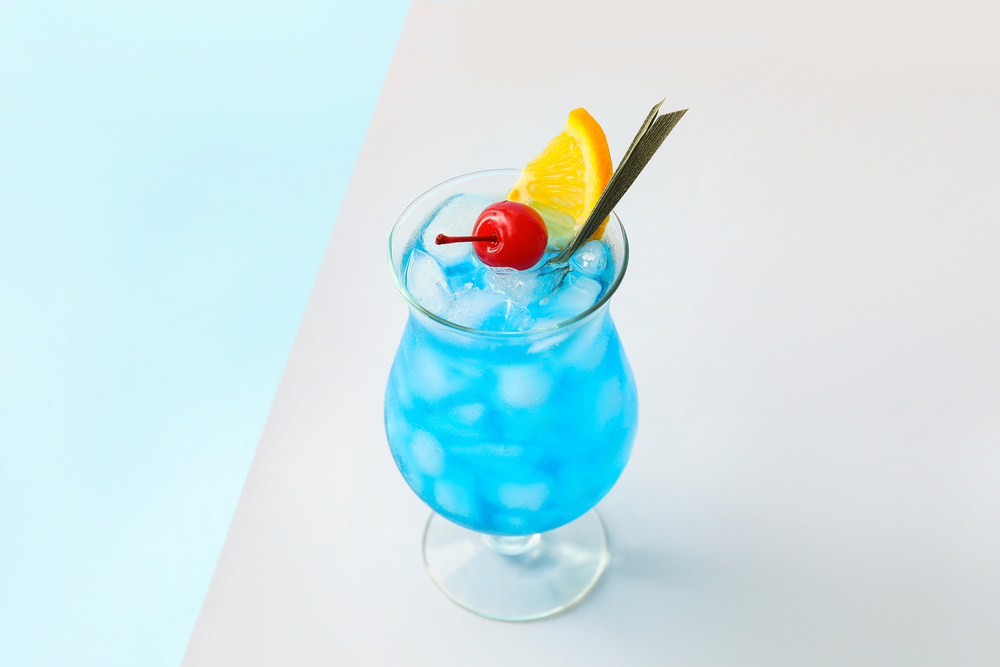 The Adios Motherfucker has a name and color that are unforgettable. It's a drink that has been around for decades and still gets ordered with frequency at bars. However, what exactly is an AMF, and how does it taste?
The AMF is a drink with equal parts gin, tequila, rum, vodka, and blue Curaçao. It's served over ice and topped with sour mix and lemon-lime soda. The taste is complex from the five different alcohols, and it has a nice balance of sweet and sour if made correctly. The color is a brilliant blue.
Some of the flavors that you'll taste include:
Orange from blue Curaçao
Piney notes from the gin
Agave from the tequila
The sweetness that rum imparts
Sweet and sour flavors given by the bar mix
Citrus overtones that the lemon-lime soda contains
Why Is the AMF So Strong?
This drink is so popular and has the name Adios Motherfucker because it has a reputation for being deceptively strong. Why is the AMF so strong?
The AMF cocktail is so strong because it has five different alcohols working together at various proofs and because not all bars measure their pours the same way when constructing cocktails. 
Because this drink is a popular pick at busy bars, there's a good chance that the bartenders are pouring more liquor than if you carefully measured this at home.
The drink, therefore, has a reputation for both tasting and being strong, but if made correctly, it doesn't have much more alcohol than the standard drink. It's vital to measure the ingredients for optimal flavor and avoid a hangover while enjoying a few of these drinks.
The History of the AMF Cocktail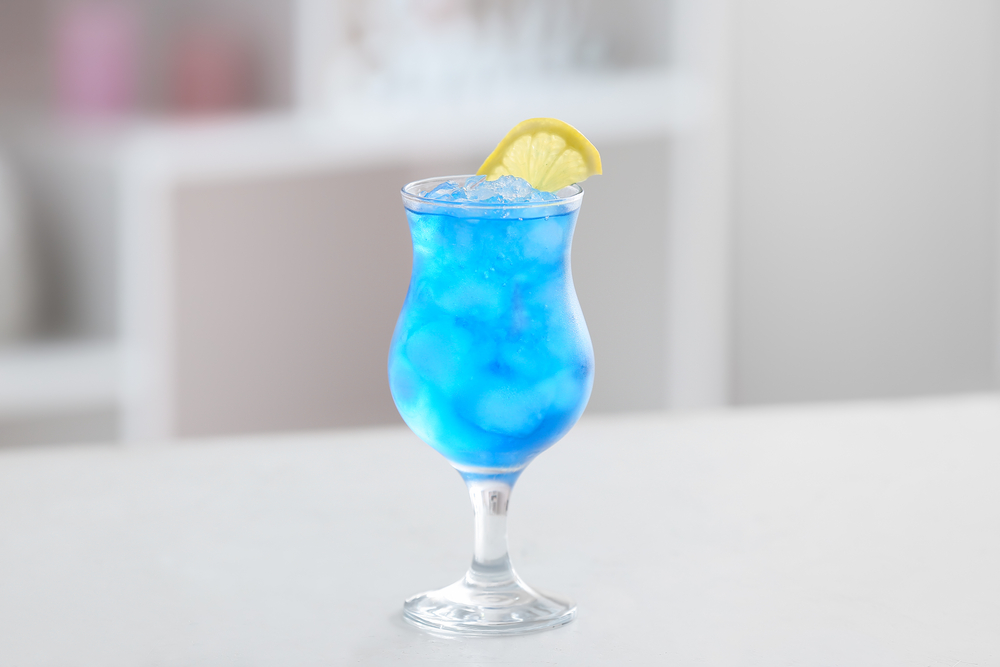 You cannot discuss the history of the Adios Motherfucker cocktail without mentioning the Long Island Iced Tea. The AMF is a play on that cocktail, and while there's no clear answer on who created the AMF and where they created it, one thing most cocktail enthusiasts can agree on is that it's a descendant of the Long Island Iced Tea.
What Is a Long Island Iced Tea?
The AMF is closely related to another famous cocktail, the Long Island Iced Tea. So what exactly is a Long Island Iced Tea?
A Long Island Iced Tea is a well-known drink with gin, vodka, tequila, rum, triple sec, sour mix, and coca-cola. The cocktail is served over plenty of ice in a tall glass and has a reputation for being dangerously strong.
The Long Island Iced Tea continues to be one of the most popular cocktails worldwide. It's a potent elixir that boasts five different kinds of alcohol, just like the AMF does. Four of the five liquors used are the same as in the AMF. The main difference is that triple sec is used instead of blue Curaçao, and the drink is topped with coke rather than sprite.
The LIIT is a highball style cocktail, meaning that it's served up in a highball glass over ice and topped with a carbonated beverage. The carbonated mixer is the majority of the drink in highball cocktails. A Long Island Iced Tea mixer combines sweet and sour mix and Coca-Cola.
The History of the Long Island Iced Tea
Long Island Iced Teas have two equally popular origin stories. One is that it was created in the 1970s by a bartender in Long Island, New York. The other version suggests that it was a prohibition-era cocktail from Tennessee that was slightly different from today's version in that it used maple syrup, not triple sec.
Regardless of who invented the Long Island Iced Tea, it became an influential cocktail and has inspired a handful of spinoffs like the Adios Motherfucker. Some of the most popular variations of Long Island Iced Teas include:
Adios Motherfucker, which uses blue Curaçao instead of triple sec and includes lemon-lime soda instead of coke.
Tokyo Tea is a drink that also uses lemon-lime soda, but the bright green Midori replaces the triple sec.
Long Beach Iced Tea uses cranberry juice instead of Coca-Cola.
However, out of all of these variations, the most iconic is still the AMF for its bright color, controversial name, and surprisingly delicious taste.
How To Choose the Best Ingredients for An AMF
Now that you're more familiar with the history of this cocktail and how it tastes, it's time to try it for yourself. If you follow a few simple steps, this is a cocktail that you can easily make at home.
Often, drinks are better if you select the contents with the utmost care. There are a lot of ingredients in an AMF, so you'll want to do your best to research how you can elevate this cocktail by picking the right components. Some things to keep in mind are using the right brand of the four clear liquors, blue Curaçao, and sweet and sour mix.
In addition, remember to measure everything with a jigger like this Oxo Steel Double Jigger (available on Amazon.com) to ensure accuracy and balanced flavor. I love this one because it is durable and dishwasher-safe (because who feels like doing the dishes after an AMF?).
Choosing Your Liquors for a Tasty AMF Drink Recipe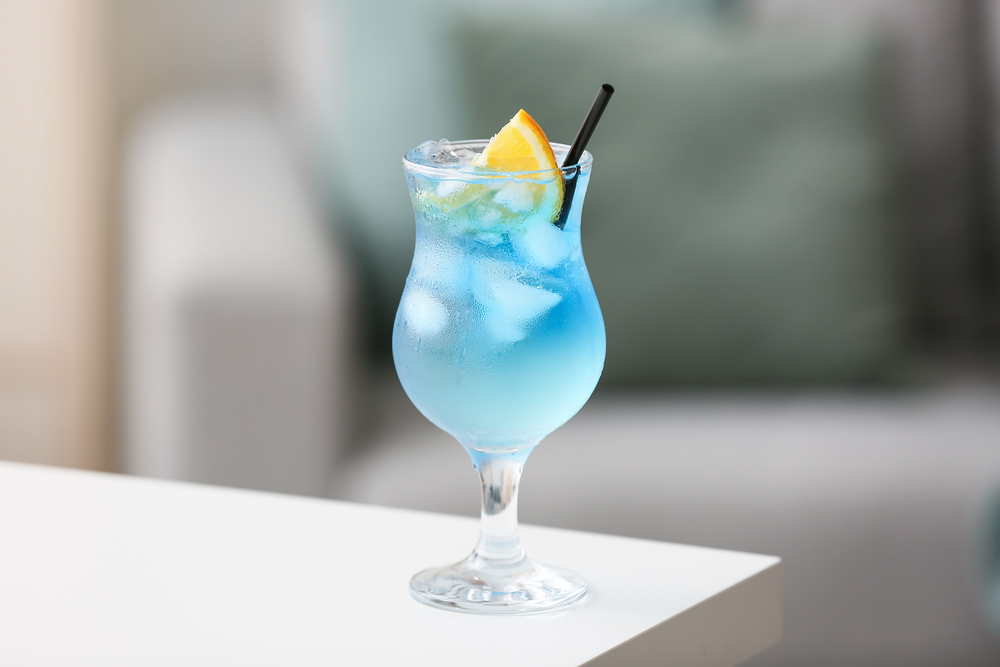 The four clear liquors that are the base of an Adios Motherfucker are gin, vodka, rum, and tequila. You'll want all four of these choices to be clear, and you'll want to pick a brand with a good enough flavor that doesn't stand out negatively against the cocktail.
Vodka
Vodka is the most neutral spirit of the four liquors you'll use. However, it's still important to pick the right one. You should select a premium vodka, but don't go for a top-shelf bottle. I recommend choosing something like Smirnoff, Wheatley, or Tito's since they offer a neutral flavor and fall in the lower mid-range when the cost is concerned.
Gin
The best gin for this recipe is a classic London dry gin. London dry gin works well because it has the piney flavor that so many people attribute to gin, and it's both readily available and affordable. One of the best gins you can use in this recipe is Tanqueray because it's well known and has the quintessential flavor of a dry gin.
Rum
The rum that you use for an AMF should be clear. Rums come in many shades, and you wouldn't want a darker rum for this recipe because it'd compromise the bright blue flavor of an AMF. So opt for a transparent "Silver" rum. In addition, don't go for spiced or flavored varieties since they will interfere with the taste of all the other ingredients in this cocktail.
Tequila
Much like rum, there are many tequilas on the market that are darker shades of brown. You'll want to stick to a clear tequila for the color and the flavor. Dark tequilas are aged longer in wood, giving the spirit a different taste than what you want in your AMF.
Blue Curaçao
Blue Curaçao is a liquor made from a variety of citrus found on the island of Curaçao called the bitter orange laraha, or Seville orange. Something not commonly known is that quite a few blue Curaçao products are available on the market.
It's essential to pick a premium brand rather than a cheaper one to get real blue Curaçao for your cocktail. More affordable versions usually taste too bitter, or the flavor is slightly off.
So, when it comes to the AMF ingredients, blue Curaçao is the one that you should be the pickiest about and splurge on. This list by Money Inc. has some of the most famous blue Curaçao brands on the market.
Sweet and Sour Mix
Another important consideration is the sweet and sour mix that you use. There are some quality products on the market, but you should shop carefully and choose something that has fresh fruit juices if possible. You can also make an excellent sweet and sour mix at home in just a few easy steps.
Here's a YouTube video showing how quick and easy it's to make a sweet and sour mix in your kitchen by Julie's Eats and Treats:

Adios Motherfucker Drink Recipe (AMF)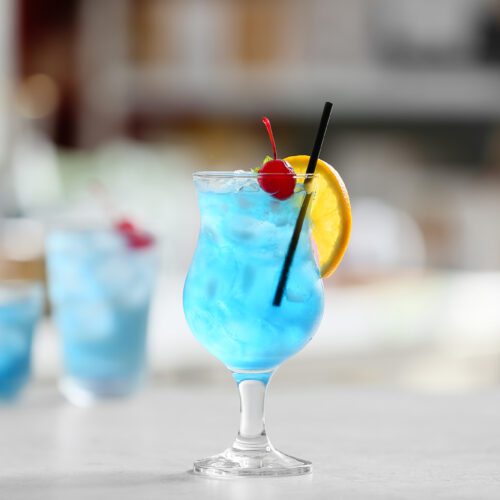 The Best Adios Motherfucker Drink (AMF) Recipe
The Adios Motherfucker or AMF cocktail will be sure to knock your socks off. This drink combines multiple types of alcohol that create a very strong, yet tasty party cocktail.
Print
Pin
Equipment
Poco Grande Glass

Cocktail Shaker
Ingredients
.5

oz

Tequila

.5

oz

Vodka

.5

oz

Rum

.5

oz

Gin

.5

oz

Blue Curaçao

2

oz

Sweet and Sour Mix

6

oz

Lemon Lime Soda

(Sprite or 7UP)

1

Lemon Wedge

(Garnish)

1

Maraschino Cherry

(Garnish)

Ice
Instructions
Add Ice Tequila, Vodka, Rum, Gin, Blue Curaçao, and Sweet and Sour Mix to Cocktail Shaker

Shake Until Ingredients are Mixed (10-15 Seconds)

Garnish with Lemon Wedge and Maraschino Cherry
Bartender Notes
Drink with CAUTION! This is a very strong cocktail and it is not recommended to have more than one.
Final Cocktail Thoughts
The AMF is a tasty drink recipe that'll have you saying adios motherfucker if you have too many. However, with the right ingredients, preparation, and drinking in moderation, this is a lovely cocktail with great visual appeal and flavor.
Next time you're hosting a party, follow these tips and tricks to make your friends this tremendous variation of a Long Island Iced Tea. You'll see their eyes grow wide as they discover how tasty this cocktail is when made the proper way.
Party Cocktail Recipes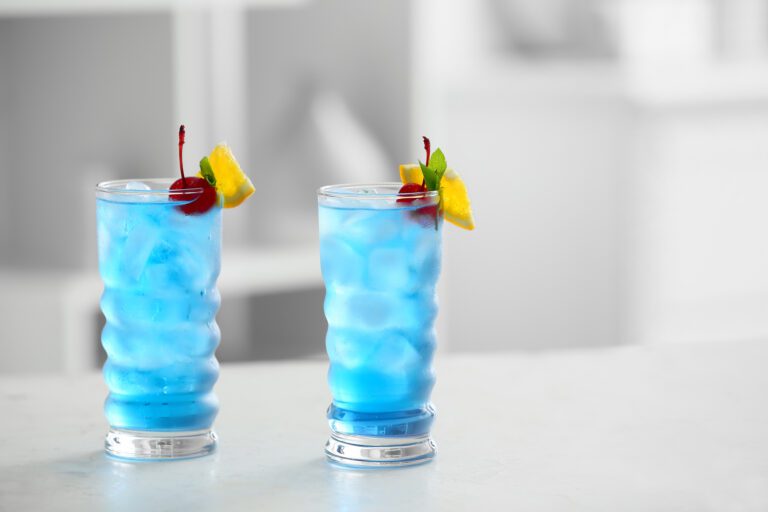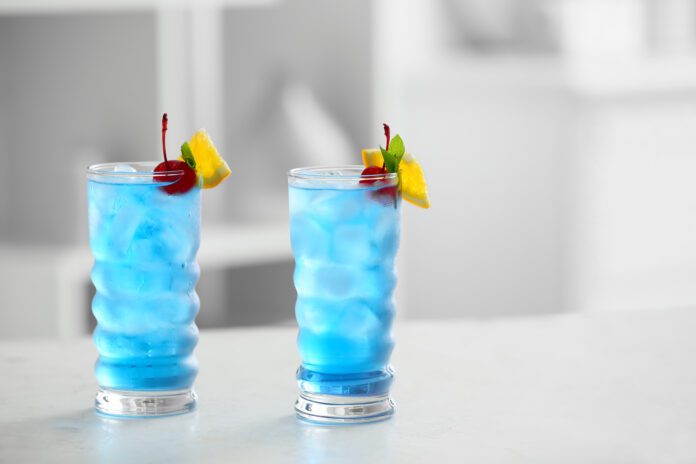 Similar to the AMF, this drink is sure to get the party started. With 5 different alcohols, this drink is not for the weary.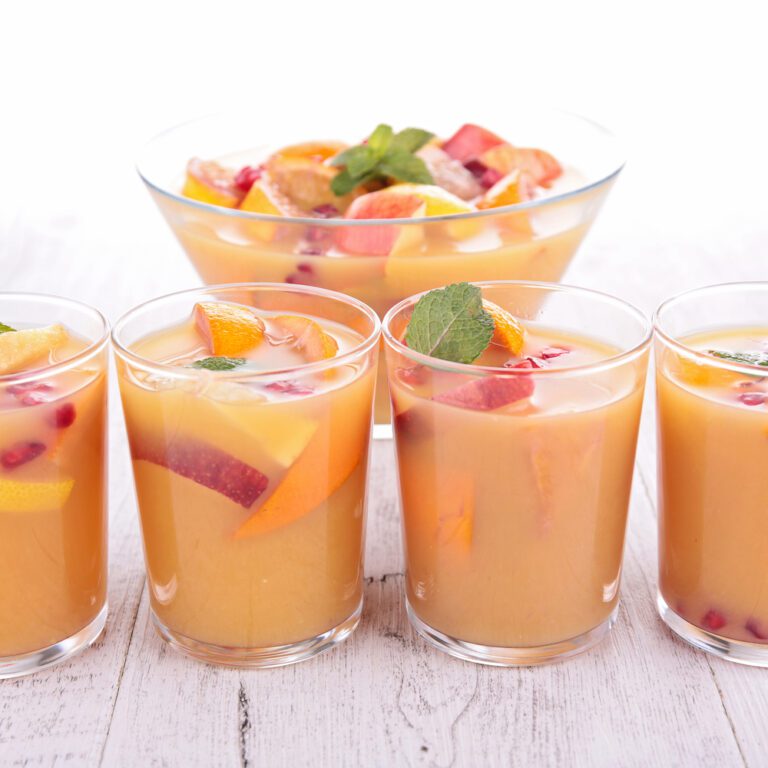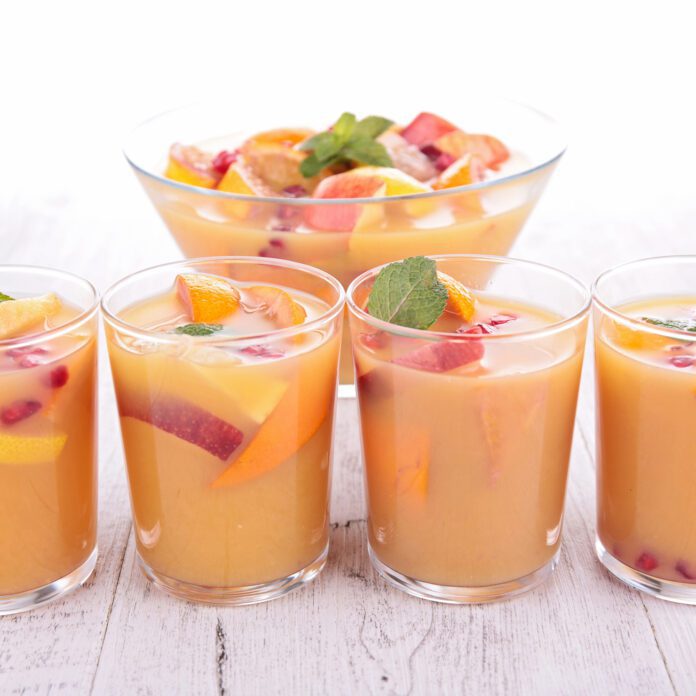 Jungle Juice is the perfect party cocktail that you can make ahead of time. The alcohol mixes perfectly with fresh fruit and juices that will take your party to the next level.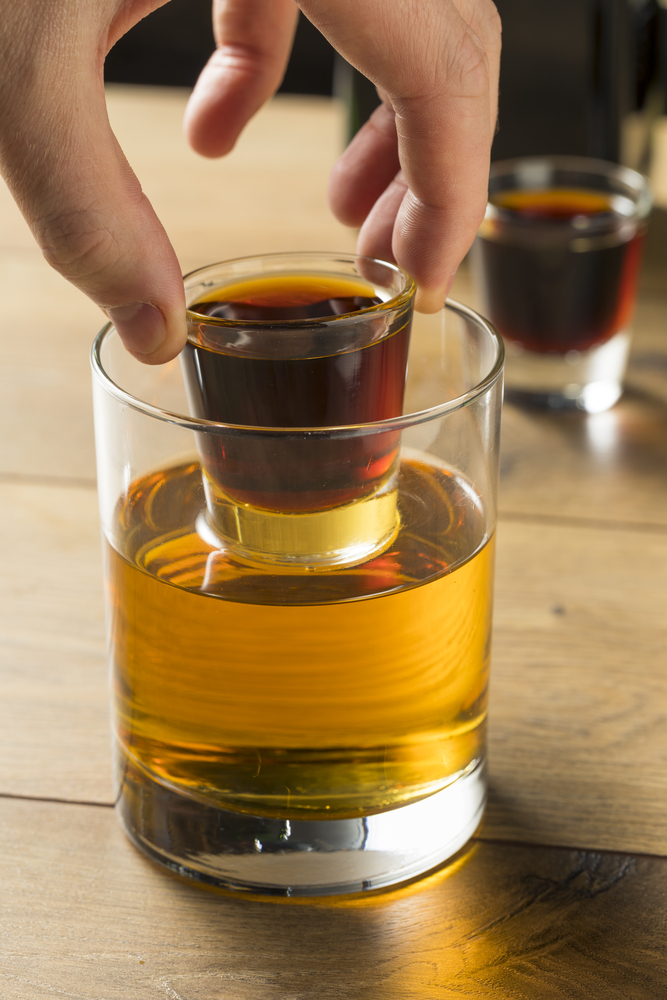 These Cherry Bomb Shots are a fun and super tasty drink that will add that extra element to any party or occasion.