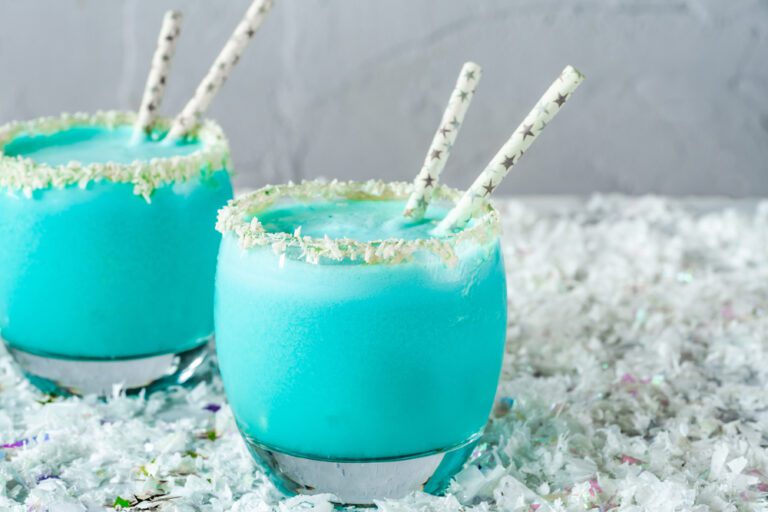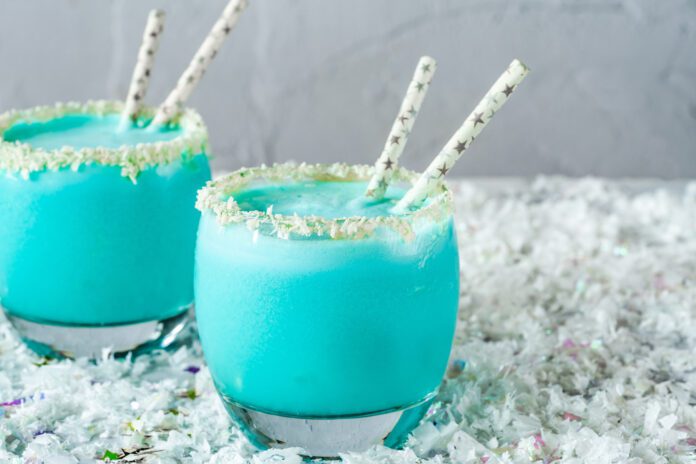 This page may contain affiliate links. Please see our Disclaimer for more information. Always drink responsibly and adhere to your local legal drinking age.
Are you looking for a festive holiday drink? Need a little escape to the islands during the frigid winter months? Look no further than the Jack Frost Cocktail! This delicious drink recipe is perfect for any occasion and easy to make at home.
In this article, we will share the easy recipe for making the Jack Frost Cocktail, which only takes 5 minutes to make, and some tips on perfecting it. Plus, it looks amazing with the rim coated in snowy coconut flakes. So get ready to celebrate in style with this beautiful drink!
What is a Jack Frost Cocktail?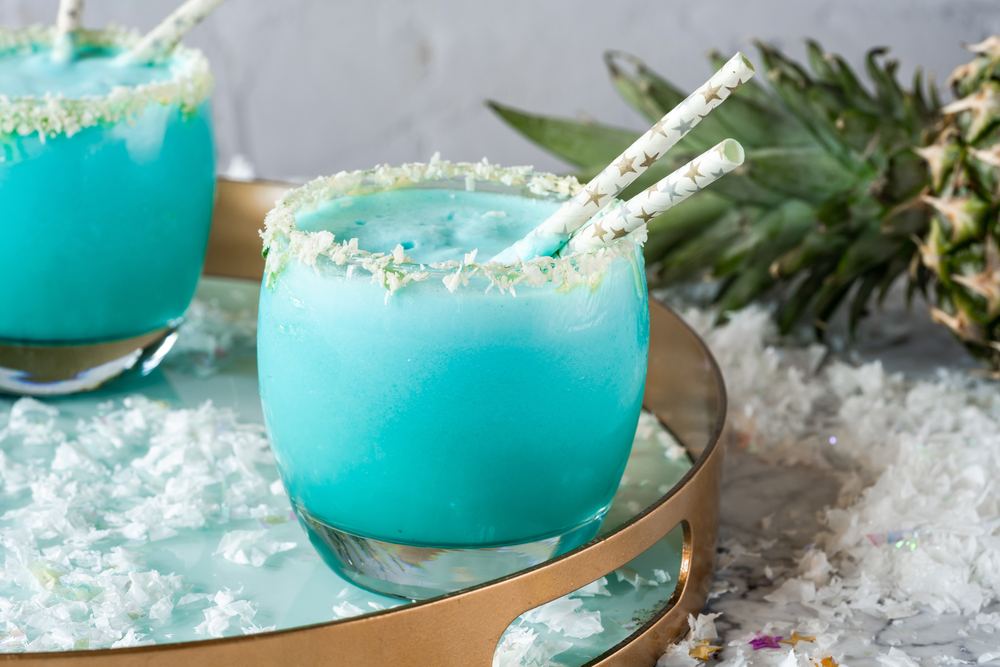 The Jack Frost Cocktail is a fun, refreshing drink perfect for any holiday occasion, including Christmas or any winter holiday party. The recipe includes vodka or light rum, pineapple juice, Blue Curacao, and cream of coconut. The combination of the light blue color and the shredded coconut rim make a beautiful cocktail that will surely chase your winter blues away!
What is a frost drink?
This type of drink gets its name from how it looks when served – like a frosty winter landscape. This Jack Frost drink is one of the most popular frost drinks. The balance of pineapple juice, blue curacao, and coconut make it super delicious and reminiscent of everyone's favorite holiday character. Think of it like a frosty and wintry piña colada. Yum!
History of this Popular Winter Cocktail
The Jack Frost Cocktail is believed to have originated in the 1970s, but it's possible that it was created earlier. It's a classic tiki drink that has returned in recent years. Regardless of its origin, it is a delicious and thirst-quenching winter cocktail perfect for any occasion.
What Does a Jack Frost Cocktail Taste Like?
Get ready to experience the frozen wonderland of flavors with the delicious Jack Frost cocktail!
This icy blue concoction will send your taste buds to a winter wonderland of delectable tastes. Imagine the smoothest blend of coconut, pineapple, and a hint of blue curacao, all expertly infused with a touch of vodka to create a deliciously refreshing blend. Sipping on this cocktail is like taking a frosty stroll in a winter wonderland, with the flavors dancing like snowflakes on your tongue.
With each sip, the Jack Frost cocktail reminds us of a refreshing, frozen paradise! Complete with a silky texture and the perfect balance of sweetness, this luxurious elixir will thaw out your soul and leave you feeling energized and invigorated.
So why wait? Grab a glass and create a winter wonderland in your kitchen with today's charming and luxurious Jack Frost cocktail!
Jack Frost Cocktail Ingredients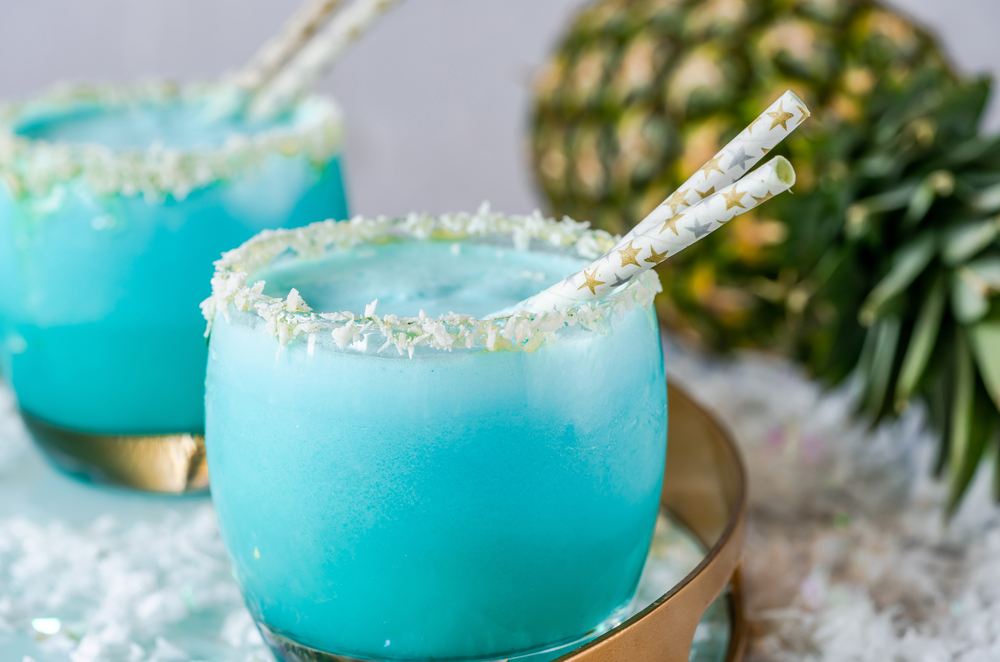 The Jack Frost drink is easy to make with these simple ingredients:
Vodka – You can use your vodka of choice or whatever you have on hand. You could also use light rum or white rum in place of the vodka.
Blue Curacao – This ingredient gives the Jack Frost Cocktail the signature bright blue color. Blue Curacao syrup is a type of orange liqueur.
Pineapple Juice – We like to use 100% pure and fresh pineapple juice. If you want to make a light version, you can use no-sugar-added juice.
Cream of Coconut is not coconut milk but a thick and sweet cream made from coconut.
Coconut Flakes – These give the cocktails a frosty and festive rim. They are a fun addition that takes this drink from great to unforgettable.
Corn Syrup is a crucial ingredient to help the coconut flakes stick.
Ice – Blend ice until you reach the desired consistency.
Do I have to use vodka in a Jack Frost Cocktail?
You don't have to use vodka to make this a delicious cocktail. You can use light rum or coconut rum instead of vodka. It is not as sweet as the rum, but either would work for this recipe.
Does Blue Curacao have alcohol?
Yes, Blue Curacao does contain alcohol and has an alcohol content between 15 and 20 percent. Curacao liqueur is made from the dried peel of the laraha citrus fruit, which is native to the island of Curaçao and is typically blue in color. It has a sweet and bitter flavor and is often used in cocktails.
Do I have to use light corn syrup or simple syrup?
If you don't have these types of syrup, don't worry! You can also use honey. Just remember that honey has a sweeter taste than corn syrup or simple syrup, so you may need to adjust the honey you use in the recipe accordingly.
How do you make a Jack Frost Cocktail (4 Easy Steps)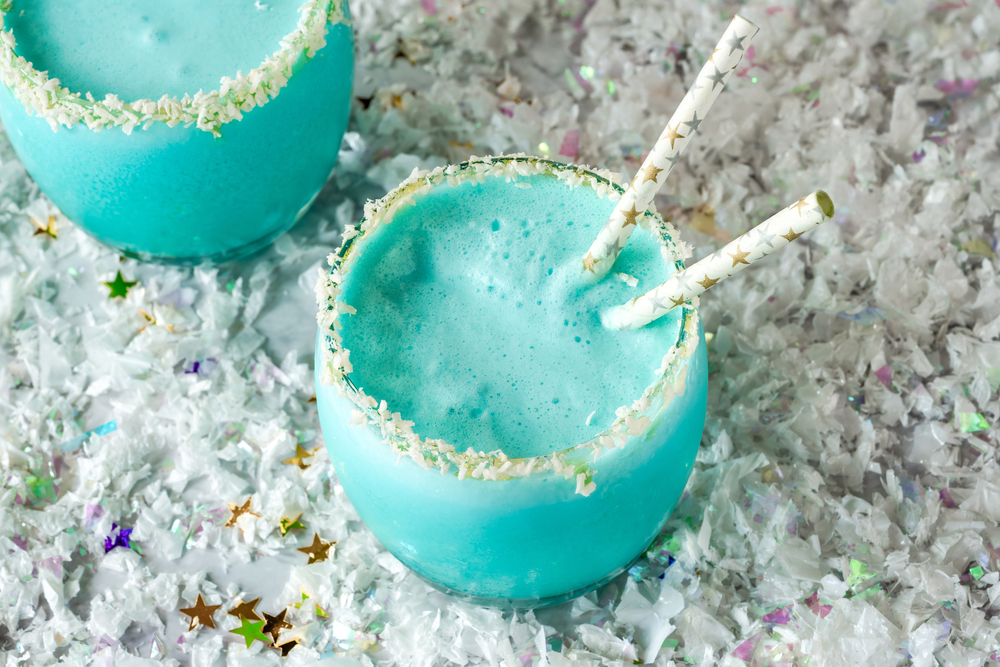 Making a Jack Frost Cocktail couldn't be any easier! Just follow these four easy steps to make one unforgettable winter cocktail:
First, pour a thin layer of corn syrup onto a shallow plate or small bowl. Then, pour a layer of coconut flakes into another small bowl. Dip the rim of the glass into the layer of corn syrup, then dip and roll it in coconut flakes to coat.
Combine the vodka, Blue Curacao, pineapple juice, and cream of coconut and ice in a blender. Blend until smooth.
Pour the prepared drink into your rimmed glass.
Enjoy!
How long does it take to make?
The recipe has a short prep time and is easy to make, which is perfect for entertaining. Making one drink takes just 5 minutes, and you will want to serve it immediately.
The longest part is preparing the glass, but we can all agree that making coconut stick to the rim makes this blue drink extra special.
So go ahead and make a few because your guests will be coming back for more!
Bartender Tips
Here are just a few tips to help you make this recipe perfectly:
We recommend a high-quality spirit like Grey Goose if you're using vodka. This will ensure no "off" flavors are added to the drink.
Blue Curacao gives this Jack Frost drink its beautiful blue hue, but be careful not to use too much – a little goes a long way!
We recommend using fresh or 100% pure pineapple juice for the best flavor. Avoid using a juice blend.
It's important to note not to confuse coconut cream with coconut milk! Cream of coconut is a thick, creamy, and sweet ingredient found in the international aisle of your grocery store, or you can order it online. It makes this colada cocktail.
A good bartender knows that a decorated glass makes a big difference. The coconut flakes make this recipe extra special. It is a step that can be omitted and adds to the prep time, but we highly recommend it to achieve that attractive winter cocktail.
A thin layer of corn syrup is all you need to add the shredded coconut to the rim. You can also use other thick liquids like honey, simple syrup, or maple syrup, but they will add a different taste.
If you don't want an icy drink, add the ice and ingredients into a cocktail shaker, shake and strain.
Be prepared with all ingredients for the recipe so you can serve it immediately and cold.
What type of glasses should I use?
We recommend using coupe, rocks, or hurricane glasses for a frozen Jack Frost Cocktail. If you are making shaken cocktails, then a martini glass is the way to go.
How to Prepare the Glasses
The coconut flakes on the rim look just like snow. To get the flakes to stick, you will need to use syrup. We prefer light corn syrup, but you can also use simple or honey. Pour a little syrup on a plate and spread it around to create an even layer. Then, lower the rim into the syrup so that the entire rim is coated. Next, rotate the rim through the coconut flakes so that they stick to the syrup. Set the glasses aside and let the syrup dry.
Cocktail Variations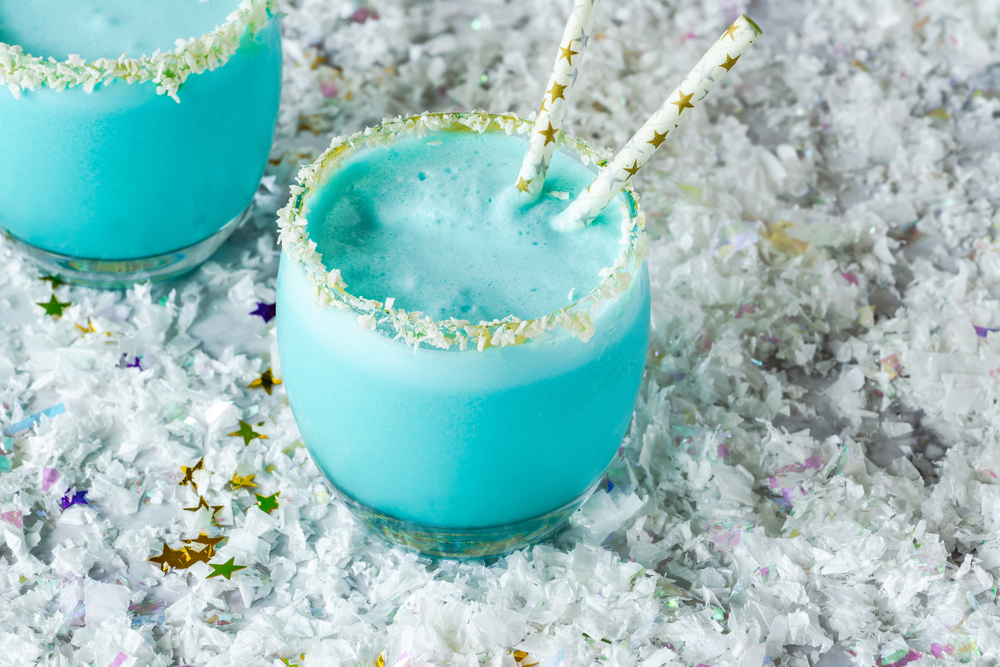 If you loved the classic version but would like a smoother drink or a non-alcoholic version for any occasion, you should try one of these versions you can easily make:
Martini Jack Frost Drink Version: 
You can make a martini out of this recipe by following these steps:
First, pour your syrup of choice into a small bowl or plate. Then, in another small bowl, pour a layer of coconut flakes. To prepare, dip the rim into the syrup, then dip it into the coconut flakes to coat.
Combine all ingredients in a cocktail shaker with ice.
Shake well and strain into a martini glass.
Garnish with a pineapple wedge or cherry (optional), and enjoy!
Non-Alcoholic Version:
Can you make this a non-alcoholic drink? Yes! You can make this drink non-alcoholic by eliminating the rum or vodka and using a Blue Curacao syrup in place of the Blue Curacao. Not required, but you can try replacing the alcohol with one of these alcohol-free spirits here. You can still garnish the glass with corn syrup and shredded coconut to make a gorgeous and refreshing mocktail!
What to serve with a Jack Frost Winter Cocktail?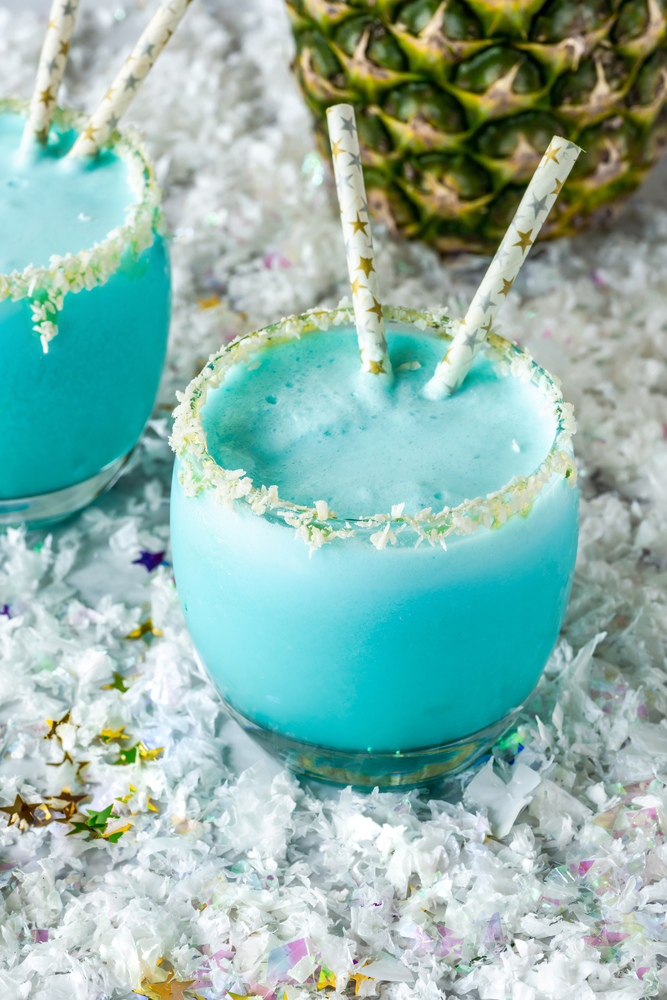 This cocktail is the perfect holiday drink, and it pairs well with appetizers or Christmas desserts, including:
Shrimp cocktail
Crab cakes
Cheese platter
Holiday cookies
Yule log cake
No matter what food is served with it, it is a fun cocktail that we know will impress your friends and family!
Jack Frost Cocktail Recipe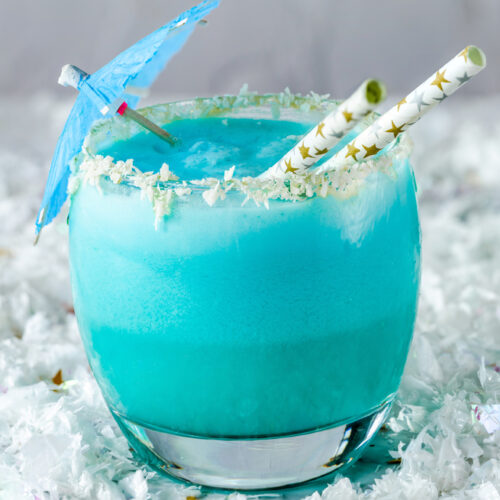 Jack Frost Cocktail - Perfect Winter Drink
The Jack Frost cocktail is a fun frozen pineapple and coconut adult drink perfect for the holidays or any winter party. This bright blue drink with a snowy coconut rim will be sure to impress even the most Scroogiest of guests!
Print
Pin
Equipment
Blender

Bowl and Plate

(Used to Rim Glass)

Measuring Jigger

Rocks Glass
Ingredients
2

oz

Vodka

(or Light Rum)

4

oz

Pineapple Juice

Fresh

2

oz

Blue Curaçao

2

oz

Cream of Coconut

Corn Syrup

(garnish)

Coconut Flakes

(garnish)

1

cup

Ice
Instructions
On Separate Plates, Add a Small Layer of Corn Syrup and Coconut Flakes

Place the Rim of the Glass in Corn Syrup and Lightly Roll Around Until the Rim is Coated

Next, Roll the Rim of the Glass in Coconut Flakes Until Evenly Coated

Add Vodka, Pineapple Juice, Blue Curaçao, Cream of Coconut, and Ice to Blender

Blend Until Smooth (Add Ice as Needed)

Pour into Glass and Enjoy!
Final Cocktail Thoughts
Now that you know all about the Jack Frost Cocktail recipe, it's time to make one for yourself! Want to impress your guests with some delicious drinks?
This frost cocktail is easy to make at home and is the perfect holiday cocktail or Christmas drink. Enjoy the holidays in style with some Jack Frost cocktails! Cheers!
Party Drinks You Must Try!
Dirty Shirley – This fun adult takes on everyone's favorite childhood cocktail and will make a lasting impression on your guests.
Jungle Juice is a refreshing blend of fresh fruits, juices, and alcohol. This is the perfect party drink to make in large batches.
Campari Spritz – If you want a nice, light, and refreshing cocktail for any occasion, you will want to try this.